Online Safety for Seniors: How to Spot Fake News, Medicare Fraud, and Phishing Scams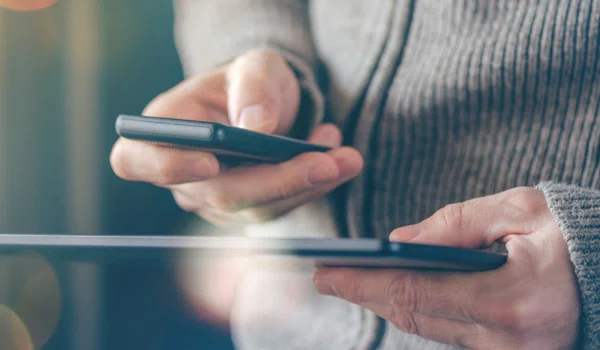 The Internet has revolutionized the way we do just about everything. From buying groceries to talking to friends and family to finding out the latest news, the World Wide Web puts seemingly infinite possibilities right at our fingertips.
However, along with all of the good stuff we love about the Internet, there are unfortunately plenty of scams, fake news articles, and viruses ready to trick you into giving up sensitive information about yourself.
For elders, it can be especially challenging to know the difference between what's real and what's fake. And, given the fact that online scammers so often target older folks, it's crucial that you know how to keep yourself and your information safe.
That's why we've put together this guide for elders with plenty of tips on how to keep your identity safe, how to tell the fake news from the real deal, and how to avoid getting scammed out of your hard earned money.
Email Safety & Phishing Scams
For folks trying to scam you or steal your identity, email is often the easiest way to trick you into giving up important personal information about yourself.
One of the most common of these scams is what is known as phishing, a practice where someone sends you a message purporting to be from a reputable company in order to get you to send them your personal information.
Here's some tips for staying safe when it comes to your email:
Do not send personal info over email
Be careful about sending out any personal information over email. If someone asks you for your credit card number, social security number, bank account information, insurance policy, phone number, birthday, or just about any other sensitive information about yourself, don't send it over email, especially if the person requesting that information isn't someone you know and trust.
If something looks fishy, it probably is
Don't believe anything that seems to good to be true. Emails offering you a free cruise, telling you that you've won a contest, or promising you a large sum of money from a Nigerian prince are almost always scams to get you to give up your personal information.
Be wary of attachments
Don't open attachments, respond to emails, or click links within emails. This is always true for senders you don't know. But, sometimes even people you do know can fall prey to viruses and malware that automatically send out emails to everyone on their contact list.
If someone you know sends you an email with a link or an attachment you weren't expecting, shoot them a message and ask if they meant to send it.
Make sure you are only sending email to people you know
Remember when you were a kid and your parents told you not to talk to strangers? That's just as true online as it is in the real world. Be wary about communicating with folks you don't know, especially if they're asking for personal information about you.
Watch out for phishing scams
Watch out for signs of phishing. If you receive a message that appears to be from a company you trust, but there's poor grammar and spelling, they tell you that urgent action is required or your account will be cancelled, or they ask you to click a link and log into your account, these are most often phishing scams.
Medicare & Online Safety
Some of the more popular scams that people use against elderly folks involve Medicare. These are some things to watch out for when it comes to your Medicare coverage:
Medicare scam #1: Exchanging personal info for Medicare cards
In April of 2018, Medicare recipients will start receiving new Medicare cards.
These new cards won't have your social security number on them like the old ones which should help to cut down on identity theft and fraud. They will be sent out automatically and you should receive yours sometime between April of 2018 and April of 2019.
However, some folks have reported receiving phone calls or emails where they're asked to provide information in order to receive their new card or even told that they need to pay to get their new card mailed to them. This is a scam.
As the Medicare program writes on their website, "Medicare will never call you uninvited and ask you to give us personal or private information to get your new Medicare Number and card." If you receive a phone call or message like this, do not give out your personal information.
And, be sure to check here to find the limited situations in which Medicare will call you directly.
Medicare scam #2: Medicare fraud
Another common scam is Medicare fraud in which a healthcare provider or someone else uses your Medicare account to bill for services which you did not receive. Be sure to check your statements regularly to ensure that your Medicare number hasn't been compromised.
Medicare scam #3: Unsolicited calls offering to enroll you in Medicare
Open enrollment periods are an especially popular time for Medicare scams. Each year from October through December you have the opportunity to enroll in or re-enroll in your Medicare program.
During this time, scammers will often call or email you claiming to be from the Medicare office and asking for your information in order to enroll you.
Again, Medicare will never contact you and ask for your personal information like this, so do not give out your personal information in this scenario.
Medicare scam #4: "Free" appointments, prescriptions, or refunds
Free check-ups, prescriptions, and refunds? If it sounds too good to be true, it probably is.
Some scammers will tell you that due to changes in your insurance, you're entitled to a refund. They'll then ask you for your bank account information to direct deposit your refund, but they are actually just trying to steal your account information.
You should never give out your bank account information over the phone or online, especially to someone you don't know. Others will tell you that you can get access to free medical supplies (especially for diabetics), free doctor's visits, or free prescriptions, but you need to give them your Medicare info in order to get access to them.
There is never a case where this isn't a scam, so don't give out your info.
Have you experienced Medicare fraud?
If you suspect that you've been the victim of Medicare fraud or a Medicare-related scam, you can contact the Federal Trade Commission to report it and find out the next steps for keeping yourself and your information safe.
Computer Safety and Cybersecurity
As powerful as our computers are, they're still susceptible to a whole host of viruses and malware that can slow your computer down and put your personal information at risk.
These are some smart ways to protect your computer and yourself from viruses:
Make strong, unique passwords
Make sure your online passwords are strong and unique. Yes, the name of your beloved pet or your birthday might be easy to remember, but they'll also be easy for others to figure out.

The best practice is to combine eight or more upper and lowercase letters, numbers, and symbols to create a solid password. Use a random password generator to create strong passwords that will be difficult for others to figure out and keep those passwords in a safe place like a private notebook.
Install security software to avoid viruses
Install security software on your computer such as Norton Anti-Virus or McAfee. These programs are a fairly inexpensive, simple way to keep your computer safe and virus-free.
Do not install unknown software or plug-ins
Don't install software from sites you don't know and trust. If you get a pop-up ad offering you free virus protection software or telling you that you need to install a plug-in, these are most likely fake notifications designed to get you to download viruses and malware.
Make sure any purchases are on a secure website
Only make purchases or send your personal information on security-enabled websites. You can tell a site is secure if there is an "s" after the http in the website's address or on some browsers you'll see a lock symbol next to the address. These sites encrypt your data when you send it, making it difficult for others to steal that information.
Making purchases online
These days, you can get almost anything delivered straight to your door with just a few clicks. While that's definitely something you should take advantage of, you also want to make sure you're making your purchases as safely as possible. Here's a few tips to follow when shopping online:
Again, use strong, unique passwords for each site
Strong passwords are essential again here. Any website where you create an account to make your purchases will require you to set up a password. Don't use the same password for multiple sites as it will be easier for others to steal your identity. Set up unique, strong passwords for each site you use.
Use a credit card whenever possible
Use a credit card whenever possible. Debit cards are convenient and great for keeping track of how much money you actually have versus what you have on credit. But, credit cards offer you better security options and will hold you liable for much less money in the event that you do have fraudulent charges made on your account.
Check credit card and bank statements regularly
Check your credit card and bank statements regularly. Some banks will notify you of suspicious activity on your account, but it's up to you to keep track of your purchases and make certain that no one is using your card to buy stuff online. Make keeping an eye on your statements a regular habit so you know that your accounts are secure.
Use a private computer and Wi-Fi network to make purchases
Only make purchases on your own private Wi-Fi network. Using a public computer or even just a public Wi-Fi network will make it easier for others to steal your information. Create a private, secure, password-protected Wi-Fi account in your home and only use that network or those you trust to make your purchases on.
Social Media and Online Dating
The Internet is a great way to meet new people and connect with your friends and family. However, it's important to be cautious when talking to new people online especially as an older person because unfortunately there are people out there who use social media and dating sites to target elders.
These tips will help you make sure your connections are real:
Use privacy settings
Social media sites such as Facebook offer privacy settings that allow you to control who can see the things that you post, share, and interact with online. Scroll through your privacy settings on the social media sites you're on and make sure that you're not leaving your profiles open to the public.
Be careful about sharing your location or vacation times
Be careful about the things you do share. If you're going on a trip, for instance, it might not be wise to share that information publicly as others might then know that you won't be at your home. Think before you post and make sure you're not accidentally sharing information that could put you at risk.
Use caution with online dating
If someone has a profile with no pictures or no information about their self, it might be wise not to engage. Don't ever give money to someone you met through a dating site unless you are completely positive that you can trust them. And, when you do meet up with that special someone for the first time, make sure that it's in a public place and that someone you trust knows where you'll be.
Always report harmful, suspicious, or fraudulent behavior
Most social media sites and online dating sites have options for you if you're being harassed or if someone is trying to take money or steal information from you. Reporting these behaviors can prevent unwanted people from continuing to contact you and will help keep you and others safe.
Fake News
Fake news has been a buzzworthy media term since the most recent presidential election. Unfortunately, there are actually plenty of websites out there presenting made up, falsified, or inadequately researched information and calling it news.
Fake news is not only confusing, but can also have a damaging impact on real world issues. These tips will help you sift through the real and the fake news:
Don't believe everything you read
Just because someone took the time to write something down and post it on the Internet doesn't mean that it's true. If you're reading an article on a website that you don't already know and trust, do your research to make sure the information they're presenting you with is actually the truth.
Use a fact-checker
Use a fact-checking site such as Snopes to check if the story you read is real. Fact-checking sites offer users a simple way to find out if something you read online is real or if it's another case of fake news.
Only read trustworthy websites
Make sure your news is coming from a trustworthy website. Of course, we all know that the major news websites are trustworthy. But, the Internet allows for lots of different people to post literally whatever they want.

Some ways to figure out if the news you're reading is real: check for bad spelling and grammar, make sure the domain is something legitimate and not something like .com.co, and see if the person who wrote the article has other legitimate bylines.
Double-check sources, dates of articles
Check sources and make sure the news is recent. Many legitimate articles online will offer links that you can click throughout a piece that back up the information being presented. You also might notice that sometimes an article from several months or even years ago all of a sudden goes viral. Be sure to check out the date on every article you read to make sure it's recent.
Courses for computer and online literacy
Now that we've discussed things to avoid online, let's talk about resources to help you navigate the web and learn about new technology. These free or low-cost courses are available to seniors who want to educate themselves on how to use the web safely and effectively:
Oasis Connections. Offers free computer literacy courses to seniors at several locations nationwide. Classes range from computer basics to online safety to general interest classes such as how to buy and sell on eBay. Find their locations here.

AARP TEK. Offers free workshops, in-person and online events, and webinars on a range of topics including advice on how to use technology safely. Find local workshops here.

The Senior's Guide to Computers. Offers a free learning center where you can take lessons on a variety of computer and web-related topics.

SeniorNet. For a $43 annual membership you can get unlimited access to SeniorNet's online resources, an @seniornet.org email, and free classes at your local SeniorNet facility. Find locations here.

Skillful Senior. Has an easy-to-use, interactive online platform where you can learn basic computer skills and practice them as often as you want.

BBC Webwise. Offers free videos on various computer and internet-related subjects.

You can also check to see if your local college or university, YMCA, church, or senior club offers classes for seniors. They're often referred to as Lifelong Learning programs.
Helpful and interesting websites and resources
These are some websites you can check out to connect with others and get helpful information:
Useful apps for seniors
If you have a tablet or smartphone, you can download applications that do everything from tracking your health to keeping your brain in top shape. These apps are great for seniors:
The Internet is an incredible resource that we all deserve to be able to use safely and securely. And, you as an elder are a cherished community member who ought to have access to all the web has to offer without being mistreated and subject to scams and fraud. Be sure to follow the tips we've offered here to make sure that you and your information stay safe online.
Get each week's best deals from Dealspotr in your inbox
This guide was published on March 23, 2018
, and last modified on March 23, 2018
.