8 Websites That'll Buy Your Old Clothes So You Can Go on a Shopping Spree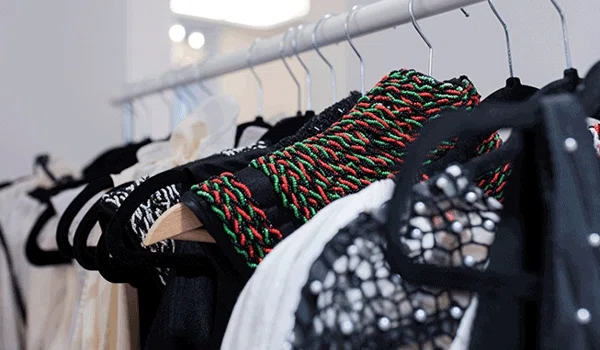 Whether you'd like to have less clutter in your wardrobe, or just snag some cash for next season's new threads, cleaning out your closet is a great way to spend a weekend. Luckily, in 2018 there are endless options for getting rid of the old to make room for the new — especially if you're looking to make some dough.

And you can do it all online.

The three most popular ways to sell your items online today are:
Online marketplaces. These sites provide a platform for you to sell your items by connecting you with shoppers.
Online thrift stores. These stores buy your items, give you the cash, and then sell the items on the site.
Online luxury consignment. These stores only accept luxury items and will hold your items in escrow until they sell and will take a percentage of the profit.
Here's a closer look at the top websites that'll help you clean out your closet.
Online Marketplaces
Poshmark
Poshmark is the largest social commerce marketplace for fashion that's run by its users. Poshmark has over 18 million monthly users that are brought together by their passion for personal style.
Poshmark is one of the only resellers that allows you to have full-control over the items you're selling. The platform acts as a connection between you and shoppers while you have control over the listing, price, and shipping. You can find almost anything you're looking for on Poshmark, and can even sell new clothes in your own boutique.
Poshmark Rating:
Variety: 5/5
Quality: 5/5
How to save $$: Poshmark discount codes on Dealspotr
Join here: https://poshmark.com
ASOS Marketplace
The ASOS Marketplace launched in 2010 with just 20 sellers and has since become one of the largest sellers of vintage and independent clothing. The marketplace has items that range from vintage 90s sportswear to new clothing from an indie Bulgarian label.
Unfortunately, not just anyone can join the marketplace. You must maintain a stock of 20+ items as a vintage boutique and 15+ styles as an indie boutique. Joining the marketplace also costs £20/month and a 20% commission. However, you'll get to sell your items to ASOS' extensive global audience, a personal Account Manager, an editable boutique storefront, and editorial coverage across ASOS's content.
ASOS Marketplace rating:
Variety: 4/5
Quality: 5/5
How to save $$: ASOS Marketplace promo codes on Dealspotr
Join here: https://marketplace.asos.com/
Depop
The founders of PIG magazine founded Depop, which was originally a social network for PIG users. Soon, Depop became a global marketplace to keep up with what friends are liking, buying, and selling. With 80% of users under 25 and over $230 million in clothing sales last year, Depop is a hub for cool, young fashionistas.
The UK-based platform is helping users make over $10,000 a month. What?! The site attributes its success to solving three main problems: feeling unique, shopping with friends, and building a green business. Depop wants you to build an empire from your bedroom based on styling instead of labels.
Depop rating:
Variety: 5/5
Quality: 5/5
Join here: https://www.depop.com/
Tradesy
Tradesy's founders designed the site to be a marketplace catered towards women. Tradesy promises to be the safest and most stylish destination for women. With over 2 million monthly visitors, founder Tracy DiNunzio has certainly achieved her vision for the online platform.
Listing items with Tradesy is quick and easy. Posting an item takes about 60 seconds and you'll earn top dollar for your items. When you make a sale, Tradesy will send you a pre-paid shipping kit and you'll earn the cash. Tradesy also provides a list of what their top-selling items are at the moment (hint: bags and accessories!).
Tradesy Rating:
Variety: 5/5
Quality: 5/5
How to save $$: Tradesy promo codes on Dealspotr
Join here: https://www.tradesy.com/
Online Thrift Stores

ThredUp
ThredUP is one of the world's most popular secondhand shopping websites. With over 3.5 million monthly shoppers and prices up to 90% off retail, you're sure to find some gems destined for your wardrobe. Their 15K new daily arrivals are all stylish and authentic, so no one would ever know they're secondhand.
ThredUP offers multiple options to sell your clothes: upfront payout, consignment, or donation. Over 500 people work 6 days a week to process the thousands of items the site receives daily. Bonus: if you sell designer pieces, you receive an extra 10% in payout.
ThredUP Rating:
Variety: 5/5
Quality: 5/5
How to save $$: ThredUP promo codes on Dealspotr
Join here: https://thredup.com
Online Luxury Consignment
Maeven
Maeven is a Brooklyn-based online shop that sells vintage designer clothing. Their high-quality inventory and selective buying process is part of what makes the store so successful. Founder Amy Yee is responsible for creating a terrific shopping experience for customers looking to purchase luxury goods.
Selling an item to Maeven is a little more complicated than other resellers. First, they're looking for quality vintage and designer clothing. That, unfortunately, means no last season Zara goodies or unworn Lululemon. By sending them an email, you can learn whether or not their interested in the item and moving forward, if they're interested in buying your item or working with you on consignment.
Maeven rating:
Variety: 4/5
Quality: 5/5
Shop here: https://www.shopmaeven.com
Le Prix
Le Prix is named after its French translation, the prize. The site chose this name because it strives to be your only destination for shopping the world's best consignment pieces. Le Prix knows how hard it is to find your perfect luxury piece and they strive to be the connecting piece between you and the best consignment stores around the world through the power of technology and the art of curation.
To work with Le Prix on consigning your goods, you partner directly with the Le Prix Boutiques. By heading to their website, you can see a list of the Boutiques near you that can consign your goods. If you aren't near one of their locations, they offer a White Glove Consignment service where you can communicate with the team on your items.
Le Prix rating:
Variety: 4/5
Quality: 5/5
How to save $$: Le Prix promo codes on Dealspotr
Shop here: https://leprix.com/
Fashionphile
Fashionphile has been working to be your go-to destination for luxury handbags since 1999. The brand is loved by its shoppers and influencers – both accumulating to over 700,000 monthly shoppers. The brand stands by its safe and secure online experience with authenticators certifying every bag listed and sold on the site.
Fashionphile allows either direct purchase or consigning your items. Direct purchase pays you for your item immediately, however, the buyout price is typically between 50-65% of the resale value. When consigning an item, you'll typically receive 70% of the resale price if the item is under $3,000 and up to 85% of the selling price if it's over $3,000. For both methods, you send your items to the Fashionphile headquarters after receiving your quote.
Fashionphile Rating:
Variety: 5/5
Quality: 5/5
How to save $$: Fashionphile coupon codes at Dealspotr
Shop here: https://www.fashionphile.com
Now, go spend money
Regardless of how you sell your items, each of the sites provides an excellent way to be compensated for giving your items a new home. In today's eco-conscious world, giving your clothes an extended life is important for producing less trash. Buying and selling secondhand goods is becoming increasingly popular because of the high-quality items being sold, so don't be surprised when you end up leaving the website with a purchase (or five).
Get each week's best deals from Dealspotr in your inbox
This guide was published on October 9, 2018
, and last modified on October 9, 2018
.