Welcome to the new BluePromoCode!
About the Author

The best community for finding and sharing deals.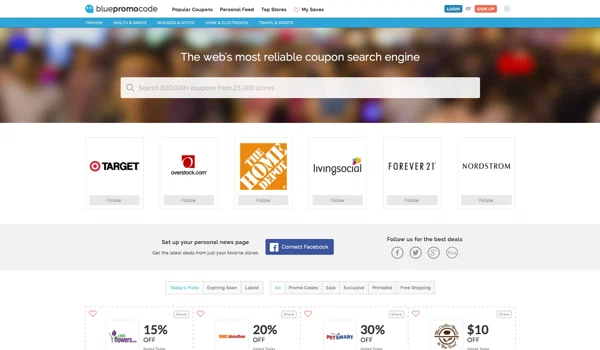 From the moment the site loads on your computer, you can already tell BluePromoCode isn't like other coupon websites. The minimalist layout and clean setup make it clear this site will be easy to use and will provide you with actual savings without making you jump through hoops. This is all exemplary of the site's tagline – the web's most reliable coupon search engine. But hold on to your hats! The ease and excellence of BluePromoCode is now even better as the site has recently introduced personalization.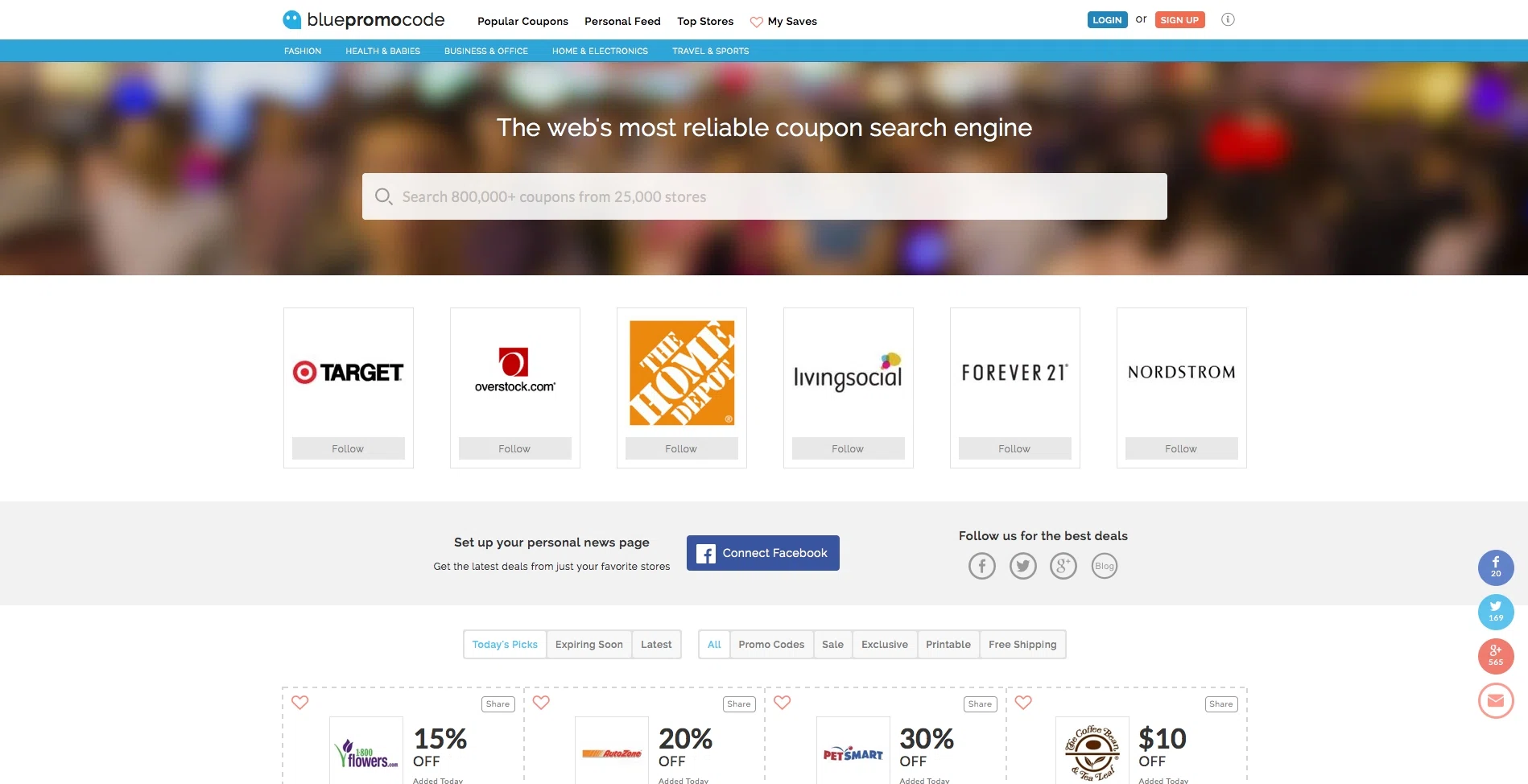 Get started with Facebook or email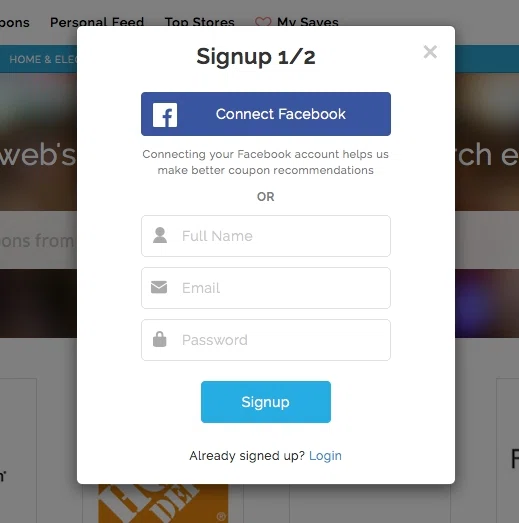 To take advantage of all the great new aspects of BluePromoCode, sign up through the button in the top-right corner of the screen. Signing up is super easy – you can choose to sign up with Facebook, or you can use your email address and create a password. Next, you'll be prompted to follow some stores. This helps the site create your personal feed, so you won't miss out on coupons from stores you love!
Personalize BluePromoCode with your favorite brands
While you're choosing stores, you can see how many promotions and followers each store has. You're shown the top stores – including Target, The Home Depot and Forever 21 – by default. Go ahead and click the "Follow" button on any store you like. BluePromoCode recommends for you to follow at least five stores to get started, but it makes sense to go on and follow more, to make your personal feed more complete. (Or you can skip this step, but why would you want to?)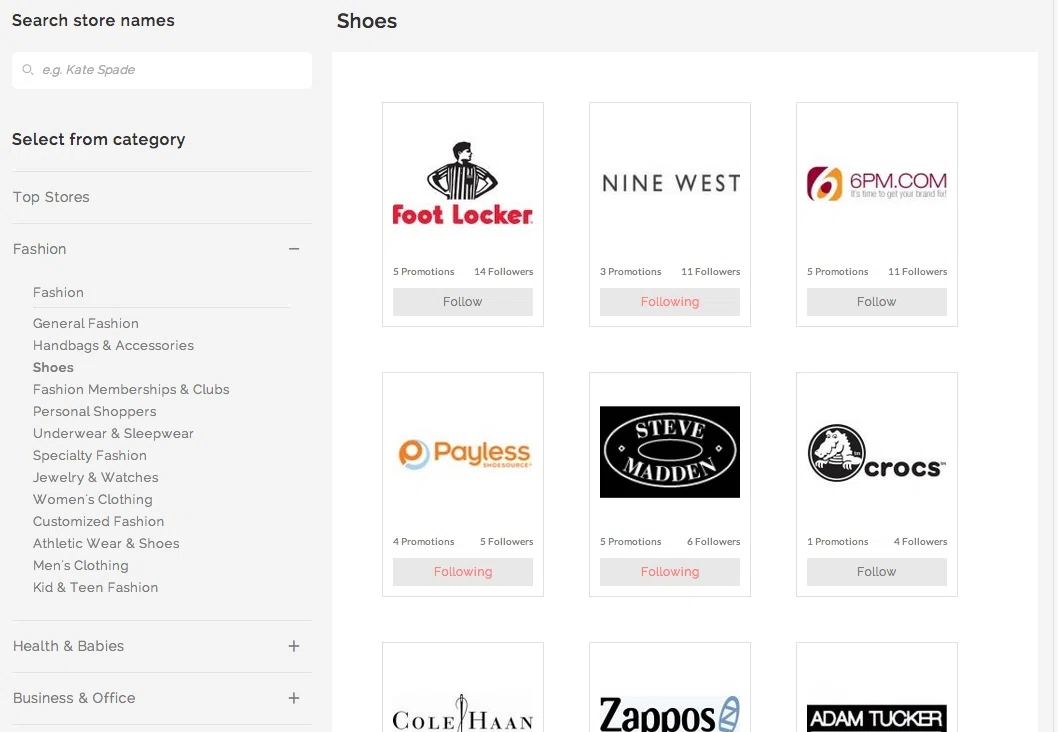 When you've followed all the stores you like in top stores, you may want to browse through the categories. BluePromoCode offers deals on everything under the sun. Interested in women's clothing? Child safety? Gardening? The site has all those categories and way, way more. Seriously, there are categories for everything, so you'll definitely be able to find what you're looking for. Click through the categories to find stores you may not think of off the top of your head. You can also search store names if there's a specific store you want to follow but don't see right away.
When you're done, click "Get Started" and you'll go back to the homepage.
Access your personal deal feed, updated with new coupons daily
Your personal feed is where you can go to find all the new deals from the stores you follow. It displays a number, representative of how many new coupons have been added recently. Going straight to your personal feed when you visit the site is a great way to stay up to date on what coupons your favorite stores are offering. There's obviously a reason you chose to follow those stores, so don't miss out on a coupon or sale! You can also choose to receive an email digest on a daily, weekly or monthly basis highlighting all the new deals from the stores you follow!
Never let a coupon expire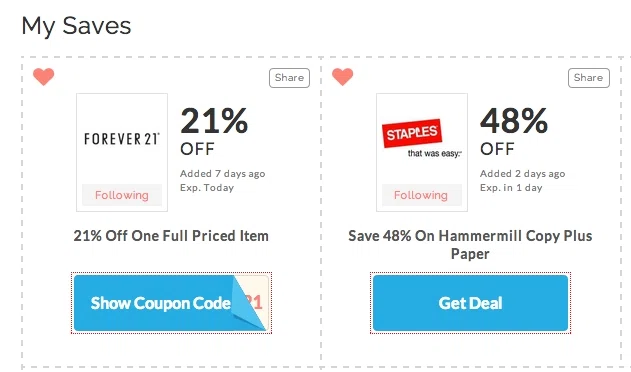 If you find a coupon you like – whether in your personal feed or elsewhere on the site – but you're not ready to use it just yet, you can "clip" it, so to speak, by clicking the little heart in the top left corner of the coupon. This will save the coupon for future use. You can access saved coupons by clicking in the top menu where you'll see another heart icon and the phrase "My Saves." You'll be reminded before your saved coupons expire.
Powerful search and browsing features
Another great feature that's been added with the personalization features is the "Popular Coupons" tab. Coupons that have been saved the most times in recent days show up there, so you can find really great deals there you may not have happened across otherwise.
Of course, all the great BluePromoCode features from before are still there too. You can view coupons by category with the blue menu toward the top or search for a coupon by store or by item in the search bar. You can also filter coupons by time factors (today's picks, expiring soon, latest) or coupon type (promo codes, sale, exclusive, printable, free shipping).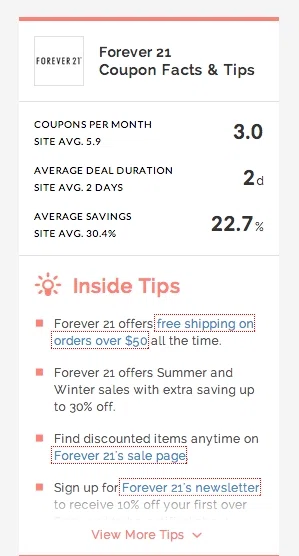 Get the inside savings scoop
BluePromoCode likes to provide you with all the information your heart desires, so the store pages are full of great tips. The Inside Tips tell you how to save money outside of BluePromoCode. Examples of tips include whether or not the site offers deals on their social pages (with links to those pages, of course), numbers and hours for help desks, shipping policies and much more. The coupon facts let you know how active the store is on BluePromoCode with stats like how many coupons the store has per month, the store's average deal duration, and the average savings provided by the store's coupons. All of this can be easily compared with the site wide averages. This is all in an effort to make you a more informed consumer!
Use and share the coupons with ease
Using coupons with the website is super easy. For printables, just click "print coupon," then "print now," and you should be able to print directly from there. For online coupons, click "show coupon code" and follow the instructions. Copy your coupon code with the "copy code" button, then you can click the large "Go to (store name)" button to do your shopping! The site does its best to make using coupons simple and user-friendly. After all, that's kind of the point of a coupon website, right?
When you're done using a coupon, you can go back to the BluePromoCode tab, which should still be open in your browser, and share the deal on various social media sites to let your friends know what you saved! You can also choose to follow the store from here, if you want to see coupons like the one you just used in the future.
Speaking of sharing, if you're interested in spreading the news or just keeping up with deals, we also provide a widget (available here) that can be easily embedded into websites or blogs. You can customize it by category, color, width, etc., and it refreshes daily with the latest deals.
We are all about saving money where you can in order to lead a fuller life by using that money elsewhere. BluePromoCode encourages you to never pay full price, so remember to always check BPC before you check out.
Get each week's best deals from Dealspotr in your inbox
This guide was published on July 17, 2014
, and last modified on July 17, 2014
.