Meal Delivery Services That Let You Try The Plant-Based Diet You've Always Dreamed Of
Written by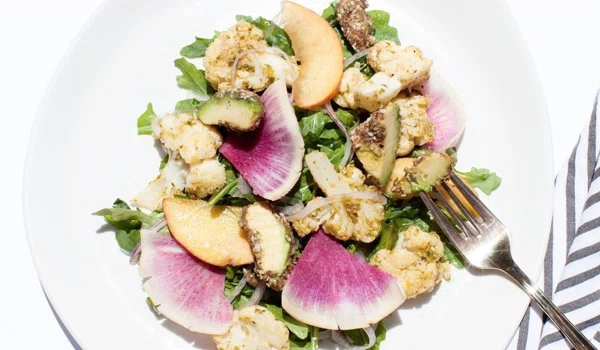 Maybe you want to lose a bit of weight, maybe you've just finished watching Cowspiracy. Maybe you want to be more like Beyoncé (because who doesn't want to be just a little more like Bey), or maybe you're just too busy to bother with cooking.
Regardless of the reason, there are a bevy of meal delivery services that cater towards a plant-based diet, all the convenience of a Hungry-Man meal but without the guilt.
A plant-based diet means no dairy, eggs, or meat and there are many benefits to a plant-based lifestyle to both your own health and the environment: 
Though meal delivery services certainly aren't a new thing, there are a few that specialize in plant-based meals, meaning you can combine the convenience of ready-made meals with the knowledge that not only are you helping yourself but also the environment. So let's look at some of the plant-based meal delivery services on the market right now.
Sakara Life
Sakara Life counts Gwyneth Paltrow and Victoria's Secret models as fans and believes in a food-as-medicine approach. You have the option to buy 3-day and 5-day plans or to subscribe for weekly deliveries with no commitment. Though Sakara Life's plant-based meal service is certainly beautiful and very trendy even a one-off 3-day plan costs $265 with shipping, a little on the higher end for a day's worth of food. Thankfully, they also have individual products ranging from watermelon seed butter to recipe-books for purchase in their Clean Boutique and be sure to check for deals from Sakara Life on Dealspotr. 
22 Days Nutrition
The brainchild of Beyoncé and her trainer Marco Borges, 22 Days Nutrition operates off the idea that it takes 21 days to break or make a new habit and provides a plant-based meal service that also uses no GMOs, gluten, soy, or dairy. There isn't anything that makes 22 Days Nutrition's meals particularly distinctive but if you want to try the diet that Beyoncé and Jay-Z ate you have the option of buying five, seven, or 22-day plans as well as the option to buy items a la carte (with lunch and dinner options coming in around $13). See if 22 Days Nutrition has any deals on Dealspotr.
Veestro
Veestro offers organic, gluten-free, and plant-based meals that are healthy and convenient. Veestro advocates a plant-based diet for both personal health and for the environment and makes it easy to do so by saving you time and the effort when attempting to try out being plant-based. There are many options with this service from a la carte items to meal plans with specific focuses (like protein or gluten-free) as well as juice cleanses and offers the most chance for customization. Price-wise, a la carte entrees come in at around $11-12 and they offer a 12-meal starter pack for $99. Keep up to date with any upcoming promotions on Veestro's Dealspotr page. 
Fresh N Lean
"Created with the purpose of delivering a product that focuses on people's overall health and well-being," Fresh N Lean is focused more on the concrete health benefits of a plant-based diet. They also offer both a meal plan subscription (15 meals for $140 for the plant-based plan) and a la carte options (around $12 for a vegan entree). Unlike the other plant-based meal services we've considered, Fresh N Lean also offers meals with meat and dairy.
The Vegan Garden     
"It's Healthy! It's Delicious! It's Convenient!" The Vegan Garden's plant-based meal service offers multiple packages and plans for different focuses ranging from weight-loss to gluten-free. The Vegan Garden believes that a plant-based diet is better for your health and that their meals are a convenient and wholesome way to do that. Their most popular package is the 5 Day Feast which comes with 5 days worth of breakfast, lunch, dinner, and dessert for $265. Be sure to check for deals on The Vegan Garden with Dealspotr. 
There's no denying that meal delivery services are convenient but these particular services also provide the added bonus of being plant-based meaning not only are you doing your body a favor but also the environment. If you've considered a meal delivery service or a plant-based diet (or both!) perhaps one of these services might be something to consider.
Get each week's best deals from Dealspotr in your inbox
This guide was published on September 6, 2017
, and last modified on September 6, 2017
.