Q&A with Greg Doane of Money Saving Quest
About the Author

Digital Marketing Manager here at Dealspotr! Email me with your questions: emily@dealspotr.com :)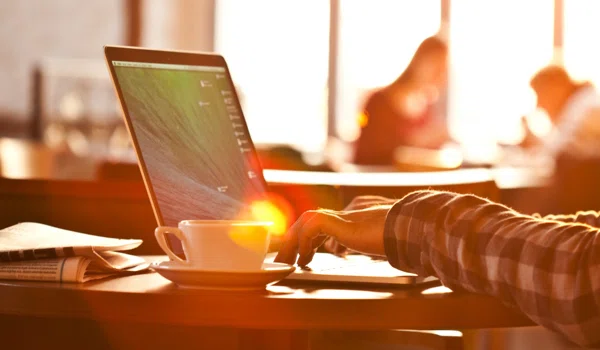 Dealspotr's network of influencers includes notable bloggers and social media personalities across a wide range of topics and interests, but all with a focus on frugal living and saving money. In our weekly Influencer Spotlight, we invite one influencer to share their experiences and success stories with the rest of our community. If you'd like to be featured, send me a message via Dealspotr. 
Greg Doane was trying to break free from living paycheck to paycheck when he decided to start a blog about his journey. On Money Saving Quest, he shares his advice for living frugally, making money on the side, and saving for the future - all from his personal experience. Hear his advice on blogging, and how he helps his readers save everyday. 
INTRODUCE YOURSELF! FIRST NAME, WHERE YOU'RE FROM, YOUR "DAY JOB," AND ANY OTHER FUN FACTS YOU'D LIKE US TO KNOW.
Hi there, my name is Greg and I live in Syracuse, NY (have lived here most of life).  I am a business analyst for a local marketing firm. The best thing about me are my two beautiful children:
DESCRIBE YOUR BLOG. WHAT IS ITS MAIN FOCUS?
The main goal of my blog is to help others save money and make extra money on the side.  I post a variety of tips, deals, freebies, and more.  If you're looking to put more money in your pocket each month, please check it out!
HOW DID YOU GET INTO BLOGGING? WHEN DID YOU START?
I created Money Saving Quest in tough financial times (living paycheck to paycheck) as a way to share things I've learned, discovered, or are currently trying to figure out relating to frugality.  I started back in July of 2015 (can't believe I'm going on two years!).
WHAT WAS YOUR BEST-PERFORMING BLOG POST IN THE PAST YEAR? WHAT DO YOU THINK MADE IT SUCCESSFUL?
Besides giveaways, one of my more recent successful posts was one regarding a free entree at Carabba's.  The success was due to the post showing up in people's search results and because, well, who doesn't like free food?  
WHAT'S THE ONE WAY YOUR BLOG IS UNIQUE OR DISTINCT FROM OTHER BLOGS IN YOUR NICHE?
To be honest, I'm not too sure, but I have some things in the works that will  hopefully separate it from the rest a little more. I do try to post only what I feel will be useful to readers.
If you are a fan of Target, I post a weekly "shopping list" of all the great deals you can score.  Also, I've recently been trying to post more things with a local (Syracuse) focus.  
WHAT'S THE ONE THING YOU LOVE ABOUT DEALSPOTR? HAS DEALSPOTR HELPED YOUR BLOG IN ANY WAY?
Besides the money making potential, I really enjoy the community aspect.  It is a community where everyone works together to help save others money, while ensuring all content is legit.  You can check out my Dealspotr review here.
IF YOU COULD IDENTIFY THE ONE THING (OKAY, OR MULTIPLE THINGS) RESPONSIBLE FOR YOUR BLOG'S SUCCESS, WHAT WOULD THAT BE?
Lots of hard work and hours put into it.   
WHAT ADVICE WOULD YOU GIVE TO SOMEONE LOOKING TO START A BLOG?
You will not earn any money or thousands of followers overnight.  Plan to invest in blogging for a long time before you see a return. Be sure to start a blog revolving around something that you're passionate about.   When you write with passion, it will show in your work.  
IS THERE A USEFUL TOOL OR RESOURCE YOU'VE USED THAT YOU'D RECOMMEND TO OTHER BLOGGERS? MAYBE SOMETHING OTHER BLOGGERS MIGHT NOT KNOW ABOUT?
If you're looking to add more visual content to your blog, check out Easel.ly.  This free tool allows the user to easily create infographics - visual representations of information, concepts, and ideas.       
TELL US ABOUT THE MOST EXHILARATING MOMENT YOU'VE EXPERIENCED AS A BLOGGER?
I'd have to say earning my first $1 from affiliate marketing.  I know that's such a small amount to be excited about, but it's more about the future potential.  
WHICH MAJOR BLOGGER OR INFLUENCER DO YOU MOST ADMIRE AND WHY?
Collin from Hip2Save brings a lot of positive energy and creativity to her website.  I admire the passion and personal touch that has made Hip2Save so successful over the years.       
HAVE YOU EVER EXPERIENCED A MOMENT WHEN YOU WANTED TO QUIT BLOGGING? HOW DID YOU OVERCOME IT?
All the time.  With a full time job and two young kids, my biggest struggle is finding time to write and post stuff.   I've pressed on, however, focused on the goals I set out to achieve in the beginning.  
WHAT'S YOUR FAVORITE TV SHOW?
My current favorite TV show is "This Is Us."  When I need a laugh, I turn to "Impractical Jokers."  
WHAT'S YOUR FAVORITE SNACK?
I haven't had it in a while (trying to be healthy!) but ice cream is a definite favorite.  Specifically chocolate peanut butter or chocolate brownie.    
IF YOU COULD HAVE DINNER WITH ANYONE, LIVING OR DEAD, WHO WOULD IT BE?
I'd choose my grandparents.  It'd be nice to catch up with them and hear stories about my parents.  
ANYTHING ELSE YOU'D LIKE TO ADD?
Thanks for the interview!
You can read Greg's blog at MoneySavingQuest.com. You can also follow him on Dealspotr, Facebook, Twitter, and Instagram. 
Are you a blogger or social media influencer who loves sharing advice on saving money? Dealspotr is a rapidly growing community of deal hunters and savvy shoppers - join our Influencer Network to gain visibility, earn perks, take on paid gigs, and help people save money.
Get each week's best deals from Dealspotr in your inbox
This guide was published on March 16, 2017
, and last modified on March 16, 2017
.