25+ Coffee Products, Gadgets & Apps Every Coffee Nerd Needs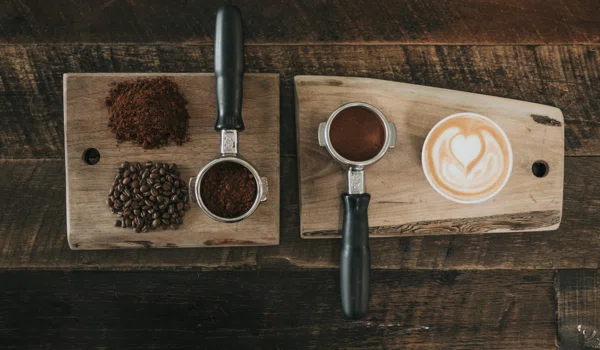 If you consider yourself a coffee nerd, here's a grocery list for you. From cool apps, to the niftiest coffee grinders, to premium coffee subscription services, we've got the goods — and we've got them on the cheap. Read on when you're ready, with a cup o' joe in hand, and enjoy these finds.
Coffee gadgets & products every coffee nerd needs
GROSCHE - MADRID Premium French Press
Available in 3 sizes (3-cup, 8-cup, and 12-cup), this press is a top seller, guaranteeing no coffee grounds sneak into your cup during the process (see a demonstration of the press here.)
How to save
On the official GROSCHE website, this retails for $29.99, and you'll get free shipping for all orders over $25.
Also, if you sign up for the GROSCHE newsletter, you'll be entered for a chance to win a $200 gift card toward future purchases, plus an instant 15% off promo code — and there are more promo codes the be found here.
Even better? With every Grosche product sale, the company assures 50+ days of clean water for a community in need. (Note: French presses can also be used with loose leaf tea in place of coffee grounds when you want a fresh cup of tea).
You can snag more deals on this bad boy at:
IKEA Milk Frother
Foam up your milk for a tasty cappuccino anytime with IKEA's milk frother. Battery-operated and hand-held, these frothers are easy to clean and able to froth either cold or hot milk within 20 seconds.
How to save:
IKEA offers these as low as $2.79 on their site, with delivery prices varying. Fyi, IKEA Click & Collect items offer $5 gift cards upon pick-up at select locations - these cards can be used toward future purchases. You can also use these promo codes on IKEA products to save up to 40%.
Other places to buy:
KRUVE Coffee Sifters
If you want optimal coffee flavor, you'll need fresh-ground coffee — and some say you also need to mind the size of your grounds.
Born on Kickstarter, KRUVE sifters have up to 15 different sieve sizes for a possible 105 coffee grind combinations measured down to the micron to create your ultimate brew. (Enjoy a full java connoisseur review here where the KRUVE sifter is ultimately recommended as a way to up your coffee nerd cred).
How to save:
The Kruve site has them for $49.99 to $129.99 depending upon the number of sieves you choose, with free shipping offered on the Sifter Twelve (their model with the 12 different size sieves).
Right now, you can use this Dealspotr Exclusive promo code for 15% off a Sifter Twelve + XL Pack at KRUVE.
Stroopwafels
You need these with your coffee. Made popular in the Netherlands, these genius little cookies do two things when placed atop a hot cup of coffee:
Keep your coffee warm, and...
Melt the gooey, delicious, caramel-y insides layered between their double wafers.
How to save:
If you like these babies a lot, try ordering straight from the original manufacturer, Daelmans, for free shipping on orders over $60 (they ship from a U.S. warehouse via UPS Ground).
They've got plenty of options to choose from including pretty blue tins of 8 Stroopwafels for $4.99 or 8-packs of Chocolate-Caramel Stroopwafels for $30.90.
You should also subscribe to their newsletter to get a heads-up on discounts and updates on Daelmans products first, and don't forget to stop by their Specials section for even more great deals.
Other places to buy:
Smarter iKettle
Through a simple app, the Smarter iKettle connects to your phone or tablet, allowing you to control when it starts brewing — and in turn, it lets you know when your coffee is ready and waiting at the perfect temperature.
Easily integrated with other smart home devices like Alexa and Nest, the iKettle can keep your java on standby at your favorite temperature for up to 40 minutes. Note: These are easy to grab and run in the UK and Europe, but you may need an adapter to use them in the U.S. (for now).
How to save:
The official Smarter site has these for £99.99. But on Best Buy, card-carrying members get a Price Match guarantee, free shipping, and and 5% back in rewards, useful toward an iKettle (which they've priced at $149 USD). They can also get store pickup locally at participating locations at no extra charge. Find Best Buy promo codes here.
Other places to buy:
Simple Life Cycle - Mason Jar Cold Brew Coffee Maker
This basic cold-brew kit by Simple Life Cycle has a glass mug, bamboo lid, stainless steel filter, and adapts to either a quart or half-gallon size canning jar. Brew enough for your friends or keep it all in the fridge for yourself — it stays fresh for up to two weeks when kept tightly air-sealed.
Make your own nut milks? This kit works for that too!
Ways to save:
The Mason Jar Cold Brew Coffee Maker is primarily sold on Amazon, where you can get it for $19.99 with free shipping via Prime.
Other ways to save:
eBay: Has similar items ranging from $11.95 up
Mason Jar Lifestyle: Similar items for $13.99 and below — if you've already got a wide-mouth Mason jar.
Etsy: Also has a quart-size (or 2 quart-size) reusable 100% unbleached cotton cold brew filter for $5.00 that fits a wide-mouth jar (which you must already have). Check out the numerous 5-star reviews here, and find an Etsy promo code to use on your purchase here.
Coffee Joulies
Tired of burning your tongue on too-hot coffee or taking that first sip after it's way too cold? Maintain your best coffee temperature by dropping in some Coffee Joulies (this review explains the physics of it).
First pitched to the cast of Shark Tank in 2013, Coffee Joulies has since expanded to create Booze Joulies and other accessories for optimal beverage temperature maintenance.
How to save:
The Joulies site lists a pack of 5 joulies for $47.96, complete with a logo pouch, and offered with free shipping throughout the continental U.S. The option to buy the set without the carry-along pouch is also available, but sells out fast.
Also, sign up for the newsletter to get exclusive offers, new product announcements first, and more. Dealspotr has various Coffee Joulies promo codes, many of which have worked within the past 2 days - try them for your order.
Other ways to save:
Amazon: Has a few similar items, some for coffee, others for booze (although not specially Joulies), ranging from $7.95 to $13.96.
Portland Design Works - Bar-Ista Coffee Cup Holders for Bikes
If you ride your bike to work - or even if you just like to bring coffee along on your bike ride (some people probably do, right?), then look no further! We've found you a cup holder for your bike.
Portland Design Works has the original for $18.00. Sign up for the PDW newsletter while you're on the site to get exclusive offers and updates on the latest arrivals, and get free shipping on all orders over $50. Try these promo codes to get up to 50% off on Portland Design Works products, too.
Other ways to save:
Amazon: $7.99 for an off-brand handlebar attachment, plus free shipping with Prime.
Walmart: $12.99 ($3.99 shipping) for a similar off-brand product (no store pickup offered).
Planetary Design - Airscape Vacuum Coffee Storage Containers
Keep your favorite coffees fresh while stored with these handy vacuum storage containers.
How to save:
Originally priced between $24.50 and $29.50 depending on size, you can try these promo codes to save up to 20% on Planetary Design products. While you're on the Planetary Design website, be sure to sign up for their Brewsletter updates to get the quickest info on discounts and new products.
Other ways to save:
Amazon: A one-pound container from CoffeeVac is listed for $14.99 via Prime.
eBay: $16.81 and up for various types of storage containers.
Houzz: $16.99 for an Osaka stainless steel vacuum-sealed coffee canister (very similar), with free shipping. Find Houzz promo codes here.
Barista Supplies Latte Art Tool Set
Make your lattes look like the pros with a handy latte art set! Choose from assorted latte art toolkits and pen sets on the Barista Supplies site.
How to save:
Be sure to sign up for the Barista Supplies newsletter to get $5 off your first order of $50 or more (see orange sign-up tab along right margin of the site).
Also, wholesale pricing is available for select customers as well. (Note: this is an Australian-based company, so check international shipping rates here.)
Other ways to save:
Starbucks Flavored Syrups
Get that cafe flavor at home when you buy Starbucks flavored syrups for your homemade brew.
Although Starbucks officially closed their online store, you can still get flavored syrups in vanilla, caramel, cinnamon dolce, hazelnut, toffee nut, peppermint, raspberry, and classic — most available in sugar-free flavor too — other places, like your local grocery store.
Our favorite spot? It's not Starbucks at all. It's Torani, and they have a satisfaction guarantee with every product sold!
How to save:
The Torani site offers free 1-3 day shipping with all purchases over $59, with flavors like blackberry, french vanilla, lime, and cheesecake on sale for $7.50/bottle just in time for your summer iced lattes.
You can also join the Torani mailing list for 10% off your next order, or use this promo code for 10% off without the hassle.
Other ways to save:
Dunkin Donuts Classic Mug
With a lip reminiscent of the original styrofoam Dunkin Donuts cups, these mugs are definite classics — not to mention durable, dishwasher-safe, and exactly the right size to fit under Keurig Coffee Maker.
This original is sold on Amazon for $14.
How to save:
Dunkin Donuts Drinkware and Accessories site: if you're willing to go with a different style, get both stainless steel and plastic refillable tumblers for as low as $8.99. They're also currently offering 10% off promo codes for select purchases.
Ember Customized Temperature Control Travel Mug
A long-awaited treat for commuters, the Ember Customized Temperature Control Travel Mug uses patented technology to keep your beverage at the perfect temperature for you.
How to save:
Be sure to sign up for the mailing list and follow Ember across social media to get dibs on exclusive discounts and deals on future products. Ember offers a 30-day return policy for their products as well, and now offers gift cards. You can find Ember promo codes here.
Other ways to save:
A slightly more affordable version of the Ember mug has a built-in USB port to keep your coffee hot as you voyage to work — and once you get there, you can plug it in at your computer. Get it in red or blue for great prices at:
Aerobie Aeropress
The Aerobie Aeropress set uses air pressure to create a uniformly smooth, rich cuppa every time - on the go or at home.
How to save:
Get a steal on this one at any of their 8 authorized American retailers (and many more worldwide) who sell Aeropress coffee makers — and most sell their replacement parts, too. Check Dealspotr codes and deals on Aerobie Aeropress before checking out, too, to be sure you're getting the best price.
More ways to save:
Bed Bath & Beyond:$29.99, and you can get 20% off one item for 48 hours when you sign up for email updates.
eBay: Has them as low as $14.99 on Buy It Now - never used
Freehand Self-Leveling Drink Caddy
A treasure for the frequent traveler, Freehand Traveler self-leveling cup holder attaches to luggage handles ranging from 4 - 8 inches wide and holds drink containers from 8 oz. to 1 Liter in size without spilling.

Free your hands for checking your travel apps, texting your business partner, or a hundred more important things than holding your coffee.
How to save:
The Freehand Travel site has the original version marked down from $29.99 to $22.99 with free shipping anywhere in the U.S. A veteran-owned and operated store with products made in the USA, Freehand offers deals across social media at times, like this one posted to Twitter — so follow them on all of their accounts to make sure you don't miss any discounts!
More ways to save:
Amazon: $19.99 with free shipping via Prime.
Bed Bath & Beyond: $19.99 with free in-store pick-up (or get two to qualify for free shipping at $29 or more).
eBay: Ranges from $13.95 to $16.99 with free shipping.
Zoku Iced Coffee Maker
On a summer day, you're gonna want that hot coffee turned into iced coffee pronto - do it instantly with this handy travel mug.

Just keep it in the freezer until you're ready to use it, then pour the coffee in and wait 5 minutes for your ice cold coffee brew!
How to save:
The Zoku site has them for $29.99, but don't be slow to follow them on Twitter, FaceBook, Instagram, and more to get in on social media giveaways and discounts! Still looking for more great deals? Check these Dealspotr promo codes before you hit the checkout for up to 30% off Zoku products.
More ways to save:
YETI 10 oz. Rambler Lowball
Got to commute, but there's no USB or cigarette lighter available? Fret not. This drink holder has double-walled vacuum insulation which keeps your drink hot or cold for the ride.
Dishwasher safe, it's available in stainless steel and several colors.
How to save:
The YETI site has this one for $19.99 (Get a set of two and a MagSlider lid to qualify for free shipping). While you're on the YETI site, be sure to sign up for emails by joining the YETI Nation for updates and exclusive discounts on future products.
YETI also gives you a free gift when you register your YETI product here. Before you check out, give these promo codes a try for up to 50% off YETI products.
More ways to save:
Blue Bottle Coffee Subscription
These Blue Bottle Coffee subscriptions get you hand-sourced coffee beans from sustainable farms across the world delivered to your doorstep each month.

Get a free trial on the Blue Bottle site to try out a 2-oz whole bean coffee sample of assorted espressos, blends, or single origin coffees.
How to save:
Know a friend who might like a Blue Bottle subscription? Give them $10 to spend on the site and receive a $10 credit when they place their first order.
You can also sign up for the Blue Bottle email subscription to keep up on exclusive discounts and great new product updates. Lastly, make sure to check for Blue Bottle promo codes before checking out.
Blue Bottle Coffee Cupping
If you love all of the above and want to try out a tasting, tour, or class on the makings of Blue Bottle with local friends, check out an event in your area!
Cupping, or coffee tasting, is the practice of observing the tastes and aromas of brewed coffee.
How to save:
These are roastery tours and brew classes, ending with a taste of the best coffees and (usually) a free sample of beans to take home. You can join in on these events throughout the U.S., but be sure to sign up ahead of time because they fill up fast. The best news? It's free to attend.
Stojo Pocket Cup
These reusable to-go cups from Stojo collapse down into a flat disc so you can easily fit them into your purse or pocket when you finish your latte — and never lose your to-go cup again!
How to save:
Stojo offers free shipping on domestic orders over $39.98, and a variety of colors. Follow Stojo across social media for deals and giveaways, and make sure to check for promo codes, too.
Interested in wholesale options? Check this site or email sales@stojo.co for local distributors.
More ways to save:
Personalized Starbucks Cup
This refillable Starbucks cup ensures they'll always get your name right at the counter - and no one can steal your cup!
How to save:
The majority of these items can be found handmade on Etsy, where you can find them for as low as $7.20
Other ways to save:
Amazon: $12.99 (plus $5 shipping) with choice of color, top or bottom personalization, and choice of ring color.
eBay: $7.32 on Buy It Now.
Top Brewer
If you need a bonafide coffee shop spout in your kitchen, check out the Top Brewer.
Placed centrally on the counter to look like a water faucet, this gadget is smartphone-controlled and pours you a fresh, perfect espresso drink in 15 seconds.
How to save:
Though they cost $11,000 from the company, you can try your luck at finding cheaper ones at various distributors internationally.
If you still need a better price than that (and we think you will), we found a similar item for the more cash-strapped among us:
The Nespresso Prodigio works if you have a slightly smaller budget at $199, plus Nespresso actually offers promo codes — some for up to 50% off. Nespresso offers free delivery in select locations and 2-hour pickup at a local boutique when you order online (in some locations).
More ways to save on the Nespresso Prodigo:
eBay: Pre-owned for $120 Buy-It-Now (or start bidding as low as $70).
Crate & Barrel: Has some similar items, and you'll save 10% when you sign up for email updates. Find Crate & Barrel promo codes here.
Houzz: Has the similar Delonghi Espresso Maker at $99.95
Coffee Scoop/Bag Clip in One
This handy gadget takes a step out of your morning routine by making your measuring scoop double as your coffee bag clip.
How to save:
Bar Products has it at a steal for $3.95 with a $3 flat shipping rate for shipments under 13 oz. Find Bar Products promo codes here to save up to 70% on their site.
More ways to save:
Mypressi Twist
Create a flavorful espresso anytime anywhere with or without power.

The handheld Twist from Mypressi uses recyclable gas cartridges for the pressure, so all you need to do is twist and sip! Rumor has it these are no longer sold new at this time, making them even more precious! Knockoff versions were once abound, but have since become less widely available.
How to save:
While these sold for well over $150 brand new, you can get a deal at Amazon for a used version at $85.00.
Amazon also has a different, but similar gadget for $49.50.
eBay has replacement components for the Twist at a variety of prices.
Apps to Save Money on Coffee
You'll definitely need these, especially since most of them are free.
Starbucks
The diehard coffee nerds already have it, but it's not too late for you! Free for iOS and Android, this app lets you skip the line and place your order in advance. It also has a map with store finder and star/reward collector to help you earn free drinks and food.
Coffivity
If you love the atmosphere of the coffee shops, but not the prices, give this app a try. It creates the sounds of the cafe in your own home so you can get those java-inspired vibes. For $9, you can select your favorite sounds from among such gems as Morning Murmur, Lunchtime Lounge, Texas Teahouse, or Brazil Bistro here.
Intelligentsia
This free app (for iOS only) provides coffee and brewing information, updates, timers and alerts with brewing instructions, as well as a handy Intelligentsia location finder with map.
Coffee Nerd
Free for Android (with in-app purchases), this app has all the info you need to make the perfect cup of coffee every time. Rate brews, take daily notes, and adjust your favorite brews as you go.
Spro
This app guides you step-by-step on making the best espresso drinks in existence with handy accompanying diagrams.
Nordic Coffee Culture
Got any trips planned to Iceland, Finland, Norway, Sweden, or Denmark in the near future? If so, you'll need this app to find the best barista-approved coffee shops along the journey.
Coffee Run
Grab this app if you're tired of writing down everyone's order when you make your daily coffee run. It helps you keep track of orders for an easier run to Starbucks, Tim Horton's, or Dunkin' Donuts.
This list includes the must-haves for our favorite java junkies, and it's just like Pokémon — gotta catch 'em all!
Get each week's best deals from Dealspotr in your inbox
This guide was published on May 11, 2018
, and last modified on May 11, 2018
.