40+ Tips, Discounts, & Resources for Single Parent Family Vacation Travel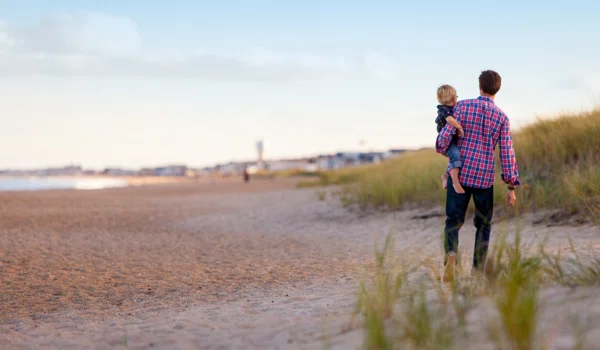 Although the American family has changed drastically over the last few decades, travel-related services and businesses still seem to be caught up on the idea that all families consist of two parents who are married and live together.
However, the statistics show that this is no longer necessarily the case with the Census Bureau's most recent data reporting that around 27 percent of American families are headed by single parents.
When it comes to vacations, single parents not only have to budget trips around only a single income, but also regularly face higher rates comparatively due to the fact that many businesses charge an additional fee for single occupancy.
This means that despite having only one adult in your party, you're likely to pay more per person than folks who travel with two adults. In addition, doing the work of two parents can often mean that going on vacation as a single parent is more taxing than it is relaxing.
Still, many travel-related businesses have come to recognize the rising trend of single parent families and have developed special deals and accommodations to cater to this particular community. That's why we've put together this useful list to help you find discounts and savings on family vacations as a single parent.
Here's what you'll get in this guide:
8 of our best tips for making the most out of your single parent family vacation

30+ discounts and savings on vacation packages, resorts, and outdoor adventures

A list of some of the best online resources for single parents who want to travel
Our best tips for traveling as a single parent family
Seek out all-inclusive vacation packages
Figuring out your budget, plotting your itinerary, and getting all your ducks in a row can make planning a vacation seem like a part-time job. Choosing an all-inclusive package means that all you'll need to do is put the money down and you'll be all set to go.
Watch out for single-occupancy fees
The last thing a resort, hotel, or cruise company wants is an an empty bed which means that sometimes they'll charge you an additional fee if you're the only adult occupying a room. Check to make sure that you're only being charged per adult or search for places that don't charge a single-occupancy fee.
Travel with other single parent families
Whether you have other solo parent families in your life, you meet them online, or you grab a vacation package specifically for solo parent families, traveling together has tons of advantages.
Not only will you be around like-minded folks, but you can also split up costs and responsibilities and buddy up with other families so your children have other kids their age to hang out with.
Look for places with kids clubs, activities, or free supervision for your children
You want to spend time with your kids, but you also want to make sure that you have some time to do the adult stuff you want to do which can be especially challenging if you don't have someone to keep an eye out on your kids.
Check out resorts, tours, and camps that have free childcare options so you can take a little break and let your child hang out and do kid stuff.
Do a test run
Sure, a trip across the world could be a once in a lifetime experience, but it might also come with a lot of hassle and stress especially if you're not used to traveling as a single parent.
Think about starting small with a road trip, a camping excursion, or a weekend at a theme park so you can figure out what works best with your family dynamic and what kind of accommodations you'll all need to make the most out of your vacation.
Find deals where kids stay and eat for free
You might still get slapped with a single-occupancy fee, but if your kids can stay, play, and eat for free, the costs might just wind up being worth it and you won't have to be so strict with your budget since everything is already included. We've got a list of spots like this a little further down in the article, so make sure you check them out!
Book early
A lot of websites offer you extra discount prices on vacations if you book six months or more in advance of your trip. Plus, booking early will give you extra time to iron out all the details.
Make sure you have your documents in order
Unfortunately, traveling abroad can be extra complicated for parents traveling solo with their kids as many countries require that both parents are present.
Travel agency vacation discounts for single parent families
If you're someone who doesn't have a ton of time to plot out the perfect itinerary and organize all the logistics, then going through a travel agency might be the best choice for you. They'll plan out all the details so all you have to do is pack your bags and go. These agencies offer special vacation packages that are tailored to your needs and won't break the bank:
Intrepid Travel
Just this year Intrepid Travel introduced six different vacations tailored to solo-parent families which you can find here. Intrepid offers a 10% discount for children under 17 on all of their vacation packages.
They also offer a number of travel deals including last minute vacations and discounted adventures on their site, and have offered $10 discounts with one of these promo codes.
Vacation Express
Vacation Express offers exclusive deals at Smile Resorts in Cancun, Jamaica, Grand Bahama Island, Costa Rica, Puerto Plata, Cozumel, and Aruba. Book here through Vacation Express to get the single supplement fee waived when you and your child share a room together.
Sovereign
Luxury travel website Sovereign has a page dedicated to single-parent families where you'll find their listing of hotels that offer reductions for single-parent families. Some also allow your child to stay for free. The hotels are all personally visited by Sovereign advisers and you can ask them about getting extras to help you care for your little ones. Check here for Sovereign discounts.
Vacations To Go
Vacations To Go has a page dedicated to scouring out cruise vacations with either low or no single-occupancy supplement fee. All you have to do is register, and they'll set you up with their listings. You can also give them a call at 800-338-4962 for more information, or check here for discounts.
Green World Holidays
Green World Holidays offers week-long active touring vacations to Croatia and Slovenia. They have dedicated single parent family adventure holiday weeks available where you can connect with other solo parent families and they work hard to book groups with kids of similar ages and interests. Use code: SNG-FAM to book.
Transat
A Canada-based vacation travel site, Transat offers discounted rates on vacation packages to Mexico and the Caribbean. Their single-parent vacations offer you reduced rates and family rooms when you travel as a single parent, as well as Family Collection perks such as priority boarding, stroller service in the airport, access to the Air Transat Kids Club for kiddos under 11, and even find places where kids stay for free.
Responsible Travel
Responsible Travel has a selection of vacations that are perfect for single parent families, some of which are exclusively available to those families. Travel dates are flexible and by choosing Responsible Travel you'll receive a free gift with booking and up to a $120 loyalty discount if you're a returning customer. You can also check for Responsible Travel promo codes here.
Holiday Nepal Tours
Holiday Nepal Tours offers vacation packages to Nepal specifically for single parent families. You'll go on kid-friendly walks and hikes, visit the birthplace of Buddha, see local wildlife including elephants and birds, and end your trip in the city of Kathmandu. They have hands available to care for your children and even infants so you can explore on your own.
Sunwing
Sunwing is a company that's also based in Canada, so you'd need to be willing and able to travel from there. However, their single parent vacation packages with SmileResorts inclusions allow you to waive the single supplement fee plus get access to supervised kids clubs and deals for up to two kids to stay and eat for free.
Single Parents on Holiday
Single Parents on Holiday is a UK-based travel agency offering a number of single parent holidays. Check out their discounts page for early booking discounts and loyalty discounts if you book a second vacation in the same year.
Classic Collection
Classic Collection is another UK-based luxury travel agency. Their single parent listings prioritize locations that have child care services so you can have some alone time during your vacation. They also have single-occupancy discounts for single parents, a special offers page where you can find exclusive discounts, and a loyalty rewards program for returning customers.
Virgin Holidays
You'll have to be based in the UK or traveling from there for this one, but Virgin Holidays offers exclusive deals on single-parent holidays to the Caribbean. Where most hotels charge double-occupancy even if there's only one adult, these vacations are priced as single-occupancy and feature plenty of activities for you and your kiddos.
Single With Kids
Single With Kids is a UK-based website dedicated to all things single parent families, including offering special vacation packages in the UK and abroad. Join their Rewards Club to get 15% off your vacation, full access to their forums, priority booking, and more. Also, be sure to check out their Value Breaks for budget-friendly vacations.
Jet2Holidays
While Jet2Holidays isn't specifically dedicated to vacations for single parents, they do offer a search option that allows you to look for vacations, flights, and accommodations that are free for your child, meaning you just pay your own fare and your kiddo travels for free. Click here to check out the search engine, and check here for any coupon codes available.
Resort, hotel, and all-inclusive vacation discounts for single parent families
Resorts are a great option for single parents since they offer all the amenities you need in one location, for one all-inclusive rate. Plus, many of them have special activities available for you to enjoy with or without the kiddos. Check out these resorts that offer special deals for single parent families:
Franklyn D. Resorts
A family-friendly resort in Jamaica, Franklyn D. Resorts offers free nanny services to all of their patrons from 8:30AM to 4:40PM with extensions available for a relatively low price.
What's more: they waive the single supplement fee for single parents year-round which tends to attract lots of other single parent families for you to conect with. Check out their Promotions page for more deals including seasonal rates and loyalty discounts for repeat customers.
Grand Velas Riviera Maya
Grand Velas Riviera Maya offers a special package for single parent families which includes a $50 spa credit per adult for each night, a 10% discount on the resort's boutique, and one guided onsite ecological tour including kids recreational activities per visit. You can also check here for promo codes for any of the Grand Velas resorts.
Grand Velas Riviera Nayarit
Grand Velas Riviera Nayarit is another Grand Velas resort offering a single parent vacation package that's free for up to two children under the age of 12. Your trip includes transportation to and from the airport, matching alcoholic and non-alcoholic drinks, and your choice of either swimming with dolphins or taking a flyboard tour. Use code: SINGLE-18 when you book.
Sonesta Maho Beach Resort
Sonesta Maho Beach Resort in St. Maarten is currently shut down in the wake of Hurricane Irma, but when they reopen they do offer a single parent vacation deal.
Children under 12 stay completely free, while you can bring up to three children ages 13-17 for just $45 per kid per night. Package includes a child welcome beach amenity and age-appropriate activities. Book online or by phone at 1.800.SONESTA using the code: SPPKG to get their discount.
Club Family Hotel
Club Family Hotel is an all-inclusive resort in Italy with family boating, waterslides, and a children's playground, they offer discounts for single parent families. Any child under 15 can stay for free in rooms with bunk beds or single beds, while children in rooms with double beds receive a 50% off discount.
Members of the Single Parent Alliance of America can get 10% off at any Motel 6.
Camps, retreats, and outdoor adventure discounts for single parent families
If enjoying the outdoors is something your family enjoys, there are a number of different camps that offer weekend and week-long retreats for you and your family in scenic locations. Many of these camps offer daily activities to keep you and your kids entertained. These are a few camps where you'll be able to spend time with other single parent families while staying within your budget:
Pecometh Camp and Retreat Ministries
Pecometh Camp and Retreat Ministries offers a Christian-focused single parent retreat weekend where children under five stay for free and the all-inclusive cost per person is just $159. They have scholarships and discounts available upon request which you can find when you register online.
Montrose Bible Conference
Montrose Bible Conference is a Christian camp set in the mountains of Pennsylvania. They hold an annual weekend single parent family retreat in mid-November. Discounted family rates are $100 per adult and less than $30 per child depending on their age. They do have scholarships available which you can inquire about through their contact form.
New Jersey Y Camps
The Jewish-centered New Jersey Y Camps in the Pocono Mountains holds two Single Parent Family Weekends during the summer. The all-inclusive rate for adults is $275 for the weekend while kids under 18 stay, eat, and play for free. If you have a child under four, you can also bring a babysitter free of charge.
Camp Tilikum
Camp Tilikum offers a Single Moms and Families Weekend at their Christian-focused camp in Oregon. They have a three-tier system of subsidized rates that can help you to cover the costs, and prices include five free meals, lodging for two nights, and all activities.
Duffield Camp and Retreat Center
A Christian-based camp in upstate New York, Duffield Camp and Retreat Center has a week-long camp for Single Parent and Blended Families. The week includes tons of activities for both parents and kids with rates that vary based on the age of your children.
You can also apply for one of their "camperships," a scholarship fund that can offset the costs of the week. Check out their Registration page for more information.
Pine Cove is a Christian-centered camp in Texas that offers an annual single parent family conference for families with kids in first grade or older. The cost is just $128 per parent and $99 per child for a weekend of all-inclusive fun.
National Parks
There are tons of National Parks throughout the US that offer some of the country's most spectacular views and breathtaking natural wonders.
Their annual pass is just $80 and will cover entry for you and everyone in your vehicle (with kids under 15 free) at any National Park for the duration of the year. If your child happens to be a fourth grader, you can also get the free Every Kid In A Park pass which will grant you and your kiddo free access to any National Park during their fourth grade year.
YMCA
While this isn't necessarily a vacation, many YMCA chapters offer discounted rates for single parent families. If you're looking for a weekend activity to do with your kids that doesn't require traveling very far, check with your local YMCA to see if they have a special rate available for your family.
Free stuff for kids on vacation with single parent families
Of course, a lot of businesses are still lagging behind when it comes to setting up affordable rates for solo parent families. However, there are plenty of vacation opportunities where your kids can stay and eat for free or for a discounted rate, which means you'll just have to cover your own expenses and, if applicable, the single occupancy rates. Check these out:
Harbor Beach Marriott Resort and Spa
Harbor Beach Marriott Resort and Spa is a resort and spa in Ft. Lauderdale that offers special freebies for kids. Use code: MAJ when you book your vacation and your children under age 12 get all meals from the Kid's Menu for free when you dine together. They'll also get free overnight accommodations. You can search for more Marriott Hotels promo codes here.
Mohonk Mountain Resort
The Mohonk Mountain Resort, a Victorian castle and resort, is just 90 miles north of New York City. They regularly offer deals where one child per adult can stay and eat three meals daily free of charge when you share a room. They also have a complimentary Kid's Club for children under 12 so you can have some free time to yourself. The offer is only available by phone so call (855) 883-3798 and ask about availability.
Dreams Resorts
Dreams Resorts have a number of resorts throughout Central America and the Caribbean, all of which allow up to two kids to eat and stay for free. Check out their Special Offers page to find tons of discounts including 10% off for US Military Personnel, AARP Members and AAA Members.
Alexandra Resort
Alexandra Resort offers a special free all-inclusive package for kids under 12 at their resort in Turks and Caicos. This deal is valid year round, includes free access to their Kid's Club, free shuttle rides to their sister resort, and can be combined with other promotional offers like their all-inclusive 30% off sale that lasts from April through December.
Iberostar also has several resorts in the US and Central and South America where up to two kids can stay and eat for free. Their all-inclusive resorts also feature special activities for kids as well as a Kid's Club where you can leave your kiddos under the supervision of resort staff. Right now, they're offering a 20% off promo code for trips to Majorca.
While Club Med doesn't offer specific single parent family vacations, they've gotten plenty of rave reviews from single parents. They have over 60 all-inclusive resorts around the world, several of which are tailored towards families and offer supervision and activities for your kids so you can relax by yourself.
Children under four years old stay for free at all of their resorts, while they offer discounts of 50% for kids from four to 11 and 30% for teens under 15. Save money by checking out their offers page, these promo codes, joining their Great Members Club, and getting points for referring your friends.
Eurail
If you're planning a vacation around Europe, children under 11 always travel for free on the Eurail system which can take you to destinations throughout the continent. Check here for discount codes.
Helpful resources for single family vacations and travel
Single parents have created incredibly vibrant communities of support online and, like you, many of them are passionate about finding affordable and enjoyable ways to travel with their families. These websites can offer you advice, community, and even some exclusive vacation deals:
Single Parents Who Travel
Single Parents Who Travel was started by journalist and traveling single parent Tomika Anderson to connect like-minded families with a love for travel.
Sign up for their mailing list to get special discounts emailed to you. Stay up to date with their website for exclusive group vacations for their community members like the MSC Seaside Cruise vacation they offered earlier in 2018.
Happy Traveler
Happy Traveler is a website dedicated to single parent families who love to travel. Check out their selection of vacation travel packages with exclusive discounts that you can only find on Happy Traveler here. They also offer articles with tons of tips on traveling as a single parent family, an extensive list of vacation ideas, and a blog where single parents discuss travel and more.
Single Parent Travel
Single Parent Travel is a community network that offers group vacations for single parent families. Their blog offers useful tips for traveling as a solo parent. Keep up with them to find out about their group vacation offerings like 2018's weekend trip to Rocking Horse Ranch in the Hudson Valley with discounted all-inclusive rates.
Whether you're planning a relaxing vacation at a resort, a camping adventure, or a trip around the globe, these tips will help you keep your travels budget-friendly. For more great ideas to save money, be sure to keep up with the Dealspotr blog and check out the Dealspotr homepage for discounts on just about everything.
Get each week's best deals from Dealspotr in your inbox
This guide was published on May 8, 2018
, and last modified on May 8, 2018
.
Stores related to this article:
IBEROSTAR
,
Sunwing Vacations
,
Eurail
,
Club Med
,
Sovereign Luxury Travel
,
Grand Velas
,
ResponsibleTravel.com
,
Motel 6
,
Vacations To Go
,
Intrepid Travel
,
Marriott Hotels