Top 9 Wearables and Smart Gadgets for Skiers and Snowboarders
About the Author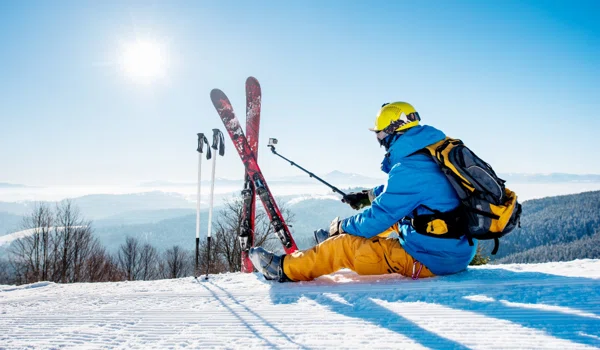 You wait all year until you can put on those ski boots or strap on that snowboard. When it's finally that time of year, we're more than ready to hit the slopes.
You in?
First, let's take a look at your gear. You're probably missing out on some amazing smart gadgets and wearables that'll make your snowboard/ski trip that much better (and safer!).
Get equipped & shred smoother with some cool smart products for the trip. Here's a list of the top smart products and gadgets for skiers and snowboarders.
GoPro Helmet Front & Side Mount
Starting off with the basics, you're going to need a GoPro for your helmet. How else are you going to record and upload that sick video of you doing the half cab?
Wear it however you'd like. On the side, facing forward, or pointed at your face - catch every movement with a durable name brand camera that will ride with you.
Hey, why not mount on a GoPro to catch all three viewpoints? It's snow season, let's get crazy!
Geko Smart Whistle
There are so many fun products when it comes to skiing and snowboarding. However, nothing is more important than safety.
The Geko Smart Whistle from REI in lime green or navy blue is a good way to stay safe while enjoying outdoor activity.
It's not just a whistle to call for help. It comes with GPS tracking so loved ones can find where you are. Download the free app it comes with, pair it to your whistle, and pick people you want to connect with. These are the people that will be notified if something is wrong.
When you're in trouble, just blow into the mouthpiece. Not only will a loud whistle noise alert nearby people, but it will also activate your SOS call.
This handy device will also record and send audio to your contacts to let them know what the emergency is.
If you're in a situation where you need to remain silent, you can change it in the settings so that your friends are alerted, but you're not making a sound.
The easy to attach loop makes this gadget easy to carry with you down the slopes.
Heated Insoles
Keeping your feet warm can be tough in extreme weather.
Sharper Image wanted to solve this problem, so they came up with a terrific solution.
Heated Insoles. To be honest, that sounds great for just around the house!
Pick your size and get hours of warmth. They work with a built-in rechargeable battery and an on and off switch, so they are actually like really tiny shoe heaters.
The insoles come with a portable remote that controls the temperature with an on and off switch.
Topeak SmartPhone DryBag
Dealing with your phone while trying to brave the elements isn't always easy. Electronics need to stay dry and in snow and rain, that can be tough.
Introducing, the Topeak SmartPhone DryBag. This smart little phone bag will keep your phone dry.
It's so easy, but so important. Don't just throw your phone in your pocket and hope for the best. If you need to take your phone with you, keep your phone safe with a thermoplastic urethane dry bag that comes in different sizes depending on what phone you have.
While it's in the bag, you can still use the touchscreen and take photos of your fun trip.
Seams are sonically welded, meaning you won't have to worry about wetness getting in between the stitching.
SmartPhone Nanotips
Don't you hate trying to text someone with gloves on? It's impossible!
Time to make your trip a little easier. The SmartPhone Nanotips are a special product made for texting, dialing, or scrolling on your phone when you're wearing gloves.
These special tips can go on all gloves, including the puffy snowboarding/skiing gloves you'll be wearing. Plus, you'll be able to get this just in time for your next trip thanks to Amazon.
Navigate your phone with ease by sticking these on the tips of your existing gloves using the glue it comes with.
In the description it says, "Comprised of evenly dispersed ultra-fine conductive nanoparticles, each nanoparticle is carefully prepared so to interlink with one another; this helps to form a conductive grid-like film on the surface of the material."
How much smarter can a product get than that?
Smart Goggles
Isn't it the worst when your goggles fog up while you're on the slopes? This next brand goes so far as to call it a "buzzkill."
Abom is a goggles company that makes high-tech heated goggles for the snow, military, and for general safety purposes.
These goggles are special in that they use KLAIR electronic anti-fog technology to make sure no pesky fog obstructs your vision.
This isn't anti-fog coating like you've seen in ski shops. Instead, Abom uses a "transparent thin-film electrically conductive layer placed between the goggles' two-part lens." Not only that, these goggles come with a side button that boosts and improves clarity when you need fog dispersion most.
These goggles are battery powered, so they come with a wall charger and micro USB cord.
Abom goggles come in a variety of colors, so you can match them to whatever ski suit or snowboard you're donning.
Heated Gloves
When you're dodging trees and trying to keep your balance, numb hands can be straight up dangerous.
Two words. Heated. Gloves.
Seirus Innovation Heat Gloves can help keep the feeling in your hands and control in your steering while you're skiing. These rechargeable cold climate gloves are waterproof as well as breathable.
The shell of the glove is made with full-grain leather, so the quality matches the technology. It comes with a cuff clinch to keep heat in.
Weather-Resistant Portable Battery
Portable batteries are always good to have in any occasion where you're not at home. Now, you can have one that can withstand the colder weather conditions of a ski trip.
The AdventureMini is a great companion to throw in your pocket before you hit the road. You'll thank yourself later!
When you're out on the slopes, you're nowhere near charger ports, so having this MyCharge portable phone charger is the smart way to go.
Keep taking photos and having a blast without worrying about disappointing standard smartphone battery life.
Time to Hit the Slopes
Now that you're all geared up, it's time to cut some fresh powder. Make sure to remember "safety first" at all times. Luckily, you'll be set with the items we listed here.
Have a gnarly time and don't forget to press the "record" button!
Get each week's best deals from Dealspotr in your inbox
This guide was published on February 2, 2018
, and last modified on February 2, 2018
.