10 Smart Wallets for 2018 with GPS Tracking + Features That May Surprise You
About the Author
Dealspotr Marketing Coordinator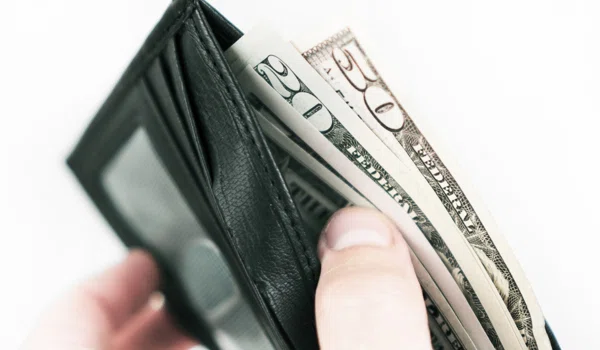 So we all know that smart wallets, with their GPS tracking capabilities, are popular for people who lose their wallets all the time, but did you know that some wallets can scan for counterfeit bills with UV light or are locked with a fingerprint scanner? With all of these unique features, it can be hard to decide which options are the best for you. It's important you keep in mind the following:
Trackability: How is the wallet able to be tracked? Is it through GPS on your phone and how does the tracker let you know when you're no longer near the wallet?
Design: Is the design of the wallet functional with your lifestyle? Some wallets are designed to be slimmer than others. Additionally, do you want it to feel like a traditional wallet or do you want a more tech-savvy design?
Unique Features: Each wallet has a differentiating feature and that feature may be a deciding factor for you.
Price: While we all want to be able to purchase the best of the best, price does play an important factor in a purchase decision. The wallets are listed in order of price to help weed out any non-options.
With those deciding factors in mind, here's a closer look at the 10 top smart wallets on the market today.
Under $100
R2403 Minimalist, Commuter, and Traveler Wallets
The most inexpensive option that is made out of real leather.
R2403 began its Wallet range on Kickstarter and has since raised over $13,000 for its smart wallets. The company is based out of New York City and strives to make the smart wallet trend accessible.
There are three different designs for the wallet: the Minimalist, Commuter, and Traveler. The Minimalist is a sleek card case designed to carry up to 8 cards and bills – just the essentials. The Commuter is a bifold wallet that holds 12 cards and bills. Finally, the Traveler, which can hold your passport and travel documents in addition to your daily credit cards and cash.
Quick facts:
Trackability: These wallets are tracked thro a Chipolo card tracker – the world's thinnest and loudest wallet finder. It's water resistant and has a battery that'll last for one year.
Design: The premium leather material is a big win for the R2403 designs. Additionally, the wallets use elastic to allow the wallets to expand to hold all your necessities. All of the internal card slots are also RFID safe.
Unique Factor: These wallets are some of the cheapest on the market when it comes to smart wallets, and with the premium leather material they will certainly be a solid investment.
Price: $29 - Minimalist Card Case, $39 - Commuter Bifold, $49 - Traveler Wallet
Where To Buy: Kickstarter
Tile Slim
Aren't a fan of the wallet designs? Buy just the tracker.
Don't be fooled by the slim design of the Tile, it packs a punch. You can stick or slide your tile in any item and you can find it via the app. If the item is nearby, the Tile will ring. If not, the app will provide you with a map to the item. It's quick, easy, and doesn't require you to buy a new wallet.
Tile offers multiple different product designs if you're looking to protect multiple devices, like the Tile Sport, which has twice the range, and the Tile Mate, which is intended to help you find your keys. Each Tile even has a button that will help you find your phone, even if it is on silent.
Quick facts:
Trackability: The Tiles use your smartphone to help you find the item they are attached to. If the item, like your wallet, is in the 100-foot Bluetooth range, it will play a loud tune until you find it. If the item is further away, you can use the GPS system or the Tile community lost-and-found to find your item again.
Design: The Tile is simple, slim, and designed to attach to any important items you have. The Tile Slim is water and dust resistant and 99% recyclable.
Unique Factor: The Tile is inexpensive and can be used with any wallet you currently own, so you don't need to buy a new wallet.
Price: $30 for a 1-pack; when your Tile needs to be replaced each year, you receive 40% off a new Tile via the reTile program
The Everyday Smart Wallet By Walli
Walli uses SecurePocket Tech to monitor what your most-used card slot is and alert you if it is empty.
Walli Wearables began on Kickstarter in 2015 and is continuing to develop smart products for men and women. The Dallas-based company's first product, The Everyday Smart Wallet, connects to the Walli App via Bluetooth to let you know if you ever wander too far from the wallet.
The company also designed the Key Finder, which can be attached to your key ring to help you find your keys. The colorful leather is dustproof and the internal battery can last up to six months. The best part: the wallet can track which slot is your most used and alert you if the card is no longer there.
Quick facts:
Trackability: The Walli Wallet connects to your smartphone over Bluetooth to send you instant notifications. The Walli App will send out a display notification on your phone if you get too far away from it. Additionally, if you can't find your phone and it is within 100ft of you, a double tap gesture on the wallet will send an alarm to your phone even if it is on silent.
Design: The wallet is made from genuine leather and comes in three colorways: black with blue stitching, blue with teal stitching, and black with gray stitching. Once the $300,000 goal is reached, the company will release the black with red stitching colorway.
Unique Factor: The patent-pending SecurePockets technology allows Walli to monitor the card slot you use the most. Walli pockets send a signal to your phone when your credit card/ID is missing for too long. You can set a timer (through the app), after which the app will notify you about the missing card pocket.
Price: $89 for Walli Wallet, $99 for Wallet and Key Finder
Where To Buy: Walli - Don't forget to check out Dealspotr deals.
Voyager Smart Travel Wallet by Cuir Ally
Voyager Smart Wallet uses an integrated smart chip to help you keep track of your wallet via the app.
Cuir Ally designed the one-of-a-kind wallet to make travel easier and it certainly works. Premium, fine-grain leather, the passport pocket, 8+ card slots, and sleek metallic pen all come together to make this wallet unique. The wallet even can hold a Sim Card and includes a Sim removal tool if you need to change Sim Cards during your travels.
The internal chip is from Chipolo and is seamlessly integrated into the wallet design. To connect to your wallet, just download the Chipolo app and your phone will connect to the wallet via Bluetooth. If your wallet is no longer in the vicinity, your phone will send you a notification to ensure it isn't lost.
Quick facts:
Trackability: The wallet connects via the Chipolo app and monitors the location of the wallet at all times. You can also use the wallet to find your phone.
Design: The Voyager wallet is larger than other smart wallets because it is designed to be a travel wallet, however, it will always remain slim. The premium touches like the fine grain leather and sleek pen will always give you a taste of luxury no matter where in the world you are.
Unique Factor: The size and premium touches in this wallet are what makes it unique. One of the most unique features is the integrated Sim Card and Sim tool slot.
Price: $99 – Follow them on social media and get the $35 Launch Discount.
Where To Buy: Cuir Ally – Don't forget to check out the Dealspotr deals.
Under $150
Woolet Woof Glow
Woolet has a speaker built right into it so you can set an alarm to easily find your wallet.
In 2015, Woolet's Kickstarter campaign began and since the brand has continued to create elegant and functional products they're proud of. All of their products are designed to make our lives easier (thank you, Woolet) and technically advanced. Some unique features: inconspicuous sound recording and a selfie remote. How cool!
The wallet is built with integrated electronics, so you never see the cables behind the device. Speaking of cables, the wallet comes with a micro-USB and can be charged wirelessly. If you do lose your wallet, the Woolet community can help you find it via the app.
Quick facts:
Trackability: The wallet is tracked through the Woolet app and the Woolet community aids in locating your lost or stolen wallet. You are able to track your wallet via GPS and you'll receive notifications on your phone every time the wallet is out of reach.
Design: The wallet is made of either natural calf leather or vegan leather and comes in black, cognac, and navy blue. There are 4 card slots that can fit up to 8 cards. The wallet also comes with a mini-pen by Walkie.
Unique Factor: This wallet is packed with all of the innovative features. The wallet has an internal speaker that'll send out an alarm when you're looking for it. Additionally, the wallet comes with an LED flashlight, a selfie remote, and sound recording for anti-theft.
Price: $109 + Free shipping
Where To Buy: Woolet – Don't forget to check out the Dealspotr deals.
Ekster Parliament Wallet + Tracker
The tracker in the Ekster products is solar-powered and only requires 3 hours of sunlight for a month-long charge.
The Ekster Smart Wallet is an ultra-slim trackable smart wallet with instant card access. You can access your cards with the click of a button, using their patent-pending mechanism. The cardholder is RFID-blocking and the solar-powered, removable tracker card keeps track of the wallet's location.
The wallet is tracked via the TrackR app. When in close range, pressing the ringer button on the app will make the wallet ring. A lot of the features in the Ekster wallet are similar to those offered by other brands, except for the solar-powered technology.
Quick facts:
Trackability: The wallet is tracked through the TrackR app and the Crowd-GPS network will help you find it if it is out of range.
Design: The wallet is made from European genuine leather that is also used by top-of-the-line luxury leather brands. The wallet stores at least 9 cards, offers cash storage, and has a built-in ringer. While it's nice that the tracker is removable, it adds bulk to the wallet and takes away from a possible seamless design.
Unique Factor: Since a lot of the features are used on other smart wallets, the one truly unique feature is the solar-powered tracker card that can be removed and used with other items. If you're interested in just this item, you can buy it separately.
Price: $119
Where To Buy: Ekster – Don't forget to check out the Dealspotr deals.
Baggizmo Wiseward Smart Wallet
This wallet uses UV light to tell you if your banknotes are counterfeit.
Baggizmo sounds like a spell a magician would use, and based on the number of unique features this wallet has, it may actually be magic. The wallet offers the usual two-way communication from phone to wallet, geolocation tracking, and anti-theft sound alarm. However, it also offers security movement and fall detection and wireless charging.
Aside from the tech, the wallet also fits 15 cards and cash inside while still remaining slim and pocket-sized. The wallet is made from premium Italian material that is water repellent. There's also an NFC chip that allows the user to store personal information in the wallet, like a garage door code.
Quick facts:
Trackability: The tracking is done through the Baggizmo Wiseward app and there are multiple different tracking features on the app: wallet movement detection, push notifications if the wallet is almost out of reach, tracking of wallet usage by indicating open/closed status, visual tracking, NFC programming, RGB light personalization, UV lamp detector, wallet/mobile phone detection, and more. Check out the website to learn more about each of these specs.
Design: It's unclear exactly what material this wallet is made of, but the website said that it is made in Italy and is eco-friendly. The wallet is designed to remain slim even with 15 credit cards and cash in it. There are also 6 different colorways: true blue, cardinal red, jet black, noble blue, sandy beige, and vintage brown.
Unique Factor: Honestly, what doesn't make this wallet unique. The whirlwind of features it brings would be exciting to anyone, let alone the tech lovers. My favorite feature? The UV lamp detector. I would have no idea how to figure out if my banknotes were fake.
Price: $139
Where To Buy: Baggizmo – Don't forget to check out the Dealspotr deals.
Cashew
Never worry about someone stealing your wallet again because this wallet locks using fingerprint authentication.
Whoever would have thought that our wallets would become as smart as our smartphones? Cashew brings the 'smart' in smart wallets up a notch by creating fingerprint authentication locks to its wallet. Bluetooth integration, crowdsourced GPS technology, and a rechargeable battery all round out this wallet to make it a solid choice for the consumer wanting to invest in smart security.
Your Cashew can hold up to 7 cards and 20 bills. The sleek design of the wallet makes it easy to carry around in your pocket. This Kickstarter campaign continues to be successful and generate buzz, and it's no shock why.
Quick facts:
Trackability: Tracking is done through the free Cashew app. After you sync your wallet and smartphone together, the app is always monitoring its location to ensure your wallet is always by your side. Can't find your wallet anyway? Use the "Buzz My Cashew" feature in the app and your wallet will ring until you find it.
Design: Cashew is made with a specially designed polycarbonate that is both waterproof and scratch proof. There isn't a designated coin area, but if you don't fill up the wallet the coins can easily fit. The wallet comes in four colors: black, maroon, blue, and pink.
Unique Factor: The biggest feature of Cashew is the fingerprint authenticator. It's the most bulletproof way of ensuring the safety of your cash and cards.
Price: $149
Where To Buy: Cashew – Don't forget to check out the Dealspotr deals.
Volterman Smart Wallet
This wallet has a built-in powerbank and worldwide WiFi hotspot.
It's no wonder that Volterman raised almost $2.5 million on Indiegogo – the thing is a beast. It claims to be the world's most powerful smart wallet (I believe it) with five smart functions: the built-in powerbank, a distance alarm, global GPS tracking, a worldwide WiFi hotspot, and a thief detection camera. It is very well thought-out in its design and function.
Volterman has since designed a passport cover, cardholder, and travel wallet in addition to the initial bifold wallet. Volterman engineer Azat began developing his own plan for a smart wallet in early 2014 and wanted to solve the problems created by both regular wallets and other smart wallets on the market.
Quick facts:
Trackability: Tracking is done through the Volterman app, which features a Bluetooth alarm system that signals you when you've left either your wallet or phone behind. You can also track your wallet's location globally, securing you from thieves and loss. If your wallet is stolen, there's a tiny camera in Volterman and it will take photos of anyone who has opened it.
Design: All the Volterman wallets are fully sealed with a sealant that makes it secure and resistant to heavyweight and heat. The wallets are all RFID protected and waterproof. The leather is from the same manufacturer as Cartier, Dunhill, and Louis Vuitton.
Unique Factor: Volterman has many unique features to its design: free global GPS tracking, a thief detection camera, a global WiFi hotspot, and a 64 GB embedded SD card.
Price: $169
Where To Buy: Indiegogo
Wocket
Wocket will replace your entire wallet with a single card and interchangeable accessories to carry cash.
Wocket is truly the wallet of the future. It is two separate components: the Wocket credit card, and a boxy card selector with an integrated touchscreen. It simplifies your current set of cards into one easy card to swipe and go. You save your physical cards virtually into the card selector so you can use the credit card during point-of-sale.
Wocket doesn't connect to a phone or other device, so that means it isn't trackable. All of the security is located on the device with pin codes or verbal confirmation.
Quick facts:
Trackability: The Wocket is not currently trackable, but offers numerous other safety features.
Design: The boxy wallet comes with an extra card slot (like for the entrance to your office building) and a stitched leather back.
Unique Factor: The entire setup of the wallet is very unusual for the product category, but provides a very secure way of taking your valuables with you.
Price: $179
Where To Buy: Wocket - Don't forget to check out the Dealspotr deals.
Get each week's best deals from Dealspotr in your inbox
This guide was published on July 12, 2018
, and last modified on July 12, 2018
.