Five Brands That Help You Look Good And Help The Environment
About the Author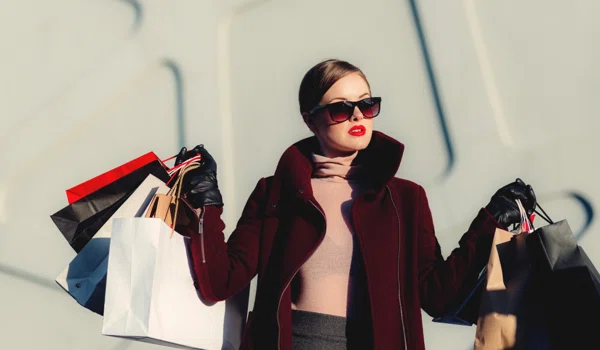 We don't often think too much about where we get our clothes, about whether the people who made them were given a fair wage or whether the materials they were made from are having adverse effects on the environment. And if there is one thing America loves it's a bargain: Most of the fashion market has become dominated by fast fashion, clothing that is mass-produced very quickly with little regard for the environment or the people who made the clothing.
It's what they call the hidden cost of cheap clothing, the consequences of such a low-price point and the ensuing disposal of such clothing: I remember buying an ugly Christmas sweater, wearing it once, and the conveniently "losing" it. When you only paid a few dollars for a shirt, you don't feel so bad wearing it once and then throwing it away and according to the Environmental Protection Agency in 2013 there was 15.1 million tons of textile waste and 12.8 million tons of that was discarded, meaning clothing thrown away by consumers. If you're thinking this doesn't apply to you because you donate your old clothes, remember that cheap clothing doesn't last as long and can't be sold or are shipped out to other countries, either to be dumped or to cause havoc on their local economy.
Before diving into the five brands I've chosen to feature today, I should clarify what I mean by sustainable and ethical fashion. According to the Ethical Fashion Forum ethical fashion "maximises benefits to people and communities while minimising impact on the environment" while sustainability is defined by the World Commision on Environment and Development as "development which meets the needs of current generations without compromising the ability of future generations to meet their own needs." These ideas can also be thought of in conjunction with slow fashion, an approach that focuses on "savoring" fewer clothing items of higher quality. For the sake of this article, I will use the term ethical clothing since it considers both environmental and social impact. So let's get started with five brands that are not only ethical but also fashionable.
Everlane
Modern basics made with radical transparency. Everlane makes apparel, accessories, and shoes made with premium materials using ethical production practices. Unlike the other brands we'll talk about, Everlane prominently features a cost breakdown for each product which includes the cost of materials, labor, transport, etc and then compares their pricing to that of traditional retailers. Let's take an example: The men's Everlane Cotton Crew, my staple t-shirt. I probably wearing one of these bad boys at least 3 times a week. It's priced at $16 but looking at the breakdown you see not only the true cost ($7) but also how much a t-shirt of this quality would normally retail ($35). So not only are you getting a super comfortable, quality t-shirt made in Los Angeles for way under normal retail, you also get peace of mind. Although Everlane is generally a well-priced range, don't forget to check Dealspotr to see if they have any deals.
Organic Basics
Just like the name would suggest Organic Basics focuses on basics — namely underwear, socks, and t-shirts — made with organic cotton. They source their 100% eco-certified cotton from Turkey though are unclear about the labor involved in their production. One thing that is clear however is that the brand's commitment to high-quality, comfortable essentials. They've recently launched their SilverTech line which weaves silver thread to utilize its antibacterial and heat-regulating properties meaning you can wash your clothing less, which is better for their longevity. A pair of boxers from the brand will cost you $21 but since we're talking basics here, Organic Basics offers packs so you can buy more and save. Take for example a ten-pack of boxers costs $167 so instead of buying ten pairs at $21, you're getting each for around $16. But if just this deal isn't doing it for you, check Dealspotr for more.
Reformation
An Instagram favorite, Reformation is known for their gorgeous feminine dresses but did you know they also committed to sustainable fashion? Based in LA, Reformation sources vintage and sustainable materials and uses fairly-paid local labor and has expanded their range to include everything from jeans to wedding dresses. They prominently feature how much carbon dioxide, water, and waste each of their garments creates in comparison to an industry standard garment and try to make every aspect of their company sustainable from switching to LED lights to providing Metro passes to their employees to incentivize public transportation. Admittedly, though their dresses are amazing they are on the pricier end, you never know when Dealspotr will post a great deal.
Patagonia
Patagonia is known for their activewear and has made strides to use recycled materials and organic cotton as well as working with Fair Trade Certified Factories. Coming from a tradition of outdoor sports, Patagonia is committed to the environmental health of the planet, donating time, services, and money to grassroots environmental groups. They offer a full range of sports gear from wetsuits and underwear to backpacks and jackets but most distinctively they offer an Ironclad Guarantee that their products will perform well, offer both a repair service DIY repair and care guides to maximize the life of your purchase, and have a trade-in policy where you can return a Patagonia product for credit towards a new purchase. Be sure to check out Dealspotr to see if there are any codes available.
Noah
Noah is a primarily a menswear brand out of New York City founded by Brendon Babenzein, a former Creative Director for Supreme, perhaps the most hyped streetwear brand. Though there are some pieces that hark to the streetwear aesthetic, there are also preppier and retro elements in the range. Babenzein spoke to the brand's goals and explains the higher price-point on the brand's blog: "We buy from reputable suppliers making high quality textiles in countries with reasonable environmental laws. That means they cost more, but they contribute a bit less to environmental destruction… We are not motivated entirely by financial profit. I could make more money by producing in places with less positive labor situations, but I would be just like every corporation out there that puts profit before people. Make no mistake about it: Every time you buy something that is made cheaply, it means someone else is picking up the cost." See if Dealspotr has any codes available. 
In Conclusion
While none of these retailers may be perfect, they are all working towards the most sustainable and ethical method of clothing production and supporting these brands means you don't have to sacrifice style to be ethical. This certainly isn't anywhere near how many ethical and sustainable fashion brands there are but hopefully this gives you a feel for the landscape and makes you think twice before your next clothing purchase. 
Get each week's best deals from Dealspotr in your inbox
This guide was published on September 11, 2017
, and last modified on September 11, 2017
.