The Definitive Guide to Couponing at Walgreens
About the Author

Megan is a lifestyle writer & B2C blogger for hire. She specializes in writing killer content on personal finance, productivity, & organizing. Find her in The Huffington Post, The Penny Hoarder, Money Saving Mom, & many print and online publications.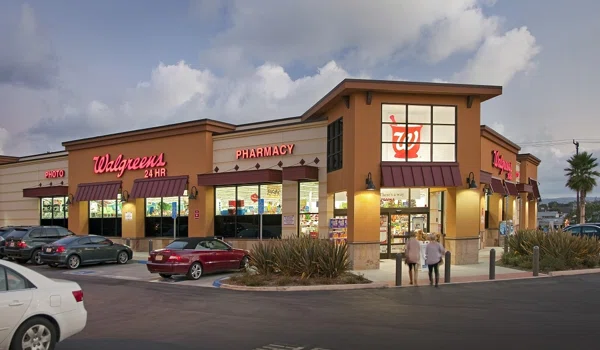 The Drugstore Game is addictive.
Never heard of it?  Whenever you visit the drugstore, you challenge yourself to buy the items you need for as little as possible – or even without paying a dime!  Every drugstore has its own set of policies that determines exactly how you can (and can't) play the game there.
Walgreens is one of the leading drug stores in the country to which deal-hungry shoppers flock for big savings.  Whether you're new to shopping at Walgreens or you're an experienced bargain-hunter looking to up your game at this popular retailer, we've got all the information you need to start saving big today.
Embrace Register Rewards.
In a nutshell, the Walgreens Register Rewards (RRs) program gives you Walgreens cash for buying featured weekly items.
Items that qualify for RRs in a given week are advertised in the store's circular – available in print and online – and are clearly labeled on store shelves.  If, for instance, a $4 tube of Crest toothpaste is eligible this week for a $3 RR, the cash register spits out a coupon for $3 off a future Walgreens purchase when you buy that toothpaste.  Easy, right?
RRs coupons are typically good for 1 to 2 weeks from the date of issue, and expiration dates are printed directly on the RRs coupon.  You can use your RRs to buy almost anything in the store, though some items (like dairy products and prescriptions) are excluded.
You can start earning RRs right away, since there's no sign-up required to participate in the program.  You simply walk into a Walgreens, buy an item that qualifies for RRs, and get your reward!
Plus, there's no limit to the number of times you can take advantage of a RRs deal.  You can keep on buying that toothpaste for the duration of the promotional window, so long as there's toothpaste on the shelf.
Know the Register Rewards rules.
To get the most savings possible, you need to know some details about the RRs program.
First, you can't get a raincheck for an item that qualifies for a RR.  If the toothpaste display has been cleared by the time you get to the store, you're out of luck on that Crest deal.
Second, you can only receive one of a particular RRs deal per transaction (or, in other words, per printed receipt).  Here's an example to illustrate:
Let's say Walgreens advertises a $1 RR for buying a container of Quaker oatmeal.  If you pick up the oatmeal and the toothpaste, you'll receive a $1 RR for the oatmeal and a $3 RR for the toothpaste.  You're getting RRs for two different items, so that's totally allowed.
However . . . if you buy an extra container of oatmeal in that same purchase, you won't get an additional $1 RR coupon, since you're already getting the oatmeal RR deal.  Get the idea?
But isn't the number of oatmeal RRs you can get unlimited?  Sure.  You just need to make your purchases in separate transactions.  Split your order into two transactions – buy one oatmeal and the toothpaste in your first transaction and the second oatmeal in a separate transaction.
How do you split your order into two transactions?  Well, you could come back another day to pick up that second oatmeal, but that's a pain.  If you want to save time, just ask the cashier to ring up your second transaction right after the first.  Then each of your oatmeal purchases will net you a $1 RR coupon.
Don't forget Balance Rewards.
The Walgreens Balance Rewards program is entirely separate from the Register Rewards program, so let's talk about the difference.
The Balance Rewards program offers points on almost every item you purchase at Walgreens.  You can earn bonus points on weekly featured products that are highlighted in ads.  Plus, you can get additional points for healthy behavior – logging your weigh-ins, recording number of miles walked, and more.
When you accumulate enough points, you can convert them into a Walgreens dollar-off coupon.
To join Balance Rewards and start earning points for your purchases, sign up for a free account in store, online, or by downloading the Walgreens App.  Then just use your phone number or card to earn points on every purchase you make.
When you check out, the number of points you've earned in your transaction and your total points balance are printed directly on your receipt.  You can also track your progress by logging in to the Walgreens website.
Here's the fun part – redeeming your points.  You can cash in your points directly at the register (or online) when making a purchase.  For instance, a total of 10,000 points earns you $10 off your purchase price.
Feeling patient?  You can land a better points-to-dollar conversion rate by hoarding your points for a while.  For 40,000 points, you can get a whopping $50 off your register total.
Add coupons and stir.
If you want to take your frugal ways up a notch, clip coupons for this week's Register Rewards and Balance Rewards deals.
For manufacturer's (MFR) coupons, look around before you head to Walgreens.  Find coupons in your Sunday paper or print them online.  Walgreens.com offers paperless manufacturer's coupons that you can load directly to your Balance Rewards card, and you can find plenty of promo codes online too.
Plus, Walgreens offers tons of store coupons that you can stack with MFR coupons.  Clip them from a Walgreens ad, print them from Walgreens.com, or find them in free, monthly coupon book located by the ads in store.
Here's a quick rule to know:  Print coupons are always applied before digital coupons.
Armed with coupons, you can actually get Walgreens items for free . . . or even make money!  Here's an example:
Walgreens is selling Suave lotion for $2 and giving you $2 in RRs.  (That's a freebie!)  You've got coupon for $1 off any Suave lotion.  At the register, your lotion rings up for $2.  You hand the cashier your $1 coupon, and your final bill comes to $1.  After you pay your dollar, the cashier hands you a $2 RR coupon.
That's right.  You just paid $1 in cash and walked out of the store with a bottle of lotion and $2 in RRs!  In other words, Walgreens just paid you $1 to take that lotion off its hands.
That's some smart couponing.
Roll your rewards instead of double-dipping.
You hate when party guests double-dip.  Walgreens hates it too, and they won't let you do it.
Remember that Suave deal?  Walgreens will give you a $2 RR for buying a $2 bottle of lotion.
So let's review.  You already know that if you check out with two lotions in a single transaction, you'll only get one $2 RR.  In order to get two $2 RR coupons, you have to get your lotions in two transactions.
So what's double-dipping?  You buy your first lotion, pay $2, and receive a $2 RR coupon.  All good.  Then you try to pay for your second lotion with that $2 RR.  That's double-dipping, and it's a Walgreens no-no.  You can't use your RR to buy the item that got you the RR.
Don't think you can double-dip just because your cashier is distracted.  In addition to being bad coupon form, double-dipping simply won't work.  When your cashier goes to scan that Suave RR while you're trying to purchase a Suave lotion, the coupon won't take.
If you don't remember how you got a particular RR coupon, take a look at coupon itself.  It'll say right on there that you received it for buying Suave, Crest, or whatever it was you purchased.
Now that you know what you can't do, here's what you can – roll your rewards.  If you want to buy some lotion and oatmeal, take them to the checkout like this:
Transaction 1:  Buy $2 Suave lotion.  Pay $2.  Receive $2 Suave RR.
Transaction 2:  Buy $3 Quaker oatmeal.  Use $2 Suave RR.  Pay $1.  Receive $1 Quaker RR.
Transaction 3:  Buy $2 Suave lotion.  Use $1 Quaker RR.  Pay $1.  Receive $2 Suave RR.
Transaction 4:  Buy $3 Quaker oatmeal.  Use $2 Suave RR.  Pay $1.  Receive $1 Quaker RR.
At the end of the day, you've picked up two $2 lotions and two $3 oatmeals for a total value of $10.  You've paid only $5 and you still have a $1 RR to use on a future purchase – all by rolling your rewards!
If you don't want to stand at the register all day while you roll rewards, you can roll your rewards from one week to the next.  After raking in the RRs savings this week, head back next week and use your RRs to buy more deals that get you more RRs!
Read the fine print.
It pays to familiarize yourself with Walgreens coupon policy and know a few extra couponing rules so you're not unhappily surprised at the checkout.
Here's an important one:  The number of MFR coupons you use can not exceed the number of items you're purchasing.  RRs are part of your MFR coupon count!  If you've got 3 items, 2 MFR coupons, and 2 RR coupons, the register won't accept the fourth coupon.
There's an easy way around this problem if you still want to use all four coupons.  Grab a "filler" – a super-cheap item that brings your number of purchase items up to four.  You can grab a packet of gum or a $0.25 chocolate truffle, and you'll wind up saving more than you're spending.
Here's another thing to know:  the order in which you give the cashier your coupons matters.  In order to maximize your savings, hand over all your MFR coupons, then all your store coupons, then your RRs.
You're ready.  Head over to your local Walgreens to play to win at the Drugstore Game!
Photo courtesy of Walgreens
Get each week's best deals from Dealspotr in your inbox
This guide was published on September 6, 2016
, and last modified on September 6, 2016
.