The Definitive Guide to Saving Money Shopping at Macy's
About the Author

I started MoreWithLessToday.com in 2009 as a way to share the frugal ideas that I have gathered up over the years. Now reaching over 300,000 readers each month, by blog has become a trusted source for savvy savers.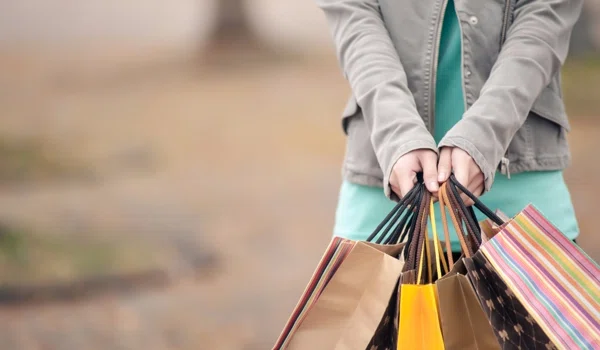 For Macy's shoppers, you already know they have frequent sales and coupons. Knowing a little more about when to shop and all of the ways to save will keep more dollars in your pocket. For savvy shoppers, there is no need to pay full price. If you know of other savings tips to add to the definitive guide to saving money shopping at Macy's, please let us know in the comments!
Find Macy's Deals and Current Promo Codes
Use Dealspotr and the search bar for current Macy's deals and promo codes. Dealspotr  has 54% more codes than any other coupon site so start there and find what you need quickly!
Friends and Family Sales
You can save as much as 25% off with the Friends and Family Sale, which is only offered a few times a year. The discount is available for most items, although there are a few restrictions. When the sale comes around, don't miss out! In the past they have offered them in the spring and in the beginning of December, so keep a look out for them.
One Day Sale Events
These events usually take place before major holidays like the 4th of July, Memorial Day and Labor Day. When they occur, you'll find deep discounts on things like household items, handbags, shoes, and clothing. Just keep an eye out for advertisements to take advantage of One Day sales when they roll around.
Macy's Coupons
You can often find $10 off $25 or $20 off $50 coupons on top of the sales at Macy's.  You can easily access these coupon codes for online shopping or coupons to print for in-store shopping on the Macy's home page.
Forgot your Coupons?
If you are shopping in the store and forgot your coupons, nicely ask at checkout if they have any extras behind the counter. I have about a 50% success rate with this one, but it never hurts to ask!
Sign Up for a Macy's Profile
When you create a Macy's profile, you automatically save an extra 15%! They will email you an EXTRA 15% OFF your next $100 purchase! Some exclusions apply. You can always set up a secondary email for your deals and discounts if you like your main email clutter free.
Always Check the Clearance Section
The online clearance section is an easy way to score great deals, especially toward the end of a season. You can also find clearance sections in the store, you may have to ask for the location in the various departments.
Save on Shipping
Buy online and pick up in-store for free shipping. Most of the year, you get free shipping on orders over $99. For beauty products, shipping is free, so if your order is under the $99 threshold, consider adding a beauty product to see if you can qualify for free shipping. Sometimes during major holidays, they will reduce the minimum purchase requirement for shipping, so be on the lookout. 
Macy's Money
You can earn Macy's Money with qualifying purchases during special promotions during the year. The more you spend, the more you earn so it's smart to bundle all of your purchases during these promotions. You will spend the Macy's money on a new purchase in a specified time frame (usually the next week). If you earn Macy's money online, they will send you the details to redeem it via email.
Here is an example of the fine print from a prior promotion for Macy's money:
*HOW IT WORKS: For any single transaction of $50 or more you make online or in-store May 25-30, 2016, we'll give you a $10 (spend $50-74.99), $15 (spend $75-99.99), $20 (spend $100-149.99),$30 (spend $150-199.99), or $40 (spend $200 or more) Macy's Money Reward Card. Use your Macy's Money Reward Card from June 1-10, 2016. May not be: redeemed for cash, used to purchase Macy's gift cards or applied as payment or credit to your credit card account. If a purchase used to accumulate Macy's Money is returned, Macy's reserves the right to void the Macy's Money Reward Card or reduce the corresponding value. See exclusions. 
Join the Rewards Program
Macy's is a partner in the free rewards program called Plenti. ThePlenti Card allows members to earn and use their points across various stores from gas stations like Exxon and Mobil, Rite-aid, AT&T, Hulu and more. With Macy's, Plenti shoppers will earn points with every purchase and double points and other incentives on certain purchases too.
Trade In Your Old Clothes for Macy's Gift Cards
Order a thredUP Clean Out Kit and fill the enclosed Clean Out Bag with high-quality women's and kids' clothing, handbags and shoes. Drop it off at your local USPS, FedEx Office or leave it on your doorstep for your mail carrier. Shipping is FREE!
Then thredUP reviews your items and sends you an email with your accepted items and their corresponding value. Unaccepted items will be donated or recycled by thredUP, in partnership with thrifting companies, wholesalers,and charities. Or, if you'd like your unaccepted items back, thredUp offers Return Assurance.
Macy's will email you gift cards based on the value of your accepted items.
Credit Card
If you are disciplined enough to pay your balance each month, having a Macy's credit card does have extra benefits. You can usually get an extra percentage off (usually 10-25%.
If you have the Macy's card or Macy's American Express, you will qualify for special savings and offers of Macy's Star Rewards. These rewards include surprise savings at checkout and from three to 12 annual Macy's Star Pass mailings. Elite and Premier Elite Macy's Star Rewards customers receive exclusive birthday rewards, 15% off bonus events and more. 
Wedding or Gift Registry at Macy's
There are numerous benefits when you register at Macys such as discounts on jewelry, Macy's "Sip & Scan" events and their Star Rewards Program. To take part in this program, you simply sign up for a Macy's store credit card. As a cardholder you then receive up to 5% rewards when your friends and family buy YOU gifts from your Macy's registry – some exclusions apply on certain items. About a month after your wedding, Macy's will send you a Macy's rewards card for the total amount you earned. 
Buy a Discounted Gift Card
Raise.com, GiftCardMall, Cardpool and more are featured on Dealspotr under the Gift Card tab. Simply go the search bar and find the best deals for that day and purchase a discounted gift card to use for your makeup and cosmetic purchases. Discounts of 10 - 20% are not uncommon and it's a smart way to stretch your dollars ahead of a purchase for both online purchases and in-store shopping.
Return it for Free
Don't hold on to something you bought that you do not love. Macy's now provides free returns via mail. Simply print a pre-addressed shipping label to send back your unsatisfactory items, or return them to any Macy's store.
Price Adjustments
If you shopped online or in stores and find that an item you recently purchased is now on sale, Macy's will refund you the difference as long as it's within 14 days of your original purchase. You can submit the request for a price adjustment online.
Stores are Closing
Macy's is closing 100 of its stores nationwide. Do a search to see if a store near you is on the list and then ask when they will have a liquidation sale. Here in Southern California, a store was closed in the spring and they advertised it heavily in the local newspaper.
Share your favorite money saving tips for shopping at Macy's with the Dealspotr community!
Get each week's best deals from Dealspotr in your inbox
This guide was published on September 8, 2016
, and last modified on September 8, 2016
.
Stores related to this article:
Macy's