Top 5 Coupon Bloggers of 2015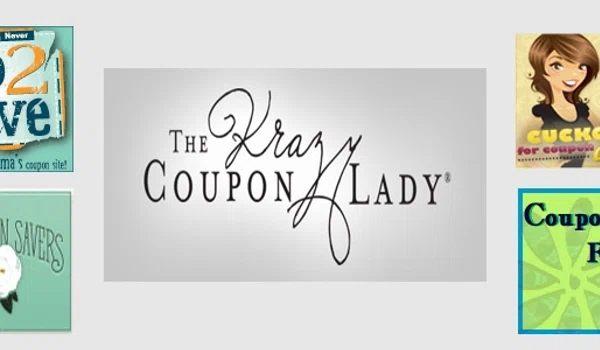 @dealspotr posted this article
The cream always rises to the top and never has that been more true than in the coupon blogging space. Tons of aspiring coupon bloggers have fallen by the wayside over the years, while others have built online media empires.
We've rated (on a 1-10 scale) as many active coupon bloggers as we could find based on a variety of categories and have determined our top 5 coupon bloggers of 2015. The categories we have chosen to focus on are blog content, blog design, coupon matchups, coupon databases and social media content.
We are only including national coupon bloggers that are established and have been around a while on this list.
Come back later to see our top 5 up-and-coming coupon bloggers of 2015.
And without further ado, here's the ranking:

Blog content: 10

Blog design: 8

Coupon matchups: 9

Coupon database: 10

Social media content: 8

The standard for several years among coupon bloggers, The Krazy Coupon Lady blog continues to grow and extend its dominance. The two founders (Heather and Joanie) have become celebrities of sorts, making appearances on the Today Show, Fox & Friends and many other TV shows.
Instead of sacrificing the site's quality as they evolved into multimedia stars, however, they have used their notoriety to constantly expand and improve the site. In fact, calling the site a blog isn't even really accurate at this point. It features so much content that it has evolved into more of a lifestyle news site. That said, unlike some other coupon bloggers that have distanced themselves from couponing and now concentrate primarily on other areas like DIY crafts or recipes, coupons remain the central focus for The Krazy Coupon Lady.
In addition to having a lot of couponing content, most of which is of impressive quality, The Krazy Coupon Lady also boasts a slick design that is very easy to navigate and the best coupon database we've found anywhere. The coupon matchups are also outstanding, especially since you can save them to your clipboard for later use. The site's social media accounts are also superb, especially its Instagram feed.
The only small downside is that the site load time is very slow, probably due to all of the features crammed in.

Blog content: 9

Blog design: 8

Coupon matchups: 9

Coupon database: 6

Social media content: 10

Over the past 7 years, Hip 2 Save has become an absolute powerhouse. Billed as "Not Your Grandma's Coupon Site", the founder Collin Morgan has done a fantastic job of incorporating her entertaining style into the site and catering to a younger crowd. She has built a massive audience and shows no signs of slowing down any time soon.
The reliable coupon content has remained a constant during Hip 2 Save's growth and the site also offers great information on freebies, online deals and giveaways. The blog design is playful and fits very well with the fun tone taken by Collin throughout the site. Another area where Hip 2 Save shines is on social media. That's where Collin's charismatic personality really comes through. Her huge following is very engaged, particularly on Facebook.
Another way that Hip 2 Save has managed to separate itself from a crowded field of coupon blogs is by embracing video and mobile. The site has nearly 50,000 subscribers on YouTube and Collin has created an excellent video series. There is also an extremely well-rated app that is available for Apple and Android devices as well as the Kindle.
The coupon database is solid, but lacks the dynamism of some others in terms of its layout and features because it's basically the same widget used by many coupon blogs.

Blog content: 9

Blog design: 8

Coupon matchups: 8

Coupon database: 8

Social media content: 7

The growth of Southern Savers over the past few years has been truly astounding. The site's founder, Jenny Martin, has managed to build a community of over 1.5 million users. While some of those users are from the south, as the blog name would suggest, it is no longer just a regional coupon blog. Southern Savers has earned national acclaim and boasts readers from all across the country.
When it comes to content, Southern Savers is among the very best. The site not only has a constantly updating stream of coupon news (and fantastic matchups), it also features an outstanding tutorial section designed to help new couponers learn the ropes. It might be the best anywhere online, because of the exceptional job Jenny does in utilizing a variety of info-graphics to visually explain how couponing works.
The site is refreshingly simple to navigate and has a straightforward design that is very pleasant. The coupon database isn't especially fancy, but does include a useful dropdown to find coupons by newspaper and a search bar that performs relatively well.
Southern Savers has a pretty solid grasp of social media and the YouTube channel is a definite highlight, but there are a few too many promotional link posts and not enough interactivity on Facebook and Twitter.

Blog content: 8

Blog design: 6

Coupon matchups: 8

Coupon database: 7

Social media content: 6

The coupon content on Cuckoo for Coupon Deals is top-notch. By wisely aggregating offers from other sites and including hat-tips, Cuckoo for Coupon Deals is able to establish an output of deal updates every day that is hard to match. Deirdre, the site's founder has developed such a good site because she has kept coupons at the forefront. You can find some other types of content if you dig deep enough, but coupon matchups and hot new offers remain the site's lifeblood.
The site has the same coupon database widget found on Hip 2 Save and many other sites, but the layout is slightly different and in some ways easier to use than Hip 2 Save since it doesn't have an additional scroll bar within it. Otherwise, however, the blog design is a bit lacking. The yellow blackground is somewhat grating on the eyes and there are so many colors and graphics everywhere that it can be tough to read at times. It's still better than most other coupon blogs, though.
Social media wise, Deirdre clearly makes an attempt and has built a rather large following, but a vast majority of the posts come across as too automated.

Blog content: 7

Blog design: 5

Coupon matchups: 7

Coupon database: 7

Social media content: 7

A recent Q&A Couponing for 4 founder Alli Doubek did with us demonstrates why she has been able to develop a blog that has become so successful. It really boils down to her passion for couponing. When you love something as much as Alli loves couponing it really shows. The enthusiasm she has shines through in her content and makes it unique from other coupon blogs, even if she is covering basically the same deal. It also helps her do well on social media as she does a fantastic job of engaging with her followers, especially on Facebook.
Alli spends a lot of her time on coupon matchups and they are very thorough, although not as easy to read as some others. She also takes a page from Cuckoo for Coupons and does an excellent job aggregating good offers from other coupon blogs. She uses the same coupon database widget as some of the others, but makes it easier to read by putting it on a white background with good spacing.
If Couponing for 4 has one shortcoming, it's definitely the design. It's not as polished as some of the other coupon blogs and the blue and green color scheme doesn't help matters. That said, it's still easy to navigate and all of the links work.