Trend Report: PlayStation Owners More Loyal Than Xbox Owners
About the Author

The best community for finding and sharing deals.
This November, the two largest names in video gaming released new consoles to millions of first weekend purchases. The Microsoft Xbox One and Sony PlayStation 4 are set to be this holiday seasons hottest items. Each console sold over 1 million copies in the first 24 hours!
With millions more consoles flying off the shelves this winter, which video game system is lucky enough to have the most brand loyal fans? BluePromoCode recently completed a survey of 155 console owners and players to find out which gaming console has the most brand loyalty.
Survey Methodology
BluePromoCode surveyed 155 US-based video game console owners and players to analyze brand loyalty among Xbox and PlayStation owners. Two separate groups were targeted for this survey via SurveyMonkey: video game console owners of any age and console owners between 18-25.
Key Findings
Xbox 360 owners are split between purchasing Xbox One (50%) and PlayStation 4 (50%)
PlayStation 3 owners are more likely to buy PlayStation 4 (93%) than Xbox One (7%)
Owners of both the PlayStation 3 and Xbox 360 are more likely to buy PlayStation 4 (50%) than Xbox One (17%) or Both (33%)
All respondents, regardless of current video game console ownership, are more eager to try the PlayStation 4 for the first time than the Xbox One (37.4% vs 25.8%)
Infographic
(click for larger view)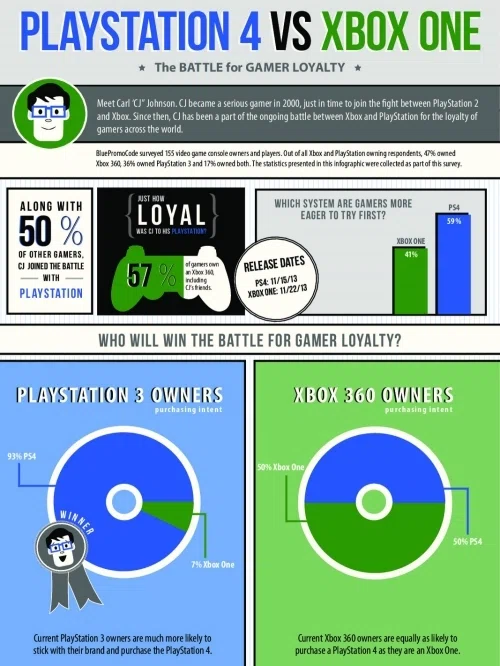 Designed by Allison Frasier
Which system is currently most popular?
According to the BluePromoCode survey, and affirmed by sources online, the Xbox 360 is the dominant video gaming system in the United States. Of all 155 survey participants, 27% currently own an Xbox 360.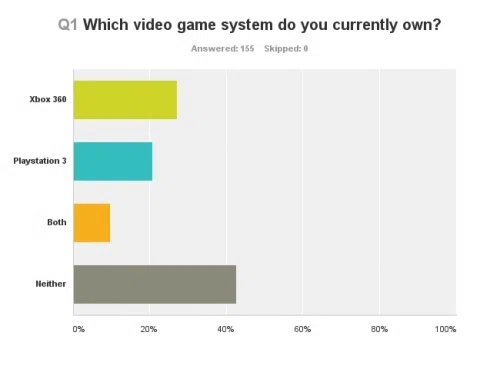 Which system did gamers buy first in their gaming history?
PlayStation proved to be the favored system for people getting into gaming for the first time. Almost 50% of the total 155 respondents said they bought a PlayStation before an Xbox.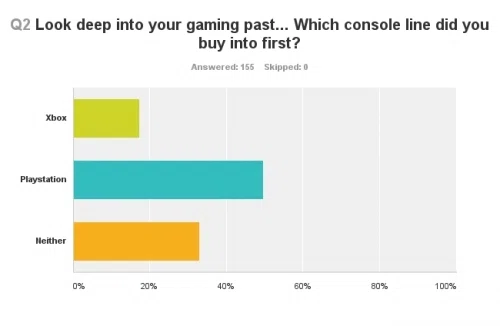 Between Xbox One and PlayStation 4, which system are gamers most eager to try out?
When asked which system participants are most eager to try for the first time, 37% of the 155 participants responded with PlayStation 4. 26% claimed to be more eager to try the Xbox One.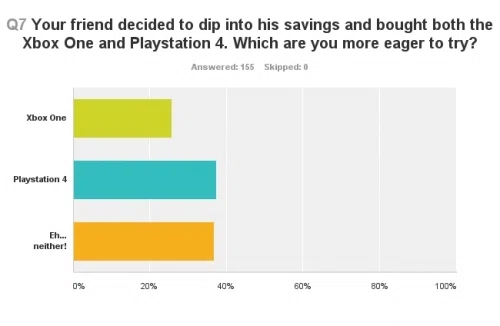 Which system do current generation console owners plan to purchase?
Current generation console owners were overall more likely to purchase a PlayStation 4 than an Xbox One. Gamers who currently own an Xbox 360 were split between buying the Xbox One (20%) and PlayStation 4 (20%). However, PlayStation 3 owners were highly likely to buy a PlayStation 4 (35%) compared to the Xbox One (3%).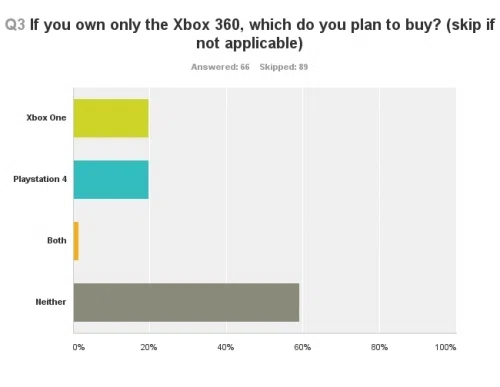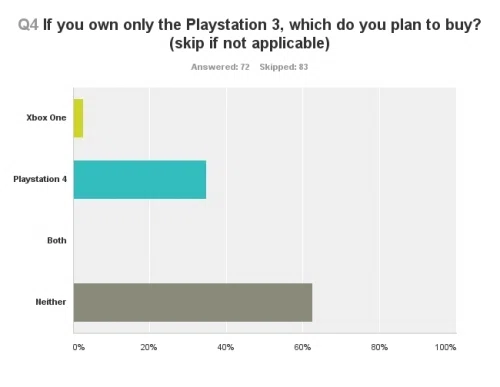 Interested in joining the super loyal PlayStation family? Well, we're giving away a PlayStation 4 right now! Enter our PlayStation 4 Holiday Giveaway for your chance to win a brand new 500GB PS4. The giveaway closes on Wednesday, December 11th at exactly 12PM PST. The winner will be announced on Thursday, December 12th on the BluePromoCode Facebook page. 
About BluePromoCode.com
BluePromoCode, based in Los Angeles, is a leading coupon search engine used by millions of consumers to help them save the most money on their purchases. The website partners with 12,000 retailers to bring over 100,000 coupons to its users. Its editors hand-check coupon codes to ensure the highest quality savings rise to the top. BluePromoCode also offers personalized emails so members can receive the best deals for the brands they love directly in their inbox. Learn more at bluepromocode.com!
Get each week's best deals from Dealspotr in your inbox
This guide was published on December 3, 2013
, and last modified on December 3, 2013
.