These are the 10 Trendiest Swim Trunk Brands for Summer. Here's How to Save on Each.
About the Author

The best community for finding and sharing deals.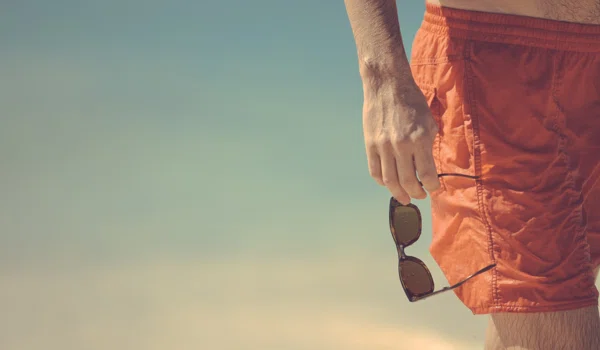 It's that time of the year again — the beach weekends, pool parties, and surfing soirees are fast approaching.
But what's that you say? You still need swim trunks?
No worries — we've got you covered! Not only did we find you the hottest brands of men's swimwear available this year, but we can save you a few bucks on them, too. Don't dawdle too long, though. Grab your towels and get in here:
Skwosh Club
Are you a member of the Skwosh Club? Made in Australia but shipped worldwide, Skwosh Club has the swim trunks you need this summer.
Comprised of the highest quality materials, these comfy garments are mailed out with a complimentary beach bag for carrying your phone, keys, and other accoutrements while you stroll along the shore.
Founded by Melbourne Demons' player Jack Watts and a friend in 2015, Skwosh Club is all about "fruit, fun, and sun" and backs that goal up with designs like 'Pineapple Party', 'Toucan Tango', and 'Bravo Avocado' as well as sweet styles for the little boys in 'Appletini', 'Pee Wee Kiwi', and 'Lil Chompers'.
Ways to save at Skwosh Club
Sign up right away for their newsletter to get updates on deals and new beachwear as it becomes available. Additionally, they offer free shipping on orders over AUD$100 (fyi, the USD equivalent is approximately $75).
Follow Skwosh Club across social media to stay on top of spontaneous deals like this old Instagram promo code for 20% off. Check eBay, Amazon, and men's clothing swap sites like Swap.com and SwimOutlet. Also, new members get a $25 credit on the The RealReal, which features numerous premium brand styles on consignment — like these swim trunks.
Chubbies
If you like having choices on the length and fit of your swim trunks, you've gotta check out Chubbies.
From stretch fit 5.5 inch trunks to a classic fit 7 inch or 4 inch shorties, board shorts, or swimmeralls, you can get pretty much whatever you want with Chubbies.
Think you look particularly hawt in yours? Enter to win the Chubbies 2018 Man Model Search for a lifetime supply of Chubbies and a 2-year modeling contract.
Ways to save at Chubbies
Get automatic free 3-day shipping and free returns when you order on the Chubbies site, as well as free 2-day shipping on orders over $75.
Then scroll through discounted, limited inventory, and sale items on the Chubbies app, aka 'the Chubbies Outlet', exclusively available via iPhone app, for up to 50% off original prices. (Don't fret Android users - open a chat with Chubbies and they'll hook you up with access to the Chubbies Outlet, too).
They also offer a 10% military discount and discounts on group orders. If you're still looking for more deals, eBay has some Chubbies marked down, and make sure you check for Chubbies promo codes, many for 15% off your order.
Bearbottom
Bearbottom Clothing makes adorable swimwear for men, many with prints reminiscent of 3 paragraphs ago like these Mosaic Fish, Rainbow Sunglasses, Catch of the Day, and another Pineapple Party (one noticeable difference: these trunks are about half the price of the other fruit party).
With every purchase, Bearbottom donates clothing to folks in need in Bangladesh, starting with their own garment makers' families and extending out to schools, hospitals, and more. Bearbottom also partners with eco-conscious facilities (certified by both Alliance and Accord) when making their clothing and work to empower their staff and their communities in several ways.
Ways to save at Bearbottom
When navigating to their site, a pop-up offers you a chance to "spin the Big Bear Wheel" by entering your email address for a shot at "fat discounts and free gear." But be warned — you only have 10 minutes to use whatever discount you receive.
There are other great ways to save on Bearbottom as well, such as signing up for their newsletter to get exclusive news about restocks and new releases. You can also save 20% off "bulk orders" (orders over $300) by using code SQUAD at checkout.
Bearbottom offers free exchanges, free shipping on all orders over $99, and shipping to any U.S. Military base in the world via USPS Military Mail.
Cutters
The idea for Cutters Apparel arose after many seasons of surfing in the Caribbean, where founders fell in love with a favorite Bajan fish sandwich - called the Cutter.
Later setting up production in Huntington Beach, California, founders created a unique retro-style for their swimwear, fresh with island color and vintage seams. Heads up: If you like their look as much as we do, you'll want to get in on the shopping site ASAP - they sell out extremely fast in the summer! Follow their Instagram to see real life Cutters in action - and share your own shots as well.
Ways to save on Cutters
First off, join the newsletter list (which pops up as soon as you hit their site) for updates. eBay has some Cutters trunks on Buy Now, and Amazon also has a few pairs up — scroll through for your best deals. SwimOutlet also has some similar looking tri-color blends like this.
Bonobos
Bonobos has swim trunks in varying lengths including 5-inch, 7-inch, and 9-inch styles, as well as cozy, quick-drying surf shorts.
You can grab prints or solids with designs like Coral Giraffe Toss, Lavender Baja Floral, Light Blue Tie-Dye, and yet again — Orange Pineapple Party. You can also have fun creating the best looks for every season with the Bonobos app, and then shop and pay with handy Apple Pay. Near any of their physical locations? Visit a guideshop for customized fittings.
Ways to save at Bonobos
The Bonobos site offers free shipping, returns, and exchanges throughout the U.S., and their sale section includes 9 categories (our favorite is 50% off and up). There's also 'New to Sale', 'Tops', 'Bottoms', 'Outerwear', 'Tailored', 'Golf' and 'Accessories.'
Sign up for email alerts on the bottom right of their site to get updates on new sales and discounts, or use this 20% off Bonobos promo code.
Outerknown
The trunks at Outerknown are made by surfers who "grew up with surf brands, but grew out of logos." Much of their swimwear is created from recycled fishnets and nylon, making for a super sheer and soft swimming experience.
They also value fair trade, partnering with only those who abide by Fair Labor Association and Bluesign guidelines globally.
Browse their latest arrivals and regular clothing sections for styles like this Apex Trunk by Kelly Slater (a champion surfer with over 11 world titles, and Outerknown's founder).
Ways to save at Outerknown
Sign up for their email list to get 15% off your first order. You can also get free shipping throughout the U.S. on orders over $125, free 2-day shipping on orders over $500, free return shipping (always), and $5 flat shipping for any orders under $125. International shipping is free on orders over $300 USD. You can also use this promo code for 15% off your order.
Lululemon
Lululemon's beach shorts provide an über comfy sweat-to-swim style, and include a secure pocket in the inner liner for their keys and phones.
Choose from this chill design in Heather or Deep Navy hues, or browse through others like the Commission 9-inch Short Swim, available in Sea Salt, Obsidian, True Navy, or Black, or the Current State 9-inch Board Shorts, or Channel Cross 7-inch Shorts, all of which can be worn either in or out of water.
Ways to save at Lululemon
The Lululemon site offers free standard shipping, and free returns on most merchandise, and you'd be wise to check the 'We Made Too Much' section for heavily slashed prices on various items. There are some sweet deals on Lululemon trunks on eBay, too.
Vilebrequin
Vilebrequin's men's swimwear section has categories of Short, Long, Classic and Fitted Styles, totaling up to an impressive 147 unique pairs of swim trunks available.
You can browse by pattern or peruse their Summer Collection 2018.
Check out the whimsical Mosaic Sea Turtles design, colorful Magic Whales, and adventurous Bamboo Song. Boys have plenty of choices, too, (58 unique products, to be precise), several of which mimic the men's designs for fun family matching.
Ways to save at Vilebrequin
Vilebrequin offers free shipping and free returns on all orders, and you can subscribe to their newsletter for fastest updates. Follow them on Instagram and other social media for deals and giveaways. Check for Vliebrequin promo codes here.
Hugo Boss
Hugo Boss creates a variety of swimwear styles for men, made with quick-dry fabrics and UV protection.
Rest assured — you can still find some of the summer's fruity themes on hand — like this pomegranate print and these coconuts.
Ways to save at Hugo Boss
Boss offers free standard shipping and returns to all 50 states, including Alaska and Hawaii, as well as APO/FPO addresses. Sign up to receive collection preview mailers via email, and follow them on Instagram and all social media for great deals and giveaways. Find Hugo Boss discount codes here.
Patagonia
With a website devoted to taking action on several environmental issues, providing information on regenerative organic agriculture, giving suggestions about and ways to order whole healthy foods and more, it's obvious Patagonia gives their all toward building sustainability. But that's not where they stop.
They're dedicated to fair trade too — all Patagonia board shorts and bikinis are made in Fair Trade Certified facilities. They also donate food with every purchase toward area food banks, and recently partnered up with Dr. Bronner and Grassroots Alliance in providing over 10,000 meals to those in need after Hurricane Harvey hit.
Ways to save at Patagonia
Patagonia offers free shipping on orders over $75, and you should start with a visit to their "Worn Wear" section, where you can browse gently used items, recycle and/or repair your own.
Don't forget to follow them across social media, especially Instagram - you never know when they're gonna have a new contest, and you could win like this Patagonia fan did! More Patagonia discounts here.
While these aren't the only hot swim trunks out there this summer, we think they're the hottest. Whether you prefer solids, Bravo Avocados or one of numerous variations of Pineapple Party prints, you'll surely find your favorite among these great deals.
Get each week's best deals from Dealspotr in your inbox
This guide was published on May 30, 2018
, and last modified on May 30, 2018
.