These Top 20 Wearable Tech Micro-Influencers Can Put the Future of Tech in Your Hands... Literally
About the Author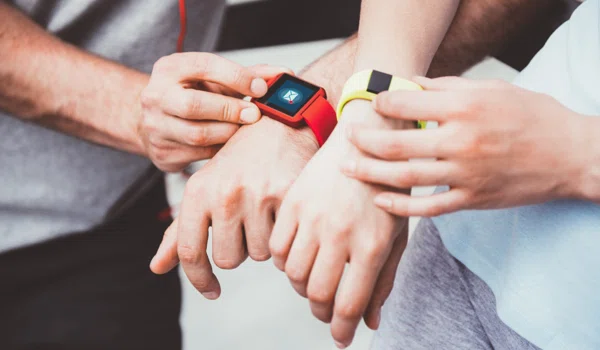 Over time, the progression of any invention follows a certain path - the invention gets better, easier to use, and, for many, inevitably smaller. From the automobile industry to the toy world, products have been shrinking for decades.
But perhaps the most drastic shrinkage of products has taken place in none other than the tech world. Room-sized computers of the past have evolved into smartwatches we can use to call people and send messages - the stuff spy movies of the '60s only dreamed of.
Being able to wear technology conveniently is fertile ground for so many technological advancements. And that's why influencers big and small are becoming involved in that specific part of the technology world - wearable tech.
We've made a list of the most promising up-and-coming micro-influencers in the wearable tech industry. Let's check them out!
Amanda Woolsey
The first micro-influencer on our list is Amanda Woolsey. As a YouTube personality, she makes videos talking about all things tech, including wearable tech.
For example, she has videos about her Apple Watch and the pros and cons she has experienced. Viewers go to her to learn about her own personal experiences with tech items.
Woolsey also has fun videos for those looking for new apps, like her handy Top 5 Workout Apps.
YouTube | Twitter | Facebook | Instagram | Google+
Kelly Wonderlin
Kelly Wonderin has a busy life, but she doesn't let that stop her from dedicating time to one of her favorite hobbies - tech!
Wonderlin makes new YouTube videos every week on her channel where she talks about anything from wearable iPhone chargers to a wearable that improves posture!
This go-getter is becoming a beacon for tech lovers all over the world. With over 11k subscribers on YouTube, Wonderlin is a truly powerful micro influencer.
On top of this, she writes children's books!
Website | YouTube | Instagram | Twitter | Facebook | Amazon
Collette Costello: Kiku Girl
Devoted to wearable technology, Kiku Girl is a vlogger/blogger who reports on the latest in wearable tech.
Collette Costello is the designer who runs the brand that mixes fashion and technology. Costello posts interesting articles and opinions about the future in fashion and what it means in the tech world (and vise versa).
You'd think the two worlds wouldn't mesh well, but they do! Kiku Girl will show you the way. She's even planning the "Manchester Wearable Technology Fashion Show 2018."
Website | Twitter | Instagram | YouTube
Marija Butkovic: Women of Wearables
Women of Wearables is the first European organization that promotes women in tech, specifically wearable tech. This also includes fashion tech, IoT, and VR/AR.
This brand, created by Marija Butkovic, is dedicated to having women become more involved in technology, software developing, and managing.
Creating more jobs for women in STEM has been a public outcry lately and Women of Wearables are part of that commitment.
Website | Twitter | Facebook | LinkedIn
Marianne Caroline
This next micro-influencer is all about sustainability. Her goal is to blend the fashion and tech worlds together to create a more holistic approach to business.
She regularly speaks about the importance of sustainable fashion and tech at conferences around the world. Her most recent speech was about the impact today's technological advancements will have on factory workers in the future.
Website | Twitter | Instagram | LinkedIn
Joe Goodwill: Average Joe's Wearable Technology Blog
Joe Goodwill is not your average Joe. He started his blog as a cycling blog until he realized he kept writing mostly about one thing - wearable technology.
He realized he needed to change his website content to wearable technology and the rest is history.
Goodwill spends his time writing and reviewing about wearable technology products and helps readers find the right tech for them.
Tom Emrich: We Are Wearables
Emrich created the site We Are Wearables, which happens to be the largest wearable tech community in the world. He believes in the innovation and development of wearable tech.
As an early investor in AR (Augmented Reality) technology, Emrich is always on the lookout for what is new in wearable tech.
The future of wearable tech excites Emrich, because he believes it will play a key role in human evolution.
Website | Twitter | LinkedIn | Instagram
Florian Schumacher: igrowdigital
Florian Schumacher is a Digital Health Consultant. He enjoys researching the latest trends in wearable technology as it regards to health tracking.
As an avid self-tracker, Schumacher is always looking for the next best app or wearable. If you're looking for in-depth product reviews and tips on how to use technology to stay healthy he is your guy.
Website | Twitter | Facebook | LinkedIn
Amanda Parkes
Dr. Parkes is a pioneer of fashion technology. She recently stepped into the role of Chief Innovation Officer at Fashion Tech Lab.
Her interest in the relationship between tech wearables and cultural sustainability is what drives her to continue researching and sharing her knowledge.
She truly believes that as a society we are on the precipice of a revolution when it comes to wearable tech.
Sarah Lane
Sarah Lane is not your average micro-influencer, she is actually the host of the "Daily Tech News Show." Needless to say, she is well-informed about all things tech.
Having worked at TechCrunch, G4 and TechTV Lane has a wealth of knowledge on the subject of wearable technology. She has witnessed it drastically change in recent years and is eager to see it continue to grow.
Twitter is your best bet if you want to keep up with Sarah, she's active everyday.
Chan Xin: Superphen's Tech Blog
Chan Xin is an iOS Specialist by day and tech blogger by night. He runs Superphen's Tech Blog, a blog all about tech - but mostly the Apple Watch.
Xin's love for the Apple Watch shows on his website and his social media pages.
His posts are full of tech news, Apple product reviews, iOS jailbreaking, and much more.
Website | Twitter | Facebook | YouTube | Instagram | Google+ | Pinterest
Salendra Smith: WTVOX
Smith is the PR and media guru over at WTVOX. She shares the latest news on all things fashion tech on her Twitter. This influencer makes technology even more interesting than it is.
Smart Fashion is the future and Smith aims to share her knowledge with those interested in witnessing innovation. There are articles like "Top 5 Fashion Tech Accessories to Wear in 2017" and "Why Does Swatch Think it Can Take on Google and Apple" (good question).
Website | Twitter | LinkedIn | Instagram | Pinterest
Tom Merritt
Tom Merritt is co-host to Sarah Lane on the Daily Tech News Show. Just like Lane, Merritt covers the most important tech issues of the day.
When he is not hosting his own show, you can find Tom being interviewed on other well known TV and radio shows like Good Morning America and NPR.
Merritt likes to stay up to date on innovations on wearable technology through Twitter. He is always sharing his opinion on the latest trends.
Pankaj Kedia
Pankaj Kedia is obsessed with all things tech. He is the Senior Director and Business Lead in the Wearables Segment of Qualcomm. Yes, Qualcomm, plus he worked at Intel in the past. Talk about someone who knows a thing or two about technology.
Kedia enjoys talking about the various ways wearable technology will change how we work, exercise and sleep. When he's not sharing his predictions in TED Talks, he is on Twitter.
Simon Jones: Wearable Tech Watch
Simon Jones heads Wearable Tech Watch, a blog that discovers the best wearable tech out there. His main focus is smartwatches and wristbands.
He'll guide you through updates, what's happening in the news, and everything else that has to do with smartwatches and smart eyewear.
Jones is a wearable tech speaker at tech conferences around the world. He hones in on where we're going with wearable tech and writes about it in a very engaging blog.
Becky Stern
Becky Stern is a content creator at Instructables. She loves sharing tutorials on wearables.
Her videos are fun and easy to follow. As an added bonus they tend to be fairly short, which is a huge plus for those of us who have a short attention span.
If you're looking to learn a little more about wearable electronics, Becky is your girl.
Website | Twitter | YouTube | Instagram
Amanda Cosco: FashNerd
Another Amanda, we love that so many women are interested in wearable technology. Amanda Cosco is a multimedia journalist who focuses solely on the intersection between fashion and technology.
She is also the founder of Electric Runway, a future fashion event series.
Cosco helps business get with the times by leveraging design and innovation. Her work has been recognized by huge brands in the tech field such as Intel.
Website | Twitter | Instagram | Facebook | Youtube
Michelle Hua
Michelle Hua is the CEO of Made With Glove, a wearable tech-startup based in the UK. The start-up creates heated gloves for women based in Manchester.
Hua takes wearable technology seriously and enjoys sharing her knowledge with young women looking to join the STEM field. She provides workshops on how to make your own wearable tech projects to universities throughout the UK.
She has already made significant contributions in the digital technology sector, and shows no signs of stopping.
Website | Twitter | YouTube | LinkedIn
Jonathan Casey: OT4Tech
Tech reviewer Jonathan Casey runs a brand called OT4Tech where he goes over what's on the market right now in terms of buyable technology.
Casey reviews wearable tech like wireless headphones and smartwatches. His opinionated videos on Youtube gets thousands of views.
One of his bolder videos is titled, "The Dumbest Smartwatch Ever" with over 11k.
Website | Twitter | Facebook | Linkedin | Pinterest | Google+
A Fitness Tech Diva
A Fitness Tech Diva is all about looking good while wearing tech. It's a blog about fitness fashion, fitness tech, and eating well. It covers headphones, fitness trackers, and predictions on what might happen in the fitness tech world in the future.
This influencer writes reviews about trackers and her experiences at events like The Wearable Tech Expo in Florida.
Conclusion
Wearable tech is intriguing, even if it's not one of your own interests. The awe for the tech industry is undeniable when you're talking about the insane advancements that have been made in only the last few years.
Keep up to date on all things tech, especially wearable tech, by following any of these insightful micro influencers!
Get each week's best deals from Dealspotr in your inbox
This guide was published on January 11, 2018
, and last modified on January 11, 2018
.