These Top 20 Wedding Industry Micro-Influencers Will Help You Tie the Knot in Style
About the Author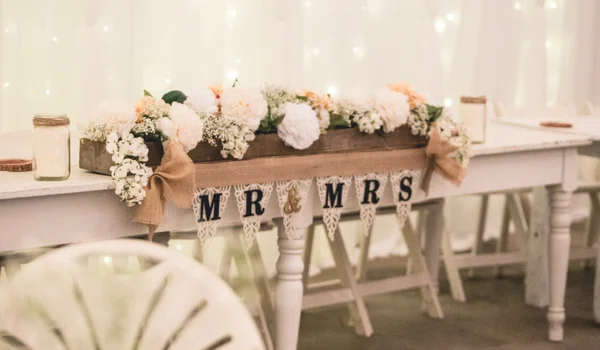 Weddings. A time for celebration and a time for love. They happen every year and they cost a pretty penny. It's no wonder so many influencers big and small have found their niche in the wedding industry.
Thanks to influencers all over the world, the wedding industry has forever changed. Giant corporate brands no longer have all the power. Anyone with good taste in wedding aesthetic, branding, and entrepreneurial smarts can dive in and make a name for themselves in the art of tying the knot.
Big name bridal influencers are already well-known, so we compiled a list of the best wedding micro-influencers making their way through the complicated and beautiful world of getting hitched.
Gee KnotsVilla: KnotsVilla Weddings
Join in on the excitement of weddings by following KnotsVilla Weddings. This influencer has made a name in the wedding game by offering enthusiasm as well as gorgeous photos.
Gee KnotsVilla is a wedding blogger who offers help with bridesmaids dresses, Christian wedding ideas, and more.
KnotsVilla is a self-described Jesus Lover and Christian. Not only does she offer helpful articles and tips, but she will help you plan your own personal wedding!
Website | Instagram | Twitter | Facebook | Pinterest | Google+
Corrie Swaffield: Dizzy Brunette 3
This next micro-influencer is a popular wedding Youtube star who loves all things weddings.
Though her influence is mainly in the beauty and lifestyle realms, her wedding content is very popular and happens to be featured on lists of the most helpful wedding advice you can find online.
Before starting her lifestyle brand, Swaffield worked at a wedding shop which makes her even more in touch with the industry. Also, her Pinterest wedding board is seriously amazing.
Website | Instagram | Twitter | Facebook | Pinterest | Linkedin | Bloglovin
The Man Registry
What about the men? There isn't a lot of help for men in weddings in comparison to women. This is where The Man Registry comes in.
The Man Registry was started by two brothers and one brother-in-law who decided there wasn't enough online about groomsmen gifts men would like.
They noticed that all wedding gift ideas were usually kitchen or bedroom related and felt that there wasn't enough that represented what a groom might get excited about.
Not only does The Man Registry act as an online registry featuring hundreds of great ideas for groomsmen gifts, but the brand also gives insight into each product.
Website | Instagram | Twitter | Facebook | Pinterest | Google+ | Youtube
Jenn Hallak: The Overwhelmed Bride
Are you feeling overwhelmed about the thought of planning a wedding?
The Overwhelmed Bride knows all about that! Jenn Hallak has created an influence brand that guides women through stress-free wedding planning.
It's not just about the wedding planning for Hallak. During this challenging time, a bride-to-be has got to stay healthy and happy! Hallak offers articles about health and wellness along with tips on how to stay balanced until the big day.
Website | Instagram | Twitter | Facebook | Pinterest | Google+ | Linkedin
Jessica Lehry Bishop: The Budget Savvy Bride
When it comes to weddings, no one has the market cornered like Jessica Bishop. Coining herself the Budget Savvy Bride, Bishop will teach you everything you need to know about planning your wedding!
Make your own candle holders, ceremony backdrop, and more. You can also find articles on how to save money in general when it comes to planning your big day.
Website | Instagram | Twitter | Facebook | Pinterest | Youtube |
Google+ | Bloglovin
Phoebe, Rebecca, & Emily: So You're Getting Married
These ladies love weddings.
Three ladies have teamed up to bring you all things weddings. This aggregator/blog site features stunning photos from around the world.
From impossibly beautiful shoes to breathtaking destination weddings, you'll get to see it all when Phoebe, Rebecca, and Emily bring it to you.
Website | Instagram | Twitter | Facebook | Pinterest | Youtube
Katrina Majkut: The Feminist Bride
This micro-influencer is much more micro than the others. However, the content is so riveting, it just had to be included.
Marriage can be a controversial topic. Katrina Majkut decided to create a blog for "inspiring couples to walk down the aisle as equals."
The site is filled with articles about civil rights, marriage equality, and more. You'll find out about the origins of the wedding cake, engagement rings, and everything else historically significant about weddings.
Majkut teaches you how to enjoy your wedding while staying in touch with feminism.
Website | Instagram | Twitter | Facebook | Pinterest | Youtube
Raj Harar: Secret Wedding Blog
Raj Harar has set up a blog for multicultural, fusion, and interfaith weddings. She offers advice as well as informational articles.
You'll see beautiful photos of couples getting married with different themes and twists from around the globe.
Combining faiths and cultures for a wedding can be complicated, but that doesn't mean it can't go smoothly! Harar will show you the way to make the special day beautiful, together.
Website | Instagram | Twitter | Facebook | Pinterest | Google+ | Bloglovin
Hannah & Fleur: Bride De Force
This wedding Youtuber is a popular inspirational influencer that will get you ready for your wedding day.
This brand shares photos from beautiful weddings on their Instagram, posts inspiring photos on the Pinterest board, and uploads insightful videos on Youtube. Read up on the latest in the wedding world by following Bride De Force!
Website | Instagram | Twitter | Facebook | Pinterest | Youtube
Summer Watkins: Grey Likes Weddings
The name says it all. Grey likes weddings!
Lady Grey is the nom de plume of Summer Watkins, a woman who believes in the details when it comes to wedding ceremonies.
Watkins' focus is compiling sophisticated and timeless designs along with artisan pieces. Spark your wedding imagination with Grey Likes Weddings!
Website | Instagram | Twitter | Facebook | Pinterest
Equally Wed
This next micro-influencer is an international online wedding and honeymoon magazine for gay, lesbian, bisexual, transgender, queer, and allied couples. It's a source for wedding ideas, help with planning, as well as personal stories from real weddings.
It's a wonderful source for the celebration of marriages that are now finally legally recognized across the U.S.
Also get tips on pre-wedding workouts, celebrity wedding scoops, and general LGBT news.
Website | Instagram | Twitter | Facebook | Pinterest | Linkedin | Bloglovin | Google+ | Youtube
Louise Baltruschat Hollis: Whimsical Wonderland Weddings
For those who seek enchantment, Whimsical Wonderland Weddings is the micro-influencer you must check out.
This eccentric wedding blogger is all about having a unique ceremony and inspiring others with her eclectic taste. This is not your cookie-cutter wedding influencer.
She has a really cool article about having a Pantone Color of the Year wedding. Imagine an ultra violet wedding!
Website | Instagram | Twitter | Facebook | Pinterest | Google+
Dana LaRue: The Broke-Ass Bride
Weddings are expensive and Dana LaRue knows it. This is why she's decided to build a following around helping people plan their weddings without "breaking the bank."
Learn all sort of neat ways to cut corners without making it obvious to wedding guests. There are ways to scrimp and save and you'll be so happy about later when you have more money to spend on your honeymoon.
Website | Instagram | Twitter | Facebook | Pinterest | Google+ | Amazon
Deborah DeFrancesco: Bitchless Bride
Prepare for more curse words. Bitchless Bride is a wedding planning site founded by Deborah DeFrancesco. She is devoted to helping brides avoid the dreaded "bitchiness" that comes with stress about planning one of the biggest events of your life.
DeFrancesco has also written a book which you can find on Amazon. Make your special day great by following advice with a little tough love. DeFrancesco believes that it's all in the planning, so get ready!
Website | Instagram | Twitter | Facebook | Pinterest | Amazon
Alexandra Merri: The Bijou Bride
Alexandra Merri is a wedding planner who also has a pretty solid online following. Her brand, The Bijou Bride is a vintage, cool chic inspired blog filled with articles about the neatest wedding looks.
Merri is all about monochrome, which is very trendy right now, too. When she is not planning weddings for her clients, she is teaching new planners how to create the best weddings for their clients.
This influencer keeps it fresh and is always producing new content for her followers.
Website | Instagram | Twitter | Facebook | Pinterest
Bridgette Bartlett Royall: Black Bride Bliss
With their biggest following on Instagram, Black Bride Bliss is a wedding blog/influencer that brings black brides inspiration, tips, ideas, and advice.
This brand was a long time coming. Throughout the history of wedding ceremonies, black brides had been ignored. Now there's a place where black women can go for all their planning needs, including engagement parties to honeymoons!
Website | Instagram | Twitter | Facebook | Pinterest
Maggie Lord: Rustic Wedding Chic
Rustic weddings are so chic. That's why Maggie Lord created a blog specifically for rustic weddings.
There's a lot that goes into pulling off a good rustic wedding. All the details must be perfect. Lord will help you find all the things you need to complete a picturesque event for your family and friends.
Rustic and country can often go hand-in-hand, so if you're interested in having country elements in your wedding, this blog offers that as well. Her Instagram page is full of lovely photos from weddings.
Website | Instagram | Twitter | Facebook | Pinterest | Brand Google+ | Personal Google+
Claire Gould: The English Wedding Blog
Searching for inspiration for an English wedding? The English Wedding Blog by Claire Gould is the place to start.
An English wedding is about as elegant as it gets, so it really matters if everything looks polished on the day of the ceremony. Special consideration needs to be taken in planning everything smoothly. Claire Gould is here to help you with that.
On her blog, she lists everything from gowns to invitations that are perfectly English.
Website | Instagram | Twitter | Facebook | Pinterest | Google+
Karen Cinnamon: Smash the Glass
This is considered the world's biggest Jewish wedding blog, even though it's still technically a micro-influencer in the influencer world.
The influencer behind the brand is Karen Cinnamon, who was driven to create this blog when she couldn't find a source of inspiration for Jewish weddings while planning her own wedding.
The name of the brand comes from the Jewish ritual of smashing a glass at the end of the ceremony.
Website | Instagram | Twitter | Facebook | Pinterest | Snapchat
Danielle Taylor: Chic Brown Bride
Another fantastic bridal influencer catering to women of color, Chic Brown Bride is a source for inspiration for weddings, life, style, and more.
Danielle Taylor created this blog as a creative outlet for her love of weddings and life. She would explore the internet for "countless hours" in search of "all things pretty" until she decided to go ahead and make her own source of beauty and lifestyle.
She was also influenced by noticing a lack of women of color in the content she was looking for. Thus, Chic Brown Bride was created and we're happy it was!
Website | Instagram | Twitter | Facebook | Pinterest
Get the Scoop on Getting Hitched
Whether you just need a little wedding help or a full on hand-holding, these wedding influencers are guiding people everywhere in the right direction to their dream day. Cheers!
Get each week's best deals from Dealspotr in your inbox
This guide was published on January 4, 2018
, and last modified on January 4, 2018
.