Why isn't my promo code working?
Promo codes are great – when they work. Unfortunately, when they don't work, it can be extremely frustrating to figure out why … especially since it delays the satisfaction of completing a purchase.
While it's not always easy to decipher why a particular promo code failed, there are typically a few common explanations:
The Promo Code Is Expired
This is probably the most common reason for why a promo code failed. Whether the customer got the promo code via email, an ad, or on a site such as Dealspotr.com; there is usually an expiration date associated with the code. Sometimes expired codes still work, so it's worth a shot to try using it, but don't expect the store to honor the discount if it fails because it's expired.
The Minimum Purchase Requirement Was Not Met
Stores oftentimes attach minimum purchase requirements to promo codes. For example, a 20% off promo code offer might only be eligible on purchases of at least $50. These details are usually, but not always, included with the messaging for the promo code. Customers should not count on customer service reps relaxing this minimum requirement.
The Promo Code Is Only Valid For First-Time Customers
Many online retailers use promo codes to attract new customers and make promo codes available that are only valid when a customer makes his/her first purchase. In these cases, if a customer tries to use a promo code on an subsequent purchase, it will fail.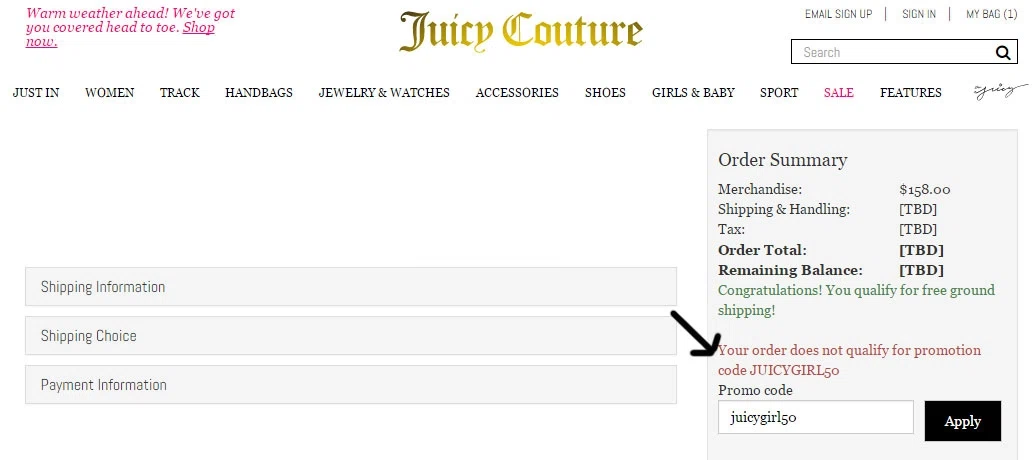 A Particular Item Or Category Of Items Is Excluded
Department stores like Macy's are known for including a long list of exclusions with many of their promo codes. The promo code might indicate it is "store-wide," but in fact many of the most popular brands and sometimes even departments are listed among the exclusions in the fine print. Customer service almost never backs down from these exclusions and the only way to really deal with this issue is to always read the fine print.
Another Promo Code Was Already Applied
On occasion, stores will automatically apply a promo code and give the customer a discount. In these cases, the store will typically allow the customer to put in his/her own promo code in place of the automatically applied one, but it can sometimes be tricky to find where the automatically applied promo code is and replace it with the other one. Customer service reps are usually helpful in these situations.
The Store Is Under New Ownership And No Longer Takes Promo Codes
Promo code policies vary widely based on the store and when one retailer gets bought out by another one, a promo code that should seemingly work, suddenly may not. There is no good answer for this problem, but the store's customer service reps are often more understanding in these situations and might apply the discount manually.
A Shopper Must Be A Registered User To Redeem The Promo Code
Some stores only enable customers who have signed up for an account on their site to redeem promo codes. The vast majority of stores provide free registration, so this issue is often very simple to rectify.
The Promo Code Is Not Viable In All Areas
This problem is especially common with free shipping promo codes. Local and regional stores often don't have the capacity to ship items nationwide or worldwide, so they will offer free shipping promo codes that are only applicable within a certain radius. Another instance in which this issue arises is when a store is trying to increase sales in a particular region, so it runs a promo code intended only for that region.
The Store Is Having Technical Difficulties
While it might seem like this is the most common culprit for promo code fails, it's actually somewhat rare. That being said, it does happen from time to time. When this is the case, customer service reps for the store should be very willing to help and in some cases might even provide a bonus discount for the trouble.
Get each week's best deals from Dealspotr in your inbox
This guide was published on May 13, 2015
, and last modified on May 13, 2015
.