These Robots Make Learning To Code Fun
About the Author

Partner Marketing @ Dealspotr. Bargain shopper extraordinaire. Sloth enthusiast.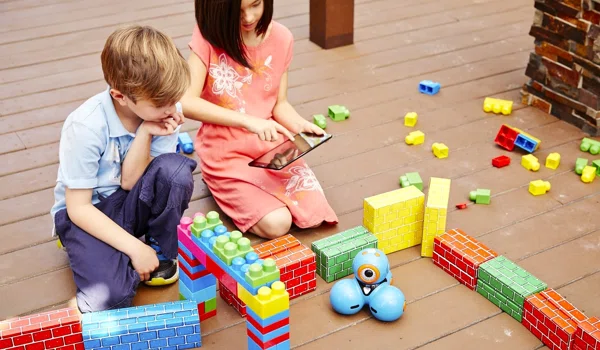 Computer science is no longer the weird class taken by nerdy kids. As technology continues to permeate every industry and occupation, technology skills are becoming increasingly coveted by employers. In fact, the U.S. Bureau of Labor Statistics projects occupations related to STEM will grow to over 9 million by 2022. 
San Mateo, CA based Wonder Workshop is a robotics toy company that's on a mission to help children get exposed to programming concepts, making it fun and accessible. What started as modular prototype in 2012 turned into a sleek, somewhat cute, robot toy that can be programmed and controlled by a touch screen device. 
Wonder Workshop currently offers three CleverBots with their own unique features and programming capabilities. Dash and Dot are a dynamic duo that interact with each other, move, light up, and make sounds. Dash is a dancing, talking, and interactive machine with three wheels to smoothly navigate around. Dot is a ball shaped robot that helps develop fundamental coding skills through creative projects. Both robots can be programmed through 5 mobile apps available on iOS, Android, and Amazon devices. 
The more advanced Cue, which looks like the Dash, lets users control and create through either block or JavaScript. It can be assigned one of 4 specific personalities, or avatars, which come with their unique attitude. Similar to a chatbot, Cue can converse over text, tell jokes, and even send memes. 
While Wonder Workshop's robots might seem like silly toys, investors have been taking notice. The company recently raised a $41M Series C, bringing their total funding to over $78M. Wonder Workshop plans to ramp up international growth and develop more engaging, instructional products. 
ABOUT THE DEALSPOTR MARKETPLACE
If you would like to stay connected with Wonder Workshop, you can follow them online at Dealspotr, Facebook, YouTube, Instagram, and Twitter.  
The Dealspotr Marketplace is a new platform that better connects merchants with influencers and shoppers. Are you a retailer? Claim your page on Dealspotr and start promoting exclusive deals, control your page presence, and collaborate with influencers. 
If you would like more information on claiming your merchant page, or to how to become featured in one of our running blog series, please feel free to reach me at jimmy@zipfworks.com.
Get each week's best deals from Dealspotr in your inbox
This guide was published on October 31, 2017
, and last modified on October 31, 2017
.