Why Do So Many Coupon Sites Post Expired Promo Codes?
About the Author
Dealspotr is the most accurate, trustworthy, and reliable coupon code database. Our community of deal enthusiasts posts the best deals everyday for thousands of retailers, saving you time and money at checkout.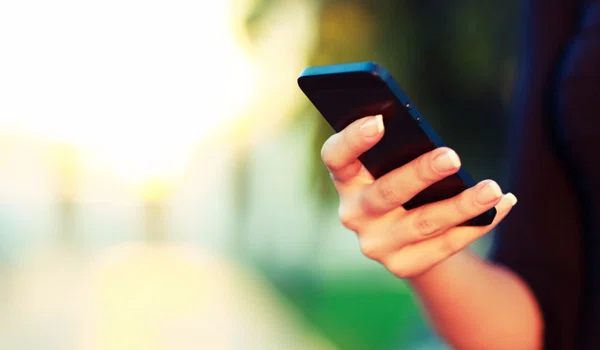 We all know the drill. You're shopping online, and during checkout you see the almighty "promo code" box, wielding the power to slash 30% off your purchase… if you can find a working promo code. Thus begins the infamous, often frustrating, process of hunting for a coupon code.
At Dealspotr, the frustration of finding a good, working coupon code really got to us, so we decided to build a better tool. Something like a "Google for coupons" or "Wikipedia for deals" that would offer a trusted, reliable, user-friendly experience for finding working promo codes at virtually any retailer. Since launching last fall, we've already achieved this vision - Dealspotr is now the most reliable, accurate, and comprehensive database of coupon codes anywhere online, including RetailMeNot.
In this article series, we're exposing examples of when coupon sites simply don't meet our standards when it comes to providing a quality user experience. Too many coupon sites show expired codes (even masquerading them as good ones), show irrelevant coupons that don't offer you the discount you're looking for, and just force you to click around to no avail.
In this example, we're taking a mid-size skin care retailer, Skinceuticals.com, and walking through a hypothetical promo code search experience. Skinceuticals is a popular skin care brand which sells skin care and beauty products on its own website, and they do offer promo codes from time to time.
Let's add stuff to our bag, and once we see that "promo code" box, let's search Google for "skinceuticals promo code."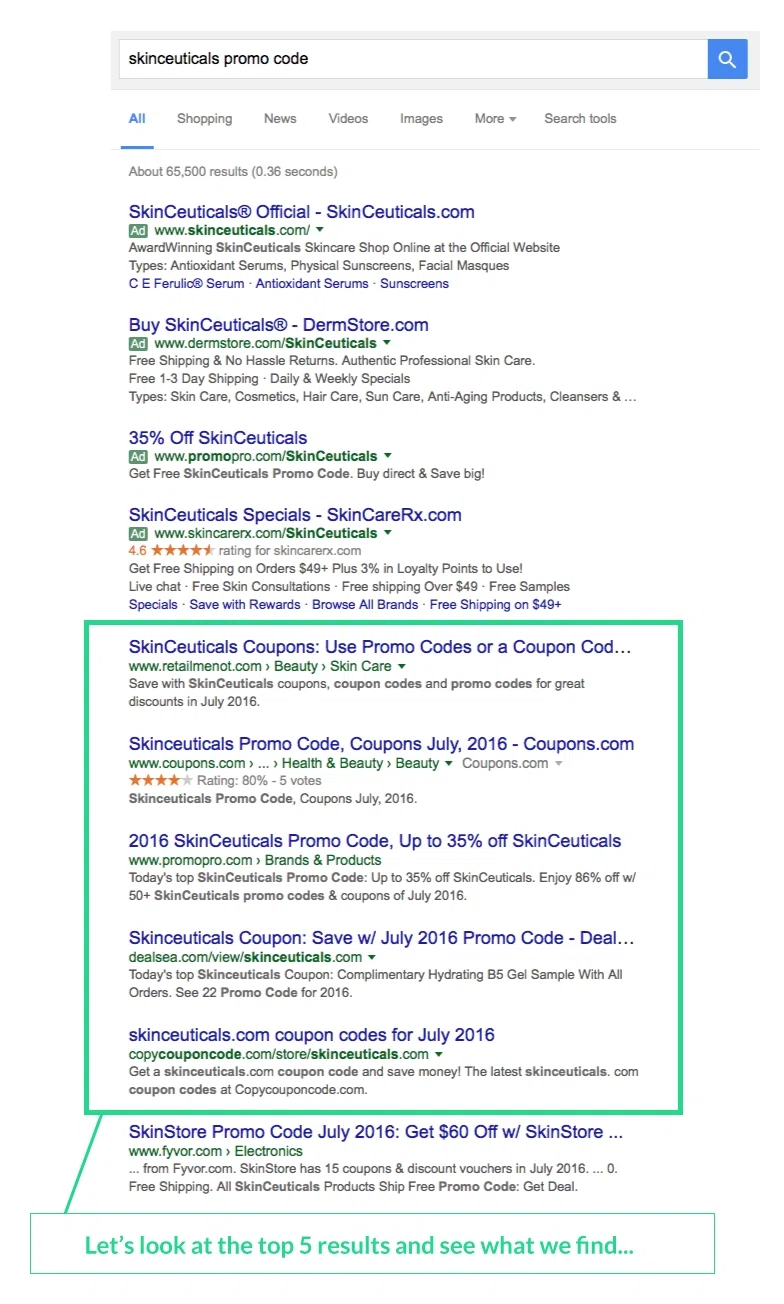 Sweet. Seems like plenty of promising results. Let's click on the top 6 organic (non-advertising) results and see what we get.
RetailMeNot
The first result for Skinceuticals is RetailMeNot. RetailMeNot is a leading company in the online coupons space, you see them pop up in Google all the time. With 500 employees, they typically do a good job of showing valid codes for most popular retailers, so let's see how they do for Skinceuticals.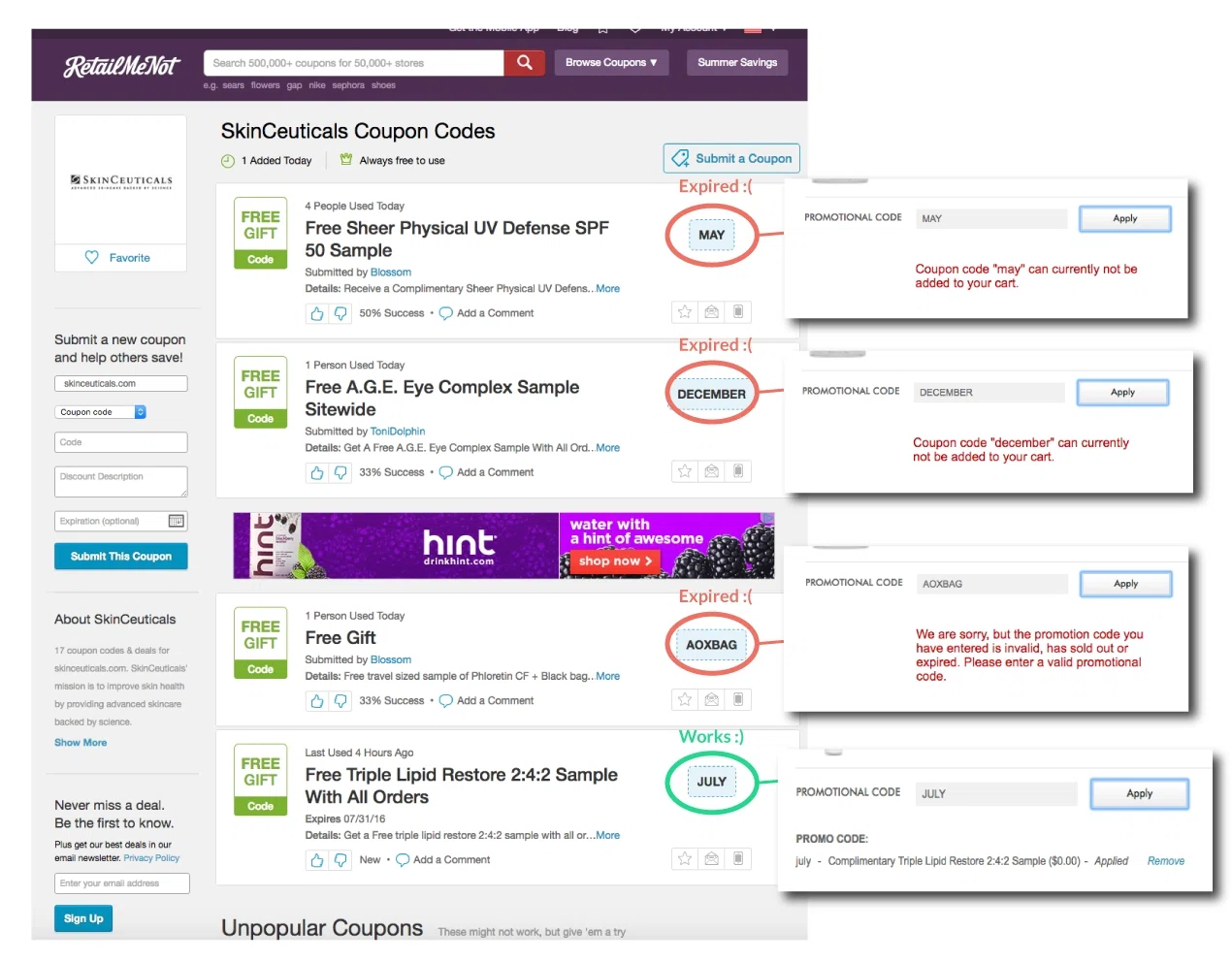 Not too good. Their first two promo codes are MAY and DECEMEBER, which you can tell from the codes themselves are probably going to be expired. Yup, they're expired. How about AOXBAG? Nope. Well, it looks like RetailMeNot does have one valid coupon code, JULY. This offers you a free gift with a purchase, which is nice but not as good as a cash discount. Let's try the next site.
Coupons.com
Coupons.com is another large company, with 500 employees. However, for such a large company, they seem to do a poor job displaying coupon codes for Skinceuticals. There are no valid coupon codes at all for Skinceuticals on the Coupons.com site.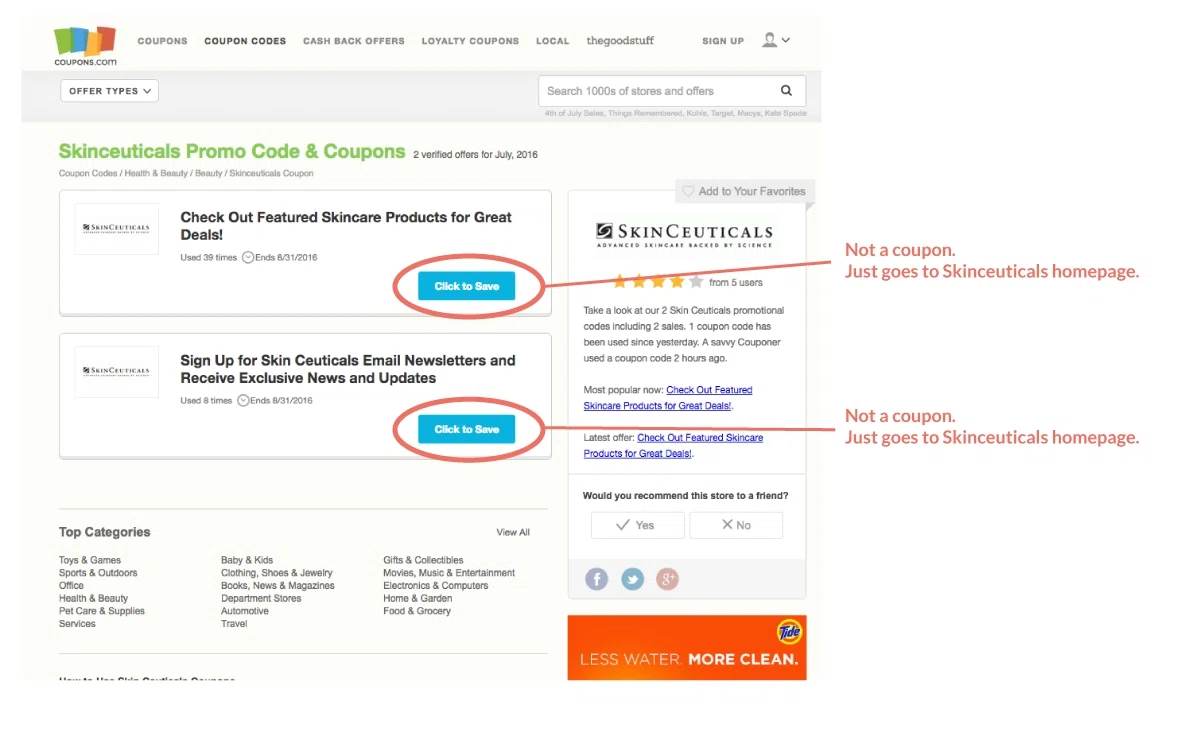 They ask you to click on buttons that say "Click to Save" but when you do, you are simply directed to the Skinceuticals homepage with no discount or code in sight. This is a confusing user experience, wasting shoppers time spent clicking on links that don't offer discounts.
Promopro
Promopro.com is another popular coupon site which shows up in Google for most retailers, and which offers what we call a "classically frustrating" coupon experience. They bring you to a page titled "Skinceuticals Promo Code" and even label the subsection of their page "Skinceuticals Coupons & Deals" but they do not show you a single Skinceuticals deal at all. This is very confusing and potentially frustrating for shoppers, many shoppers will click on a bunch of links, only to be lead to other stores that have nothing to do with Skinceuticals. They don't sell Skinceuticals, some don't even sell skin care products like Skinceuticals at all.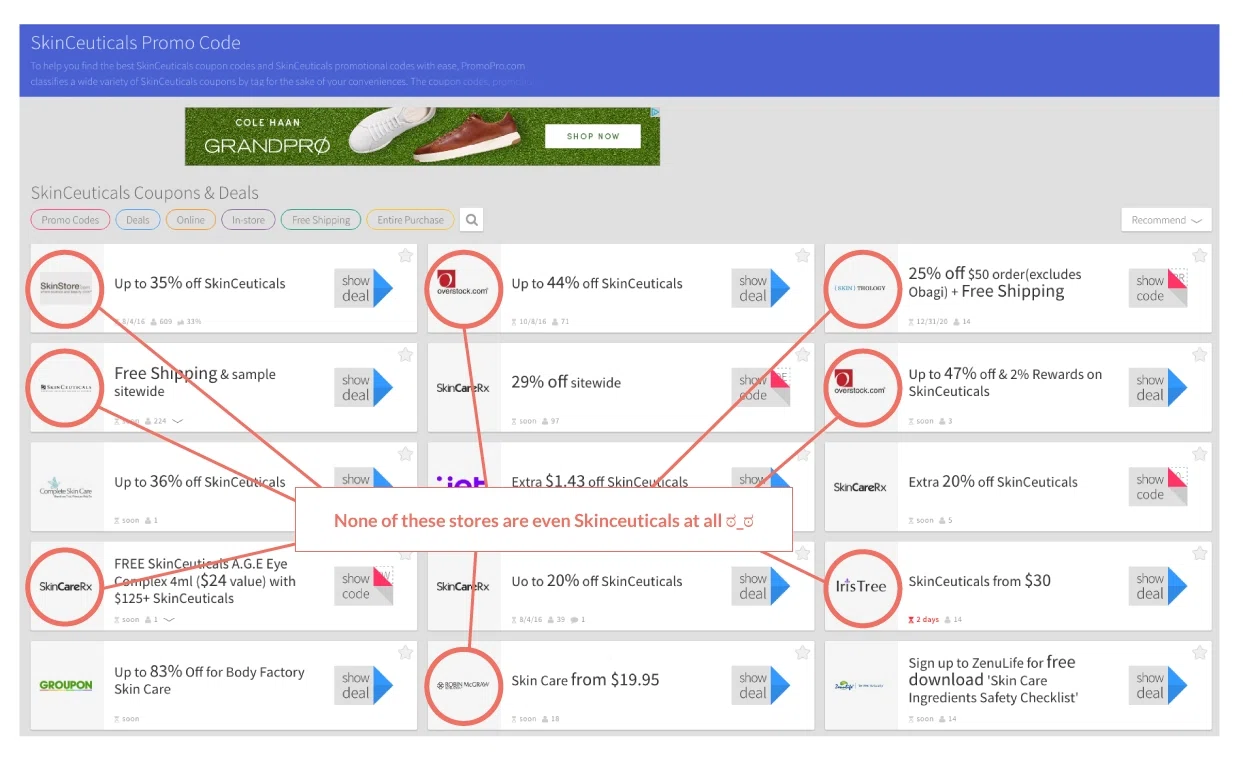 We believe that showing shoppers deals from related stores is great. What we don't believe in are misleading labels designed to trick you into thinking you're clicking on something you're not. Sites that behave like this contribute to giving coupon websites a bad name.
Dealsea
We're starting to see a pattern here. Dealsea is yet another popular coupon site that you frequently find on Google, and they again offer mostly expired coupon codes for Skinceuticals.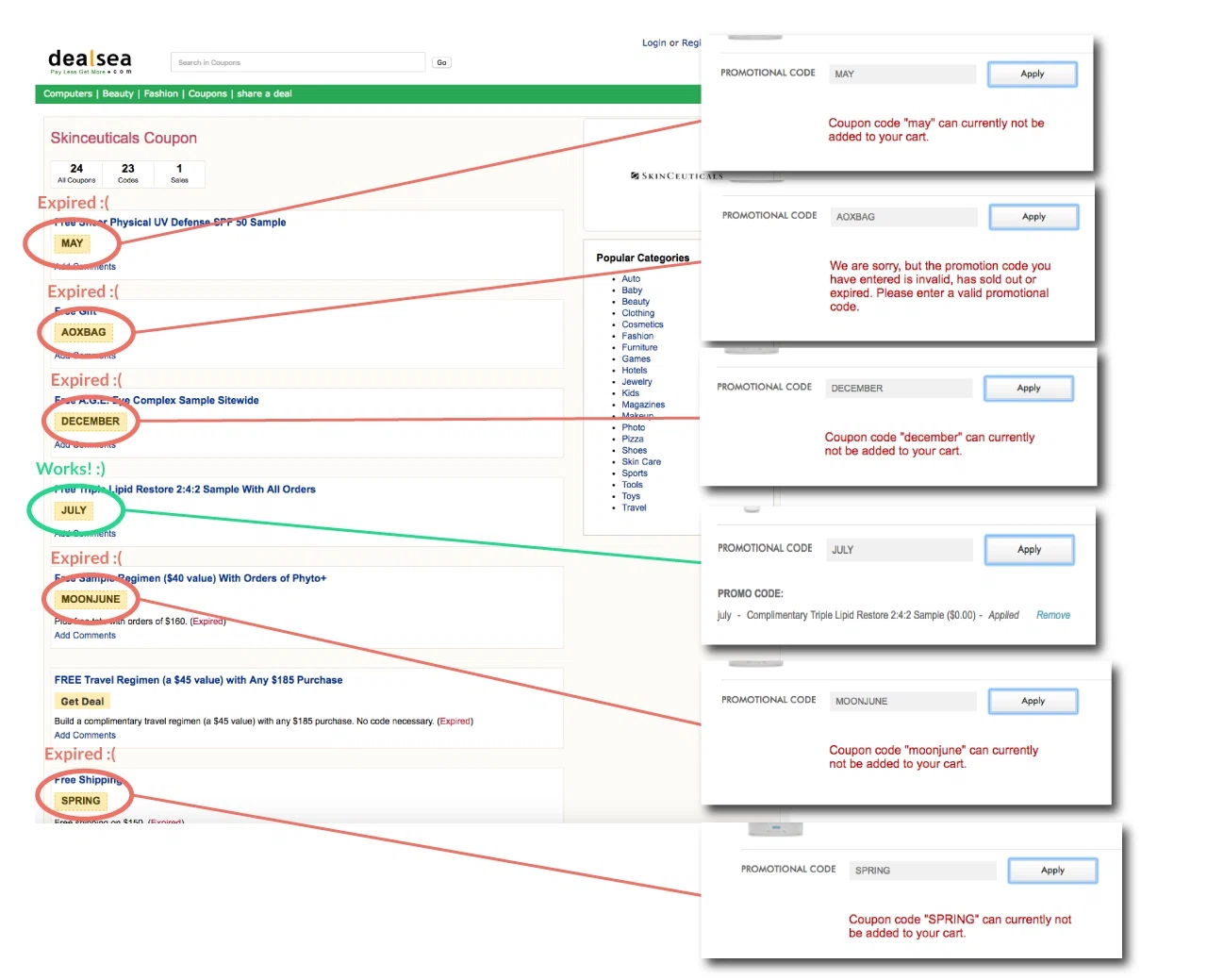 Most frustrating are the promo codes like "MAY" which are obviously expired, why not simply remove these or at least mark them as expired?
CopyCouponCode
CopyCouponCode offers yet again another page full of expired promo codes. Only one out of 5 coupon codes they display provides a working discount for Skinceuticals.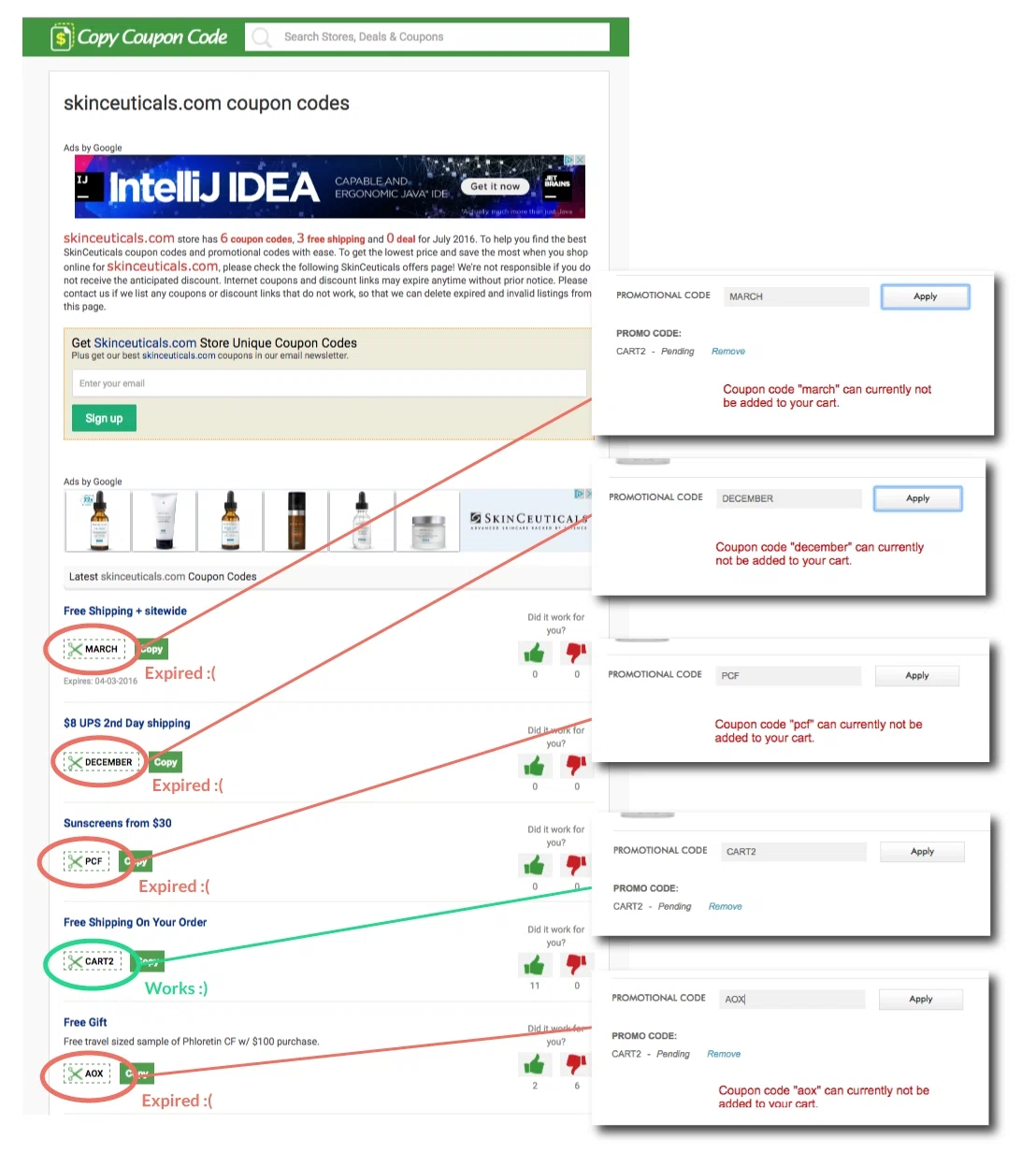 So far, in our quest for a working promo code for Skinceuticals, we've visited six coupon websites and found 12 expired codes, 17 irrelevant links that don't provide a discount, and 3 valid codes. However, none of these codes offer an actual discount to our purchase, they offer a free gift with purchase, which is not as good as a dollar off discount. So in total, we spent about 20 minutes clicking on 29 invalid links and codes, and found 0 codes that offer a dollar discount to my purchase. This is the typical promo code search experience faced by online shoppers - mostly frustration, but with little success.
So, is there a working promo code for Skinceuticals in existence?
So it looks like none of the leading websites contain a working dollar off promo code for Skinceuticals. But does this mean that there are no such valid codes for Skinceuticals in existence?
The problem with most coupon sites is that they all basically obtain their coupon codes from the same sources - this is why we saw mostly the same expired codes posted at different websites. Most coupon sites receive their promo codes from a limited set of companies (called affiliate companies) who send out coupons via data feeds to hundreds of coupon sites. The problem is, these data feeds only contain a small portion of all the available discount codes available for a given store. Stores also send out coupon codes via email newsletter, via Facebook and Twitter, even via snailmail.
Only one coupon site will capture all of these other channels, and that's Dealspotr. Dealspotr is different from other coupon sites in that our coupon codes are posted by our community of thousands of deal enthusiasts. These are couponers and everyday shoppers who follow different stores and know the nitty gritty about coupons, offers, and promo codes at the stores they care about. On Dealspotr, if a store posts a discount code anywhere, our community will know about it, and share it on our site. Better yet, other Dealspotr members will validate, test, and provide feedback on that code. In a nuteshell, our community works together to ensure we know about every promo code and that every promo code on our site is valid, tested, and works as described, saving you time, and most importantly, more money at checkout.
Dealspotr
So let's look at how Dealspotr performed for Skinceuticals.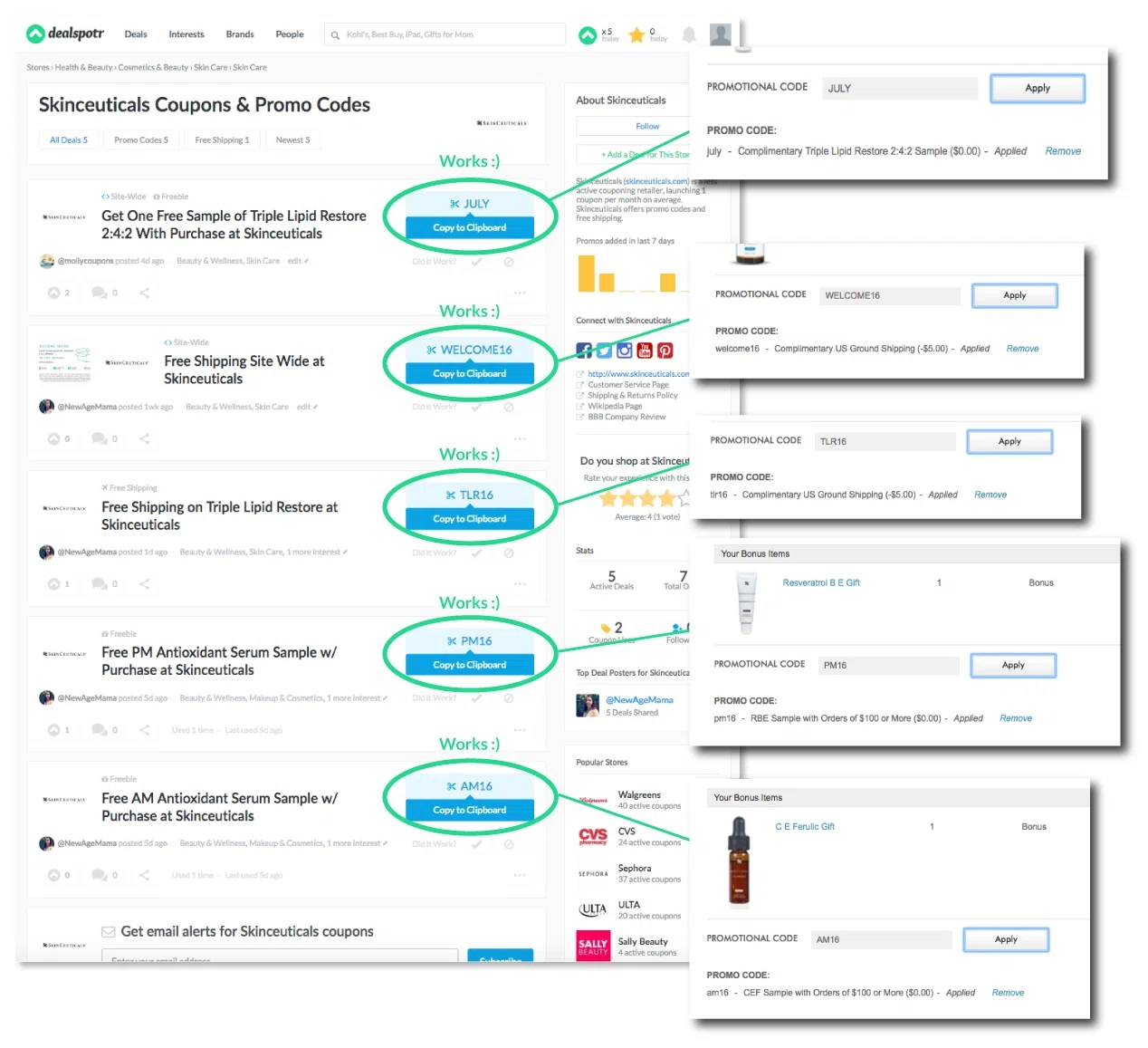 The first thing you'll notice on Dealspotr is that there are no expired coupon codes for Skinceuticals. Our community works hard to mark any expired code as expired, saving you time spent clicking on invalid deals. You'll also notice that Dealspotr has 5 valid, working discount codes for Skinceuticals, 500% better than every other major coupon site. Importantly, Dealspotr has a valid, site-wide code giving you free shipping on any order. No other coupon site had a valid code offering a dollar discount to any order at Skinceuticals.com.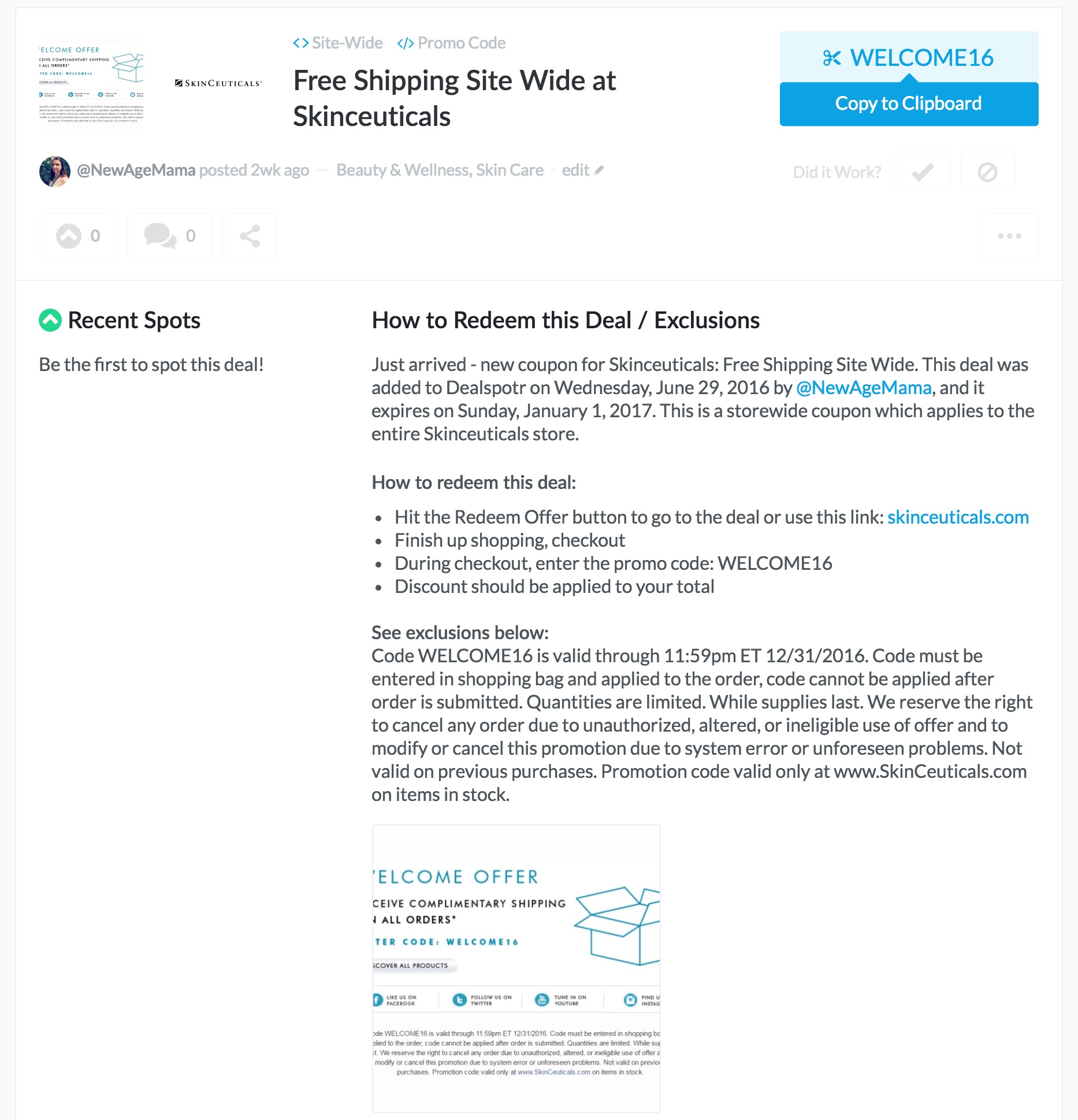 Clicking on the "…" button will open the details of any of these coupon codes. Inside, you'll see screenshots showing you backup that the deal is a real code sent out by the retailer, as well as any exclusions you need to be aware of. In this case, you'll see that this Skinceuticals promo was posted by the member @NewAgeMama - her name is Laura DeLuca, and she is the blogger behind the informative coupon blog New Age Mama. She subscribes to Skinceuticals' email newsletter, and when she received notification of new codes offered by Skinceuticals, she posted them to Dealspotr, earning her points and reputation as a deal expert for Skinceuticals. The net result for you as a shopper is that you would have saved on shipping at Skinceuticals for any order had you used Dealspotr instead of searching the other coupon sites.
We have over 70,000 community members posting and editing thousands of deals each and every day. This is how we maintain the most massive, comprehensive, and accurate database of promo codes anywhere online. If you want to find a working discount code, start with Dealspotr on your next coupon search.
Get each week's best deals from Dealspotr in your inbox
This guide was published on July 11, 2016
, and last modified on July 11, 2016
.