Everything You Need to Know About Rebate Apps
About the Author

Dealspotr is the world's largest and most reliable database of promo codes and deals online. We're the leading shopping social network serving brands, influencers, and consumers.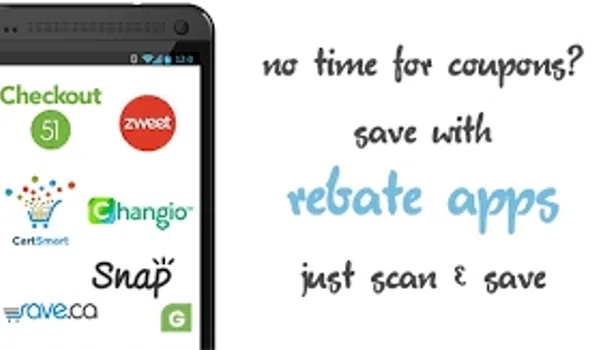 Shopping is one of the things in life that we simply can't avoid. We shop for groceries, health and beauty products, and many other things on a daily basis. With all of this shopping, one thing is guaranteed – you'll be spending a lot of money. And unless you are a millionaire, you'll want to spend the least possible amount and save as much as you can. That's where rebate apps kick in.
Rebate apps (also known as coupon apps and grocery apps) help you get some of the money back while shopping. They partner up with brands to offer its members cash back offers for a particular product. The cash for redeemed offers is paid by the brand who hopes to turn us (grocery apps users) into their loyal and regular customers. 
In other words, these money saving apps pay you for purchasing a specific product at a specific store. And since most of them have offers for everyday items you buy on a daily or weekly basis, such as milk, yogurt and toothpaste, so it would be a wise decision to start using rebate apps and save some money.
How Rebate Apps Work
As we already said, rebate apps get you some of your money back if you purchase certain items offered by the app. These money-saving apps enable you to instantly get credit for completing purchases and keeping track of your receipt. Once you accumulate enough money you are able to get it via PayPal, gift cards and some other methods (depending on the app).
In addition, most of the grocery apps will stack with in-store sales and coupons. Therefore, by doing a proper research and being smart, you can get some items for free.
So how to start using rebate apps?
First of all, you need to own a smartphone that is compatible with the app. The actual requirements will depend on the chosen app, but most coupon apps will require: iPod touch 3rd generation, iPad 2, iPhone 3GS, iOS 5.0 and Android 2.2 or any other newer version.
Next, you'll have to register/download the app from the online store. Most grocery apps are free and work on both Android and iOS.
Once you have logged into your account, you'll look for offers and find an item that you would like to purchase. Then you'll find the nearby store that has partnered up with the app (you can find this information on the website or the app) and go shopping.
When you find that exact product in the store, you'll have to scan the barcode (in most cases) to validate that the offer matches the product you have chosen. Next, you'll have to send a picture of the receipt (from top to bottom) to confirm the offer, and within a specific time frame (this varies from app to app), you'll see money on your credit balance.
When you accumulate a certain amount you'll be able to get that money. Some grocery apps require collecting a specific amount (anywhere from $5-$20), while other coupon apps enable you to get the money as soon as your balance changes.  
Best Grocery Apps
Many rebate apps promise cash back on everything you buy. However, some of them are just too complicated, have bad offers or simply require too much work to get a single rebate.
Therefore, we decided to share with you the best coupon apps that are worthy of your time and effort.
Ibotta is probably the most popular rebate app and is widely famous for its wide range of items that aren't brand-specific. Available on Android and iOS, this free smartphone app offers cash back and rebates for grocery stores, retailers, restaurants & fast food, pharmacies, clothing, alcohol, beauty  & wellness and convenience stores.
The number of Ibotta partners increases on a daily basis, so chances are that all the stores you currently visit are Ibotta partners and you can use them to get cash back.
Important things to know about Ibotta: 
Once you find the item on the app, you'll have to do a few simple tasks to unlock the cash-back option. The tasks are simple and can be done within a minute.
There are two ways to complete the offer: scan the barcode and take a picture of the receipt or use the retailer loyalty card. 
There is a minimum $5 cash out amount.
Most offers come with an expiration date (usually 7 days once you validated your purchase).
New offers appear between Wednesday and Friday every week, so it's best to check the app on Thursday morning.
You can transfer your Ibotta credit to PayPal or Venmo, or convert it into a gift card.
There are a couple of ways to increase your Ibotta earnings: refer friends, build a team, complete bonuses and combine offers with coupons.
You won't be able to do bulk shopping (the offers are usually for 1 item only).
With all of this being said, Ibotta is probably the best rebate app on the market, which is the reason we even dedicated an entire article to this app. So if you would like to know more about Ibotta, click HERE.
Similar to Ibotta, Checkout 51 is a free smartphone app that partners with brands to offer its members cash back offers on particular items.
All you need to do is sign up by entering your name, email address and password. You can download the app to your smartphone (free for iOS and Android), but that's not mandatory as you can use Checkout 51 via your computer. However, we recommend downloading the app as well.
What separates Checkout 51 from most money grocery apps is the chance to redeem some offers up to 5 times.
Important things to know about Checkout 51:
New offers are updated on Thursday at 12 am in each time zone and expire the following Wednesday at 11:59 pm. Therefore, make sure to submit the receipt before the deadline.
All offers are available in limited quantities so make sure to check whether the offer is still available before shopping. Once you purchase the item, upload the receipt immediately.
The submitted receipts must be in English.
You can redeem some offers more than once (up to 5 times).
You can use Checkout 51 rebate offers along with coupons and other discounts.
Once you have uploaded the receipt, it takes up to 48 hours to get credit for the purchase.
There is a minimum $20 cash out amount. Once you reach it, you can ask for your money and Checkout 51 will send a check to your address.
All products must be purchased in your country of registration. Checkout 51 currently supports Canada (excluding Quebec) and the United States.
Overall, Checkout 51 is definitely one of the best coupon apps on the market that can save you a lot of money. Just make sure to always double check to make sure that the offer is still available before purchasing the item.
Started as an app for iPhone users only, mobiSave soon expanded to include Android phones as well. It is the most user-friendly app, very similar to the above mentioned rebate apps.
What separates mobiSave from the crowd is the fact that it works in any store that provides itemized receipt. You just have to add the items you would like to purchase at the store to your "cart" before you check out.
The only issue with mobiSave is that it offers less rebate money compared to Ibotta and Checkout 51. You can even find the same offers with better value on these two apps from time to time.
Important things to know about mobiSave:
New offers are updated regularly and there will be overlaps with other coupon apps.
There is no minimum cash out amount, so you get your money as soon as the rebate is approved. The money is automatically sent to your PayPal account.
You can purchase items at any store and claim your rebate.
mobiSave mostly offers name-brand rebates.
It has a limited range of offers (compared to Ibotta).
To conclude, mobiSave is definitely an amazing app that will only grow in the future. We assume they'll expand their offers soon and become one of the biggest names in the industry.
BerryCart is a unique rebate app that offers rebates for organic, gluten-free or non-GMO foods. Their goal is to convince people to buy healthier products.
Free for both iOS and Android users, BerryCart is a must have app for people who prefer organic and healthy food.
It works the same as the coupon apps mentioned above, but it doesn't matter where you make your purchase because the app works in all stores. However, as the products are unique, the store selection is a bit limited.
Important things to know about BerryCart: 
Cash back offers vary from 50 cents to a few dollars (depending on an item).
To unlock the offer, you'll have to do a few easy tasks (read short & fun facts or testimonials and complete a short fun quiz), which will take less than a minute of your time. And if you are into healthy living, you'll enjoy doing these tasks.
The offers for organic, non-GMO and natural foods rarely change (so you can go shopping and save money every day of the week).
There is a minimum $5 cash out amount, and the app is linked to PayPal.
BerryCart is definitely something that health enthusiasts will prefer and it works great together with other grocery apps. 
Shrink is another useful app that helps save money while shopping. Similar to all the above mentioned coupons apps, you purchase an item, scan the barcode and take a picture of the receipt.
Important things to know about Shrink:
Shrink is available for both Android and iOS users.
After you scan the recipe of the product, Shrink automatically tells you what offers and deals you qualified for. So in addition to cash back, you can also get gift cards, coupons, buy one get one free deals, etc.
There is a minimum $20 cash out amount and the app supports both PayPal and Venmo. You can also expect gift cards in the near future.
Shrink has a wide range of organic food offers.
Overall, Shrink is a good rebate app, but far from the best. You should use it combined with some other grocery apps to get the best offers and earn the most money.
The last rebate app on our list is Shopmium. Although it started as an independent app, in late 2015, Shopmium was purchased by Coupons.com.
It is the only rebate app that doesn't allow stacking coupons with rebate offers. Apart from that, Shopmium doesn't accept receipts from stores that don't itemize coupons on the receipt, which limits users in terms of the stores where they can claim rebates.
Important things to know about Shopmium:
There is no minimum cash out amount.
Rebate payments are automatically sent to your PayPal account (within 24 hours).
Shopmium doesn't support coupons and will accept only stores that itemize coupons on the receipt.
They have a limited number of offers (significantly less than Ibotta and Checkout 51).
Shopmium has some limitation which is the reason most people opt for other rebate apps. However, you can still find great deals, so it's definitely worth having it on your device and looking for good money-saving offers.
Takeaway Notes
Rebate apps are a great way to save some money while shopping.
In order to maximize your cash back and save the most money, you should use all of these grocery apps and stack offers. For example, if you want to buy milk, you can look for milk offers on every single app, purchase milk and use the receipt for all apps that have that offer.
Simply put – you can use the cash back option for one milk on different coupon apps, which means that you can even earn money while shopping. You just have to do a proper research and take advantage of this amazing opportunity that not many people are familiar with.
Get each week's best deals from Dealspotr in your inbox
This guide was published on November 26, 2016
, and last modified on November 26, 2016
.