6 Simple Ways to Find Bloomingdale's Promo Codes That Actually Work
About the Author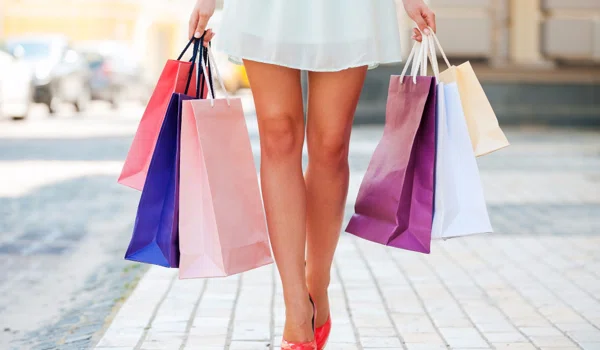 Since 1872, Bloomingdale's has offered high-end, stylish apparel. Although it is considered a luxury shopping brand, the snazzy items are relatively affordable.
There are a few options for finding discounted Bloomingdale's items online that work. You just need to know where to look.
We are here to help you find that cute jacket, shirt, sweater, etc. you've been eyeing for a much cheaper price than it's listed for.
Follow these simple steps to getting discount codes online that actually work!
Visit the Bloomingdale's Website for Site-wide Deals
First and foremost, do the easiest thing. It's a simple check on the Bloomingdale's website. It seems like a no-brainer, but sometimes the most obvious things get overlooked.
Before we show you how to shop like a real coupon-cutting, discount-hunting pro, visit the store's website and make sure there aren't already discounts on items you want.
As you can see, they might have a promo code offer right there on their website as soon as you enter. For this promotion, customers can take 25% off a large selection of items when they use the promo code FRIENDS.
Loyallists (more on that later) can even get a $25 rewards card if they spend over $100. Real deals right off the bat!
Before Paying Department Store Prices, Check the Brand's Website for Bigger Discounts
Bloomingdale's is a department store, so it features a lot of top-shelf brands. But those brands also have their own websites and sometimes, they offer the exact same item for less than what is listed at Bloomingdale's.
We found an example of a huge price difference in women's shoes. At Bloomingdale's, you'll find UGG Lynley Zebra-Printed Calf Hair Ballet Flats for $130.00.
However, at UGG's official website, they're on sale for only $79.99!
Look at that insane price difference!
Get the exact same shoes for about $50 less JUST by checking the brand website.
You're welcome.
Become a Loyallist and Get a 10% Off Promo Code Instantly
Bloomingdale's rewards program or "Loyallist Membership" gives customers exclusive perks both online and in-stores. As you shop, you accumulate points that eventually serve as credit towards your next purchase.
If membership programs aren't your thing, Bloomingdale's also makes it easy to sign up for standard emails. "Sign Up for Emails" is not in big, bold lettering, so here's where to find it.
Simply go to the main page of the Bloomingdale's website. You are probably already there from following the first step we gave you (unless their 25% off promo code deal sent you on a wild shopping spree!).
Scroll all the way down to the bottom. Look to the right and you should see "SIGN UP FOR OUR EMAILS" in small font.
Click on "SIGN UP FOR OUR EMAILS." A separate, vertical box should pop up for you.
Fill out all the information in the fields given. Click "Sign Up For Emails" and you'll get a message that looks like the one below. Wait for the email to come in.
Easy as pie.
Now it's time to check your email. It may take a few minutes in order for the email to show up, so don't fret! Once you get the email, open it up to see what you got.
Look at that, 10% off just for signing up. Thank you, Bloomingdale's!
Keep the discounts coming by joining Bloomingdale's
Visit Coupon Sites for Promo Codes
There are a ton of coupon websites, but finding the coupon you want is not always easy. Sifting through cluttered coupon websites that are full of pop ups can be a real pain.
We don't want you to go through that, so let's talk about the REAL coupon websites - specifically RetailMeNot, Groupon and Dealspotr. Shall we?
To find Bloomingdale's promo codes on RetailMeNot, simply search "Bloomingdale's" in the search bar at the top and choose the one applicable to you.
Once you're there, you'll see a series of discounts. There's also an option to submit your own coupon for others to use. It is important to note, however that not all of these discounts have been verified. So how will you know which code to use first?
Find Verified Promo Codes that are Guaranteed to Work
There's nothing worse than finding a promo code and getting through the whole process of adding items to your cart, only to find out at checkout that the promo code is a complete dud.
This is why you should only use websites that truly verify promo codes.
Groupon is an example of a website that sometimes verifies their promo codes. Go to the Groupon website and click the "Coupons" tab under the search bar.
Click on "Bloomingdale's Coupons." If Bloomingdale's doesn't pop up as a choice, you can type it in manually where it says "Search coupons by store or category."
After that, you'll be taken to a page of only Bloomingdale's coupons:
While it may look like there are a bunch of great codes available, there is only one deal that is marked "Coupon Verified." on the top:
And unfortunately, it's not even a promo code. It's a tip to become a Loyallist (which we've already written about above).
Dealspotr is another site that verifies if codes are working or not. As you can see in the screenshot below, there's a green check mark underneath all of the Bloomingdale's promo codes - this confirms that the codes have been verified by other users, and are proven to work.
Take Advantage of Unused Single-Use Codes for a 10% Discount
How often do you get promo codes via email that you aren't interested in using? What if I told you there was a kind and generous place where people shared their unused one-time-only promo codes with other people?
At Dealspotr, you can search "Bloomingdale's" and find unique single-use promo codes for the store (or any store, really). Simply visit the website, go to the top search bar, type "Bloomingdale's," and choose the main Bloomingdale's link (or Canada or Australia if that's where you're located).
You'll be taken to a page full of verified promo codes and deals. Scroll down a bit and look to the left where you'll see "Single-use codes."
The number next to the text tells you how many single-use codes are available on Dealspotr.

Click on "Single-use codes" and get taken to deal central. Choose from a ton of single-use codes that will work at checkout.
How do you know if they work? Well, unlike the other coupon sites, Dealspotr has a community of users that not only shares coupons, but verifies them as well. Super helpful!
Click on one of the single-use promo codes and you'll be taken to that code's individual page. To the right, you'll see verifications from actual users.
They even offer screenshots to prove that the promo code works so that you don't have to waste your time at checkout inputting codes yourself. The work is done for you! Here's one screenshot uploaded from a user:
Other coupon sites tend to list flashy and attractive deals that get people excited, but later disappointed when your promo code doesn't work. Dealspotr, on the other hand, will give you the real lowdown on whether a coupon is actually good-to-go.
Time to Shop!
Alright, now that you have all the tools you need for finding Bloomingdale's promo codes that actually work, it's time to start shopping!
Always remember these important steps when you're perusing those cute flats, home decor essentials, classy mens suits, or whatever else your exquisite (and expensive) taste leads you to!
Get each week's best deals from Dealspotr in your inbox
This guide was published on December 5, 2017
, and last modified on December 5, 2017
.