You Can Make Money Recycling Just About Anything. Here's How.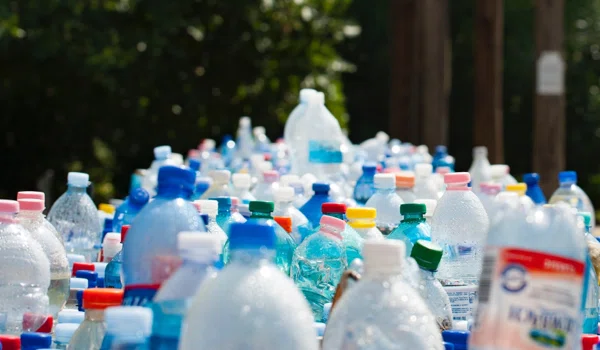 Things on planet Earth are heating up. Our love for disposable items and our carelessness when it comes to recycling are taking their toll on the planet. There's currently a giant patch of garbage floating around in the Pacific Ocean, while Americans are throwing away over 258 million tons of trash each and every year.
And, all of that waste is also wasting our money, too. Estimates show that for every $10 we spend in the US, $1 is spent on disposable packaging that gets thrown away immediately, accounting for 65% of our household trash.
Fortunately, there are things that we can do to mitigate our impact and recycling is a great place to start. Plus, it can even help you earn extra cash! Sound good? Then you've come to the right place.
We've compiled this guide with tons of ways for you to make money from recycling used goods. Here's what you'll get in this guide:
Tips for recycling
Recycling bottles and cans
Most states have laws in place that encourage you to recycle by having you pay a deposit of five to ten cents on plastic bottles and cans that you get back when you recycle those items.
Americans throw away a shocking 35 million plastic bottles each year which presents a danger to marine wildlife and contributes to the overfilling of our landfills. Plus, you're throwing away the 5-10 cents you paid for the containers. Use these websites to find a recycling facility near you:
How to get paid to recycle electronics
With electronics companies constantly inventing newer, better, faster models (or at least telling us that they're newer, better, and faster) of their products each year, we humans are generating a lot of electronic waste (e-waste).
E-waste accounts for 70 percent of all toxic waste globally, yet we only approximately 12.5 percent of our devices. The rest go to landfills and are often incinerated, sending harmful toxins into the air we breathe.
These companies and programs are combatting the devastating effects of e-waste by offering trade-in, recycling, and buy back programs:
Where to make money recycling appliances
Appliances are also a major source of waste and some, including freezers, refrigerators, and air conditioners, contain hazardous materials that can present environmental concerns.
Most old appliances are made of metals that can be easily recycled and the dangerous chemicals can be neutralized when handled professionally. Check out these programs that offer you cash for your used appliances:
Utilities Companies
Some electricity providers have recycling programs for their customers that offer you cash when they come pick up your used appliances. Check with your utilities company for offers like these:
Where to recycle ink cartridges for cash
Home and office printers have revolutionized the way that we're able to share information with one another. However, they've also become a problematic source of waste, with over 375 million printer cartridges being thrown in the trash in the US each year.
Fortunately, you can reduce your impact by purchasing reusable ink cartridges or by recycling your used cartridges for cash with these folks:
How to make money recycling automobiles
There are a number of companies across the country that will pay you cash for your junk vehicle whether or no it's in working condition.
They take the parts that can still be used, collect the scrap metal, and then responsibly recycle the rest of the vehicle in accordance with legislative requirements. Do a search in your area to find a local automobile recycler or check these nationwide recyclers out:
Where to recycle car batteries for cash
Car batteries contain heavy metals and toxic chemicals that can put you and the environment in danger. These spots will recycle your old car batteries and give you money in exchange:
Where to make money recycling books
There's no need to throw away books when you're done with them or no longer have space for them, especially since there's probably someone else out there who'd like to read them. You can always sell your old books on Amazon or Ebay.
But, if you're looking for something a little easier, check in with your favorite local bookstore to see if they have a used book buying program or use these sites to sell them online:
Where to recycle clothing for cash
You're probably familiar with organizations that take clothing donations like Goodwill and Salvation Army. If your clothes are still in decent shape and on-trend, however, you can earn money or store credit from these shops when you give them your unwanted duds:
Large Scale Recycling for Cash
Some everyday items can be recycled for cash, but only in large quantities. These ideas require a bit of effort, so they'd likely be best for someone looking to do this as a small business or side hustle:
Newspaper and other paper goods
You can earn money for recycling paper at your local facility. A ton (yes, a literal ton) of paper will earn you between $50 and $75.
Cooking oil
Biodiesel companies like this used cooking oil buyer in California will pay you cash for your used cooking oil. They won't purchase small quantities from households, but if you have a restaurant or you want to collect used oil from restaurants, you can make as much as $0.75 per gallon.
Scrap metal
Again, you'll need to accumulate a lot of scrap metal to make it worthwhile, with a ton of metal running at about $100 depending on the type of metal. Most of that comes from household appliances, cars, and other goods, so check those categories out above if you're interested in recycling those items.
Wood Pallets
Many grocery stores, factories, warehouses, and other big businesses receive shipments on wood pallets that can be recycled for anywhere from $0.50 to $4 a piece depending on condition.
Miscellaneous recycling for cash
Here's a few other random recycling ideas that can earn you cash:
We hope these ideas have inspired you to find ways to help protect the environment and make cash while doing it! And, of course, even if you can't make money off of all of your recycling endeavors, it's important to recycle anyway. We all have a part to play in preserving the environment and keeping our landfills as empty as possible.
Get each week's best deals from Dealspotr in your inbox
This guide was published on March 28, 2018
, and last modified on March 28, 2018
.
Stores related to this article:
Advance Auto Parts
,
AutoZone
,
Material World
,
Decluttr
,
GameStop
,
Target
,
Amazon
,
Best Buy
,
Quill
,
eCampus.com
,
Buffalo Exchange
,
Junk My Car
,
Valore Books
,
thredUP
,
Staples
,
Walmart
,
Gazelle
,
Plato's Closet
,
Office Depot
,
Apple