Learn How Tamara Kelly of Moogly Became One of the World's Top Crochet Bloggers
About the Author

Digital Marketing Manager here at Dealspotr! Email me with your questions: emily@dealspotr.com :)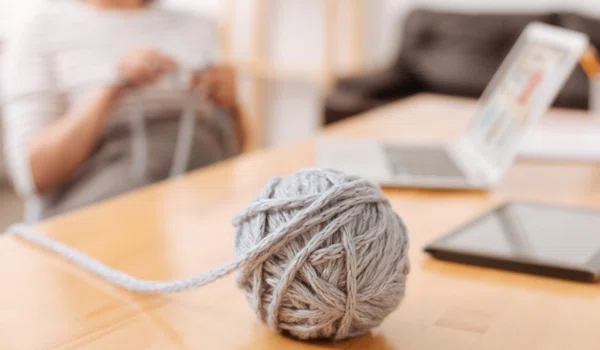 They say adaptability is a must-have for any startup or entrepreneur when developing a new product. Things change quickly – and if you can't change with them, you'll suffer. 
The same can also be said for bloggers. As their own kind of entrepreneurs, bloggers have to maintain their business by adapting to new web guidelines, ever-changing SEO regulations, and an onset of new hosting services to choose from. It's a lot to keep up with. 
Tamara Kelly, then, can be described as all of these things: a blogger, an entrepreneur, and most importantly for her, an adapter.
In an internet sea of "mommy blogs," Kelly recognized the need to differentiate herself from the pack. With no one biting on her blog's mommy content, she made a decision that would set the path for her success – and it was all because of a crochet pattern. 
When Kelly realized her crochet content was getting some attention, she scrapped the "mommy" from her blog and positioned herself as a destination for anyone interested in knitting or crocheting. And that's when Moogly took off. 
Okay, before I yarn on too much – I asked Kelly to tell us about how she knit her passions in with her growing blogging business to become one of the go-to sites for crochet-crazy stitchers. 
EH: Hi Tamara! First off, introduce yourself –name, where you're from, and any other fun facts you'd like us to know.
TK: Hello! My name is Tamara Kelly, and I have lived in the midwest all my life, though I do love to travel! Currently I live in Iowa, along the Mississippi River. I have 3 kids, 1 husband, and 1 dog – and a business! I own and operate Moogly, at www.mooglyblog.com – it's a full-time (plus) job for sure, and I'm very lucky that we've been able to grow it to the point where it supports my family.
EH: Describe your blog for our readers. What is it's main focus?
TK: Moogly is primarily about crochet, with a bit of knitting and other crafts mixed in as my whims take me! I share original crochet patterns that I've designed, as well as highlighting the work of other designers. I also share crochet video tutorials, lots of fabulous giveaways, and host a yearly year-long crochet along. And I'm also really excited to try out the new Cricut Maker, and can't wait to share all the amazing things it can do - for crocheters, and everyone!

EH: How did you get into blogging? When did you start?
TK: I tried starting a "mommy blog" when my kids were little, but that just didn't click with me – or my non-existent readers, haha. But I did have one crochet pattern on there that I shared, and that did catch people's eye! I re-did the site in 2011 to remove the "mommy" stuff and replace it with crochet - and found my passion in the process!
EH: Think back to the early days of Moogly. How did you grow your blog? What tools/resources helped you on your way?
TK: Oddly enough, I think what helped me get my start was being alone at first. What I mean, is that I wasn't in contact with other bloggers at all online, sharing information or tips and tricks. This allowed me to develop my own voice on my blog, and make it my own, without worrying about what everyone else was doing. I really believe that if you want to start a blog or site, it should be unique because it is yours!

After I had that rolling though, about a year or so after I began blogging, I did luck into a great group of super helpful bloggers who helped me polish and improve, particularly on all the technical aspects! So my tips are usually to develop your voice and perspective, and then to find a group of like-minded bloggers to support you on your continuing journey! I would never call other people "tools," but they are certainly our best resources. There is so much happening on the internet and in the world of blogging it's impossible for just one person to keep up with it all!

Finding your Tribe really is the best way to grow. You have people who are excited to share your work – and you share theirs – and you all grow together! It's easier than ever with things like Facebook Groups to find those who are happy to help and have you join their extended team. Try a few groups until you find the right fit – and you might not just find business associates, but friends for life.
EH: Moogly's Facebook and Pinterest followings are pretty substantial. How did you grow your social channels? How do you decide which to focus the most time and energy on?
TK: I've never used Facebook ads or Pinterest ads, so all my growth has been organic. I try to keep up with the latest advice from the social media experts, but things change so rapidly, and the "best advice" isn't best for everyone!

So my personal advice is to look into your own statistics, analytics, and insights. Both Facebook Pages and Pinterest (for Businesses) offer lots of analytics. When you have a social media that you want to grow, start looking at who's already there! Who is your target audience, what do they like, what time are they online, and what sort of posts and pins do they respond to?

And the easiest tip of all – if you have a social media channel that is already doing well, use it to share a link to the one you want to boost! When I started my Instagram channel (rather late in the game) I had thousands of followers in the first few days. Not because I paid for them or advertised as such, but because I shared my Instagram link on my Facebook page, and let people know that it was there and that I'd love their help getting started as I was new to the platform. People were excited to follow me there – and to give me their own best tips!

EH: How do you create content for Moogly? Where do your ideas come from?
TK: When I first started blogging, I thought I'd never have more than a post or two a week. Who could think of that much stuff to post? But as the years went on I've developed a schedule – and have more ideas than I'll ever have time to turn into blog posts.

I think writing and creativity are like a muscle – the more you work and flex it, the better it works for you! And of course readers (and my kids) are always full of suggestions - and I welcome them all!
EH: Do you work with a team to research articles, draft social media posts, or help create other content? If so, tell us how you manage them, and if there are any tools that help you with this process.
TK: I have my husband for the technical bloggy stuff, as well as the video shooting and editing for the tutorials. He has taken on a few other small things as well (including caring for the kids while I travel). And a few times a year I might feature a guest post, but for the most part, it's all me!
EH: Now, over to brand partnerships. What are the role of brand collaborations on Moogly?
TK: I love working with great companies – and I'm picky about who I work with! Currently, I have an agreement with Lion Brand Yarn, so all my patterns and videos this year on Moogly feature their fantastic yarns. I also am an OttLite Ambassador – which is getting better and better as my eyes get older and older! I couldn't crochet without their help right now. I also work closely with several other companies, including Furls (ergonomic crochet hooks) and Cricut.

I think working with other brands can be tricky, but very rewarding for both parties. The key is clear communication of expectations, and only doing what you are comfortable with for your own company. And of course, following FCC rules!
EH: When partnering with brands, do they reach out to you? Or do you initiate contact? If the brands are doing the outreach, what's something they do right?
TK: In the past, I've definitely reached out to companies whose products I believe in. Fortunately, I'm now in the position to stay busy with the opportunities that are brought to me. I think what gets my attention (step 1 in doing it right when you get 200+ emails a day!) is when they clearly have done a little research on my company and are proposing something that would be an actual good fit. Unlike the ones that offer me "guest posts about business, because we see Moogly is about business." Nope!

And I think that's probably the best advice if you are the one contacting the company too – do your research and do your best to offer something they will actually want, not just what you want to provide.
TK: I have! I've tried Influenster (just for fun really), and I use TapInfluence in my work with a few different brands that use that platform. There are a few others I'm a member of, but my blog has such a narrow niche it's rare for me to find opportunities for Moogly on them. If I were a food or home decor blogger I think it would be very different!
EH: What do you look for when deciding to collaborate with a particular brand?
TK: Just as a practical point, I look for one point of contact with accessibility – I don't like having to send generic emails I hope some random person will answer! I also look at their reputation, how they treat their customers, and just their general attitude toward me and my business. I look for partners, not bosses! That's the whole point of running your own business, right?
EH: Share with us your favorite / most successful brand collaborations. What made them so?
TK: I'm not going to name names, but as a creative person what I love is when I have the freedom to express that creativity within the project! But at the same time, I think a clear (and concise!) set of expectations is very important. And of course, following through on what you've promised – for both parties!

EH: What do you see when you think of the future of Moogly? Where do you see your blog (or the blogging/influencer world in general) going next?
TK: That's such an interesting question – and nearly impossible to answer! The internet is always changing and surprising us. In 5 years, I might be beamed into people's homes for 3D hologram tutorials (a slightly terrifying thought for all of us, haha)! Who knows? Adapt and respond and hope we can stay ahead – or with – the game...

The trend I do see right now is that many companies are locking in their own groups of bloggers – forming core groups that they work with, some at different levels. I've seen this in all aspects of the creative blogging world, and I don't see that ending anytime soon. But then who knows, that's the adventure of it all!
You can visit Tamara Kelly on Moogly, or follow her on Facebook, Pinterest, Twitter, Instagram, Google+, and Tumblr. 
Get each week's best deals from Dealspotr in your inbox
This guide was published on August 18, 2017
, and last modified on August 18, 2017
.