Breaking from Tradition: How Millennial Weddings are Changing: 2018 Wedding Trends Survey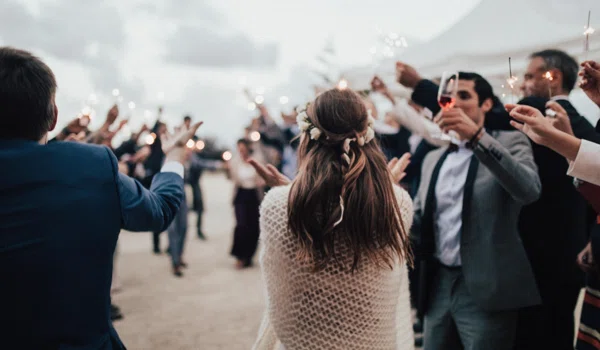 As a part of our work running the Dealspotr Influencer Marketplace, we get to work with some of today's most innovative brands disrupting the weddings and events industries, as well as leading influencers who blog and vlog about wedding planning and wedding trends.

Clearly, weddings are changing from their traditional roots. Snapchat Geofilters, wedding hashtags, and virtual invitations are now the norm among Millennial weddings. But did you know that wedding registries are no longer the norm, that most Millennials weddings happen in a non-religious place, and that a large portion of Millennial women no longer want bachelorette parties?

We wanted to delve deeper into some of the trends impacting the wedding industry, so we ran a survey of 500 Millennial women and asked them about their wedding planning experiences and preferences. We used Google Surveys to target an audience of 500 females aged 25 to 34 living in the United States from October 11, 2018 to October 13, 2018, to collect our data.
What did we find?
Only 35% of Millennials have a traditional wedding registry
38% of Millennials now hire videographers to film their weddings
25% of Millennials now create a Snapchat geofilter
37% of Millennials now create a wedding hashtag
Just 50% still send out physical save-the-date notices
Less than 50% of Millennials want to provide wedding favors
62% of Millennials now have their wedding ceremony outside of church or other religious place
42% of Millennials don't want a bachelorette party
25% of Millennials now use Instagram to find wedding vendors
Millennials and the wedding industry
Millennials are now America's largest generation in the labor force, and their spending patterns are particularly interesting, especially when it comes to weddings. Millennials spend more on weddings than any generation before them, an average of $36,000 for their big day. They also spend way more as guests, in fact, 20% of millennials have spent more than $1,000 to attend a single wedding. Millennial women are modernizing nuptial traditions and redefining what weddings look like.

In recent years, weddings have become much larger, more involved, and more complicated affairs than they used to be. With the rise of social media, weddings are now highly visible, so their aesthetics are more important than ever. It's important to have a wedding that can be beautifully captured. The traditional format of a church ceremony and a hotel ballroom reception is seen by many millennials as dated and staid. Now, millennials are looking for an affair that's modern, trendy, and different.
Millennials now want cinematic wedding videos in addition to photos
While hiring a professional photographer has long been the mainstay, now many women are also interested in hiring a professional videographer. Unlike the hours long VHS tapes of old, the trend now is for videographers to produce short, cinematic films, sort of like a trailer of the wedding's most romantic moments. See some of our favorite examples here. In fact, 35% of couples admit that if they could do one thing over again, they'd go back and hire someone to film their wedding day.
Key takeaway: The focus used to be on wedding photography, now there's pressure for cinematically beautiful short films as well.
25% of millennials build custom Snapchat wedding filters
When it comes to Snapchat demographics, the 25-24 age group makes up 26% of Snapchat users. A growing new trend on Snapchat is creating a personalized Snapchat geofilter for your wedding that you and your guests can use. On platforms like Etsy, couples can pay for artists to create custom filters. In an age where it's more important than ever for events to be captured on social media, accessories like Snapchat filters can be a hugely popular tool.

Key takeaway: venues and planners could benefit by offering a custom filter for couples to use
A significant portion Millennial weddings now have a hashtag
Wedding hashtags are used like a photo album and both the wedding party and guests can contribute photos to it. The hashtags are typically used for all wedding events: bachelorette parties, engagement party, etc. By the end of the wedding, the bride and groom will have a whole collection of photos captured from the different perspectives of their guests.


Key takeaway: millennial women are looking for ways to creatively commemorate their nuptials
Millennials are now starting to use Instagram to find vendors
Millennials are interested in seeing that vendors' aesthetic meets their expectations. Considering that wedding vendor's products will strongly affect the overall wedding look, it makes sense that brides would seek out visual confirmation. In fact, 62% of Millennials said that vendors with no social media presence seemed "outdated." We expect that the number of brides using Instagram as a discovery method will grow.
Key takeaway: vendors should cultivate a strong Instagram presence with high quality, curated photos
The majority of millennials have a non-religious ceremony
From our results, it's clear to see that to many modern millennial brides, religion is not a priority. A Pew study found that 43% of people under age 40 say religion is very important to them, compared with 60% of adults ages 40+. Additionally, couples increasingly want civil magistrates or loved ones to administer ceremonies, which often isn't permitted in religious institutions.
Key takeaway: when it comes to their big day, couples aren't putting an emphasis on religion
Increasing numbers of millennials don't want a traditional registry

Frankly, we were surprised to see that such a large portion of millennial women said they would have or had no registry at all. Perhaps this is because millennials are more likely to live together before marriage, so they may already have what they need. A solid percentage also asked for honeymoon contributions or cash, likely because millennials see less taboo around asking for money than their grandmother's generation.
Key takeaway: millennials aren't afraid to veer from tradition if it means getting exactly what they want
An increasing portion of millennials don't want save-the-dates

While the majority of women send physical save-the-dates, a remarkable 35% said they don't need them at all. Save-the-dates are most commonly used for weddings that require lots of travel (and therefore forewarning), so brides getting married close to home or where most family and friends are have less use for them. Another reason could be that millennial women don't feel the need to accrue an extra cost.
Key takeaway: some millennials may see traditional versions of save-the-dates as an outdated or unnecessary expense. However, they are still useful for destination weddings.
Wedding favors aren't essential to millennial brides

Almost half of millennial women said they won't have favors. Which is frankly unsurprising, considering that wedding favors are often forgotten and overlooked by guests. How many times have you been to a wedding and seen the personalized candle holders/soaps/keys left behind? If you knew your guests weren't likely to appreciate your favor, why would you spend money on them? A more practical, fun alternative could be edible favors, like doughnuts or popcorn.
Key takeaway: millennial women are likely looking for other ways to show their appreciation for guests
Besides cost, the venue's location is the most important factor to millennials

As all of our favorite HDTV stars love to say: "Location, location, location!" The right locale is a major priority for millennial brides, and rightly so as one of the first questions brides consider is where to get married. Venue aesthetics are less critical, as only 3.2% said that was most important to them. About 30% of women surveyed said "None of these" which leaves us curious about which factor we didn't account for. Let us know in the comments if we missed anything!

Image source: MunKeat Photography

Key takeaway: given the powerful makeovers you can perform on a venue, making sure you're in an ideal location should be the first priority
Millennial women increasingly do not want bachelorette parties
The majority of millennial women said they didn't have or didn't want a bachelorette party. Traditionally, bachelorette parties are paid for by the bridal party. A Marie Claire survey found that 1/4 millennials spends $800 or more on a single bachelorette party. Perhaps brides cognizant of the hefty cost to their bridal party, have decided to trim down. Sightseeing and cost are the second and third most important factors, respectively.
Key takeaway: the bachelorette party may no longer be a mainstay, perhaps brides are conscious of the increased cost to their guests.
Final thoughts
As social media becomes a bigger and bigger piece of millennial's lives, it also becomes more influential in how they conduct their wedding. Millennials are rapidly changing the wedding industry by diverging from traditions, and this will likely continue. The incredibly high cost of modern weddings has likely incentivized millennials to trim down on what feels superfluous to them.
Get each week's best deals from Dealspotr in your inbox
This guide was published on October 23, 2018
, and last modified on October 23, 2018
.