10 Things You Can Get in Pantone's 2018 Color of the Year, Ultra Violet
About the Author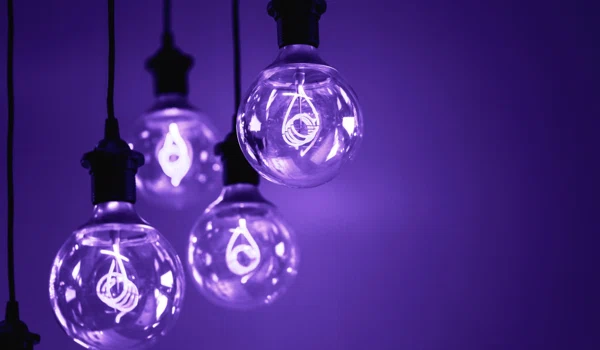 The time has come. Pantone has announced their 2018 color of the year.
Drum roll please...It's Ultra Violet!
Pantone's Executive Director of the Pantone Color Institute made a statement about the color, saying, "We are living in a time that requires inventiveness and imagination. It is this kind of creative inspiration that is indigenous to PANTONE 18-3838 Ultra Violet, a blue-based purple that takes our awareness and potential to a higher level."
We dig it!
Purple lovers are excited for this cool tone to be 2018's mascot color. There are so many things you can do with Ultra Violet. Outfits, makeup, house items - the list goes on.
To kick off the year, let's celebrate the winning color by seeing all the cool stuff we can find in ultra violet. Here are 10 of the hottest products in the lovely shade of purple.
Patagonia Shorts
Everyone's embracing Patagonia lately and you'll seldom find a hip 20-something without something from Patagonia in their closet.
That's why these Patagonia shorts are a stylish way to ring in the new year of violet.
They're multifunctional too, designed for casual wear as well as swim shorts. Made with "quick-drying SUPPLEX®" nylon and water repellant, you won't have to switch into different shorts if you take a quick swim.
Purple Record Player
Vinyl is so in right now (does it ever really leave?), so if you don't have one yet, get one in ultra violet!
This Victrola portable suitcase record player is a great addition to your bedroom or take it with you to school or work. This little guy is from Bed Bath and Beyond, which means you're guaranteed to get a deal.
It comes with built-in Bluetooth, so you don't have to worry about plugging it in. Play your favorite hits with this and represent the year of purple.
Whitney Houston Purple Vinyl
Everything from the 90's is back, baby, and that means everything. Including Whitney Houston records!
Sold at Urban Outfitters, the soundtrack to The Bodyguard can be bought for $30.98.
For the 25th anniversary of the soundtrack, this vinyl reissue has the film versions of six Whitney Houston songs that you know and love including "I Will Always Love You." It wouldn't be the same without that track.
Purple vinyl, how cool!
Satin Over-the-Knee Boots
We've seen a lot of over-the-knee boots lately, but nothing like this.
These satin boots from Forever 21 are daring, bold, and sexy. They're basically everything that represents purple!
Pair them with a neutral tone and let these heels pop. They're loose and baggy so they won't feel too constricting. The ruched design makes them feel airy and lightweight. It also comes with a side zipper for easy access.
There's no doubt heads will turn in these, so get ready for some serious attention when you're wearing these bad boys around.
Eggplant Emoji Clutch
Everyone knows the little eggplant emoji for iPhones. Now you can get it as a clutch!
For only a little over 10 bucks (less, if you can find a Forever 21 promo code), you can keep your belongings in a cute eggplant shaped purse. It has a zip closure, so you're phone, credit card, lip gloss, etc. won't fall out.
Pantone iPhone Case
Represent the color of the year with a Pantone iPhone case from Redbubble.
Since Pantone hasn't officially made a color of the year cell phone case for 2018, this will do! This cool cell phone case is only $31.25 and looks too awesome to handle.
The simple item will match with any other Ultra Violet accessories you decide to grab. You have to have a phone case anyway, so why not make it a Pantone-approved case?
It's made with impact-resistant polycarbonate so your phone will be protected from accidental bumps and drops. You can buy one for the iPhone 4 all the way up to the iPhone X.
Butter London Ultra Violet Nail Polish
Butter London, one of the hottest nail polish brands right now, is celebrating Pantone their way.
Their Ultra Violet nail lacquer is a "provocative" shade that will bring out your sultry side.
Fans love Butter London for their quick-drying, high gloss, and chip resistant nail polish. It's also made with hydrolyzed silk, horsetail extract, vitamins B, C, and E, so you're nails will get a little TLC.
Unlike many brands out there, Butter doesn't use formaldehyde, ethyl tosylamide, or other icky chemicals that are no good for anyone to be breathing in.
This is quality nail polish, so one coat and you're on you're way.
Purple Cookware Set
Whether or not they're aware of it, even Home Depot has a cool option for purple.
Their 15 piece cookware set comes in that vibrant Ultra Violet we've been raving about in this article (and will be all year long).
We just had to include this cookware set because you get all of this for only $41.87. That's insane! Look at all those items.
These items are sturdy and dishwasher safe, so you don't have to worry about hand washing them. Food cooks evenly and each item heats quickly.
Ok, back to Pantone's color of the year. The Home Depot lists these items as simply "purple," but we know what color it really is...
Cook in style with this set!
Fuzzy Steering Wheel Cover
Beep, beep. Purple is here.
Ride around with a classy addition to your car by purchasing the fuzzy purple cover for your steering wheel.
For only $15.99, you'll get a purple steering wheel cover, gear shift cover, and an emergency brake cover. That's a serious win! Plus, since the items are sold on Amazon you can get it in a couple days! Honestly, it'd be a great price even if it were just the steering wheel alone.
Spruce up your car interior and add some vibrance to your vehicle. Anyone who gets in your car will no doubt comment on your new decor, to which you can explain, "It's Pantone's color of the year, don't you know?"
Whether you're driving an inexpensive Hyundai or a brand new Tesla, this fuzzy purple detail will work.
Pantone Mug
Let's end this list on a bang and go back to the source.
Pantone sells their very own official color of the year mug and it is a beaut.
Get an official Pantone mug in Ultra Violet and add it to the collection of mismatched mugs and Keurig pods in your cupboard (we know you have them).
Pantone says it "communicates originality, ingenuity, and the visionary thinking we are seeking to create."
I feel smarter already.
Get Ultra Violet
Embrace this beautiful shade and make 2018 a year to remember. Let's move forward with purple!
Get each week's best deals from Dealspotr in your inbox
This guide was published on January 23, 2018
, and last modified on January 23, 2018
.