The Best Fitness Trackers for Seniors
About the Author

Dealspotr is the world's largest and most reliable database of promo codes and deals online. We're the leading shopping social network serving brands, influencers, and consumers.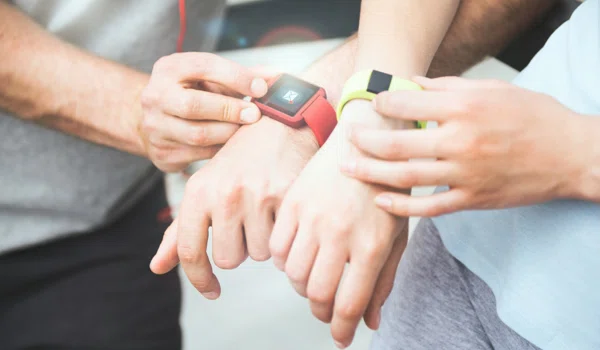 Physical activity is one of the most important "ingredients" for being healthy and living a fulfilled and happy life. Unfortunately, most senior citizens stop being physically active when they reach a certain age and think it's irrelevant whether they'll work out or not. This mindset has to change and fitness trackers for seniors will help us make that shift.
Therefore, today we've decided to share with you an article that focuses on the best fitness trackers for seniors which will hopefully raise the awareness of elderly people and help them improve their health.
What are Fitness Trackers?
Fitness trackers are wristband-like devices specifically design for monitoring fitness-related metrics like pulse rate, resting heart rate, sleep cycle, calorie consumption and distance walked or ran.
Simply put, fitness trackers will help elderly people to move more, sleep better and improve their overall health. In addition, they will indicate how healthy they are and how they can improve, which is our ultimate goal.
When senior citizens use fitness trackers, they do not only help in monitoring their fitness level, but also in predicting possible changes in their overall health. But most importantly, fitness trackers boost physical activity and make our seniors more active.
What Should Seniors Look for in a Fitness Tracker?
Purchasing the best fitness trackers for seniors is easier said than done. There are many brands and a wide range of fitness trackers that provide all sort of information that can confuse everyone. With that being said, we have focused only on the needs of elderly people and come up with a list of the features their fitness tracker has to have:
Ease of use – the best fitness trackers for seniors have to be straightforward and simple to use. There shouldn't be any complicated manuals or confusing navigation and everyone should be able to figure out how to use it within a minute.
Display size – most senior citizens have less than a perfect sight and can struggle with small numbers and letters. Therefore, their ideal fitness tracker should have a big display to provide easy navigation and help them use the device.
Heart rate monitor – everyone can monitor their heart rate with two fingers on the neck and eyes on a timepiece. However, that's not possible during physical activity and that's the reason your fitness tracker has to measure your heart rate. Knowing how fast the heart is beating during an exercise is helpful for most senior citizens, especially those with heart problems. Monitoring heart rate during workouts will help avoid pushing heart into the danger zone, which can have some serious consequences.
Calorie tracker – when you start being physically active you probably want to know your results right away and calorie tracker will show them. It displays the exact number of calories you burned during a workout to let you know the precise outcome of your exercise. That way you'll always know whether you've reached your goals or not. Tracking calories is especially important for overweight senior citizens as they need to know how many calories they are burning in order to lose weight. 
Distance tracker – knowing the exact distance of the workout can help elderly people track their progress and keep them on the right path. However, it's not just how many miles you've walked/run that counts – the intensity is important as well.
Sleep tracking – it's a common knowledge that sleep is vital to our health. In fact, having an adequate amount of sleep will:
Reduce heart problems and the risk of diabetes
Lessen the likelihood of obesity
Enhance the immune system
Improve memory, reaction time and concentration
Increase regulation of weight control, energy use and appetite
Boost mood and creativity
With that being said, you should track your sleep to figure out the optimal amount of sleep your body needs to recover and function properly. It will probably be around eight hours, but that's not a universal rule. In addition, sleep tracking option will help you get a fairly accurate picture of the type of sleep you are getting and the amount of time you are spending in the most important parts of the sleep cycle.
In other words, fitness trackers have the ability to monitor your sleep and inform you whether you are getting enough, too much or not enough good sleep. With this feature, fitness trackers are now useful 24 hours per day.
Water resistance – if you plan on swimming as part of your workout regime, want to keep your fitness tracker on the entire day (even while showering) or tend to sweat a lot, then you definitely need to purchase a fitness tracker with water resistance feature.
App and wireless technology – best fitness trackers for seniors should have a companion app that shows your synced data in a convenient way. The app should have bold colors, easy to navigate layout and clean typography to help senior citizens read the date with ease.
To access the app, the tracker also has to have wireless technology (or at least Bluetooth) that will quickly connect the fitness tracker to your app.
Battery life – some fitness trackers are more energy-efficient than others, which simply means that their battery will last longer before having to charge them again. The last thing anyone wants is for their fitness tracker to run out of battery during their workout and lose the valuable data that help you keep your progress.
Compatibility – for the tech-savvy seniors, the compatibility of their fitness tracker to sync with their smartphone is crucial. Most fitness trackers sync with Android and iOS, while Windows Phone compatibility is rare.
Price – as with everything, your budget is a huge factor that will dictate the amount of features you'll get. If you only need a device to track your calories and steps, then you can opt for a less expensive device. However, if you need most of the above mentioned feature and more, then you'll have to increase your budget. In the end, your health is the most important thing, so investing money in a high-quality fitness tracker is a no-brainer.
5 Best Fitness Trackers for Seniors
Now that we know what to look for in a fitness tracker, it's time to share with you our top five fitness trackers for seniors that have proven to deliver great results while providing key features that most elderly people will appreciate.
1. Fitbit Charge 2
The Fitbit Charge 2 is currently the best fitness tracker for seniors as it packs everything they need to get a clear picture of their fitness level that will motivate them to improve their overall health. To be more precise, it contains the following features:
Large OLED screen to display your data
Heart rate monitor to track how fast your heart rate is beating that will help you determine how rigorous your workout has been
Guided breathing feature that proposes breathing exercise based on your heart rate
SmartTrack feature that tracks your activity during workouts
Multi-sport tracking feature that enables senior citizens to track specific exercises like swimming, running, doing yoga, etc., and see the stats on the screen
Cardio fitness level monitor that measures your fitness level and gives you a better insight into the things you need to improve the most
Connected GPS feature that enables you to sync the device with your mobile phone's GPS (via Bluetooth) to see real time stats
Sleep tracking feature that helps you figure out the amount and quality of sleep you are getting
Reminder feature that notifies you when you are inactive for too long
Fitbit Charge 2 is compatible with iOS, Android and Windows devices and comes with a battery that lasts up to 5 days (depends on the extent of use) and takes one to two hours to charge. Apart from displaying your fitness credentials, this fitness tracker will keep you connected with text messages, calls and even calendar alerts to make sure you don't miss anything important during your workout. On top of that, it comes with a one-year warranty which makes this device even more appealing.
Despite amazing things mentioned above, we also found some cons we would like to share with you:
The fitness trackers is not waterproof
It has no GPS (however, it has Bluetooth so you can connect with your mobile device and use its GPS instead)
Slightly expensive
Overall, Fitbit Charge 2 is one of the best fitness trackers for seniors and everyone will benefit from using it.
2. Garmin Vivofit 2 with Heart Rate
Due to its easy to understand interface, strong build and amazing features, the Garmin Vivofit 2 is another great fitness tracker for seniors. It's perfectly designed to resist all kinds of shock while providing amazing tracking feature.
Elderly people will especially love its bright and large digital display with clear icons that even seniors with eyesight problems won't have any issue using it. The device tracks your calories, distance, steps, the amount of time you spend on the activity and heart rate. In addition, you can personalize daily fitness goals, enter time and date and even be notified when you are inactive for a longer period of time.
Garmin Vivofit 2 is so lightweight that you won't even notice wearing it and its waterproof feature and one-year life battery will give you a hassle-free experience where you won't have to worry about rain or running out of batteries. With that being said, you will have to buy a brand new battery every year, but that won't be an issue as you'll have a fully charge fitness tracker for 365 days.
Garmin Vivofit 2 can be synced with mobile devices through its custom app or you can simply use USB ANT stick (comes with the device) to sync the tracker with your laptop or computer via the Garmin Express software. It's also important to note that the Garmin Vivofit 2 is compatible with both Android and iOS devices.
Compared with some high-end models, this tracker lacks some of the sophisticated features that seniors don't really need, so that can't be something that will put you off. Moreover, due to its simplistic features, it comes at a reasonable price that most elderly people can afford.
Overall, Garmin Vivofit 2 is one of the best fitness trackers for seniors as it is user-friendly, can be used 24/7 and has all the basic features and a huge display.
3. Fitbit Charge HR
The Fitbit Charge HR is an amazing fitness tracker that most elderly people will absolutely love. It tracks your heart rate, steps, distance and the elevation of the climb – all at an affordable cost. It has a stylish and discreet look and is quite comfortable to wear.
The Fitbit Charge HR is visually appealing and the information is presented in a very intuitive way. And even though it has a slightly smaller screen, it's still fairly easy to read the data and its one button makes it simple to operate. Compatible with Android, iOS and Windows, this fitness tracker comes with a battery that lasts up to 5 days.
As far as the cons go, you should know that the Fitbit Charge HR is not waterproof and the charging cable could be longer. Being a predecessor of the Fitbit Charge 2, it still has all the basic function you are looking for and won't certainly disappoint you. However, if you want the best of the best, then you should go for the newer version that comes with more features and an expensive price.
4. Fitbit Blaze Smart Fitness Watch
If you are on a lookout for a fitness tracker that looks like an elegant wristwatch, then the Fitbit Blaze Smart Fitness Watch is ideal. It features a large touchscreen LCD color display, GPS, silent alarm and a clock, and tracks heart rate, breathing and sleeping.
Apart from that, it enables users to select the type of workout and activity they want to track by giving them detailed instructions that help seniors get closer to achieving their goals. The battery lasts for up to 5 days and needs only 1-2 hours to recharge.
The Fitbit Blaze Smart Fitness Watch is available in 6 different sizes and 2 colors (silver and black). In addition, the tracker comes with a 45-day money-back guarantee and a one year warranty.
Overall, Fitbit Blaze Smart Fitness Watch has a lot to offer and should be considered when purchasing a fitness tracker. It's scratch resistant, compatible with Android, iOS and Windows devices, and comes with a great battery life.
Despite the fact that it's not waterproof and lacks cardio fitness level feature, this is still an amazing fitness tracker that comes at an affordable price.
5. Garmin Fenix 3
First of all, Garmin Fenix 3 is much more than a fitness tracker – it's a really high-end multisport watch. However, it's so amazing that we had to at least mention it as an option for elderly people with a deeper pocket.
It features an advanced GPS tracking for running, swimming, cycling, climbing, hiking, skiing and snowboarding. On top of that, it analyzes your running form as you go and even counts strokes and laps as you swim. Moreover, Fenix 3 is so advanced that it knows what type of stroke you are doing.
The device lets you pick the desired activity and customize its function to suit your needs. Fenix 3 is completely customizable and you can pick its face along with useful apps and widgets from the company's Connect IQ app store.
Apart from that, it also functions as a real fitness tracker and measures the distance, calories burned, sleep cycle and how much rest you're getting between workouts. In other words, this device is suited for serious seniors who are preparing for a competition or for those who like to know as much information as possible.
Overall, Fenix 3 is not a fitness tracker and is definitely not suited for all senior citizens. It's more like an expensive gadget that has all features you need from a fitness tracker, plus more. It's ideal for seniors who take their sport seriously or plan to compete professionally.
Takeaway Notes
We can all agree that being healthy is definitely the most important thing in our life. Without our health, we have nothing and only wish to get better.
However, despite being aware of this fact, many of us often neglect our health and therefore live a shorter life. To prevent that from happening, it's time to start being physically active, which is one of the most important factors that will determine our health.
Therefore, it's about time to get out of your cozy couch and start moving. And to help you do that and stay focused on being more active, elderly people should use fitness trackers that will not only keep them motivated, but also display important information that can and will improve their overall health.
Knowing your calorie intake, heart rate and sleep pattern during your workout and throughout the day will provide much-needed information and keep you on the right track. Along with proper nutrition, physical activity can do wonders for your health and even improve your social life, mood and overall quality of life.
Get each week's best deals from Dealspotr in your inbox
This guide was published on March 27, 2017
, and last modified on March 27, 2017
.
Stores related to this article:
Fitbit