20 Instagram Beauty Gurus & Influencers to Follow in 2019
About the Author

Hi! I'm Andie and I am a Marketing Coordinator here at Dealspotr. I work with influencers, write content for the Dealspotr blog page, and control all digital marketing for Dealspotr's social media sites.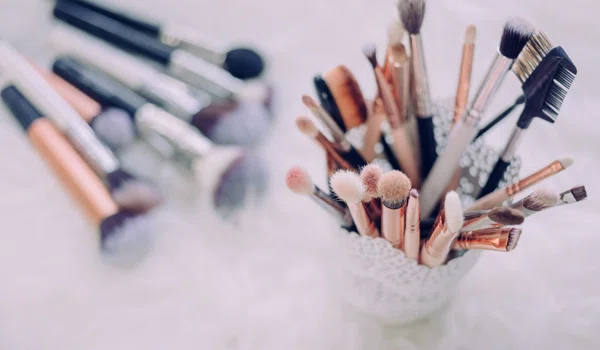 Makeup and beauty influencers have become a huge part of Instagram's platform.

According to data from the company, "beauty Instagrammers are active on the platform every day of the month," and over a 28 day period, they experience 300 video views on average. With this rapid growth and large potential reach, an increasing number of influencers are growing their following by sharing their art and talent with makeup design on Instagram.

Dealspotr has many talented beauty gurus and makeup artists in our influencer directory, so we've decided to share 20 of the top beauty bloggers on Instagram that we think you should follow for some 2019 makeup and beauty inspiration.
Taylor Edwards — @tayloredwardsmakeupartistry
Taylor Edwards is a makeup artist from Colorado, and is a licensed esthetician. Her Instagram contains some awesome beauty shots, close-up makeup looks, and even some spooky Halloween makeup ideas! She currently has over 7K followers, and is continuing to grow as she shares gorgeous photos of her and her future husband!

Brands can work with Taylor in the Dealspotr Marketplace.
Matt Lukasik — @matty_makeup
Matt Lukasik is a male makeup artist and calls himself a glamorous lumberjack. He is masculine yet feminine, and can both lift a diesel truck and put on some fake lashes. Matt has over 2K followers and posts a lot of his eye-catching makeup designs, with pops of color and glam for everyone to enjoy.

Brands can work with Matt in the Dealspotr Marketplace.
Stephanie Lee - @stephleemakeup
Stephanie Lee is a makeup artist and beauty influencer based in New York. She has over 7K followers and loves uploading close-up photos of her makeup designs, as well as short videos of her makeup tutorials. Stephanie works with brands to make sponsored content for her followers, and uploads fun review posts of her using different products.

Brands can work with Stephanie in the Dealspotr Marketplace.
Aimee Kelley - @_aimee.k_
Aimee Kelley is a self-made makeup artist living in Houston, Texas. She comes up with creative makeup designs and uploads her fun photos to her Instagram page, giving her 2K+ followers some cute new styles to try at home. Aimee's eyes are bold, bright, and beautiful, leaving us all wanting more.

Brands can work with Aimee in the Dealspotr Marketplace.
Tasha Jiricka - @makeupbytashaxo
Tasha Jiricka is a fierce beauty blogger and makeup lover who creates bold looks with a multitude of colors. She posts glow-up pics to show her growth in makeup artistry, and often swatches new palettes and makeup releases for all of her 10.2K followers to see and love!

Brands can work with Tasha in the Dealspotr Marketplace.
Karla - @karlasmakeup25
Karla is an aspiring makeup artist and a bilingual blogger based in Houston, Texas. She posts makeup tutorials and teasers of her YouTube videos. She has almost 3K followers and includes unboxing videos, nutrition tips, and some inspirational quotes in her light-hearted posts.

Brands can work with Karla in the Dealspotr Marketplace.
Julia - @rosesandmakeup_
Julia is a 17 year old makeup artist from Malta! She blogs about beauty and shares photos of both her beautiful makeup designs and her large collection of makeup supplies at home. She does makeup hauls, swatches, and even throws in some nail art. Her 1k+ followers (and growing) love seeing her new makeup collections continue to grow just as much as we do!

Brands can work with Julia in the Dealspotr Marketplace.
Ashley Bird - @makeupbyabird
Ashley Bird is a beauty guru, and mother of a sweet boy, from San Diego! She posts close-ups of her makeup artistry, shows off her beauty collections, and shares some of her favorite palettes with her 50.2K followers. Ashley even has some of her own coupon codes you can use to get discounts on beauty products!

Brands can work with Ashley in the Dealspotr Marketplace.
Megs Cahill - @themegscahill
Megs Cahill is a professional, internationally published makeup artist. With her 48K followers, she is taking the beauty community by storm. She can be found on TV, on multiple cosmetics brands, and in NYX Cosmetic stores. Megs posts her gorgeous makeup looks, tutorials, as well as some fun Halloween ideas to try out next year.

Brands can work with Megs in the Dealspotr Marketplace.
Aura - @aurasmakeupbox
Aura is a Latina content creator based in New York. She is trying to share the message that there is no standard for what is beautiful, and that beauty comes in all shapes and colors. Aura posts some bold eye photos, as well as new makeup purchases she adds to her collection. She often teams up with other makeup artists to do giveaways, so go follow her and get in on some of those!

Brands can work with Aura in the Dealspotr Marketplace.
Olena - @enamourmakeup
Olena is a makeup blogger from Ukraine and loves all things fashion and makeup. Her Instagram has 42.6K followers, and she uploads a variety of makeup tutorials, unboxing videos, and shares her beauty subscription boxes each month. Olena gives fun beauty tips for the summer and winter seasons, as she changes up her beauty routines.

Brands can work with Olena in the Dealspotr Marketplace.
Nikki Apostolou - @recycledstardust
Nikki Apostolou is a Native American makeup lover from New York. She is a self-acclaimed cosmeholic and plus-size fashionista, showing off her favorite beauty looks on her Instagram. Nikki has over 150K followers, and loves posting all of her makeup looks, styled outfits, and sponsored posts from merchants she works with.

Brands can work with Nikki in the Dealspotr Marketplace.
Kelley James - @kelleyjamesmua
Kelley James is a male beauty influencer with 76.6K Instagram followers. He posts so many different makeup looks, and gets inspired by artists like James Charles and Jeffree Star. His beauty looks span from bold to subtle, using bright colors and shimmering highlighters.

Brands can work with Kelley in the Dealspotr Marketplace.
Mary Fassrainer - @madeupshaheer
Mary Fassrainer is an award winning make up artist from Venezuela. She has over 150K followers, and posts gorgeous full-face makeup designs on her profile. She also showed off her Halloween makeup skills with many different scary (and beautiful) looks on herself and her friends. Her talent is being noticed, and she has been nominated at the American Influencer Awards!

Brands can work with Mary in the Dealspotr Marketplace.
Pakize - @madame_keke
Pakize is a beauty and lifestyle blogger from Mannheim, Germany! She has 13.1K followers and posts the most beautiful flatlay photos of her beauty and makeup collections. While her posts may be in German, her gorgeous photos and themed page leave us wanting our Instagram feeds looking just the same.

Brands can work with Pakize in the Dealspotr Marketplace.
Ember Estelle - @emberxtelle
Ember Estelle is a published makeup artist giving beauty reviews and how-tos on her Instagram and blog. She has 100K followers and posts creative makeup swatches with different shapes, along with tutorials and makeup reviews on her page. She also posts makeup reviews on her blog, sharing new beauty products with her followers.

Brands can work with Ember in the Dealspotr Marketplace.
Katy - @allintheblush
Katy is a lip swatcher from California, showing off different lip colors in beautiful close-up photos. She also provides multiple alternatives ("dupes") to some popular and expensive lip shades in her comparison pics. Katy has 101K followers, and her content is very professional, informational, and helpful for all of her followers.

Brands can work with Katy in the Dealspotr Marketplace.
Shaheer Khan - @madeupshaheer
Shaheer Khan is a Pakistani makeup artist, who loves creating dramatic eye content. He has some gorgeous close-ups of his bright shadow and bold winged liner, showing off his incredible talent. Shaheer has 17.7K followers and continues to amaze with his artsy and fun makeup designs.

Brands can work with Shaheer in the Dealspotr Marketplace.
Sanjida Ahmed - @velvetblogs
Sanjida Ahmed is an aspiring beauty blogger from South Wales, UK. Her Instagram has over 6K followers, and she posts beautiful flatlays of her beauty, nail, and makeup collections. Her grey-toned theme makes her profile so beautiful, and her way of showing off new beauty supplies makes us all want to join her in trying them out!

Brands can work with Sanjida in the Dealspotr Marketplace.
Anastasia - @glamorable
Anastasia is a beauty blogger from Moscow, Russia. She posts creative flatlays of her makeup and skincare products, and she shares her seasonal favorites on her blog. Anastasia has 53.1K followers and is passionate about wellness and health along with her love for makeup and beauty.

Brands can work with Anastasia in the Dealspotr Marketplace.
Get each week's best deals from Dealspotr in your inbox
This guide was published on December 31, 2018
, and last modified on December 31, 2018
.