Promo Codes: What They Are and How They Work
About the Author

The best community for finding and sharing deals.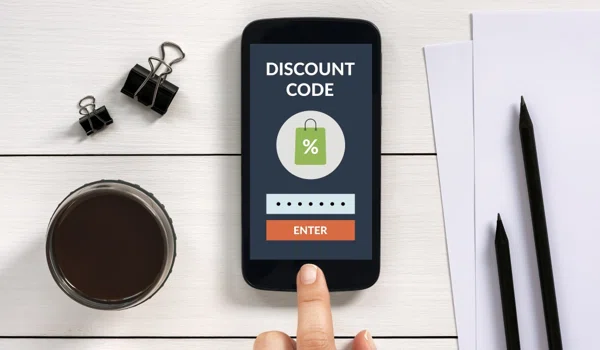 Ah, the almighty promo code box:
It can either lead to the blissful feeling of slashing 25% off your shopping cart, or a half hour of frustration trying to find a darn code that works. We spend a lot of time thinking about promo codes in our effort to bring you the best codes (so you can get that blissful feeling more often), so we've put together a practical guide to understanding promo codes, where they come from, and how to find ones that will work.
What are promo codes?
Coupons have been around for over a hundred years, with Coca-Cola launching the first coupon back in 1888. Coupons were originally slips of paper you presented to a store to get a discount on an item. As the internet grew in the late 1990s and online shopping became popular, internet stores began to adopt the concept of the coupon. However, since in the digital world it was not feasible to exchange a slip of paper, e-commerce stores used simple sequences of numbers or characters that shoppers entered in during the checkout process to get their discount. Thus was born the coupon code, which was more commonly referred to as the promo code, which is short for promotional code.
Promo codes exploded in popularity in the early 2000s, due to popular demand from consumers, and retailers had great success in driving more sales through the promotion of compelling promo codes. Adoption of promo codes accelerated as many of the popular template-based e-commerce solutions began to include the Promo Code box within their checkout process by default. This meant virtually all e-commerce stores displayed a Promo Code box in their checkout process for shoppers, regardless of whether they actually provided them or not.
Today, promo codes are in heavy use by retailers around the globe, and millions of shoppers search for them and use them on a daily basis.
Why do retailers offer promo codes?
For retailers, coupons are an effective way to increase sales. It is obvious that shoppers are more likely to buy a given item if it is offered at a lower price. There is also a psychological draw in consumers' minds to a "deal" or "discount" or "offer," especially if this offer is perceived as being unique or special, something offered on a limited basis, implying that the shopper is getting a uniquely good price for something.
Electronic promo codes are just like coupons, with the added advantage that retailer don't need to invest in the cost of physically creating and distributing them. They can simply email a promo code out to their customers, or post them on their website or social pages, and instantaneously drive more sales. 
Common uses of promo codes by retailers include:
Clear out excess inventory
Drive holiday or seasonal promotions
Incentivize larger purchases ("$10 off orders of $100 or more")
Reward loyal customers
Promote a new product
Drive word of mouth referrals
Collaborate with influencers
Where can I find promo codes?
Retailers distribute electronic promo codes through a wide variety of channels. Here are the most common ways you can find coupon codes:
Sign up for a retailer's newsletter. Most retailers will email their latest promo codes to their customers.
Check the retailer's website. E-commerce stores will often post promo codes to a coupon or deals section on their website, and will promote ongoing deals and promo codes across their webpages.
Check coupon websites. Websites such as RetailMeNot, Coupons.com, and Dealspotr list promo codes for most of the popular store that offer them. Many coupon sites offer a newsletter which will contain a daily or weekly update of the new coupons and promo codes being offered. Dealspotr offers a unique personal feed of deals and promo codes customized to your interests and favorite stores.
Ask the store for a promo code. If you cannot find a promo code for a given store, you can also ask them through their live chat feature (you can use email too) and ask them if they will offer you a discount code. Some stores will give you a promo code right them and there in an effort to encourage you to make a purchase.
If you are looking for a promo code for a particular store, you can browse popular stores that offer coupon codes here.
How do coupon sites work?
Coupon sites like RetailMeNot, Coupons.com, and Dealspotr publish coupon codes for most popular online retailers. Usually, these coupon sites create partnerships with the stores they list on their sites, and they often will earn a percentage of a purchase if a shopper uses a coupon from their site.
Coupon sites find their promo codes from a variety of sources. Most commonly, they receive data feeds containing coupons directly from the retailers they partner with, and post the coupons they receive on their site. Coupon sites also use in-house employees to find and post coupons for the stores they list on their websites. Employees may search the retailer's website, social networking pages, and subscribe to email newsletters to discover coupon codes to post.
Some coupon sites also allow their community members to post promo codes. Retailmenot allows site members to share coupons, which are then posted on their site for shoppers to see. Slickdeals is a deal-sharing forum in which members often share promo codes in the form of discussion threads. Dealspotr also allows members to share promo codes, with the added benefit of rewarding its members with points (redeemable for e-gift cards) for sharing promo codes.
How do I use promo codes?
Using a promo codes is easy. You just enter the promo code in the box provided during the checkout process. The harder part is actually finding a promo code that will work, which is what this guide is about. You can read our step-by-step guide to how to apply a promo code.
Why are so many promo codes expired?
Promo codes, like coupons, don't last forever, and they do expire, typically within 1 to 2 weeks of their introduction date, although there are exceptions (some promo codes are permanent and will always provide a discount on the retailer's site).
In order to avoid showing expired promo codes to customers, coupon sites must display accurate expiration dates with their promo codes, and remove or mark clearly codes that are expired. However, many retailers do not provide accurate expiration dates with their coupon codes - there are many times a promo code that has passed its official expiration date will continue to work, sometimes for weeks or months!
Therefore, to prevent expired codes from showing up, coupon sites must continuously test and verify the codes they lists on their sites to ensure that they work, and remove them if they don't. This takes significant manpower, and typically only the largest coupon sites can invest the resources to provide accurate promo codes that are regularly tested. 
Based on studies we've conducted, among the top-tier coupon sites, RetailMeNot performs best in testing and verifying its coupon codes. However, since its launch in 2015, Dealspotr, a newer coupon site built on a crowd-saving platform where thousands of members share, verify, and edit the deals on the site, has become the highest performing site in terms of accuracy of coupons and minimizing the display of expired coupons, based on a comprehensive accuracy study of 550 promo codes across major websites in 2016.
Unfortunately, there are also a large number of coupon sites (referred to as "thin affiliate sites") that do not enforce editorial standards and display promo codes without testing them. These coupon sites  generate revenue as long as shoppers click on their links, even if their promo codes do not work. Therefore a common tactic is to display fake promo codes, hidden beneath buttons designed to entice you to click to reveal them. This is why, if you are searching for promo codes on Google, it is likely you will encounter a large number of promo codes that don't work. We've actually done a case study that walks you through an example of coupon sites that display lots of expired codes and what you can do about it.
What are the different types of promo codes?
There are many types of coupon codes.
Site-wide promo codes. Codes that are applicable to any item in the store.
Percentage promo codes. Codes that reduce your purchase price by a set percentage.
Dollar off promo codes. Codes that give you a set dollar off amount for your purchase.
Free shipping promo codes. Codes that unlock free shipping.
Clearance-only promo codes. Codes that can only be applied to clearance items.
BOGO promo codes. Codes that offer you a buy-one-get-one-free offer.
Freebie promo codes. Codes that unlock a free item.
Single-use promo codes. Codes that are only good for one purchase. Also referred to as one-time use codes.
Member-only promo codes. Codes that can only be redeemed by members who have joined a store's program.
Rewards points promo codes. Codes that give you loyalty points for use at the store instead of cash back or a price reduction.
Read our full guide to the different types of promo codes offered by retailers.
Promo codes vs. referral codes
A newer variant of the promo code which has become popular with the rise of mobile apps and on-demand services is the personal referral code. In today's socially-driven world, brands how offer promo codes directly to their customers. Called referral codes, these codes are similar to promo codes in that shoppers enter them in the checkout process to secure a discount. With personal referral codes, however, the customer who shared the code directly receives compensation when their code is used. Most commonly, this is in the form of a site credit, but can also be paid in cash, gift cards, or other form of credit.
Personal referral codes are actively used by leading mobile apps including Uber, ChowNow, Eat24, PostMates, Google Express, ClassPass, CitiBike, GetAround, GrubHub, Lyft, Sidecar, Curb, and many others.
What is a site-wide promo code?
Site-wide promo codes are the most highly sought-after type of promo code by shoppers, since these, when entered into the almighty promo code box, have the power to give a discount on almost any item in the store. This contrasts with product-specific or brand-specific promo codes, which can be applied only to specific items.
Many retailers offer site-wide promo codes, including Macy's, Kohl's, Best Buy, Target, Overstock, Jet.com, Walmart, Dollar General, Sears and many more. Site-wide codes are typically offered seasonally or during special promotions. Many site-wide promo codes require a minimum purchase amount to qualify for a discount, such as $20 off orders of $200 or greater.
What are single-use promo codes?
Some retailers such as Sears, Kmart, Overstock, and others offer promo codes customized to individual customers, and these can typically only be used for one purchase. On Dealspotr, you can find single-use promo codes that other members have uploaded. Since these are only redeemable once, we show you how many times they've been used so you can gauge how likely they are to work. Also, if you have single-use codes that you do not plan to use, you can upload them to Dealspotr and earn points.
I own a website. Can I use promo codes to grow my website or business?
If your website sells something, then you can definitely use promo codes to grow your business. Shoppers love a good discount, and a promo code is an easy way to distribute discounts out to shoppers. The best ways to get started with distributing and promoting promo codes is to sign up with an affiliate network and add your promo codes into the affiliate system. This way, coupon sites and other promotional websites may pick up your coupon code and promote them to their members. You can also simply post promo codes on your own website or send them to your customers via email.
A newer, increasingly popular way of promoting promo codes is to provide codes to influencers to share with their audiences. Many bloggers and social media influencers find value in being offered a unique and compelling discount code they can offer to their readers. You should offer them a truly unique and differentiated discount, however, in order to give them an incentive to promote your business. With the right influencer who speaks to the right audience, offering them a compelling promo code can be a great way to find new customers and build new business.
If you're an e-commerce business, you can also upload your promo codes directly to Dealspotr. Just create an account, read the guidelines, and submit your coupon codes as a regular member.
Get each week's best deals from Dealspotr in your inbox
This guide was published on July 17, 2017
, and last modified on July 17, 2017
.