Want to Start Blogging Full-Time? For Katelyn Fagan, the Key Was Finding the Right Tools.
About the Author

Digital Marketing Manager here at Dealspotr! Email me with your questions: emily@dealspotr.com :)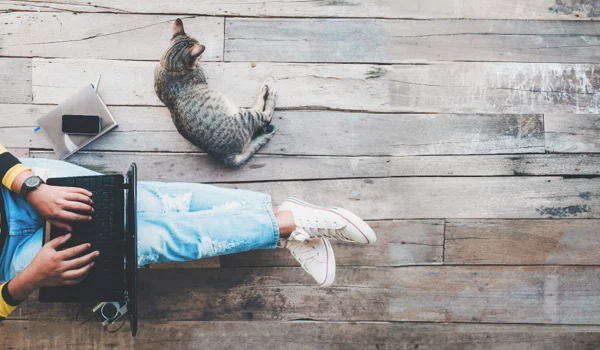 Katelyn Fagan had faith in her blog, What's Up Fagans?, when it first launched in 2009—faith that her blog would keep her family out-of-state caught up on her life as a newlywed in Central Texas. 
And it did just that, for about four years. The formula was simple - identify what her family was interested in reading about her life, and appease them by writing that. 
It wasn't until 2013 that Fagan decided to monetize. She bought the domain name she holds to this day, and in 6 months she had her first $50 check. From there? Wildfire. 
Now, Fagan's readership has grown to include a great deal more than just her family. With a social media following of loyal readers and steadily growing blog traffic, she has established herself as an influencer and is able to support her family by doing what she loves. 
Fagan's blogging formula today is generally the same as when she first started (albeit with the help of a few writer friends and social media apps like Tailwind): know what the readers want, try to create content around that, and be willing to adapt to what works best to achieve this. 
And adapt she does, as Fagan's plans for the future include creating more ways for her to earn passive income, and actually developing products to sell on her blog. 
I sat down with Fagan to talk blog growth, social media automation, and how she keeps herself—and her family of 5 (with a 6th on the way)—sane through it all.
EH: Hi Katelyn! First off, introduce yourself –name, where you're from, and any other fun facts you'd like us to know.
KF: Hello! What's up? I'm Katelyn Fagan. I'm a native Wisconsinite living in Central Texas with my husband and four kids with baby number five due in January. I am the youngest of nine children and always wanted a large family of my own.

We homeschool, attend the Church of Jesus Christ of Latter-day Saints, love being active and outdoors, and enjoy a simple apartment-dwelling life. 
EH: Describe your blog for our readers. What is it's main focus?
KF: My blog What's up Fagans? is a frugal family lifestyle blog that shares tips on raising kids, pinching pennies, cleaning house, and living simply.
EH: How did you get into blogging? When did you start?
KF: I started my blog way back in 2009 as a newlywed to help keep our family out-of-state up to date with what we were up to... hence my blog's name. It was just for fun then, and pretty random, but it has since evolved.

In August 2013, upon promptings from a blog reader and fellow blogger, as well as from God, I decided to try to monetize my blog, so I bought the domain name, bought hosting, and moved my site from Blogger to Wordpress.org. Six months later I received my first paycheck of $50 and have only seen my earnings increase ever since! I'm now earning a full-time income running my own website!
EH: Think back to the early days of what's up fagans? How did you grow your blog? What tools/resources helped you on your way?
KF: Growing my blog was always a series of trial and error. For a long time I participated in link parties, even co-hosting a weekly one for quite a while with How Do You Do It? who I also guest posted for reguarly. I wrote guest posts for several other bloggers in my niche and was a contributor to another blog too for a while. 

I finally started doing Pinterest more seriously, creating images for it, joining large group boards, doing Pinning threads in groups, and so on, and that's where I really saw my traffic explode! 

But, I also tried StumbleUpon for traffic as well. Of course, I created a Facebook page and a Twitter account right away, and worked to grow those followings as fast as I could using large group cash giveaways (though Facebook doesn't allow you to ask for likes via giveaways anymore) and doing follow-for-follow threads in blogging groups. I also joined sharing groups on Facebook and worked with other bloggers in my niche so we could help promote each other. 
EH: What's up fagans?'s Instagram and Pinterest followings are pretty substantial. How did you grow your social channels? How do you decide which to focus the most time and energy on?
KF: Pinterest grew over time, but fast. Once I started pinning a lot, and high quality pins, the followers started to come and fast. I use both BoardBooster and Tailwind to schedule shares of pins to my personal boards as well as some amazing group boards. I also try to just go in and manually pin things I find in my feed that I have a place for on a board and think will do well. 

Instagram is my newest project. I'm regularly following accounts on IG and hoping that they follow me back, and often times they do. I follow users who follow accounts that are much larger than mine but in a similar niche or would have a target audience that would like what I share. I also make sure to use hashtags on all of my shares, and posting consistently helps too. I've been able to show up in the top 9 squares a few times for some more popular keywords, which helps bring not only interaction on those posts, but new followers. 
EH: How do you create content for what's up fagans? Where do your ideas come from?
KF: Ideas come from my everyday life! I have dozens of post title ideas jotted down in a notebook to write about someday! Knowing my target audience, and what does well, or will do well, is also very helpful for me when crafting new posts. Pinterest users and my audience love cleaning tutorials, so I make sure to create new ones every single month!

I also seek to provide useful information on things that my demographic would be interested in, and provide as much additional information about it as I can. I try to be very thorough and detailed in my posts so my readers don't have to search on websites I direct them to in order to find that information.  

EH: Do you work with a team to research articles, draft social media posts, or help create other content? If so, tell us how you manage them, and if there are any tools that help you with this process.
KF: I currently have a Virtual Assistant who runs my Facebook page - scheduling all of my posts there and often answering and liking comments people leave on my posts. She also drops links in Roundup Request groups on Facebook and recently started filling my Tailwind queue with pins from others. 

I also have two blog contributors - Jeni and Crystal. Both are my personal friends in real life and it's been great having them create content for me!  They mostly write and create cleaning tutorials for me, but I have had them write other content for my site, like seasonal content for Christmas and New Years. I pay Jeni a small fee for the posts she creates for me, and Crystal I share blogging tips and advice with in exchange for her time. 

I occasionally accept guest posts from others as well, but usually from bloggers I know, and for a time when I am planning time off from the blog, like after having a baby.
EH: Now, over to brand partnerships. What are the role of brand collaborations on what's up fagans?
KF: I love brand partnerships! I always find writing a sponsored post is a fun challenge! Sponsorships also make up a decent percentage of my blogging income. 
EH: When partnering with brands, do they reach out to you? Or do you initiate contact? If the brands are doing the outreach, what's something they do right?
KF: I work with brands most often through networks that connect blogs and businesses. This saves me time in hunting down contact information for brands myself and sending pitch letters and following up with them. Some networks ask me to apply for opportunities that may fit my site, while others only contact me when they already have a brand that wants to sponsor me, which is even less work for me! 

I have occassionally initiated contact myself with a brand that I really wanted to work with. In fact I've done this twice recently with great success. 

Brands reach out to me all the time via email. I don't always take their pitches very seriously, but I do when it is clear that they want to work with me and have actually spent time researching me and my site. These have been great partnerships too.
KF: I have used dozens of them!  I always figure the more feelers I have out there, the more work I'll end up getting!
EH: What do you look for when deciding to collaborate with a particular brand?
KF: First is always whether or not they'll be a good fit with my blog and my audience. Second is if I have an organic way to promote their product to my audience. Third is payment and the requirements of the job. Fourth is the time frame. Fifth is the flexibility of the post. 
EH: Share with us your favorite / most successful brand collaborations. What made them so?
KF: It's hard to pick because I have worked with so many brands over the last four years! But the ones I've enjoyed the most are the ones I was able to really make my own by adding a funny story, adding lots of great details on the post subject (and not just about the product), or which did really well on Pinterest or on search. 
EH: What do you see when you think of the future of WHAT'S UP FAGANS? Where do you see your blog (or the blogging/influencer world in general) going next?
KF: This is a hard question for me. I absolutely love blogging, but it can totally take over my life! As a busy homeschooling mom it's really hard to balance working late into the night with being a great home educator, homemaker, parent, spouse, Christian, and friend! My goal for my blog has always been to support my family financially. My husband has one year left of his doctorate degree, after which he'll be making a better salary. It's our hope to aggressively pay down his student loan debts in 3 years after he graduates so we can finally buy a house! 

But because I don't want to be working all the time, my main goals with my blog are passive income - ad revenue, affiliate income, and product sales. I have plans on creating more of my own products to sell both on my blog, and for other bloggers in the next year. I am also always working to write posts that will get organic search traffic to somewhat guarantee some pageviews. And I will continue to work hard to grow my email subscriber list for my blog and work to earn income by selling affiliate products to them and driving traffic to my site through email. 
EH: anything else you'd like to add?
KF: I think blogging is the best job ever and I am extremely grateful to God and all the amazing people who've helped me and supported me along the way! 
You can visit Katelyn Fagan on What's Up Fagans? or follow her on Facebook, Pinterest, Twitter, Instagram, and YouTube. 
Get each week's best deals from Dealspotr in your inbox
This guide was published on September 21, 2017
, and last modified on September 21, 2017
.