Shine Bright like a Diamond with Help from These 20 Jewelry Micro-Influencers
About the Author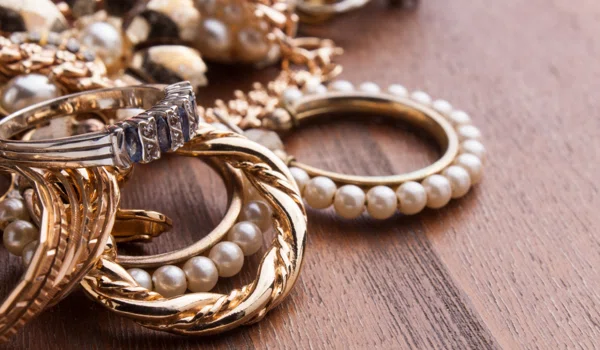 Diamonds are a girl's best friend. And so are gems. And gold. Ok, maybe we should change the famous phrase to "Jewelry, in general, is a girl's best friend." But that wouldn't have sounded as good coming out of Marilyn's mouth.
So, to get your bling fix, we've rounded up some jewelry-focused micro-influencers that cover everything from traditional classic jewelry to super trendy non-conventional engagement rings.
Indulge in your love for all things shiny and meet these 20 jewelry micro-influencers who've dedicated their life to it.
Beanie Major: In Detail
Behind the beautiful pages of In Detail is Beanie Major.
Major trained in jewelry design at Edinburgh and was awarded 1st class honors. She then moved to London and joined the design team at Shaun Leane, a jewelry house that collaborates with Alexander McQueen.
While Major is growing her brand, she is a contributor to Grazia Daily and Country and Town House.
In Detail is a celebration of inspirational women from designers to tastemakers. This publication "brings the world of luxury jewelry to your fingertips."
Website | Instagram | Twitter | Facebook
Carol Woolton
As a writer, journalist, and jewelry editor at British Vogue, Carol Woolton is a prominent figure in the jewelry industry.
Woolton not only writes for publications like Vogue, The Financial Times, and Vanity Fair, but she is also the author of four books on modern, antique, and historic jewels.
Through a successful journalism career, she's been able to grow quite the following on social media with over 17k followers and growing. Because of her big name magazine experience and follower count, jewelry brands definitely hope to be featured on her page.
Danielle Miele: Gem Gossip
Gem Gossip is run by a true professional. Danielle Miele is a Graduate Gemologist who really knows her stuff.
Miele is a jewelry blogger who focuses on trendy items, antiques, fancy celebrity, and more. She also interviews designers.
Not only does she write about gems, she educates her readers. After all, there's a lot to know in the gem industry.
She studied at the Gemological Institute of America and she has five years experience as a head gemologist and appraiser.
Website | Instagram | Twitter | Facebook | YouTube | Pinterest | Tumblr
Katerina Perez
In her luxuriously laid out blog, Katerina Perez talks all about jewelry.
Updating constantly, Perez writes articles about earrings and necklaces.
Perez said she discovered jewelry at 3 years old and has never looked back. She went on to study as a gemologist at the Gemological Association of Great Britain.
With just under 200,000k followers on Instagram, jewelry designers would pay a pretty penny to have Perez feature their jewelry.
Website | Instagram | Twitter | Facebook | Pinterest
Barbara Palumbo: Adornmentality
Adornmentality is a jewelry-lover's dream blog. Palumbo has a hefty following on Instagram and Twitter thanks to her no-nonsense straight shooting blog.
Her influence doesn't stop at beautiful jewelry. She's socially conscious, recently speaking out against sexism in the Jewelry business, and joining the conversation about women and the Golden Globes on Twitter.
She debuted a separate watch blog that focuses on women's watches and men's watches (but only from a female perspective). This blog also features a focus on women who hold leadership/executive roles in the watch industry as well as female watch connoisseurs.
Website | Instagram | Twitter | Facebook | Pinterest | Bloglovin | WhatsOnHerWrist.com
Pallavi Ruhail: That Delhi Girl
That Delhi Girl is a fashion, lifestyle, health, and jewelry blog that features the personal taste of Pallavi Ruhail.
It's a personal brand that doesn't just focus on jewelry and fashion, but also Ruhail herself.
Ruhail has racked up quite the following and the source of all her success is her love for "everything fancy." She often features beautiful Indian jewelry and trendy modern styles.
Website | Instagram | Twitter | Facebook | Pinterest | Google+
Liz Larsen: Accessory Jane
Liz Larsen runs Accessory Jane, a lifestyle blog that's all about jewelry. Accessory Jane is an online jewelry boutique, but Larsen aims to make it more than just a place to buy nice pieces.
Larsen is an experienced jewelry designer who wants to create a brand that inspires readers "to put the best foot forward." She believes that success and personal fulfillment are based on attitude and how a person views themselves. This is where wardrobe comes in.
She insists that an extra 10 minutes and wearing a put-together outfit (jewelry included) can improve confidence and change the trajectory and productivity of someone's day.
Because of this, Accessory Jane is more than just jewelry, it's a lifestyle brand.
Website | Instagram | Twitter | Pinterest
Margo Raffaelli
Her name is Margo, and she loves jewelry. Margo Raffaelli has devoted her life to being your personal guide to stunning pieces as a jewelry insider, author, and consultant.
Raffaelli has 11 years experience and has decided to not only be a jewelry expert, but an influencer as well. She's taking over Instagram as one of the front runners of the jewelry game.
On her blog and social media accounts, she features everything from the strange to the beautiful.
Website | Instagram | Twitter | Facebook | Google+
Becky Stone: Diamonds in the Library
Becky Stone (what a fitting last name) is a "professional jewelry lover" who writes about jewelry on her blog, Diamonds in the Library, full time.
She put in 7 years writing for the Federal Government before "taking the leap" into her true love, jewelry!
Collaborators can get in touch with her on her press page to feature their jewelry on her popular social media pages.
Website | Instagram | Twitter | Facebook | Bloglovin | Pinterest
Cathleen McCarthy: The Jewelry Loupe
The Jewelry Loupe is a small influencer brand created by Cathleen McCarthy.
McCarthy has created a destination for jewelry collectors, makers, and connoisseurs. She oohs and awws with gorgeous photos of jewelry.
She tweets often and stays in touch with what's going on in the world in regards to how it is connected to the jewelry industry.
Website | Twitter | Instagram | Facebook
Cheryl Kremkow: Gem Obsessed
Consistency has paid off for Cheryl Kremkow, a jewelry editor and curator as well as brand strategist.
This self-described "gem geek" focuses on the precious stones and gems side of the jewelry world. Her blog and social media posts celebrate the vibrance of gems from emerald green to ruby red.
She not only posts stunning gem photos, but she also shares opinions of the ongoings of the jewelry business and how it's changing.
Website | Instagram | Twitter | Pinterest
Natalie Bos Betteridge: Jewels du Jour
With such an elegant name matches a beautiful jewelry influencer brand.
Natalie Bos Betteridge created her brand, Jewels du Jour for "your daily dose of jewelry!" She describes herself as a "social media maven for fine jewelry." She posts beautiful eye candy jewelry photos for her followers almost every day. You also get to see adorable pictures of her baby every few posts for a cute personal touch!
She talks about ongoing jewelry auctions, what pieces are on the market that she loves, and news about jewelry.
Website | Instagram | Twitter | Facebook | Pinterest
Liza Urla: Gemologue
Liza Urla is the face behind Gemologue, a multicultural jewelry blog that whisks fans away to London, Milan, Paris, Hong Kong, Rio, and other wonderful places to explore beautiful jewelry.
Urla is a jewelry go-getter who is launching her jewelry book in March of 2018. She's determined to be a fixture as an influencer in the jewelry world.
She is active on all social media platforms including Instagram, Twitter, Facebook, and YouTube. Her videos include interviews, how-to help on jewelry wearing, and more.
Website | Instagram | Twitter | YouTube | Pinterest
Catherine Cason: Gem Hunt
Gem Hunt has become an important micro-influencer on social media. The hashtag #gemhuntrings has become a popular way for people to try and get Catherine Cason to feature their brand.
Cason started her brand to "feed her addiction" to jewelry and to connect with other people who share the same love for fine pieces. Cason believes in the power of community with her brand, and it shows in her follower count!
She partners with brands for editorial product features, reviews of brand products, and makes sponsored posts.
Website | Instagram | Twitter | Facebook | Pinterest
Marion Fasel: The Adventurine
Marion Fasel considers her brand an "online magazine" and makes posts similar to what you'd see in a magazine spread.
Fasel features articles about what celebrities wore to award shows as well as information on the pieces. Designers are also often interviewed.
Before launching her own brand, she was the leading editor, author, and jewelry expert for InStyle's jewelry department and watched coverage for about 20 years. Now she's chipping away at building her own empire one day at a time.
Website | Instagram | Twitter | Facebook | Pinterest
Beth Bernstein: Bejeweled
Beth Bernstein lives and breathes jewelry. Whether she's live tweeting about what earrings celebrities are wearing during an awards show or working on an article for her online magazine, Bernstein loves what she does.
She writes about the history of jewels, the involvement jewelry has in Hollywood, what trends are coming up next, and everything in between.
Bernstein is a jewelry historian and antique jewelry expert and "confessed jewel-aholic."
Website | Instagram | Twitter | Facebook | Pinterest
Amy Roseveare
Live a luxurious life vicariously through Amy Roseveare, a micro influencer who is a certified image consultant by day and jewelry blogger by night.
She recently attended the Golden Globes where she rubbed elbows with many celebrities. Her Instagram photos are envy-worthy. These are the perks of having her job!
While she does amazing closet organization, wardrobe evaluation, and personal shopping for big names, she also has a special love for beautiful jewelry pieces. She doesn't just want to help out famous celebrities with their look, she wants to help you!
This is where her influencer status comes in. Roseveare is creating her own personal brand for her fans and followers to get guidance on how to wear jewelry.
Website | Instagram | Twitter | Pinterest | Google+
Kate Baxter: The Cut
While Kate Baxter is a professional jewelry designer, expert, and consultant, she also runs The Cut, her personal niche brand based on non-conventional engagement rings.
It's become super popular to ditch the diamond and go for a unique and unusual engagement ring. The "Inspiration" section of Baxter's website will give you an idea of all the stunning ways you can wear an engagement ring.
Baxter has contributed to Elle Magazine, The Financial Times, and Stylist.
Website | Instagram | Twitter | Pinterest
Isabella Lee: Rock That Gem
Jewelry blogger Isabella Lee features gorgeous artsy photos of jewelry on her Instagram page and writes about the pieces on her blog.
Lee talks about the strange and weird jewelry pieces that are unconventional yet attractive. With wonky shapes and sparkly gems, Lee offers a different take on your usual jewelry influencer.
Most of her features are rings that only a person with a daring spirit could wear.
Website | Instagram | Twitter | Facebook | Pinterest
Wendy Brandes
Wendy Brandes is all about wit. She ties in jewelry with a great sense of humor. The former award winning journalist writes about jewelry but also cats, dogs, feminism, and even medieval history.
Her funky style has attracted many followers not only for her jewelry, but the personality of the brand. Her Twitter is full of funny political retweets and hilarious remarks.
This micro-influencer isn't afraid to say what she means and she means what she says. Her brand isn't just about jewelry, but the woman behind it!
Website | Instagram | Twitter | Facebook | Pinterest
Live Luxuriously
Whether it's costume jewelry or the real deal, wearing a great piece of jewelry just feels good. From antique to the freshest item from Tiffany's, it's all beautiful.
Get each week's best deals from Dealspotr in your inbox
This guide was published on January 22, 2018
, and last modified on January 22, 2018
.