7 Creative Social Media Story Ideas for the Holidays & Why They Worked
About the Author

Amelia is a writer, content marketer and SEO strategist who spends her days trying to crack the code of Google's mighty algorithm. When she's not working, you can find her running around town with her dog Rockefeller.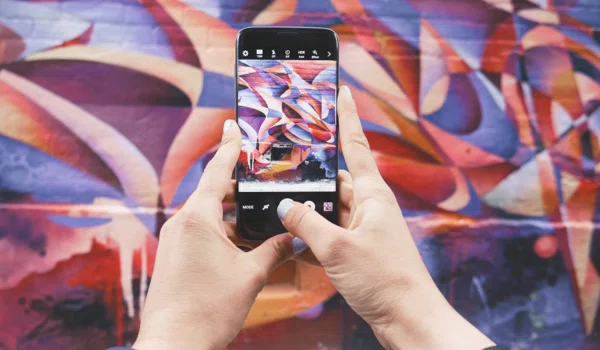 December is nearly here. For marketers, that means it's time to spread holiday cheer.
Over a third of brands are including Facebook Stories and Instagram Stories in their holiday marketing this year, and with good reason: 300 million people use Facebook Stories every single day, and 400 million use Instagram Stories. For comparison, that's twice as many as Snapchat—the pioneer of the Story format.
Their popularity among users isn't the only reason brands like Stories. They also like how Stories positively affect their bottom line.
Over 60% of Story users become more interested in a product after they see it in a Story. This has led half of them to increase their online shopping. A third of Story users report visiting retail stores more often as a result of stories, too.
Stories aren't just a fun way for your brand to connect with fans; they're a real purchase driver. To engage with shoppers this holiday season—and boost your sales—you need to work Stories into your marketing mix.
7 social media holiday stories for your brand to try this season
In the past few years, the social media Story format has exploded in popularity. As your brand maps out your social media holiday plan, consider how you can take advantage of the trend.
For inspiration, here are our favorite holiday story campaigns.
Kate Spade: Put the story in stories
Sometimes in our rush to push products, we forget that Instagram Stories are just that: stories. Your social media Stories should leave people with a sense that something interesting has happened.
In their Story, Kate Spade did not forget that. In a story of nearly 30 frames, they gave themselves a challenge to accomplish 25 things before the holiday. Each frame lists various items, some serious ("pick out sweet treats") and some less so ("take a moment for self reflection").
Along the way, the customer gets a sense of the brand's playful personality. They also feel that Kate Spade "gets" them. The brand understands their daily struggle of somehow getting everything done while still enjoying the small things in life.
It's not until the end of the Story, however, that we realize what it was all about: a snazzy Kate Spade smartwatch. The watch featured dead center in each panel, so by the end, viewers have spent over 30 frames staring at it, while also connecting with it on a personal level. It's hard to resist swiping up, since this watch helped them get through their hectic day!
Target: Spread the word about your sale
Black Friday and Cyber Monday may be behind us, but people keep an eye out for savings throughout the holidays. Help your customers save by promoting your sale in your Stories.
Target keeps their Instagram Story simple in focus and message. They want people to get ready to save, so each panel cycles through a different department and its own special promotion. Viewers get a sense of the scope of the sale and a quick glance at some eye-catching items.
This Story was created for Black Friday, hence the bold black background. Even so, you could adopt this approach for Boxing Day or any other holiday sale. Just use a bright red instead of black. Instagram is filled with lifestyle and editorial shots, so the single block of color demands attention.
Benefit Cosmetics: Stand out with a contest
There's a lot going on during the holidays. Your customers have to travel. They have to buy gifts. They may have family visiting from out of town. With all this going on, they still have to keep up with work and their everyday obligations.
With everything on their mind, your brand really has to do something special. Otherwise, you'll blend in with all the other brands screaming to get their attention during the most profitable time of the year. A contest could be just the thing.
In their Story, Benefit Cosmetics announces the chance to win a mega gift basket. All fans have to do is tap through the panels and think of a sassy response to groan-worthy cliches they're sure to hear from family during the holidays.
This Story does a lot of things right. First, the prize is juicy and the path to entry is simple, which encourages a lot of people to enter. Second, it's funny. The brand shows off their sense of humor, and their empathy with their customers—they know how annoying family can be during the holidays, and they're here to help you make light of it. Finally, all the responses can then provide the fodder for an upcoming story that features the winners. This eases the workload of Benefit's social media team while getting their customers excited about the chance to be featured.
Most importantly, however, by offering a contest solely through their Instagram Story, Benefit gives their fans a reason to always check in with their stories. Miss a Story, and you might miss the chance for a cool freebie or social media spotlight.
Fresh Beauty: Make it about your customers, not you
The flash-in-the-pan, 24-hour limited nature of Stories makes them the perfect place to show a less polished side of your brand. The side of you that's okay with getting real so your customers can feel a more authentic connection with you.
In their Story, Fresh Beauty turned the spotlight on their customers instead. By resharing their content, it shows customers that the brand appreciates them. When their fans post about their product, Fresh Beauty wants to share it with their world because it's still beautiful—even if it's not picture-perfect. That's a compelling message for a beauty brand.
Their Story cycles through various holiday-themed #regrams from their customers. The variety demonstrates how the brand features in their daily lives, well beyond the immediate application of skincare. Customers are tagging Fresh, whether they're celebrating with champagne and wrapping gifts.
In this Story, the brand does something much more powerful than making fans feel good. They also help customers trust them. If this many fans are posting about Fresh Beauty on their Instagram, the brand's products must really be amazing. This kind of social proof makes people more inclined to buy from the brand—especially since the Story makes it obvious that their products make great gifts.
M&Ms: Attach your brand to a holiday tradition
Part of what makes the holidays special is the traditions. The lighting of candles, the sharing of stories, and of course, the eating.
M&M's tapped into that with their Instagram Story, but they took it one step further. M&M's made themselves an essential part of the holiday traditions. In each panel of their Story, a new holiday classic item gets introduced, with M&M's as a garnish.
This Story inspires viewers to put a new twist on their holiday desserts this year, but it also encourages them to engage. On each panel, fans can drag the slider to bring in the dessert. This micro-interaction keeps them watching as they build the Story with M&M's, instead of just passively watching it. In this way, the user ends up being the one who sprinkles M&M's into their holiday tradition, instead of feeling like M&M's shoehorned their way in.
This is a smart move for the brand. Become a part of someone's holiday tradition, and they'll keep buying you year, after year, after year.
Starbucks: Create your own holiday tradition
What M&M's did is smart. What Starbucks did is even smarter. With their iconic red cups, they created their own holiday tradition.
Each year, Starbucks gets people excited about the entrance of their red cups, on social media and in stores around the world. In 2016, they even hyped the entrance itself. They posted on Instagram, telling fans to tune in to their Instagram Story later that night to see the cups before they arrived in stores the following day:
This year, they took the wrapping metaphor a step further. Their Story starts out with four pretty presents. As the viewer clicks through each panel, a present gets replaced with a cup, revealing that the wrapping inspired the design for each cup. Each cup also represents a special holiday drink.
Turning presents into cups is a cute idea, and personalizing them to various holiday drinks is clever. But Starbucks didn't stop there. They also created four different iPhone wallpapers inspired by the cups—giving them their own free "gift" while helping entrench the brand in their daily lives. What's more personal than your iPhone background?
Starbucks: Get in the giving spirit
Starbucks excels at holiday marketing, so we can't help but feature another example from them. The holidays are also a time for giving back, as many people choose to volunteer with their loved ones and help those who are less fortunate.
Sometimes, it's difficult for people to figure out how to help. So Starbucks made it easy for them with their Match the Magic campaign. They'll match each of their customers' donations to any of eight partnering non-profit organizations.
The timing of such a campaign is opportune, considering people are already in a giving spirit during the holidays. Consumers are increasingly choose to shop with organizations who match their values, and a brand's philanthropy is particularly important to millennial and Gen Z shoppers.
Matching donations helps people feel like they can make their dollars go further, while also endearing them to the brand. That kind of loyalty translates into purchases for life, even if this individual campaign doesn't directly drive sales.
Crafting your holiday story
The holidays are a time for connection. Use social media stories to forge deeper relationships with your customers.
Help your customers save, by sharing promo codes and holiday sales. Give them a chance to be featured on your account or win a special gift. Partner with them to give back to others.
Whatever you do, turn it into a Story. Stories are memorable and meaningful. They'll help your customers remember you when it's time to make their holiday shopping list.
Get each week's best deals from Dealspotr in your inbox
This guide was published on November 27, 2018
, and last modified on November 27, 2018
.