6 Instagram Story Ideas for Your Business if You (Still) Can't Add Links
About the Author

Amelia is a writer, content marketer and SEO strategist who spends her days trying to crack the code of Google's mighty algorithm. When she's not working, you can find her running around town with her dog Rockefeller.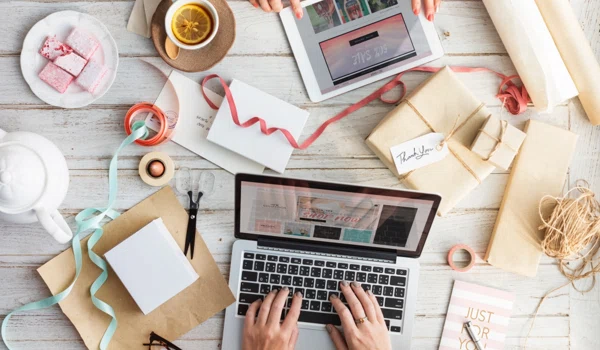 Instagram Stories are used by over 400 million Instagrammers every day.
In other words, people are fans. And according to Instagram, they're big fans of business Stories in particular: one-third of the most popular Instagram Stories are posted by brand accounts.
If you're one of the many brands who still can't add links to your Instagram Stories, you might be wondering how you can make this content format worthwhile for you.
Read on. We'll cover seven ways Instagram Stories can become a pivotal part of your social media strategy—with real-world examples from top brands.
But first, we'll recap how Instagram Stories work, starting with why you don't have the ability to include links in your brand's Stories.
Why can't I add a link to my Instagram Story?
If you're not sure why there's no link option on your Instagram Story, good news: it won't necessarily stay that way forever. In order to add links to your Instagram Stories for free, you must have over 10,000 followers, or have a verified account.
If neither of these describes your situation, the only way you can add a link to your Instagram Story is by paying for Stories Ads.
Fortunately, by using Instagram Stories and making them engaging, your follower count will naturally grow.
Until then, consider using this workaround for adding links: @Mention your account in your Instagram Stories. When people click the mention, they'll be taken to your Instagram profile, where you'll have your link listed in the bio.
3 benefits of Instagram Stories for business
You may be wondering, "If I can't link out to my brand website, what's the point of Instagram Stories? They disappear in 24 hours, anyway."
But even without links, Instagram Stories offer three clear benefits to businesses.
They're highlighted at the top of the feed
The Instagram feed is algorithmic, meaning that posts are prioritized in a user's feed according to Instagram's educated guesses about what they're most likely to engage with. The longer a user stays engaged, the less likely they are to close out the app, increasing Instagram's opportunities to hit them with an ad and earn revenue.
Because the feed operates algorithmically, as opposed to chronologically, it's entirely possible your fans will miss your latest standard Instagram post—especially if they haven't engaged much with you before or if they're following a ton of people. Instagram Stories, on the other hand, get a special spot at the top of the main feed, so users are more likely to check them out.
They're engaging
The short, video-like nature of Instagram Stories is hypnotizing. They suck people in. Plus, there's something thrilling about a post being available for a limited time. And with the filters, markup options, and special effects, Instagram Stories are just plain fun.
All this combines to create a highly engaging form of content.
Whether it's the sense of FOMO or the less polished look, Instagram Stories feel more authentic—especially when they come from a business. That increased authenticity, combined with an engaging form of content, helps fans connect with your brand. Over time, that connection translates to loyalty, sales, and future engagement.
They encourage repeat engagement
Speaking of future engagement, if you develop a consistent practice of sharing high-value content exclusively in your Instagram Stories, you'll give fans a very compelling reason to check in with you whenever they're on the platform.
What's defined as "high-value content" depends on the preferences of your audience. It could describe an interview with an influencer, new product sneak peeks, or exclusive promo codes—or, it could be any one of the creative Instagram Story ideas we share below.
6 creative Instagram story ideas for business, plus examples
Below we cover the top Instagram Story content helping businesses succeed today. No matter what it is your business does, you'll find inspiration for your own Instagram Stories here.
Share user-generated content
Your customers are already posting about your brand on Instagram. Why not put some of their content to good use?
Many brands highlight customer posts in their Instagram stories. This is a good way to "give back" to your customer, by way of a very prominent shoutout on your brand account, without detracting from the brand voice or tone you curate for your main profile.
In this fun Instagram story, Target picked out their favorite UGC Instagram posts where customers were just having a grand ol' time inside their stores. All of the posts show neatly stocked Target aisles and clean floors—core to the customer experience—but more importantly, everyone is smiling and having dance parties in the aisles. By re-sharing these posts, Target shows that they not only let these kind of shenanigans slide, but they actually encourage them. They want you to do "Target your way."
Target repeats the hashtag in the first and last frames, encouraging customers to keep up the fun. This keeps the hashtag alive and engaging, as customers vie to get their own post regrammed, spreading brand awareness in a very positive way.
Promote sales and discounts
Reward your most loyal followers for checking in on your Instagram Stories. You might share exclusive promo codes that they can only find on your Instagram Stories, or you can simply highlight your deals of the week, like Whole Foods does.
Each week, Whole Foods posts an Instagram Story that transforms their in-store circular into a beautiful, Insta-worthy photo shoot.
The soap looks luxurious while the food looks delicious. In their food photo, they show the product both in and out of the packaging. This way, they can give customers an idea of how they can enjoy eating it—making them that much more likely to actually come in and buy it.
Walk customers through a tutorial
Many brands are using Instagram Stories to create step-by-step tutorials designed for social media. By meeting customers where they are—on social media—instead of forcing them to search through the support section of their website, brands create a positive, effortless experience that increases customer retention.
Empower your customers with knowledge of how to get more out of your product. They'll be more satisfied, and more likely to stick around.
Sephora's one of our favorite brands for social media inspiration (check out what they've done with beauty influencer marketing), and it's no different when we look at their Instagram Stories. Instead of just introducing their latest Fenty Beauty line, they show fans a complete look and walk them through application using the various products. By including individual products and portraying them as essential elements to achieving the diamond-dusted look, fans are more likely to buy multiple products.
Pro Tip: Don't be afraid about going long with a tutorial Instagram Story. Short Instagram Stories (those with 10 or fewer frames) tend have the highest engagement rates, but if you're building out a longer Story, like that of a tutorial, the engagement stays relatively flat for stories between 20 to 50 frames:
Poll your followers
Followers don't have to just sit and passively watch your Instagram Stories. With sliders, polls, and questions, they have their choice of options when it comes to interacting with your Story.
In marketing psychology, these actions are known as "micro-commitments." One small action—such as moving a slider or answering a short question—gets customers in the habit of saying "yes" to your brand. The more often they say yes, the more likely they are to purchase, and purchase frequently
In their Instagram Story, M&Ms used a slider to get customer feedback on their new M&M fanny pack. This was sweet and simple, just like the brand. All fans had to do was slide the flame emoji to "rate" how cool they thought it was.
Many brands shy away from Instagram Stories precisely because of what makes them so popular. They don't want to put in a ton of effort into creating something that only exists for 24 hours. M&Ms doesn't adhere that kind of limited thinking. After their Story ended, they posted the photo to their profile for perpetuity.
Besides rating products, you can also ask your customers to vote on their favorite product—or their favorite time to use a product, like Clinique did. Their Instagram Story poll is pretty, helps customers engage with the brand, and might just translate to sales of orange blush, too—considering that the majority agreed it's the right shade for fall.
You can also use Instagram Stories for customer feedback. Starbucks asked customers to share their "go-to iced coffee order." Fans responded, and Starbucks turned those answers into drool-worthy Instagram Stories of their own. This Instagram Story is all advertising, but since it's done in the guise of sharing customer feedback, it presents Starbucks as a brand that listens to—instead of talking at—their customers.
Questions, polls, and sliders all encourage follower engagement. The more frequently your followers engage with your brand, the more likely your posts (Story or not) will show up in their main feeds.
Tell your brand's story
Despite the time your marketing team put into writing it, no one wants to read your company's "About Us" page. No one's interested in the blurb on your press release either. With Instagram Stories, however, you can introduce your brand to fans quickly enough to prevent boredom.
Put the Story in Instagram Story like General Electric did. Frame by frame, they illustrated a mini science lesson about how power grids work and how GE contributes to the energy sources all around us. This is a short yet effective way for a cold, engineering-focused brand to connect with customers on a personal level. They make it easier to understand exactly what it is they do, and how their work impacts the lives of their followers.
Boost views on your other content
Your brand has got a lot going on. You have Facebook contests, smartphone apps, IRL events, and more. Use Instagram Stories as a tool to promote all those other things. Your followers deserve to know.
In their Instagram Story, NASA raises a call for action. While they are constantly capturing images of Earth and space, they're in desperate need of their fans' help. If fans download their free app, they can provide details that fill in the gaps NASA satellites can't see.
What's brilliant about this Story is that NASA demonstrates what they do, in a non-showy way, while also leaning on their fans for help. Their fans are just as integral to the success of NASA as NASA is. That's empowering for fans, and it might just turn some of them into future NASA employees one day. The Instagram Story itself also makes things as crystal clear as possible—with directions to turn on sound and explanations of how to get the app.
In another example, Mashable creates a roundup list in their Instagram Story, gathering the "must-read" stories of the week and encouraging viewers to go check them out on their website. To keep fans watching, Mashable added some upbeat music to it, too.
With this Instagram Story, Mashable shows that you don't have to be a visual brand to thrive on Instagram. As long as you find the right angle, the image-heavy platform can benefit written publications like Mashable.
What's your Instagram Story?
Customers love Instagram Stories from their favorite brands because they're engaging, interesting, and valuable. Be engaging by asking customers to provide feedback or answer a poll. Be interesting by telling your brand story. Be valuable by posting a tutorial or sharing a discount code.
By including Instagram Stories as part of your overall content strategy, you show fans that you are a professional yet fun brand with a well-rounded marketing program that's worth paying attention to.
Get creative. Think about how you can adapt these Story ideas to your brand.
Get each week's best deals from Dealspotr in your inbox
This guide was published on September 24, 2018
, and last modified on September 24, 2018
.