Influencer Marketing KPIs: 14 Metrics to Look at Beyond Sales
About the Author

Amelia is a writer, content marketer and SEO strategist who spends her days trying to crack the code of Google's mighty algorithm. When she's not working, you can find her running around town with her dog Rockefeller.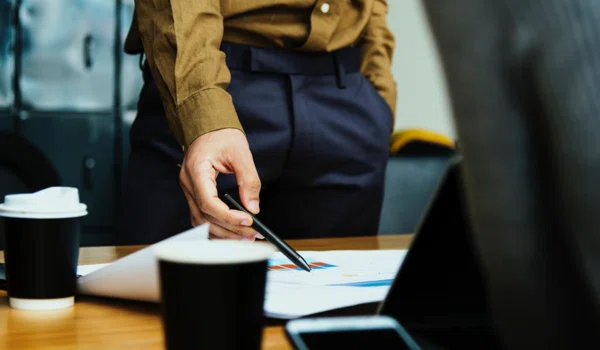 Done right, influencer marketing is extremely effective for brands. It drives 11 times the ROI of other forms of digital marketing, earning brands $6.50 for every $1 they spend on influencer marketing campaigns.
But when you're just starting out with influencer marketing, you're not going to get those kind of results. Heck, even when you have a tenured influencer marketing program in place, you won't enjoy that level of success with every one of your campaigns.
You'll try new things, work with different influencers, and partner with other brands. You'll test and you'll tweak. With time, you'll enjoy crazy good conversions—but it takes time and experience to see what works best for your audience.
How can you know if you're on the right track? By paying attention to more than just sales.
Influencer marketing KPIs that matter
Sales are important, but they're one of many important influencer marketing KPIs that indicate whether you're boosting brand visibility, fostering positive consumer discussion, and driving site visits—you know, all the sorts of things that result in sales.
As you monitor your influencer marketing campaigns, pay attention to these site traffic and social media engagement metrics. Measuring influencer marketing success goes beyond just conversions. Consider these the confirmation you need that you're working with the right influencers, targeting the right audiences, and reaching them with the right types of campaigns.
Site traffic KPIs
Besides sales, site traffic is one of the easiest metrics to track with influencer marketing. Site visits let you know how many fans are finding your influencer campaign interesting enough to take action by visiting your website.
Google Analytics is your tool of choice here. You'll want to look at three key traffic channels: your direct traffic, your social traffic, and your referral traffic.
Direct traffic
Direct traffic captures anyone who visits your site from directly typing in the URL, or if they've saved your site as a bookmark or clicked on it from a PDF.
Direct traffic is important to track for influencer campaigns where the influencer cannot share a direct hyperlink to your site in their post (we're looking at you, Instagram). Instagram influencers can only strongly encourage their followers to go visit your site, by spelling it out in their post, but the URL will not be clickable. As such, the fans who take them up on their recommendation will have to go physically type in the URL themselves.
Look for lifts in direct traffic in the days following any of your influencer campaigns, whether or they included a clickable URL as there will always be some fans who go type it in later.
Social traffic
Social traffic captures any traffic that comes to your site through social media.
From the Acquisition > All Traffic > Channels screen in Google Analytics, click on the blue Social link to see your traffic numbers split up by social network. These numbers represent the sum of traffic coming to your site from various social networks—including links from your profile, your own branded posts, as well as posts from influencers.
Even though the influencer-driven traffic will be mixed in with your own, if your influencers are doing a good job, you should see a noticeable lift in traffic for any channel the campaign was run on.
Referral traffic
Referral traffic tracks any traffic that comes to your website through another website, such as an influencer's blog.
Like you did with Social traffic, you can simply click on the blue Referral link to view the top websites driving traffic to your own. This is a great way for tracking any visits that come from bloggers or affiliates. Not only will you be able to see their website listed in the results below, but you can see how their sponsored post helps your brand over time.
If the influencer did a good job with SEO or they regularly share the blog post on social media, you may see a gradual increase of visits with time, as opposed to a quick spike in the days following your campaign.
New users
In addition to viewing the sheer traffic numbers, you can dig in deeper on any of these channels to see how your campaign is doing.
Compare the Users vs. New Users columns to see if influencers are sending net-new customers your way, or if they're sending people who have already visited your site before. Either can be good: influencers can help your brand permeate new audiences, or they can help you gain traction with ones you've already established.
Landing page visits
If your influencer campaign is performing well, you'll be able to see traffic increases at a high level in Google Analytics. But if you're working with multiple influencers, and you want to track the success of each one, you can do that on an individual level within Google Analytics, too.
For any influencers who will be including links in their social posts or blog articles, set them up with a unique URL. You can custom-build URL using your influencer marketing or affiliate software, or you can create one for free using Google's free UTM builder tool. Then you can track the clicks from each influencer under Acquisition > Campaigns.
If you're asking influencers to send traffic to a particular landing page for your campaign, you can review the traffic numbers for that page specifically under Behavior > Landing Pages. From there, select Default Channel Grouping from the Secondary Dimension drop-down menu. This helps you parse out the organic visits and direct traffic your brand is already naturally generating to the landing page, from the social and referral traffic your influencers are generating.
Bounce rate
You'll also want to take a look at the Bounce Rate of any page your influencers are sending traffic to. If it's high (above 75%), that can indicate a few things, none of which are good.
Your influencer may be incorrectly positioning your product, so when their fans visit your site, they don't feel it matches their expectations.

Your landing page may not be functioning properly or loading all the elements, leading to a poor user experience and high bounce rates.

Finally, it could just be that upon arrival, shoppers get turned off by your brand, price, or something else that's within your control as a brand owner.
Look into all of these possibilities and make improvements where you can.
Post engagement KPIs
77% of marketers agree: engagement is the holy grail of influencer marketing.
Engagement is also the #1 way brands measure the success of their campaigns—even above conversions.
Happy brands are the ones whose influencers generated tons of discussion and likes, spurring fans to share the post and help a campaign really go viral—beyond the influencer's specific audience. Engagement refers to all the interactions an influencer's post drives for your brand, including the following metrics.
Likes and reactions
At a minimum, the numbers of likes and reactions a post drive indicate how much fans appreciate the content.
Shares
When fans share an influencer's post about your brand, it indicates they not only like it, they find it valuable to such an extent that they want to let other people know about it.
Comments
Pay attention to both the number and the sentiment of the comments (more on this below). Comments reveal what fans think about your brand and how engaging they find the post. Influencers who drive a lot of discussion are good partners to have.
Reach
All of the metrics above should be viewed in relation to the reach and impressions the post generated. If the post had a ton of views, but very little likes, shares, or comments, fans didn't find the content engaging.
As you can imagine, keeping track of all these engagement metrics can get a bit hairy. You can manually tally these all up on your own, or you can use influencer marketing software to make things a whole lot easier. Whenever you run a campaign through one of these platforms, the software keeps track of all these key metrics for you.
Dealspotr, for example, tracks and calculates an Influencer Score for each influencer on their platform, based on the size of their following and the typical engagement rates for their sponsored posts. Once you launch a campaign, it also tracks the conversions each influencer drives for your brand. This way you know, down to the individual influencer, who's really working hard for your brand.
Social media awareness KPIs
A successful influencer marketing campaign should boost your brand's visibility across social media, beyond the sponsored post itself.
Followers
Whenever you launch an influencer campaign, note your follower count the day before the campaign starts so you have a baseline. Then, in the days following your campaign, note how your follower numbers increased.
To determine whether the lift may be attributable to your influencer, compare the increase to a week-over-week increase during a time period when you weren't running an influencer marketing campaign. Hopefully, the percentage increase following your influencer campaign will be higher.
This is a manual effort, but depending on the social media software you use to manage your influencer campaigns, it may be included in your analytics.
Mentions
If an influencer positions your brand in a positive and compelling way, chances are their fans are going to check out your brand on social media, follow you, and start talking about you on their own channels as they reshare the post with their friends.
Keep track of these mentions. The way fans talk about your brand gives you an idea of how receptive different audiences are toward your brand.
Hashtags
If your brand is working on a visibility campaign, hashtags are the way to go. Influencers can post about your brand using the hashtag, driving adoption among their own fan base who will then mimic them and use the hashtag in their own post. Everyone likes to hop on a trend—that's what makes hashtags a brilliant strategy.
MVMT Watches partnered with micro-influencers across Instagram, Twitter, Facebook, and YouTube. Because all the influencers included the #jointhemvmt hashtag in their post, it was easy for the brand to see their campaign's success at a glance. All they had to do was check the hashtag to see how many posts were created.
Sentiment
Of course, you want new followers, new traffic, and lots of social media comments, likes, and shares.
But wouldn't it be nice if all that social media engagement was positive? This is why sentiment is a key metric to track with any influencer marketing campaign.
You can get an idea for how an influencer helped (or hurt) your brand reputation by watching your social media mentions and monitoring the discussion on their post, but it's much easier to do this using social listening software like HootSuite or Mention.
You simply plug your social media profiles into these tools, along with your brand name, misspellings or variations, and your domain name. Then the tool monitors the social media universe to analyze how users are talking about your brand.
You can navigate the software to thank the users who have good things to say, and address the customer service opportunity with the unhappy ones. Ideally, an influencer campaign should not only skyrocket mentions and discussion of your brand, but encourage positive discussion in particular.
Bonus: The influencer's KPIs
Finally, always ask the influencer to share their own metrics with you, too.
Many platforms, including Instagram, Facebook, and YouTube, give influencers insights into the success of their sponsored posts - showing information not just on who clicked, liked, and shared, but a demographic overview of who's doing all that clicking, liking, and sharing. This can be a helpful gut check for brands who use influencers to target specific audiences.
Influencer marketing KPIs: more than just sales
To know whether your influencer marketing campaign is working, you need to monitor the whole universe of metrics, not just sales. Pay attention to the above KPIs to track your influencer marketing efforts and optimize them for the future.
Get influencer marketing insights from Dealspotr in your inbox.
This guide was published on September 12, 2018
, and last modified on September 12, 2018
.