Top 7 Examples of Beauty Brand Influencer Marketing Campaigns and Why They Worked
About the Author

Amelia is a writer, content marketer and SEO strategist who spends her days trying to crack the code of Google's mighty algorithm. When she's not working, you can find her running around town with her dog Rockefeller.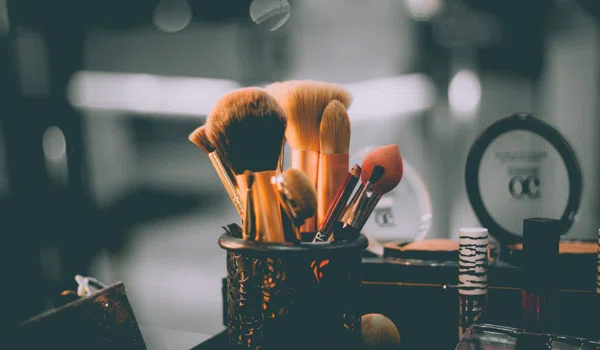 Beauty brands and influencers go together like cat eyeliner and a red lip.
Of all the verticals vying for attention on Instagram, research shows that the beauty and fashion industries enjoy the most engagement - especially when that content is influencer-driven. When brands mention influencers on their accounts, their posts enjoy nearly twice the amount of engagement:
At its best, however, influencer marketing expands beyond your own brand channels. You partner with influencers to create video tutorials, post stunning photos of your products, and hype your brand.
When influencers post about you, they don't just introduce your beauty brand to their followers. They prime them to become customers, too - by pairing their mention with a persuasive recommendation that inspires them to use your products.
Speaking of inspiration, let's take a look at 7 beauty brands doing influencer marketing right.
Beauty brand influencer marketing examples to inspire
Take a cue from these top beauty brands and add some glam to your own influencer campaigns.
Influencer takeover with Sephora
Influencer takeovers are a splashy way to show your fans how fun your brand is. You provide an influencer with access to your account for a day, and they take over, posting live video and photos on your behalf.
Since it's on your account, your brand enjoys all the like, shares, and comments that would normally be isolated to the influencer's sponsored post.
But there's something in it for the influencer, too - no-holds-barred access to your own sizable fan base. As an opportunity to grow their own fan base, they'll want to make the most of it. You can expect the influencer to promote the takeover in the days leading up to it, and you should do the same.
In honor of Contour Month, Sephora partnered with Instagrammer and contouring expert Tamanna Roashan for a takeover.
A takeover is exciting enough, but Sephora upped the ante with a giveaway for a free Sephora goodie bag and contouring session with Tamanna.
What made this campaign so successful? Both Sephora and Tamanna promoted the takeover ahead of, during, and after the event. Sephora capitalized on a trending topic that people were currently interested in (contour month), and highlighted (pun intended) an influencer who was an expert in that specific topic. And they threw in a giveaway to boot. As they commented, liked, and followed to enter, fans drove additional visibility for the campaign.
Co-branded product lines from MAC Cosmetics
A large part of why influencer marketing is successful is because fans want to emulate the influencers they follow. By using the brands their favorite influencers recommend, fans feel closer to achieving that goal.
Many beauty brands are tapping into that need with co-branded influencer product lines, inching fans even closer to their favorite influencers. Not only can fans use the products an influencer recommends, but they can use ones designed by the influencer themselves! By purchasing the product, fans feel like they're a part of the influencer's success.
MAC Cosmetics is just one of many who took influencers from marketing to product development. Last year, MAC Cosmetics partnered with ten beauty influencers worldwide to develop lipsticks inspired by each influencer's unique style.
Based on the campaign's success, MAC has decided to make it an annual affair, following up in 2018 with another influencer-inspired line. Nyma Tang started celebrating on social media back when she was just in the design phase - helping spread the love for MAC way before the product even hits the market.
What made this campaign so successful? MAC personally invested the influencers in the campaign. This wasn't just another sponsored post for them; this was a product bearing their name. So they promoted heavily, likely going above and beyond MAC's expectations. The other genius behind this campaign was the coordinated approach. Since the products launched at once, multiple influencers end up promoting MAC at the same time, dominating the social media conversation.
Glossier's brand ambassadors
While many beauty brands partner - and partner successfully - with celebrities and macro-influencers, the majority are focusing their strategies on beauty micro-influencers. Micro-influencers, who have 100,000 followers or less, represent a full three-quarters of the beauty influencers brands work with.
Glossier tripled their sales in 2017 alone, and founder Emily Weiss mainly credits that swift growth to their social media evangelists. In their first year, the brand paid close attention to the customers engaging with them on social media, reframing their posts and listening for user feedback to inform product development.
Last year, they launched an official referral program. Official influencers enjoy commissions for the products they help sell, access to sneak peeks, and exclusive events just for them. All of the influencers include their rep link in their Instagram profile, and regularly post about Glossier.
According to Weiss, Glossier's made a pointed focus to work with "regular women" from a diversity of backgrounds, just like their customers. The majority of them are micro-influencers like @dadmunk of 10.8K followers, @emmatheyellow of 45.2K followers, and @alyssaneilson of 9.8K followers:
What made this campaign so successful? While some of the posts are clearly salesy, pushing a new product launch, others just show the influencers naturally weaving Glossier into their everyday lives. Since this is a long-term campaign, the influencer's endorsement of the products comes across as more genuine to fans than a one-off sponsored post.
Frank Body: Dedicated hashtags
Like Glossier, Frank Body is another brand who attributes much of their growth to influencer marketing.
According to co-founder Jess Hatzsis, the magic is in the hashtag: "We spend a lot of time developing content that our consumers want to see, but more importantly, we had a very deliberate UGC strategy from day 1 - and we now have over 100,000 consumer generated images living under our hashtags #letsbefrank and #thefrankeffect."
Frank Body partners with macro- and micro-influencers alike, including @ellebaness of 40.1K followers, @lo_behold.style of 13.5K followers, @honestlykate of 119K followers, and @bethanystruble of 42.7K followers.
What made this campaign so successful? Influencer posts range from cheeky to sexy to goofy, but they all share a similar vibe. The photos prominently feature both the product package and the influencer, with the product applied all over their face or body. This encourages everyday fans to do the same when they post using the hashtags, maintaining a consistent brand aesthetic across social media.
Making a difference with CoverGIRL and Fenty Beauty
By aligning your brand with influencers, your brand becomes associated with their values. This elevates your brand's reputation, particularly when you work with influencers to break new ground.
In 2016, Covergirl made headlines not just by choosing a social media influencer to be their next Covergirl, but by choosing a male. The groundbreaking move earned them coverage in standard beauty mags like Allure, but also non-beauty-focused media outlets like Mic.
A more recent example is Fenty Beauty, Rihanna's makeup line that exclusively launched at Sephora. The line catered first and foremost to women of color, a demographic notably excluded or ignored from the beauty industry.
Rihanna herself is a mega-influencer in her own right, but she reached out to smaller influencers matching her target audience to help promote the brand. By spotlighting beauty micro-influencers of color like @themsdebdeb of 11.7K followers and albino @acondria of 4K followers, Fenty Beauty showed that they believed in the mission behind their brand, and influencers did, too.
What made this campaign so successful? Both CoverGirl and FENTY Beauty stood out by partnering with influencers who didn't fit the "traditional" beauty mold. As such, they showed that their brand was welcoming to all. This earned them media goodwill among the media, as well as new customers who finally felt like there was a brand who cared about them.
YouTube look tutorials featuring Collection
Some of the biggest obstacles consumers have when purchasing beauty products is not knowing how to apply it, or not know how it will end up looking on them. With a YouTube tutorial, hosted by a friendly and personable influencer, those concerns go away. Fans can see not only how the product actually looks once applied, but they'll see that while they're hearing the influencer speak positively about your product.
Over 90% of women get information on makeup products from watching these types of YouTube videos. With so many makeup users turning to YouTube, smart beauty brands are meeting their potential customers where they are - on the channels of their favorite beauty vloggers.
Affordable UK-based cosmetics brand Collection partnered with Fleur DeForce to create a YouTube tutorial using several of their products. To boost the video's usability, Fleur optimized the title of the early-December video for keyword traffic around "christmas party makeup."
What made this campaign so successful? The long-form format of a YouTube tutorial hooks viewers in so they have the time to fall in love with your product, instead of missing it when they walk by it in the aisle at the store. Plus, with a look tutorial, brands can feature more of their products at the same time, instead of just having an Instagrammer plug their favorite lipstick.
Fleur did one more thing worth noting, and it's hidden all the way at the bottom of her video description. All influencers have to disclose brand sponsorship in their posts, but they can do so in a way that doesn't feel so cold or money-grubby, like Fleur elegantly does:
L'Oreal brings fans and influencers together
Many brands host booths at beauty conventions to meet with customers, help them try new products, and endear them to the brand. But none of that is possible without any foot traffic.
During Beautycon LA, L'Oreal hosted fan meetups with nine macro-influencers at their booth throughout the convention. Ahead of each meetup, the influencers promoted their presence at L'Oreal's booth on Instagram. According to MediaKix, posts like Chantel's below drove a 15% engagement rate, with over 230K likes and 1,200 comments.
The social media engagement doesn't stop after the influencer posts. When fans come and snap photos with the influencers, they share them on Instagram, too. These photos quickly fill up the event's hashtag feed, building awareness and sending more foot traffic L'Oreal's way.
What made this campaign so successful? Meeting one of your favorite beauty influencers, and getting their tips on how to use L'Oreal products, is a lot more exciting than a tutorial from a brand rep. L'Oreal recognized that, and set themselves up as the hero that brought fans and influencers together.
Influencer marketing for your beauty brand
Over 80% of women believe that social media drives beauty trends IRL. Partner with the right beauty influencers, and you can create the trends, instead of following them.
Get each week's best deals from Dealspotr in your inbox
This guide was published on August 29, 2018
, and last modified on August 29, 2018
.