Guide to Saving Money on Vegan Cooking, Plant-Based Meal Delivery Services, & Vegan Groceries
About the Author

KC is a freelance writer based in Brooklyn, NY who has been featured on VICE, Healthline.com, Huffington Post, Bustle, Into, and more.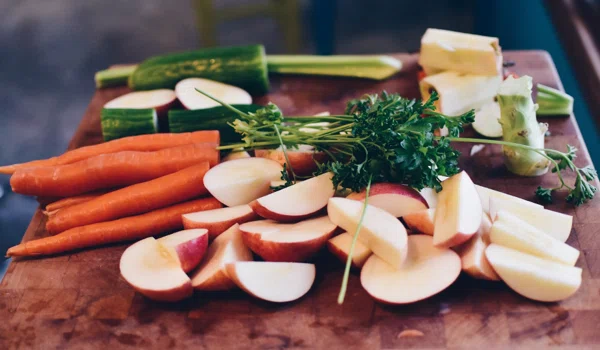 Over the last few years, the vegan diet has become increasingly popular, and the research shows there's a reason why. Going vegan or vegetarian, or at the very least eating less meat, can have some amazing health benefits which, according to Healthline, include weight loss, decreased risk of certain cancers, reduced pain from arthritis, lowered risk of heart disease, and much more.
With all those benefits in store, lots of folks are looking for vegan food discounts, savings on vegan meal delivery, and plant-based meal kits to start their own vegan journey.
But beginning a vegan lifestyle can be daunting. The food can be expensive or difficult to find, and because it's so rare to discover good vegan food at restaurants, most vegans find that they need to cook their own meals. With all these roadblocks in the way, it's easy to see why so many people would rather just hit up their local fast food joint.
Still, there are plenty of options for eating vegan that are simple and won't break the bank. If you've found yourself considering going plant-based or adding more vegan meals to your repertoire but are worried about your budget, then you've come to the right place. We've put together this guide to help you explore some of the many options you have for eating vegan on a budget and getting vegan food delivered to your door. Here's what you'll get in this guide:
7 of our best tips for saving money on a plant-based diet

17 of the top meal delivery and meal prep services for vegans and how to save on each

4 awesome delivery services that will ship vegan groceries straight to your house
Tips for saving money on a vegan diet
Stock your pantry with staples
Making your own meals is a great way to save money, but cooking can seem like a lot of work after a long day, especially if you need to hit up the store first. Keep your pantry stocked with essentials like grains, legumes, canned or frozen veggies, spices, oils, and more to make sure you've always got something around you can whip up.
Follow vegan and plant-based influencers
Many vegan influencers make their living getting brand deals which often come with discount codes for their followers. Keep up with these influencers to get some savings for yourself! Check out Vegan Foodgasms, Christa Clark, Vegan Hostess, Avant Garde Vegan, Sarah's Vegan Kitchen, and others.
Keep it simple!
Of course, you can get super elaborate with your meals, but plant-based eating is actually all about simplicity. Stick to quality, plant-based whole foods while avoiding super processed and expensive vegan alternatives, and you'll be sure to stay within your budget.
Hit up your local health food store
Your local grocery store may have a few vegan items for sale, but they're often overpriced. Health food stores are much more likely to have all of the plant-based products you need, and they typically come with a much lower price tag than your neighborhood supermarket.
Find a store with bulk vegan food options
A lot of health food stores and even major retailers like Whole Foods have bulk bins where you can find staples like rice, dried beans, nuts, seeds, and more at discounted rates. Bring some jars or bags from home and fill up!
Try out a vegan meal plan service
Meal planning services like Forks Meal Planner can give you weekly meal inspiration. Many of these services will provide you with menus and grocery lists to help you save time on planning out and purchasing ingredients for your weekly meals.
Check out one of the many meal kits and delivery services that offer vegan options. We've got a whole list of them coming up, so keep reading to find out how you can save on meal delivery!
Vegan meal kits and delivery services
One of the simplest ways to save on vegan food is to subscribe to a meal kit or meal delivery service. These programs ship you healthy, satisfying ingredients to cook your own meals or send you fully prepped dishes that you just need to heat and eat. Plus, most of them cost less than ordering takeout or a similar amount to cooking your own food at home. Check these out to save yourself plenty of time and money!
Daily Harvest
Daily Harvest is doing something truly unique, offering plant-based soups, bowls, smoothies, and other items that come to you frozen in cups and just need to be blended or heated. All of their produce is flash frozen, so it retains its freshness. You can choose your own items or select one of their curated boxes. Daily Harvest delivers to most of the contiguous states.
How to save: Use the code: TRYTHREE to get three free cups with your first order. Refer your friends to get three free cups for you and three for them on their first order. Find more Daily Harvest promo codes here.
FoodFlo
LA-based meal delivery service FoodFlo offers not only filling gourmet meals, but also exclusively gluten-free dishes that incorporate alkaline water in order to help balance your body's natural acidity and fight back against aging and even cancer. Customers can order a one-week plan or sign up for a subscription to get weekly meals delivered. They currently only deliver to California, Reno and Las Vegas, NV, and Tucson, Flagstaff, and Phoenix, AZ.
How to save: Save on FoodFlo by purchasing a four-week meal plan rather than one-week plans or individual items. Find FoodFlo discount codes here.
Food Nerd
Food Nerd offers pre-made meals in addition to snacks, desserts, juices, supplement drinks, and health-boosting shots. You can order individual items or opt for their packaged meal deals which include breakfast, lunch, dinner, and snacks for the day. They also have a fully raw vegan option for those brave enough to follow a raw diet. Food Nerd delivers throughout the US with local pickup and delivery options for Buffalo, NY residents.
How to save: The more you buy, the more you save with Food Nerd. Check out their 90-day full meal kits to save an extra 15%. You can also check here for Food Nerd coupon codes.
Fresh n' Lean
Fresh n' Lean isn't strictly plant-based, but there are two different vegan meal plans you can select from including their standard plan and their low-carb, low-cal plan. If you're looking for a custom plan, you can choose a la carte menu items or you can go for one of their pre-made plans. Meals ship for free throughout the US and simply need to be microwaved before you dig in.
How to save: Here are some 10% off Fresh n' Lean coupon codes. You can also save by purchasing a subscription meal plan rather than buying meals a la carte.
Green Chef
Although Green Chef isn't strictly vegan, they do offer organic vegan meal plans for all the plant-based folks out there. Each week they deliver prepped ingredients for you to cook their chef-created recipes. You can get a two-person plan with three meals each or a family plan for four people with two meals each. Green Chef delivers throughout the continental US with a flat delivery fee of $6.99.
How to save: Get $40 off your first order when you sign up. Friends can get four free meals and you get a $25 credit when they sign up using your referral code, and you can get the same with one of these Green Chef promo codes.
Hungryroot
Hungryroot ships plant-based meal kits that you can prepare in under ten minutes. All of their boxes are fully customizable and can include breakfast, lunch, dinner, and their specialty plant-based desserts like chickpea cookie dough and black bean brownies. Hungryroot delivers throughout the contiguous 48 states, with free ground shipping or a $10 flat fee for air shipping.
How to save: Refer a friend to get a $30 discount for them and a $30 credit for you when they receive their first meal bundle. You can also get 50% off plus free shipping on your first order with these Hungryroot promo codes.
Mama Sezz
Another vegan meal delivery service, Mama Sezz specializes in hearty, homestyle meals. You can purchase meals individually, or opt for their affordable bundles. Folks new to veganism can try out their two-week course which includes a meal plan for some home cooked meals in addition a delivery of pre-made entrees. Delivery is available throughout the US and rates are determined by location, with folks in the Northeast getting free delivery on orders over $89.
How to save: The easiest way to save is to purchase their meal bundles rather than individual entrees. Get a 10% discount code when you join their mailing list. You can also get 10% for you and a friend when you use their referral program. Also, check here for Mama Sezz promo codes.
Purple Carrot
Plant-based meal kit delivery service Purple Carrot ships throughout the 48 contiguous US states and provides the ingredients for you to easily prepare and cook vegan entrees. Users can select from three different plans including quick and easy meals, high-protein plates, and gourmet entrees. All menus are curated by Purple Carrot's chefs and change each week, but you do have some options to customize your personal meal plan as well.
How to save: Get $25 off your first week of orders when you sign up. Right now you can also try the influencer code: CAITLIN30 to get 30% off of your first order instead.
Sakara
Sakara provides health-focused, plant-based, and ready-to-eat meal plans. Each week, they'll provide a new menu and all orders come with breakfast, lunch, dinner, and detox beverages. You can choose between their signature meal plan or their deep cleansing detox program. Orders can be shipped throughout the US and come in eco-friendly freezer bags or boxes.
How to save: Subscribers save 15% off orders and get free shipping. Get a $50 credit when you refer a friend to Sakara. Or find a 15% off Sakara promo code here.
Splendid Spoon
Splendid Spoon is a plant-based meal delivery service that specializes in breakfast smoothies and lunch bowls that are gluten-free and non-GMO. Their meal plans are fully customizable, and you can choose from their 40+ chef-created meals each week. Splendid Spoon ships throughout the US, and each weekly plan contains 15 meals.
How to save: Get $5 off your first delivery when you sign up for their mailing list. New customers can get $60 off their 1-month Reset plan. Save money by purchasing more meals each week.
Sun Basket
Sun Basket offers organic, farm-to-table meal plans with menu options for vegans. All of their meals are designed to be ready in 30 minutes or less. They ship throughout most of the contiguous states and all of their packaging can be either recycled or composted. Meal plans are available for individuals or for families with kid-friendly options. You can choose your own meals or select one of their meal plans, plus there's no commitment required.
How to save: Get 50% off your first order when you sign up. Refer a friend to get a $40 credit for both of you. Or, use these Sun Basket promo codes for 3 free meals.
Terra's Kitchen
Terra's Kitchen is a meal kit delivery service that adheres to the principles of the Mediterranean diet. Although they're not exclusively vegan, they have a variety of plant-based dishes for you to prepare each week, all of which can typically be whipped up in around 15 to 30 minutes. They deliver to many US locations and all orders under $100 cost just $4.95 for shipping.
How to save: Join their mailing list to get $35 off your first delivery or try one of these Terra's Kitchen promo codes for the same deal. You can refer your friends to get extra credits towards future purchases.
The Vegan Garden
San Francisco-based vegan meal delivery service The Vegan Garden offers a la carte, weekly, and monthly meal plans for the new plant-based eater as well as folks who are trying to shed some pounds. Their products include hearty chef-created meals, smoothies, juice cleanses, soups, and baked goods and other sweet treats. The Vegan Garden delivers throughout the US with discounted shipping costs for folks in California.
How to save: Join their mailing list to get discounts of up to 70% off. Check out their Current Specials page to get discounts and free shipping on select items. They also have Groupon specials regularly, so be sure to search for them there! You can also get 20% off orders over $100 with these Vegan Garden promo codes.
Thrive Foods Direct
Created by professional athlete and Vega Protein founder Brendan Brazier, Thrive Foods Direct is a great option for the vegan athlete. Thrive Foods provides you with plant-based, whole food meals that are designed to be alkaline-forming and offer you a high net gain, meaning they're easy to digest so you conserve energy. They deliver throughout the US and offer a variety of plans based on your lifestyle and how many meals you'd like each day.
How to save: Sign up for their email list to receive special offers.
Urban Remedy
Urban Remedy delivers ready-to-eat meals, cleanses, drinks, and snacks for the busy vegan. Their menus are health-focused and you can choose meal plans based on your health needs including digestion ease, inflammation remedy, energy boost, and more. While many of their products are plant-based, some are not so you'll want to check each menu to make sure it's vegan. They deliver throughout the US, and folks in Northern California can get special local delivery.
How to save: Get $15 off your first order when you sign up. Have your meals shipped for free when you spend over $75. You can also save by signing up for a subscription meal plan rather than ordering as needed. Check out tons of other Urban Remedy promo codes here.
Veestro
If pre-made meals and cold-pressed juices are more your speed, Veestro has you covered. You can purchase individual meals from them for delivery, or save money by purchasing one of their meal packs with a few different options. Their meals come in an insulated box packed with dry ice to keep them frozen and can be delivered throughout the contiguous US.
How to save: Get 10% off your first order when you sign up for their mailing list. New users can also try their Starter Pack for $99 which includes 10 meals, one juice, and free shipping, a savings of over $30. They also have a Rewards plan where you earn points for meals purchased. Also, use one of these Veestro promo codes for 10 - 20% off your next order.
Vegin' Out
Cali-based Vegin' Out provides customers with a weekly menu of delicious plant-based meals. Their singles plan gets you three vegan entrees, four sides, a large soup, and a bag of cookies for each week. Vegin' Out uses up to 75% organic ingredients and can cater to specific food allergies including gluten intolerance and soy and nut allergies. They deliver nationwide and have local delivery or discounted shipping for folks in the LA-area and other locations in California and Arizona.
How to save: Join their mailing list to get $20 off your first purchase. You can also get a $25 credit for each friend you refer. Weekly subscribers save an extra 10% off their orders. Save $20 off your next order with these Vegin' Out promo codes.
Vegan grocery delivery services
If you don't need to have your meals prepped or pre-made for you, there are a number of different online grocery delivery options that can also help you stock up on healthy, delicious, vegan goods. Check these out:
Brandless
Brandless offers non-brand items, all for under $3 each. All of their items are non-GMO and you can search specifically for their vegan products under each different category. Brandless offers a $36 annual membership plan called B.MORE which not only gets you free shipping on orders, but they'll also donate 10 meals to a person in need when you sign up and two more meals each time you shop.
How to save: Get a $5 coupon when you sign up for their service. You can also earn $6 for you and a friend when you refer them with your unique code. Find the Brandless promo codes you need here.
Thrive Market
Thrive Market offers subscribers discounted prices of up to 25-50% off of retail prices. They stock some of the best organic items, and you can even search for vegan groceries specifically to weed out the stuff you don't want. Plus, for each Thrive membership purchased, they'll give one to a person who can't afford the fees.
How to save: Get free shipping on all orders over $49. Through their savings guarantee, you can get money back from Thrive if you don't make back your membership fee by using their service. You can also check out their Deals page where they've got discounts, free gifts with purchase, and Thrive Cash where you earn money back on products you buy. Plus, get $25 in Thrive Cash for each friend you refer. Get 25% off your order with these Thrive Market promo codes.
Vegan Essentials
Voted the Best Online Vegan Store by VegNews from 2005-2017, Vegan Essentials is a great online shop for all of those hard-to-find, delicious vegan goods. They've got everything from select vegan cheeses and meats to plant-based beauty and fashion items. They ship throughout the US as well as to locations across the globe.
How to save: Use these Vegan Essentials promo codes to get a one-time 10% discount on your order. You can also subscribe to their mailing list for promotions and sales, and check out their Sales and Closeout Items page for discounted goods.
22 Days Nutrition
Famous for having converted Beyoncé and Jay-Z to the vegan lifestyle, 22 Days Nutrition provides users with supportive food coaching and meal plans that fit your lifestyle and your budget. They operate under the idea that if it takes 21 days to break a habit, you can get yourself to full veganism by the 22nd day.
In addition to their customizable meal plans, they also have protein bars and powders available that are a great meal replacement option. The best part is that if you live in an area with Amazon Fresh, Instacart, or Peapod, you can get ingredients for your custom meal plan delivered straight to your door, saving you loads of time and energy.
How to save: Get 15% off your first order when you join their mailing list. Receive a 40% discount when you sign up for a year of meal plans. Get 20% off with these 22 Days Nutrition promo codes.
Going plant-based doesn't have to be hard or expensive. With the tips we've offered here and your pick tons of simple, savory, and satisfying meals plans at your fingertips, getting started on your plant-based journey can be easy as (vegan) pie. There's never been a better time to be vegan, so why not get started now?
We've got plenty more budget-friendly ideas where this one came from! Be sure to keep up with the Dealspotr blog for more useful information about how to save money on just about everything. You can also check out the Dealspotr homepage where we've got thousands of discounts and savings codes from many of your favorite retailers.
Get each week's best deals from Dealspotr in your inbox
This guide was published on October 26, 2018
, and last modified on October 26, 2018
.
Stores related to this article:
Fresh n' Lean
,
FoodFlo
,
Veestro
,
Sun Basket
,
Sakara
,
Hungryroot
,
Mama Sezz
,
Vegin' Out
,
22 Days Nutrition
,
Brandless
,
Vegan Essentials
,
Urban Remedy
,
Green Chef
,
Thrive Market
,
The Vegan Garden
,
Daily Harvest