Great Examples of Micro-Influencer Campaigns in the Food & Beverage Industry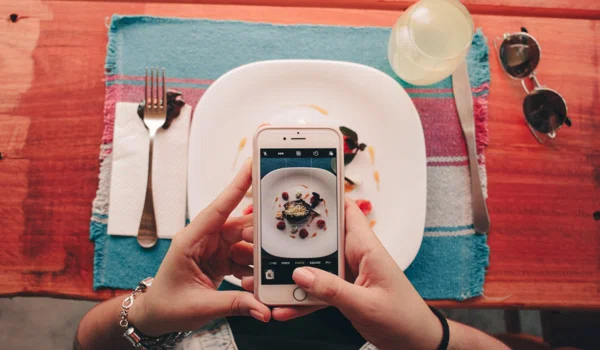 It's late 2018, and everyone is now aware of just how impactful influencer marketing can be for brands. Consumers are more likely to trust the recommendations of their peers than brands, and influencers provide authority, engagement, and brand awareness. In fact, two thirds of marketing departments are looking to increase their influencer marketing budget over the next year.

The food and beverage worlds and influencer marketing are a particularly great match because of how visual food is. Social media platforms, blog posts, and YouTube are all perfect mediums for evocative imagery of food and drinks. Food imagery is so powerful, that a 2012 study found that just looking at pictures of food may be enough to cause an uptick in ghrelin, a hormone that causes hunger. The term "foodporn" wasn't invented by chance.
Okay great, so whoever works with Ina Garten or Gordon Ramsay has got it made. But what if you can't pay for the big names? While the most prominent examples of influencer marketing are from mega-influencers, this doesn't mean that small brands can't also reap the benefits. In fact, a smaller marketing budget may actually yield some higher returns. Enter: the micro-influencer.
Recap: who are micro-influencers and why are they so effective?
Micro-influencers typically have between 1,000 and 100,000 followers and hold expertise in their niche area. Compared to macro-influencers, they provide higher engagement, topic authority, and perceived authenticity. They are typically less competitive (read: cheaper), but more trusted by their like-minded audience, as they tend have topic authority. A Makerly study found that influencers with 1 million followers have an average engagement rate of 1.8% while influencers with 1,000 followers have an engagement rate around 8%.
When Tangoo, a restaurant marketing agency, reflected on the 50 food micro-influencer campaigns they ran in 2017, they found that the average engagement rate was 7.38% across 794,710 total followers, a whopping five times the industry average for engagement. Starting a micro-influencer campaign is easy, and food and beverage brands should use its effects to their advantage.
What do successful food micro-influencer campaigns look like?
The food and drink world is a richly varied world, so successful micro-influencer campaigns in it take many different shapes and forms. Let's walk through some key examples and see why they worked so well and what mistakes they avoided.
Siggi's Dairy
A recent newcomer to the American food scene is skyr, a creamy Icelandic cheese often compared with yogurt. Siggi's Dairy was one of the first to popularize it within the U.S. They collaborated with micro-influencer Holly Falke, a Texan based nutritionist, on an influencer campaign to give one of her 1.1k followers a taste of their product.
Falke ran a giveaway for four free samples of the breakfast treat for those who liked the photo and tagged a friend who loves yogurt as much as them.
Why it worked
Followers love it when they have a chance to win something tangible, especially something exotic or unfamiliar, and to most Americans, skyr fits the bill. A giveaway was a great way to show off all the different types of yogurt. Also, Falke asking her followers to like and tag one another is a great way to boost engagement. Over 11% liked it!
Almond Breeze
Almond Breeze partnered with micro-influencer Jeanine through her food blog Love and Lemons to use their milk in one of her tasty creations. Love and Lemons, a master source of seasonal, healthy cooking, was up to the challenge, and created a rainbow noodle bowl with almond-ginger dressing for her 257k followers.
This campaign used a traditional ingredient, Almond Breeze's Almondmilk Cashewmilk, in a very untraditional way, in salad dressing. The post performed extremely well, garnering comment after comment on the creamy, vegan dressing. Who else would have thought to use almond milk in a salad? The awesome post received 1,000 more likes than Love and Lemon's average performance.
Why it worked
The campaign worked so well because it showed a new way to use an everyday, accessible product. Most people think of almond milk as something to have with cereal, not an ingredient in a savory sauce. Introducing products in a new light is eye catching, and it really makes Almond Breeze stand out to readers.
Additionally, Almond Breeze did a great job by giving Love and Lemons creative freedom. While it may seem scary, letting influencers have room to explore can result in innovative and unique ideas, like this almond-ginger dressing.
Silver Hills Bakery
Family-owned Canadian establishment Silver Hills Bakery came up with a unique idea to promote their sprouted, organic breads and buns. Instead of hiring micro-influencers to write posts or take photos of their crisp crusted loaves, they simply asked their 9,123 Instagram followers to use the hashtag #silverhillsbakery to show off their meals that used Silver Hills Bakery products.
Hundreds of their bread loving fans answered the call, sharing photos of all the different ways they used Silver Hills breads in their lives.

Marisa Donovan showed off a dreamy fig, banana, and mascarpone toast she whipped up.
Sara Miljak reminded us that vegans aren't missing out an anything with her "cheezy" tofu scramble breakfast bagel.
Why it worked
Silver Hills Bakery's idea was so unique and so powerful because of its true authenticity. They didn't pay or sponsor anyone to feature their baked goods, but simply asked to be tagged in their followers' creations.

Regular, everyday people shared their love for Silver Hills with their followers because they really do like their everything bagels or pita. The friends and acquaintances who follow them will really trust these kinds of organic recommendations.
Santa Maria
Santa Maria is a leading seasoning company in Europe. They spiced (sorry, I couldn't resist!) up their repertoire by running a series of campaigns promoting their Mexican and Thai ingredients. This is difficult considering how unfamiliar these ingredients can seem to a European audience. Cooking Mexican or Thai food can seem hard and unapproachable to those unfamiliar with it. As someone who burned her first two attempts at pad thai, I understand.
They designed a slogan of "no more boring meals" and worked with over 20 micro-influencers, including Gretnesse, Sevenpills, and Lemezyteto, show that cooking exciting Mexican or Asian meals was easy and accessible. The 36 posts created had an incredibly high engagement rate of 12.89%.
Why it worked
Santa Maria used almost exclusively millennial food micro-influencers, whihc is really important given that young audiences have been found to be the most experimental consumers. Unsurprisingly, when millennials aren't busy killing _______, we love to try new things. A 2017 GlobalData study found that millennials are most likely to agree with the statement "I enjoy experimenting with products from different cultures/countries."

Furthermore, centering their campaigns around how simple it is to cook unfamiliar Thai or Mexican was a smart strategy, as young people often cite lack of time as a common reason not for cooking. Santa Maria showed that khao soi or quesadillas could be easy as 1, 2, 3.
Hello Kitty Wines
Hello Kitty Wines (yes, that Hello Kitty) makes six different types of wine, all perfect for anyone nostalgic for their signature white and pink cat. They chose to promote their wines with a promotional discount, using the promo code platform Dealspotr.
Lifestyle micro-influencer Helen Vlacho wrote a blog post talking about her love for the Hello Kitty brand as a child and then reviewed each of their wines for her 10k followers.
At the end, she offered her readers a personalized discount code for them to try out a few glasses for themselves.
Why it worked
Hello Kitty Wines made their campaign stand out because of the personalized promo code and Vlacho's anecdotes. Her blog post read as authentic because she tied her childhood nostalgia and real love for the brand. Her descriptive reviews of each wine and pairing suggestions went above and beyond a promotional "buy this!" post.
The personalized promo code was an excellent touch because it allowed Vlacho to give her dedicated followers something unique, a factor that resonates with her audience. Not only do influencers love having something special to share with their fans, but compelling promo codes outperform their generic counterparts.
Vermont Creamery
Vermont Creamery, an artisanal cheese and butter maker from, you guessed it, Vermont, went with an unconventional approach to influencer marketing. They invited six food micro-influencers to Vermont for a three day cheese camp. Let me repeat: Cheese. Camp. Is it too late to get an invite??

Aysegul of Fool Proof Living recalled the stunning scenery and Vermont Creamery's dedication to ethical practices to her 17.6k followers.
Alana Kysar's 34k followers loved seeing the cheese boards she sampled on her blog Fix Feast Flair.
Why it worked
Vermont Creamery's influencer campaign was so memorable because the concept was so unique. Most similar brands would have the influencer post a picture of their signature Gouda, but who would think of hosting a cheese camp? Alana and Aysegul's fans will recall the time their favorite food blogger went to dairy heaven more easily than a single Instagram photo.
Jugos
Jugos, a Boston based juice bar, worked with healthy chef and holistic living specialist Kerri Axelrod to showcase their nutritious juices. Axelrod, a local micro-influencer, squeezed the juices into her Instagram feed, pairing the aesthetic shots with personal anecdotes. As you can see from the hashtag #Jugosambassador, Axelrod is a brand ambassador for the company.


Other ambassadors like Christie Ashley and Twist_of_lemons showed off their creative takes on Jugos' juices to their 14.5 and 121k followers, respectively.
Why it worked
This campaign was well executed for two reasons. First, the emotional, intimate stories Axelrod tells are as far away from in your face buy-this-now promotion as it gets. She took Jugos' juices and wove them into a personal narrative that would really resonate with her readers. By doing this, Jugo's humanized their brand and helped build an authentic connection.
Furthermore, the brand ambassador program is a powerful form of influencer marketing. Brand ambassadors are loyal advocates of a company, meaning a longer term relationship and a belief in what they do.
Tabasco
Tabasco collaborated with grill enthusiast and owner of the hilariously named HeyGrillHey blog, Susie Bulloch to promote their classic hot sauce. Her 42.8k followers love to see what new carnivorous creations she comes up with.
For Tabasco, Bulloch whipped up some drool-worthy bacon wrapped shrimp that even Ron Swanson would be proud of.
Why it worked
Tabasco and Susie's excellent campaign played out so well because of Bulloch is a n expert in her niche. Tabasco chose to work with a micro-influencer in a small, very specific category-- not just food but barbecue. A quick peek at Bulloch's Instagram feed proves it. She is known for her grill prowess and her 'cue loving fans identify with that.
Having Bulloch create a recipe using their ingredient worked so beautifully because it not only gave something usable to her fans, but it meant the promotion was done in her authentic, unique style, free of promotional gimmicks.
Purple Carrot
Don't confuse Purple Carrot with some of the other ho-hum meal prep companies out there, their uniquely easy and vegan plans set them apart. They worked with micro-influencer Sarah, aka The Cutting Veg, to show off the delicious, plant based meals you can whip up with their help.
Sarah showed her 108k followers how easy it was to cook "crab" dumplings so good, her mom thought they had seafood in them!
Why it worked
This campaign is particularly effective because Sarah's known mission is to show people that being a vegan is simple and accessible. Her fans follow her to learn painless ways to be more plant based, and a vegan meal delivery kit is the perfect match for this. As a food brand, the best micro-influencers to work with are the the ones whose style and goals align with yours.
Tips for finding food and beverage micro-influencers
Take advantage of Instagram: A great way to find new potential influencers is using Instagram hashtags. Search the specific topic you're looking for, say #bbqnation, and look at who the standout images belong to.

It's important to use specific hashtags because something like #foodporn with millions of posts may have spammy or low quality images.
Make sure the cost is right: How much should you be paying your influencer? Take your time to research the typical costs before you say yes. For example, bloggers with 50,000 to 100,000 monthly impressions typically earn $250 to $500 per post.
Perform an audit: Make sure that you check their engagement levels. A high follower account doesn't mean they'll be a good influencer! It's important to carefully audit the influencers you work with.
Tips for writing food campaign guidelines
If you decide to work with food and beverage micro-influencers, we have some tips for how you can structure the campaign guidelines you give them.
Focus on strong visuals: As we've said before, you eat with your eyes first. If you want the influencer to create an image/video for you, give them some inspiration from Instagram. A great way to do this is by searching relevant hashtags such as #bakefeed and share your favorites as inspiration.

Give the major do's and don'ts: It's important to give influencers creative freedom, but make sure you also provide some clear instruction on the must haves. Dealspotr lets brands specify their exact do's and don'ts in a. designated section.

Consider giving transparent behind-the-scene peeks: Transparency is a great way to connect and gain confidence from customers. For example, Kasama Chocolate shares their entire process, from harvesting to sale, with their followers.

Food + micro-influencers, a match made in heaven
As a food or beverage brand, you know the market is crowded. However, it's easy to find some successful examples of similar brands working with micro-influencers in unique ways to stand out from the crowd.
Get influencer marketing insights from Dealspotr in your inbox.
This guide was published on September 18, 2018
, and last modified on September 18, 2018
.