Starting a Micro-Influencer Marketing Campaign? Avoid These 10 Common Mistakes.
About the Author

Founder and CEO of Dealspotr / ZipfWorks. Creating tomorrow's digital ecosystem for deals. Working towards connecting brands, influencers, and shoppers in exciting new ways.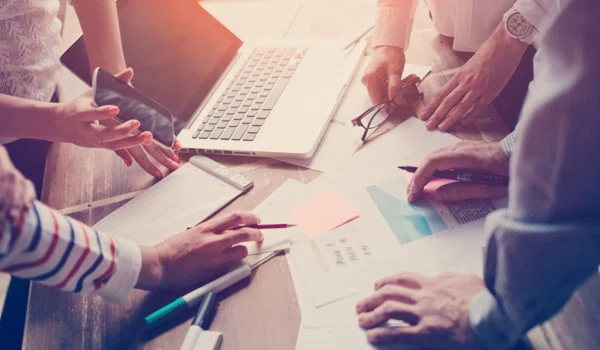 You probably already know how important influencers are to online marketing success. Consumers are increasingly ignoring or blocking ads. Instead, they turn to recommendations of peers on social media and elsewhere to make purchase decisions.
But succeeding at influencer marketing takes a little more than just getting people to share your products. You need to find highly engaging micro-influencers, build a relationship, and create engaging content to succeed. Here's a simple micro-influencer marketing tutorial to help.
There's a lot of room for error when you're first starting out, and even seasoned marketers encounter pitfalls with their influencer strategy. If you want your campaigns to succeed on the first try, avoid these 10 common mistakes brands make with micro-influencer marketing.
1. Not defining your influencer marketing goals
One of the biggest mistakes businesses make is thinking that influencer marketing is nothing more than paid brand endorsements.
In reality, influencers can help achieve all sorts of goals, such as generating leads, engaging your audience, growing your social following, driving sales, encouraging retention, etc.
Just look at clothing retailer Revolve and their #Revolvearoundtheworld campaign. They work with influencers who wear the brand's clothes on trips to exotic locations around the globe:
The campaign not only drives sales and builds brand awareness in general, it also meets Revolve's very specific goal of becoming a globally renowned brand. Without defining your influencer marketing goals, how could you come up with such an effective campaign like that?
The more specific you can get with your influencer marketing strategy, the easier it is to develop effective content to drive those goals. So define your goals before you pick influencers or start creating content.
2. Focusing on audience size alone
The first thing most business owners look at in a potential influencer is followers/site traffic. In reality, it's probably the least important factor to consider when getting started with influencer marketing.
The real winner is engagement. Which influencer do you think is better at helping you drive your marketing goals?
Someone with 20,000 followers and a 1% engagement rate, or

Someone with 2,000 followers and 20% engagement rate?
More followers means more opportunity for engagement, but that doesn't necessarily mean their audience is really listening. Micro-influencers (influencers with 10,000 followers or less) are more likely to have close relationships with their followers. They're better suited to drive them to action.
So don't let yourself be blinded by flashy numbers like audience size. Dig deeper into your influencer's audience demographics and engagement rate instead.
3. Not checking for fake followers and engagement
Ever since it became possible to earn money on social media, people have been looking for ways to make themselves appear like valuable influencers even when they're not. Bulk following/unfollowing, hashtag spam, and buying likes, engagement, shares, and video views are all ways influencers can trick businesses into thinking they're more popular than they really are.
Take the time to check for fake followers/engagement with any new influencer you work with. Usually, a very low engagement rate is a good sign that their followers aren't real. You should also browse through their posts and look for hashtag spam. Sometimes they're buried in the comments:
You can also use a tool like SocialBlade to check out their daily follows/unfollowers. If they follow/unfollow thousands of people a day, it's a bad sign.
4. Making a micro-investment
Don't make the mistake of putting all your marketing investment in the hands of one micro-influencer. Micro-influencers are valuable marketing partners because they tend to have a small, but highly engaged audience. That's how partnering with an influencer with only 2,000 followers can do more to help you reach your marketing goals than partnering with a huge industry player.
It can take a while to find that perfect micro-influencer, but once you do, don't let that be the end of your efforts. The best strategy is to grow a team of powerful micro-influencers, all with a small, engaged audience.
5. Ignoring FTC rules
Influencer marketing is such a powerful strategy because endorsements come off as genuine recommendations from peer to peers, much unlike regular advertising.
But what many brands and influencers don't realize is that they actually have a legal obligation to disclose these relationships to their audience.
The Federal Trade Commission (FTC) started cracking down on this in 2016. Notably, Warner Bros. settled with the FTC after they charged the company with deceiving customers. They paid YouTube influencers to promote the video game "Middle-Earth: Shadow of Mordor" without disclosing that they were paid to do it.
It's not 100% clear what the FTC qualifies as disclosing a "material relationship" between endorser and advertiser. But they do recommend influencers use clear hashtags like #ad or #Impartneringwithbrand with their content. Steer away from more ambiguous options like #partner, #thankyou, or #sp.
Ultimately, it's up to you (the brand) to make sure your influencers comply with the law. Don't just tell them to disclose your relationship, actually follow up and make sure they did with each piece of content to avoid this influencer marketing pitfall.
6. Not taking the time to build a relationship with your influencer
Thanks to rise in influencer marketplaces, it's easier than ever to find influencers, create content and promote it in mere days or hours. But if you want to come away with positive results and a happy influencer willing to work with you again, an influencer partnership need to be about building a quality relationship with them.
Talk to your influencer about what kind of content already resonates with their audience and how you might be able to incorporate your brand message into that theme.
You should also make sure your influencer has a clear understanding of what your expectations are as a business. The better they understand their role in the promotion process, the more likely you can achieve positive results for everyone.
Finding an influencer with an engaged audience interested in what your business has to offer takes time and effort. Build a relationship with your influencer and you'll end up with a long-term collaboration that you can benefit from for years to come.
7. Creating content for your influencers
As a business owner, you're probably used to coming up with your own marketing message and content to go with it. With micro-influencer marketing, it should be different. If you want your influencer's endorsement to come off as genuine, collaborate with them to create the content they share.
Sephora cosmetics benefits from their influencers' authenticity all the time with their "Beauty Talk" campaign. On their site, influencers leave honest product reviews and chat with their audience to help them make the right purchase decisions:
If their influencers blindly promoted Sephora products, they wouldn't be able to build the engaged online community they have today.
Handing your influencers a generic endorsement won't communicate well with their audience. Hopefully, you picked an influencer that already knows how to create engaging content their followers enjoy. Give them the creative freedom to do just that with your branded content as well.
8. Treating campaigns as a one-time effort
A big rookie mistake many brands make is leaving all the content promotion efforts up to their influencers. It's true, you are paying to reach their audience, but you can get a lot more value out of your influencer content if you look for ways to promote it as well.
Influencer content serves as a kind of social proof for your business/products that you can promote on your social profiles or website long-term.
Let's look at another example from influencer marketing pros Revolve fashion. On their website, they embed posts from their Instagram feed:
Then site visitors can shop based on the Revolve outfits influencers were wearing in their posts:
Look for ways to repurpose your influencer content to drive purchase decisions and spread your brand message on your website, social media profiles, and elsewhere.
9. Forgetting to measure results
Just like with any other strategy, you can improve your influencer marketing results over time if you just measure results and adjust your strategy. Measuring your results allows you to analyze how good your content and influencers are at meeting your marketing goals.
Say your goal is to drive sales of your products. The simplest thing you could do is monitor sales increases after launching your influencer marketing campaign. Better yet, create unique coupon codes or trackable links for each of your influencers to share. Then you can monitor which influencers drive the most clicks/sales.
10. Not compensating influencers correctly
According to research from Altimeter and Tapinfluence, not offering adequate compensation is the biggest mistake brands make with influencers.
Influencer marketing is still a new area, so there's no real standard for how you should compensate. Per post? Per engagement? What about if you offer free products in return for a review? Should that include additional compensation? There are many different influencer pricing models to try:
The best thing you can do to avoid this issue is have a frank conversation with your influencers about their payment expectations and yours. Then you'll all be on the same page.
You can also easily avoid compensation issues by using a micro-influencer marketplace like Dealspotr. The platform has a built-in algorithm that calculates fees for you based on influencer engagement stats and prior campaign performance.
Wrapping up
Consumers are blocking or ignoring ads, and turning to their peers across the web for product recommendations. Micro-influencers with highly engaged audiences are probably the most powerful marketing partners a business can have today.
Any size business can start taking advantage of micro-influencer marketing to drive their business goals, as long as they create the right influencer relationships, follow FTC rules, make the most of their campaigns, and measure results. Getting starting with influencer marketing can seem intimidating, but avoid the common mistakes mentioned in this post and you'll be well on your way to success.
Get influencer marketing insights from Dealspotr in your inbox.
This guide was published on November 9, 2017
, and last modified on November 9, 2017
.