7 Ways Your Brand Can Repurpose Your Influencer Content for More Engagement
About the Author

Amelia is a writer, content marketer and SEO strategist who spends her days trying to crack the code of Google's mighty algorithm. When she's not working, you can find her running around town with her dog Rockefeller.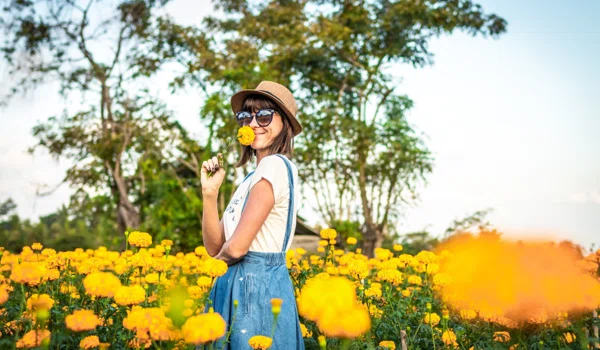 When an influencer posts something about your brand on Instagram, they've got about 48 hours to make their mark. After that—if they were smart about which hashtags they used—it will get the occasional post or comment, but the typical lifespan for an Instagram post is only 2 days.
If an influencer posts about you on Facebook, the lifespan is even shorter, at just 5 hours.
For tweets, the countdown plummets down to a mere 18 minutes.
Of course, the value of influencer marketing isn't in the lifespan of their posts. Rather, it's the size of their platform, and the weight their opinion carries with their readers. Even though their post only passes in front of their fans' eyes once, when it does, it's enough to get those fans to take action—whether it's liking, commenting, visiting your brand's channels, visiting your website, and best of all, signing up as a lead or making a purchase.
Still, it almost feels like a waste for them to go to all that effort to create such engaging content—and have it last only a few hours.
That's why smart brands work with their influencers to cross-post across their platforms, from Facebook and Instagram to YouTube and Snapchat, in order to capture the most eyeballs from their audiences.
It's also why even smarter brands repurpose that influencer content for use on their own branded channels.
Repurposed influencer content: your brand's marketing superpower
Influencers uniquely "get" what engages audiences—in some instances, they're more in tune with your target audience than your own marketers are. They're also natural-born stylists, photographers, and videographers. They know how to create great-looking content.
Your own marketing team, meanwhile, is probably struggling to keep up with the demand to constantly create amazing, incredible, unbeatable content that looks perfect, converts everyone, and somehow checks the box on all your other marketing KPIs. Oh, and there's that never-ending to-do list and overflowing email inbox to take care of, too.
So, why not use the content your influencers created to your own advantage? You can repurpose it on a variety of your channels, and keep milking the benefits until the cows go home.
Here are seven excellent places to repurpose your best influencer content.
Your social media channels
We'll start with the most obvious. When an influencer posts about you on social media, repost that content on your own channels. It's easy enough to reshare a post on Facebook or retweet something on Twitter. For Instagram, you can download Repost for Instagram. This tool allows you to reshare a post while giving credit to the original poster.
Re-sharing Influencer content on social media breathes a bit of fresh air into your account, letting your audience hear from a new voice every once in a while—and a very persuasive one at that. Since social media is one of the channels where you have to churn out new content with the highest frequency, reposting influencer content can seriously lighten the load of your social media team, while providing powerful social proof to boot!
You might reshare the post on its own, or highlight a bunch of influencer posts at once in an Instagram Story.
E-retailer Bebe Stores regularly reposts content from their influencers, but they always find a way to put their own twist on it. When this fashion influencer posted her holiday party dress in December, Bebe let it sit on the shelf for a few weeks before taking it back out and highlighting the dress as a perfect January cocktail dress.
Bebe's reposted influencer content drives 2 to 5 times the engagement of their traditional posts. Plus, it drives a lot more interest in the comments as fans want to know where they can buy the outfit the influencer is wearing (as opposed to a model they don't recognize or have any connection with):
Your paid social ads
Paid social advertising can be highly effective, but like any form of advertising, consumers are increasingly savvy at tuning it out. That's why you need to trick them into thinking it's from an influencer, instead of your brand!
By featuring influencers in your paid social ads, you're not only likely to prevent viewers' eyes from glazing over, but you can target them even better. Use the influencers as one of your targeting criteria, and serve different ads to different people based on the influencers they like. Imagine how powerful it would be to see an ad from one of your favorite influencers.
Blue Apron partnered up with model and chef Chrissy Teigen to turn several of her recipes into Blue Apron meals. Then they promoted the campaign in both their paid and organic posts for Facebook:
Your company blog
Like your social media pages, your blog is another channel in constant demand of updating. Your readers are looking for inspiration on how to use your products, and how to get ahead in your particular niche. Embed influencer content that helps them do either of those things.
For example, you might develop a tutorial post featuring tips on how to use one, or multiple, of your products, with the best tips being shared by your influencers.
Or, you might take DevaCurl's approach. The haircare brand knows their fans are on the lookout for new #curlyhair influencers who can give them tips on how to style and love their natural hair. So they put together a blog post featuring their favorite "curly hair bloggers," many of whom just happened to be promoting DevaCurl products in the very Instagram posts they embedded:
Your website landing pages
You're already working with influential bloggers to write up compelling reviews of your products. Why not take snippets of those blog reviews to feature as testimonials on your own site? You can include these on your testimonial pages, or embed them on your product pages as social proof.
Don't forget about video reviews, either. On their homepage, LootCrate features YouTube product reviews from several of their prominent gaming influencers:
When you click on any of these videos, it brings up their YouTube video promoting LootCrate, without taking you off the site:
On your homepage, customers are trying to understand what your brand is all about. Rather than forcing them to wade through your marketing lingo, let your influencers tell them everything they need to know, like LootCrate did.
Your traditional offline advertising
In recent years, more and more social media content has popped up in traditional advertising channels. We've even seen Super Bowl commercials featuring people celebrating their latest HQ Trivia win on social media.
People connect to these commercials because they feature real people like themselves. If you reshare content created by your influencers, it still feels real, with the additional benefit of being connected to a big name.
Whatever format your television or billboard ads take, consider whether they might be more powerful if you let your influencer share their own words about your brand. It could be a simple testimonial featured on a billboard, alongside their social media photo, or a TV ad compilation of influencer takeovers on your brand account.
Your in-store promotions
Now that you've thought big, go back to thinking small. Your influencers' social posts can drive people into your storefront, but are you using them to help them buy once they get there?
When your influencers wear or use your products, consider printing out those photos on nice glossy paper and positioning them near the relevant products in your store. You can encourage shoppers to "get the look" of their favorite influencer.
You've seen "as seen on"-type advertising before. Typically, this refers to a product being featured in a popular magazine, TV show, or Pinterest (in the examples below). By reusing influencer content, you take that concept one step further. Not only is this item vaguely popular on social media, it's popular among these specific influencers, and you can see the exact post they mentioned it in.
Take these same marketing materials outside your store, too. Include influencers in the outdoor signage and posters you use to bring foot traffic inside your store.
Your email marketing campaigns
Finally, repurposed influencer content can be a great way to break up your emails, too. Slide in an influencer Instagram post instead of a color banner in between your blog headlines, or you can replace your stock photography with images from their Instagram posts.
Or, consider making your influencer the main event. You might change up your subject line to be "See what [influencer name] had to say about our…"
Adding your subscriber's name into the subject line tends to increase open rate. Imagine what putting an influencer's name in there will do.
Repurpose your influencer content
Influencers can do a lot for you on their own social media and web channels, but don't let their realm of influence stop there. Go further by repurposing their content on your own channels for more likes, more engagement, and more sales!
Get each week's best deals from Dealspotr in your inbox
This guide was published on February 13, 2019
, and last modified on February 13, 2019
.