How to Promote Your Next Event Using Influencers: Examples From L'Oreal, GoPro
About the Author

Amelia is a writer, content marketer and SEO strategist who spends her days trying to crack the code of Google's mighty algorithm. When she's not working, you can find her running around town with her dog Rockefeller.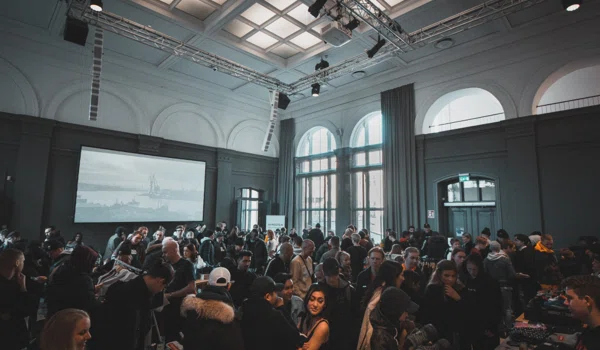 Everyone knows the benefits of using influencers for their marketing campaigns.
What's not talked about as much is how great influencers can be for your brand's events. Influencers can leverage their social media know-how to drive higher attendance, boost hashtag visibility, and earn your brand some serious goodwill.
Influencers can uniquely benefit your event marketing in a variety of ways—and brands are catching on. A new study has documented a shifting tide in demand toward using influencers vs. regular celebrities at events.Over a quarter of the survey respondents actually believe that influencers will eventually replace traditional celebrities.
So, how can you go about harnessing the power of influencers for your events? How do you find them? What factors do you need to consider and what methods can you use to better promote your brand's events?
We investigate these questions below.
Understanding how influencers can benefit your event
Influencers are easy to work with
Typically, celebrities are shielded by an entire PR team who will dictate what the celebrity will and won't do for you. Partner with influencers instead, and you'll get to interact directly with the influencer themselves.
Plus, influencers want to partner with your brand in a meaningful way. They're open to collaborating with you about the best way to promote your brand.
This is especially the case for micro-influencers. Because they're still building their realm of influence, they're eager to work with brands and even more willing to accommodate their requests.
Influencers are creative
Influencers earned their fame through their subject matter expertise, and their ability to translate that in a compelling way on social media. As such, they're natural born marketers. These creative folks will brainstorm with you to get more out of your event, and their ideas will be good.
Not only will celebrities be unwilling to engage in this kind of collaboration (and if they are, it will significantly raise their already high price tag), but they're not very skilled at it, either. Their fame comes from their day job, not social media marketing.
Influencers are more engaging
Influencers are real people. They're not standoffish like celebrities. This sense of authenticity translates to higher engagement for brands.
When influencers recommend a brand, their product, or their event, fans are likely to actually pay attention and follow through on converting. Even when they know it's sponsored, the sense that the influencer feels like a friend makes their recommendation feel more trusted, like one from an actual friend.
Finding the right influencer(s) for your event
So now that you know why to pick a social media influencer for the job, how do you find them? Luckily, there are now dozens of influencer marketing platforms on the market that you can use. The first question you want to ask is: do you want the platform to simply identify influencers or to also facilitate them working on your campaigns?
When it comes to influencer marketing platforms, there are influencer discovery tools and then influencer marketplaces/agencies. Discovery tools like Klear, Keyhole, NeoReach, etc can all be used to find influencers, but often require you to handle the rest of the process such as contacting influencers, fee negotiation, campaign requirements, and campaign analytics.
Influencer marketplaces or agencies like Scrunch, Mavrck, Dealspotr Marketplace, Whalar, Hypetap, etc will not only help you pinpoint the right influencers, but also manage the rest of the campaign process from start to finish. If you have experience with influencer marketing and are well equipped to handle the other elements, discovery tools will likely suffice. But if you're relatively inexperienced, a full service platform or agency might be better for you.
When browsing for the right influencer for your event, it's important to do an influencer audit, meaning checking that their engagement level and followers are authentic.

Setting and achieving your goals for influencer-marketed brand events
Now that you know about the benefits of using influencers to promote your events, let's take a look at your goal for the event and whose examples you can follow. Some sample goals could include:
Increasing attendance
Building awareness
Strengthening loyalty amongst existing fans
Want to boost booth traffic? Follow L'Oreal's example
Beautycon LA is a mega conference dedicated to the beauty industry. This is a huge expo that attracts 30,000 attendees and over 150 exhibiting brands. For a brand to stand out, and ensure attendees come to their booth, they need to do something special.
L'Oreal figured influencers would fit the bill. They sponsored nine beauty influencers who hosted fan meet-ups, photo ops, and makeup tutorials at the L'Oreal booth throughout Beautycon.
By working with a variety of influencers with large, engaged followings throughout the event, L'Oreal was able to keep the momentum going. Fans were bound to want to meet at least one of these influencers, and the posts' engagement kept the L'Oreal brand highly visible in the #beautyconLA hashtag feed for the duration of the event.
Since the influencers would be demonstrating their own beauty tips, they had a vested interest in making sure fans actually showed up. Before and after their scheduled time, the beauty influencers heavily promoted their presence at the L'Oreal booth. Influencers shared how fans would not only get a chance to meet them, but how they'd enjoy a tutorial or a special giveaway, too.
For example, @styledbyhrush drummed up excitement for her L'Oreal makeup tutorial by raffling off an exclusive meet-and-greet for one fan and a friend if they promoted the #LOrealxBeautycon hashtag.

Another influencer, @jadeywadey180, posted this stunning shot after her tutorial. By the time fans saw her post, they realized they had missed the opportunity to meet her. That drives FOMO, encouraging fans to check out the L'Oreal booth schedule so they wouldn't miss the next influencer.

L'Oreal had partnered with several of these influencers before, including @jadeywadey180. Since she had been promoting L'Oreal for years, her presence at the booth feels natural to fans. Some of her allure also rubs off onto the brand, as fans associate what they love about her with L'Oreal.

L'Oreal knows that in today's world, fans aren't attending Beautycon LA to meet brand reps; they're there to meet influencers. By hosting influencers at their booth, L'Oreal can be the hero that connects fans with their favorite influencers. It doesn't hurt that those influencers just happen to be showcasing their favorite ways to use L'Oreal products.
Looking to give loyal fans an insider preview? Follow Just Eat Food Fest's lead.
Just Eat Food Fest is a London-based food festival that takes place over a weekend. Attendees can purchase tickets each day, so the brand partnered with influencers to boost ticket sales throughout the weekend.
Just Eat Food Fest gave several influencers a free invite to the festival, with the understanding that their promotion would be concentrated on opening day. Influencers shared their drool-worthy eats and took photos of themselves enjoying the festivities. The festival partnered with influencers from a variety of niches, in order to reach the largest group of potential attendees possible, from foodies to festival-goers.

@isaaccarew is a cookbook author and food influencer. He posted snapshots of his favorite bites, and included a link to purchase tickets in his Instagram Story.

Other, like @leomieanderson and @scarlettmoffatt, were lifestyle influencers. They also recapped what they ate but chose to focus instead on the Insta-worthy attractions of the festival, catering to their selfie-obsessed fans.
Just Eat Food Fest promoted the event on its own Instagram, too. Smartly, they called out the influencers who would be attending, like @leomieanderson.
But with just a few thousand followers, they can only reach so many people. By partnering with influencers who have a wider reach, the festival was able to promote their event to a much larger audience.
Want to connect on a deep level with local audiences? Look to Outdoor Voices.
The Outdoor Voices hashtag #DoingThings is all about promoting their brand mission to customers. Their clothing makes it easier for them to do things, whether that's running, yoga, dancing, or something else.
To demonstrate their mission, Outdoor Voices regularly hosts free fitness events for current and potential customers in cities across the U.S—where they have a chance to show off their latest OV purchases and win some new ones, too. When they can swing it, Outdoor Voices taps a local influencer to lead the fitness event.

In New York, they frequently partner with fitness influencer and Mood Room founder Lindsey Gaterman to teach a free hip hop class. Beyond OV's promotion on their own website and social channels, Lindsey shares it on her Instagram to get fans to sign up and attend, too.

Fans get excited about events like these because it connects them with your brand mission. And customers care about that more than ever. 87% of consumers prefer to shop from brands who share their values.
Plus, by regularly hosting these events, Outdoor Voices gets customers in the habit of engaging with the brand on a regular basis, even when they're not actively shopping. That consistency endears customers to the brand, bringing them back into the store to purchase. Outdoor Voices isn't just a place they buy clothes; it's a part of their lifestyle—and it connects them with influencers who share their values.
Looking to build excitement around a big name? Take a page from GoPro.
You can even create an event that's all about the influencer. That's what GoPro did.
They had been partnering with Instagram-famous dog Loki the Wolfdog since early 2015, when Loki's owner used a GoPro to film Loki running through the snow. The YouTube video has since racked up nearly 3 million views—and who knows how many GoPro purchases.
As Loki's owner had been talking about GoPro for years, it seemed like an obvious fit for the brand to host his fan meet-up. He promoted the event on both Instagram and Facebook, to ensure the largest amount of Loki's fans knew about it. In his posts, he makes clear that GoPro is the one running the event, so fans have GoPro to thank for the opportunity to meet Loki.

While the event is a fan meet-up for Loki, GoPro ensured they got more out of it than mere name recognition. Loki's owner shared his personal tips on how he uses GoPro to capture Loki's greatest moments, and they raffled off some GoPro prizes.
GoPro also promoted the event from their own handle. Featuring influencers on your own social media is a surefire way to boost engagement for your posts. It also makes fans aware that you host these kind of events. If they don't want to miss the next one, they'll need to keep following you.

Influencer event marketing for your brand made easy
If the examples above are any indication, incorporating influencers into your events is a smart move. With the proliferation of influencer marketing tools available for use, finding influencers of all shapes and sizes is simpler than ever before. Consider how you can work with influencers to drive attendance to your big event, connect with local consumers, and stand out at trade shows.
Get influencer marketing insights from Dealspotr in your inbox.
This guide was published on October 24, 2018
, and last modified on October 24, 2018
.