Micro vs Macro YouTubers: Which Are Best For Your Brand and 5 Platforms to Find Them
About the Author

Amelia is a writer, content marketer and SEO strategist who spends her days trying to crack the code of Google's mighty algorithm. When she's not working, you can find her running around town with her dog Rockefeller.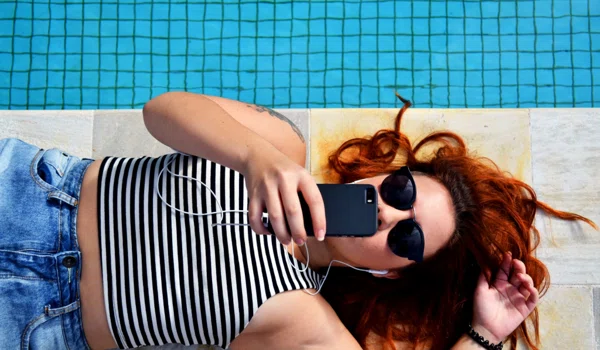 Only 60% of brands with influencer programs are using YouTube. This, despite the facts that:
Video is one of the most engaging and shareable types of content

YouTube videos boast the longest shelf life of any social media content, due to YouTube and its parent company Google doubling as the globe's two largest search engines

YouTube is one of the most persuasive channels when it comes to influencing purchasing decisions, second only to Facebook
Clearly, YouTube influencers have a lot to offer brands.
If you're reading this article, you've made the smart decision to partner with YouTube influencers. Now, you want to figure out how to make the most of your marketing dollars.
Should you partner with micro or macro YouTubers, or a mix of both?
As with everything, the answer is: it depends.
Keep reading to understand the pros and cons of each, and discover the top five platforms for finding these YouTube influencers.
Micro YouTubers vs. macro YouTubers: pros and cons
Whether you should partner with micro or macro YouTubers depends heavily on the goals of your influencer campaign.
Below we review the key elements marketers care about—like reach, engagement, and cost—and rate how micro and macro YouTubers stack up.
Before we dive in, though, let's define who's who.
Micro YouTubers have 1,000 to 100,000 subscribers. These people are not household names. Rather, they are niche vloggers, industry experts, or tutorial gurus. The 1,000 subscriber minimum is important, since, in early 2018, YouTube introduced new Creator policies that seriously limit the monetization features available to smaller accounts. If you work with an influencer with fewer than 1,000 subscribers, be aware that they won't even won't be able to link out to your website.

Macro YouTubers have 100,000 to 1 million subscribers. These people aren't celebrities, but they're much more well-known, even outside of the niche where they got their start. These folks inherently "get" what works on YouTube and have used it to develop a career influencing viewers on the platform.
Now, let's get to the pros and cons.
Reach (winner: macro YouTubers)
When it comes to reach, no one beats macro YouTubers (well, except maybe celebrities).
Since subscribers are one of the best ways to guarantee video views, the lower subscriber count, and subsequently lower reach, of micro YouTubers puts them at an obvious disadvantage.
However, YouTube visibility is also heavily dependent on a variety of other factors, such as leveraging a trending topic, timing a video's publication just right, and optimizing video titles and tags through keyword research. Thanks to these skills, all YouTube influencers, regardless of size, can drive more views for their videos.
On the whole, YouTube influencers have an additional advantage over other influencers: their videos aren't just searchable on YouTube, but within Google's video results, too.
This shared visibility across search engines increases the reach of any individual YouTube video, enabling influencers to reach more people, whether or not they're a subscriber. However, YouTubers will wield the most influence over their subscribers, so macro YouTubers win here.
Targeting (winner: micro YouTubers)
Due to their popularity, macro YouTubers fan bases are a bit more varied. They have their die-hard fans who have been with them since the beginning, the people who hopped on board to get their advice on a particular topic, and the many others who started watching them just because all their friends were, whether or not they care about their influencer's area of expertise.
On the other hand, due to their smaller size, micro-influencer audiences tend to be highly-focused, sharing a common interest or "need" that your product can solve.
If your brand is hoping to tap into specific audiences, like dog lovers or makeup aficionados, micro YouTubers can help you zero in on that audience, without reaching people who won't be interested in your brand.
Engagement (winner: micro YouTubers)
According to Google's research, the biggest YouTube stars drive impressive engagement rates, especially when compared with celebrities:
But micro-influencers take it to the next level. Marketers invariably find that micro-influencers delivers up to 4x higher engagement rates than larger influencers.
A micro-influencer's fan base may be small, but it's mighty. Their subscribers are actively engaged in following the influencer and supporting their success by commenting, sharing, and—of course—buying from their sponsors.
Whichever type of engagement you're seeking, micro-influencers deliver.
Trust (winner: micro YouTubers)
YouTube influencers are appealing to fans because, unlike celebrities, they seem like real, everyday people. They speak directly to the camera, developing a sense of intimacy that helps fans feel connected to them. They also actively dialogue with their fans, asking for comments. Over time, that kind of two-way relationship builds trust.
When your brand sponsors a YouTuber, that trust transfers over to you. More than a third of millennials say they're more likely to trust a brand after seeing sponsored content from influencers.
However, the level of consumer trust decreases as the size of the influencer increases: While only 3% of consumers would consider purchasing a product recommended by a celebrity, 30% would listen to a macro-influencer's recommendation, and an impressive 82% would follow a micro-influencer's recommendation.
For trust that converts into sales, micro YouTubers are the clear winner.
Cost (winner: micro YouTubers)
When it comes to sponsored content, YouTube is consistently one of your most expensive options as a marketer, simply due to the nature of the medium.
YouTube videos consume a lot of influencer capital. It takes significantly more time, creativity, and tangible costs to produce a video than to pose a great photo for Instagram. If you are partnering with YouTubers on longer, in-depth tutorials, the cost only goes up.
Micro-influencers win here, as they're way more affordable than macro Youtubers. A sponsored video from a micro-influencer may cost you somewhere between $500 and $2,500, while a macro influencer could charge up to tens of thousands of dollars.
Pro Tip: For more details on YouTube pricing, check out our guide to auditing and paying influencers.
Brand aesthetic (winner: macro YouTubers)
Many high-end, luxury brands have a clear aesthetic that necessitates a level of professionalism across their marketing efforts.
Macro YouTubers are usually the better fit for these brands. They use top-of-the-line camera, lighting, and production equipment that elevates the look of their videos. They're also more experienced with using said equipment.
Smaller influencers, having less experience and brand partnerships under their belt, are less likely to own this equipment. As a result, their videos may be a bit unpolished. While this endears them to fans, it won't work for all brands.
If a professional, glossy look is part of your brand aesthetic, you'd be better off partnering with the larger influencers who can afford it.
Macro or micro? The choice is yours
Ultimately, whether you choose to partner with micro or macro YouTubers hinges largely on your goals.
If you want engagement (influencer-driven purchases, leads, site visits, comments and shares), micro-influencers are the way to go. If you want reach (influencer-driven brand awareness and visibility), macro-influencers the way to go.
Either way, you'll enjoy success. 60% of YouTube subscribers would follow their favorite creator's advice on what to buy, and YouTube influencers are four times more effective at driving brand familiarity.
How successful you'll be depends on finding the right YouTubers for your brand. Let's review the top YouTube influencer discovery platforms, so you can start collaborating!
5 top YouTube influencer discovery platforms
Finding YouTube influencers manually is possible. You can search YouTube for relevant keywords, make educated guesses about an influencer's engagement rate, and then hunt down their contact information and email them. But it's simply not efficient.
Influencer discovery platforms vastly speed up your discovery process. They also help you make smarter partnership decisions and optimize the campaign management process.
These platforms have massive databases of YouTube influencers. They'll provide you with key insights as to the effectiveness of these influencers, as well as their specific verticals of influence. They also offer additional functionality, such as outreach management, campaign monitoring, payment processing, and analytics.
Dealspotr is a hybrid deal-sharing/influencer marketplace. Their database includes thousands of opt-in YouTube micro-influencers who are skilled in promoting brands through promo codes. The platform also includes bloggers, Facebook, Instagram, and Twitter influencers.
Each influencer on the platform is assigned a special Influence Score, based on a combination of their engagement, reach, and success with previous campaigns, so brands know ahead of time what kind of results they can expect.
It's free for brands to sign up. You can upload the details of your campaign, set your budget, and outline the types of influencers you want to work with. Then Dealspotr surfaces the campaign to influencers matching those parameters, who come to you to bid with their proposals. Brands only pay once a campaign is completed.
Famebit, acquired by YouTube in 2016, focuses exclusively on YouTube influencers. 65,000 creators, both micro and macro, are currently in the database.
It's free for brands to sign up, and you only pay once you launch a campaign. Submitting a campaign itself is free, and like Dealspotr, influencers come to you, instead of you having to search for them. Branded campaigns start as low as $100 with a 10% service fee.
Makrwatch is another YouTube-focused platform, with over 110,000 YouTubers in their database. The detailed search functionality reveals a YouTuber's engagement rate, location, and niche all within the results.
Beyond the discovery and campaign management available with other platforms, Makrwatch stands out by providing social media insights on your brand's competitors. Pricing isn't listed on the website.
Scrunch's database includes 20 million bloggers, Twitter, Facebook, Instagram, and YouTube influencers. The search functionality allows you to specify level of reach, preferred platform, and location, with a free-form field for anything else you'd like to add.
Brands can set up search-based alerts, too. Set up your search, save it, and then you'll be notified via email whenever Scrunch identifies new influencers that match your requirements.
You can run a single trial campaign with Scrunch for free. Beyond that, pricing ranges from $99 to $299 monthly.
Influicity is unique in that it's standardized much of the influencer marketing strategy. Brands can choose from over 50 turnkey campaign packages, including unboxing videos, product reviews, and tutorials, developed based on the company's experience with what works best.
The platform boasts a vague "1,000s" of influencers on YouTube, Instagram, Facebook, and Twitter with detailed information on their target audiences, location, and affinity demographics.
Brands can create a free account to get started, but they'll need to contact the sales team for pricing.
Connect with YouTubers, connect with your customers
Whether they're micro or macro, YouTubers know how to connect with their subscribers on a personal level. That connection translates into engagement: more views and comments for the YouTuber, and more awareness, clicks, and sales for your brand.
It's time to find your YouTube partners. Start your influencer campaign today.
Get influencer marketing insights from Dealspotr in your inbox.
This guide was published on September 4, 2018
, and last modified on September 4, 2018
.