Influencer Marketing for Gaming Brands: Campaign Ideas, Success Stories, & Where to Find Gaming Influencers
About the Author

Amelia is a writer, content marketer and SEO strategist who spends her days trying to crack the code of Google's mighty algorithm. When she's not working, you can find her running around town with her dog Rockefeller.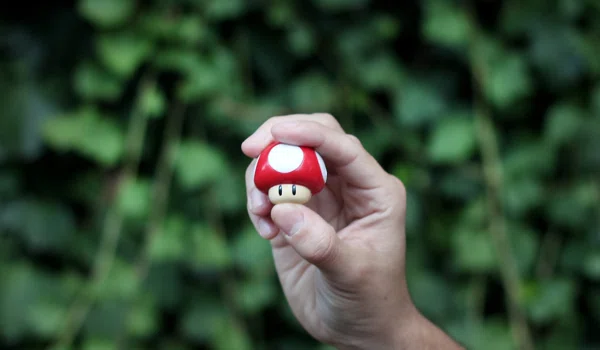 About two-thirds of Americans play some sort of video game on one of their devices, whether that's a phone, computer, or console. To say gaming is popular would be an understatement.
Gaming influencers are equally popular. Two of the top five YouTube channels are hosted by gamers. About half of gamers spend more time watching gaming videos by influencers, than actually gaming themselves.
For game developers, that watchtime often translates to conversions. Two-thirds of gamers download games after seeing them on YouTube. If that viewing is paired with a persuasive introduction from an influencer, you can imagine the positive impact for a brand's bottom line.
Smart brands know that people trust other people, not brands. Because they're coming from real people, influencer recommendations feel more genuine to consumers, even when they know they're paid endorsements. This explains those crazy ROI numbers you see floating around the internet for influencer marketing, like $6.50 earned for every $1 spent.
So, who are the gaming influencers driving these spectacular returns for brands, and where can your brand find them? More importantly, once you find them, how can you set up your influencer campaign to be successful?
For the answers to these questions and more, keep reading.
Who are gaming influencers?
A gaming influencer is anyone who has made a name for themselves in the gaming industry.
These may be big personalities like PewDiePie, Sssniperwolf, and Lirik. Fans enjoy hearing their commentary as they play games. Or these could be influencers who are gamers first, influencers second. These professionals focus on playing the game and being the best of the best. While these folks may not be as entertaining to listen to, their fans are in awe of their skills. They follow them to learn hacks to become better players themselves.
Like all influencers, gaming influencers have profiles on the standard social media platforms, like Instagram and Facebook. But gaming influencers view these channels as just another way to amplify their online presence. They're not their preferred platform for engaging their audience.
You're not going to find gaming influencers by searching hashtags and browsing cute photos on Instagram. You'll find the real gaming influencers on two key platforms of choice: YouTube and Twitch.
Twitch
Twitch is gaming's #1 platform. It was launched in 2011 with the specific goal of live streaming people while they played video games.
Twitch has over 3 million unique monthly streamers, nearly 30,000 of which earn money through their Twitch Partner program. Gamers make money through paid subscriptions and ad placements. Through subscriptions, streamers set a monthly price that gives paying fans additional perks, like private streams, extra chat features, and no ads.
Channels are organized by game and gaming platform. Twitch's standout feature is the live public chat, which allows streamers to engage their audience while playing. This builds a rapport and loyalty that turns streamers into influencers, and viewers into fans.
Twitch users are an engaged audience: the average user spends nearly 2 hours per day on the platform. There's more good news for brands: Twitch users don't mind sponsored content. In fact, they welcome it. 82% of Twitch users think sponsorships are good for the gaming industry.
YouTube Gaming
YouTube Gaming is not just a name for the gaming-related videos on YouTube. This is a wholly separate YouTube platform, replete with its own URL and a default dark mode.
Like Twitch, streamers can stream live while chatting with their audience. They can also post videos afterwards, and post non-gameplay videos, like game reviews and event coverage.
YouTube influencers make money through YouTube's Partner Program, which requires channels to have 1,000 subscribers and 4,000 hours of view time within the past year. If they don't maintain those stats, YouTubers lose access to partner-only features critical to influencer marketing, like linking out to developer websites.
5 gaming brands nailing influencer marketing
If the screenshots from Twitch and YouTube above were any indication, gaming brands can partner with influencers on all types of video campaigns. Influencers can stream live on the day of your launch, cover VIP launch events, review your beta version, or host giveaways for free download codes. You're only limited by your own (and the influencer's) creativity.
Here are a few of our favorite examples of gaming brands doing influencer marketing right.
Best Fiends
Unboxing videos are a favorite type of video content. Typically coordinated with the launch of a game, fans get to watch an influencer as they "unveil" the game and begin playing it.
Best Fiends is a game that can be played on your phone or Facebook. Smartly, the social game chose to align itself with popular Facebook influencers like Laura Clery. Laura put her own twist on the traditional unboxing video, by playing the game under the guise of one of her sketch characters, "Pamela," instead of playing it as Laura. This made the sponsored video feel more like the rest of her videos, which kept fans watching instead of tuning out.
Her video has racked up over 468K views, and nearly 10,000 comments to date. According to Best Fiends, over 80 million people now play the game.
Pro Tip: Find influencers who use the same platforms your game is available on. Brainstorm with them on ways to make the video match the rest of their fun content, instead of sticking out like a boring ad.
Loot Crate
Loot Crate bills itself as a "Geek Subscription Box for Gamers & Nerds." As a subscription box service, unboxing videos were a natural fit for the brand, and you'll find plenty of them on YouTube. But Loot Crate doesn't limit themselves to the obvious influencer content. They also regularly partner with YouTube gaming influencers to provide free giveaways to their fans.
For example, they recently sponsored a Q&A session with Twitch and YouTube gamer Get Germanized. While fans enjoyed a chance to win a free Loot Crate, they got more value from the virtual meet-and-greet with their favorite influencer. Thanks to Loot Crate, they could ask him all their gaming questions.
Pro Tip: Whenever Loot Crate partners with an influencer, they always give them a unique promo code to share with fans. This helps the brand track subscriptions down to the individual influencer and measure the success of their overall influencer strategy. How can your gaming brand use promo codes in your influencer campaigns?
Electronic Arts
Electronic Arts invited RoryPlays, a micro-influencer with 17,000 Twitch followers, to Sims Camp, for a preview of Sims 4 Cats & Dogs. Later, they sponsored her livestream of the game on Twitch.
Throughout the video, RoryPlays comments to her fans on how fun the game is and where they can get it. She explains that EA invited her to an event, and tags the stream with "not final software." Her fans are enjoying an exclusive sneak peek they can't get anywhere else—and it's all thanks to EA.
Pro Tip: By connecting with micro-influencers like RoryPlays, EA demonstrates to fans that they truly "get" the gaming community—they know the big and small players alike. How can your brand partner with a range of gaming influencers to reach more fans?
Social Point Games
Social Point Games, the developer of Monster Legends, partnered up with gaming celebrity Markiplier. With over 20M subscribers, they figured a video of him playing their game would significantly boost downloads.
What made this different from the standard sponsored video, however, was that Social Point Games didn't pay Markiplier directly. Rather, they gave him $10,000 to donate to his favorite charity. This makes him look like a hero to fans, altruistically donating to charity, but it also positions the brand in a favorable light since they're associated with the giving as well.
Pro Tip: Nine in ten millennials are willing to switch to brands who have a commitment to corporate social responsibility. Considering the high overlap between the millennial generation and the age of people who are gamers, partnering with influencers on a charity-focused campaign could do great things for your brand.
Next Games
To promote their mobile gaming app, The Walking Dead: No Man's Land, Next Games connected with YouTube mega influencers like Lele Pons, Anwar Jibawi, and Rudy Mancuso to publicize the launch and drive app downloads.
Each influencer created their own dedicated video about the game and promoted it across their social media channels. Collectively, the videos earned nearly 1.5 million likes on Instagram, as well as featured spots on YouTube's trending leaderboards. The returns weren't isolated to social, either: the coordinated approach from multiple macro-influencers skyrocketed the game to the top of the app downloads chart.
Pro Tip: While these influencers are not known for their gaming, they are known for their theatrical videos, sketch comedies, and entertaining personalities. Since the game is based on a television show, it was natural to partner with actors to bring this app to life. You may be a gaming brand, but you're not limited to working with gaming influencers exclusively.
Find your gaming influencers
Ready to get started? It's time to find the gaming influencers for your brand.
Find big names on YouTube, Twitch, and Google
You can manually search keywords related to your game and scan through the results on YouTube and Twitch. You'll find loads of gaming influencers this way, but it will be a long and arduous process. You'll have to visit each gamer's channel, hunt down their contact information, and reach out one by one—and they might not even be open to your request.
There's also Google. Search Google for "gaming influencers" and you'll be greeted by plenty of roundup lists:
Of course, these articles list out the biggest of the big gaming influencers. These folks are so big they're flooded with influencer marketing requests from brands on a daily basis, and many of them already have partnerships locked down. Unless your brand has a huge budget, you're going to hear a lot of nos.
Searching for influencers this way helps you find the larger gaming influencers. These influencers are well-known, but they're not the ones who reach the niche audiences your brand needs to tap into.
What's a gaming brand to do? Go after smaller, micro-influencers.
Zoom in on micro-influencers with Dealspotr
Micro-influencers are "micro" in size but "macro" in influence. They drive up to 8 times the engagement of larger influencers, and they allow for much better targeting.
Dealspotr is an influencer marketing platform focused specifically on micro-influencers. Finding gaming influencers is as simple as typing in the word "gaming" on their search page.
Twitch influencers aren't yet on the platform, but you can click the filters on the side to locate YouTube gamers. To help brands pick the best influencers, Dealspotr assigns each influencer an Influence Score, based on the engagement of their followers and their success rate with previous brand sponsorships. It's free for brands to join, and they only pay once influencers complete their promotion.
Partner with gaming-focused influencer agencies
Besides Dealspotr, there are lots of influencer marketing platforms that help brands locate influencers—including ones that cater to gaming brands specifically.
Influencer marketing for your gaming brand
Don't wait to partner with influencers. Start collaborating today.
Get influencer marketing insights from Dealspotr in your inbox.
This guide was published on October 1, 2018
, and last modified on October 1, 2018
.