How to Use Influencers & Promo Codes for Pop-up Event Marketing & 4 Examples to Follow
About the Author

Amelia is a writer, content marketer and SEO strategist who spends her days trying to crack the code of Google's mighty algorithm. When she's not working, you can find her running around town with her dog Rockefeller.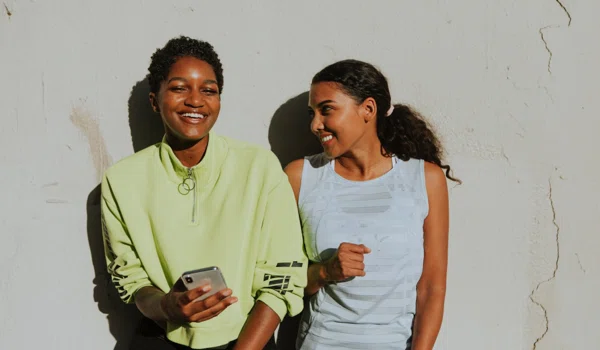 The pop-up industry is now valued at $50 billion. The brands who are hosting successful pop-ups—the ones enjoying a piece of that $50 billion—are the ones who are getting people to show up.
The two most important elements for pop-up success are foot traffic and buzz.
Fortunately, those are two things influencers specialize in.
Not only can they help bring the customers to you, but their mere presence will encourage fans to promote your pop-up on your behalf. Give your influencers exclusive promo codes to share, and shoppers won't be able to resist.
If you're looking for tips on how to use influencers and promo codes for pop-up event marketing, you've come to the right place. Let's dig in.
Creating promo codes for your pop-up event
Promo codes are a valuable piece of any marketing strategy, but they're a game-changer for pop-ups.
The coupon strategy you'll use for pop-ups will be different than the one you use for online sales on your website. Instead of free shipping discounts, consider offering one of these types of promo codes:
Post or follow for a percentage off promo code: In order to qualify for a special discount at checkout, shoppers have to follow your brand or post about their experience on social media. Advertise this on your brand account on the days leading up to and during the pop-up.
Influencer-specific promo codes: Share promo codes with your influencers (it's usually best to keep thing simple, and just use their handle) for them to promote ahead of the pop-up. Not only will fans get a chance to meet their favorite influencer, but they'll get to save, too. Influencer-specific promo codes also help your brand keep track of which influencers are driving more sales.
Free gift promo codes: Part of the allure of pop-ups is that they feel special. This is a one-time, ephemeral event. Come back next week, or even tomorrow, and your pop-up will be gone. Lean into that special sensation by helping guests feel like a VIP. Share a promo code for them to mention at check out if they want to receive a free gift. Post this on social media ahead of the event, include it in your email marketing campaign for the pop-up, and pass it on to your influencers to promote as well. Just make sure you stock up on these gifts! You don't want unhappy customers posting about you.
"First X to RSVP" promo codes: Include a spot for promo codes in your RSVP for the event. The first shoppers to RSVP with a certain promo code get a guaranteed spot to meet your influencer. By limiting these promo codes to a set number, you manage crowd control while building FOMO for your event. It also gives you an opportunity to work with your influencers in the days leading up to the pop-up by giving away extra spots in line through an Instagram contest.
"First X to whisper a word" promo codes: Alternately, you can bring the focus back to your products. Offer a promo code for people to whisper at checkout for a special discount. Having them whisper it keeps the feeling of fun and exclusivity alive. Sprinkles Cupcakes regularly does this to bring in traffic to their cupcake shops:
4 ways to partner with influencers for your pop-up event
Now, using four real-life examples, let's get into how influencers can help you build buzz for your pop-up.
Throw an influencer-only VIP pre-launch party
Before your pop-up goes live, crank up the anticipation by giving fans a sneak peek, by way of your influencers. Invite your influencers to a special VIP party the day or night before your pop-up. Wine them, dine them, and give them lots of free samples and goodies. They'll post pics about the event, showing off their swag and mingling with other well-known influencers.
Here's the genius behind this strategy: Exclusive VIP events like this are part of the reason why many people aspire to become influencers in the first place. They want to see and be seen. By giving them an opportunity to do that, and at a minimum to get free stuff, influencers are likely to go out of their way to attend—whether or not you've worked with them before. So, make sure to invite your current influencers as well as the ones you'd like to start collaborating with.
For shoppers, seeing social media posts of your pre-launch influencer party builds credibility that your brand is bonafide influencer-approved. It also creates a swarm of content related to your event, increasing the visibility for your pop-up's hashtag.
If you zero in on niche influencers, it's likely that shoppers will follow more than one of them. Seeing multiple influencers separately posting about your brand increases the chances that 1) shoppers find out about your event; and 2) that they're impressed by how many influencers like your brand. They'll want to attend for themselves and see what the buzz is all about.
For their Year of the Dog Pop-In, Nordstrom partnered with ten Instagram-famous dogs to model the clothes and accessories, and enjoy a pre-launch party with toys and goodies. Nordstrom shared the photos in their marketing materials, online catalog, social media, and on their blog:
Not only could shoppers get some limited-time treats for their pups, but they could buy their dogs the very same treats their favorite Instadogs enjoyed.
Host a meet and greet with your influencers
What's even better than going somewhere that influencers have been? Meeting them there in person. Incorporate an influencer meet and greet into your pop-up.
This can be simple—a pure meet and greet where fans simply get the chance to meet the influencer (make sure you have a stylish, branded backdrop for them to take photos against)—or more involved. Influencers might host a Q&A (fans can RSVP using a promo code to get their question answered). Or, depending your niche, you might have influencers put on a tutorial showing how to use your product.
Armani Beauty took this approach for their pop-up, partnering with beauty influencers Aimee Song and Camila Coelho. The influencers promoted the pop-up the week before, and tickets sold out in five minutes.
Aimee smartly tells people they'll still be giving some away at the door, building FOMO and driving more shoppers to attend. Throughout the whole day of the event, Aimee continued to post, showing off the Armani products she'd be wearing, showing herself getting ready, and showing off the final look. She also made sure to tell people about the exclusive 20% off discount they could enjoy.
Now, this is how you do an influencer meet and greet. Fans could meet these mega-influencers, and learn their beauty tips from them, which conveniently used Armani products. This is also a great example of the power of marketing in the days leading up to the event. Consistent, regular posts from Aimee drove a ton of brand engagement and real-life sales for the brand.
If you choose to host a meet and greet with your influencers, take a cue from Armani. Encourage your influencers to promote heavily in the days leading up to your pop-up, and include them in your marketing for the event, such as your email newsletter, the pop-up registration page, and your social media posts.
Let influencers take over during your pop-up
On the day of your pop-up, you won't have time to manage your social media accounts. You'll be too busy selling!
So, why not hand them over to your influencers?
Influencer takeovers are excellent for introducing a bit of spice to our Instagram account. Your fans are already used to hearing from your brand. Surprise them with an influencer's face for the day. The fresh content will keep them engaged, and the draw of a big name will bring them to your pop-up.
But you're probably hoping to get new fans and new shoppers to your pop-up, too. Don't worry; influencer takeovers take care of that. Your influencer can inform their followers on the day of the takeover, funnelling views and likes to your account—and fans and foot traffic to your pop-up.
Influencer takeovers can even give you ideas of where to host your next pop-up shop, if the comments below for this NYX Cosmetics pop-up indicate anything:
Post-promote, too
If your brand regularly holds pop-ups, having your influencers talk about their experience in the days following the event can still benefit your brand, even if the opportunity for foot traffic on this particular pop-up is now over.
Their fans will notice that they support your brand. This is the bare minimum benefit of influencer marketing. Because they support your brand, fans may decide to check you out, follow your account, visit your website, or attend your next pop-up.
They'll inform those fans that you host pop-ups. You held a super successful pop-up, and their fans lost out on the chance to meet the influencer. Now that they know that your brand is one avenue to meet them, they may subscribe to your email newsletter and attend your next pop-up.
If you already have your next pop-up date finalized, the influencer can inform fans of it right then and there.
Jewelry brand Forevermark invited fashion influencers like Arielle Charnas to check out their pop-up. The influencer posted a picture of her enjoying the event with their branded hashtag, positioning the brand as "in" with influencers like herself.
When Air Canada hosted a pop-up in London to bring the vibe of Canada to the UK, they invited local tastemakers and travel micro-influencers like The Travel Tester to check it out and post about their experience. They shared their personal experience and encouraged fans to go check out the pop-up while it still lasted.
Make your pop-up a successful one with influencers
Influencers can help you make your pop-up a success. Build awareness with pre-launch parties and influencer takeovers. Entice fans with promo codes and influencer meet-and-greets. And don't forget to keep the momentum going after your pop-up!
Get each week's best deals from Dealspotr in your inbox
This guide was published on February 6, 2019
, and last modified on February 6, 2019
.