A Complete Guide to Valentine's Day Marketing: The Right Hashtags, Influencer Promotions & Promo Codes
About the Author

Amelia is a writer, content marketer and SEO strategist who spends her days trying to crack the code of Google's mighty algorithm. When she's not working, you can find her running around town with her dog Rockefeller.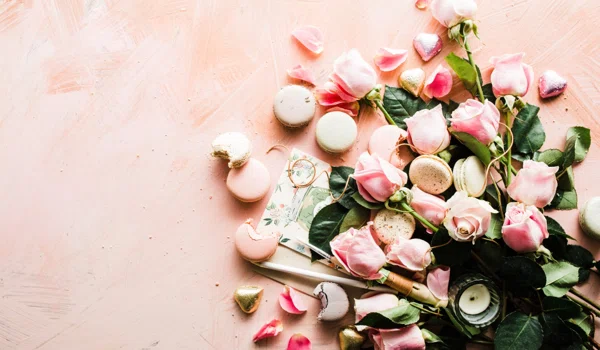 Valentine's Day is right around the corner. You've probably been planning your YouTube ads, email marketing campaigns, and your sales for some time now.
But consumers already expect that kind of marketing from your brand. In some cases, like with paid advertising, they're sick of it.
If you want to truly delight your customers (and win their hearts while you're at it), consider keeping things fresh this year with influencer marketing. Unlike ads, fans actually look forward to hearing from their favorite influencer. They like sponsored content, too—because it feels authentic.
In the hands of your influencer, a strategic Valentine's Day promotion can go a long way towards boosting sales this (candy) heart-filled season.
What kind of influencer campaigns can you put together? What's the right hashtag and promo code strategy for your brand? We've put together this guide to help you out.
Valentine's Day Hashtags Your Customers Will Adore
According to the National Retail Federation, over half of consumers plan to shop for Valentine's Day using their mobile phones, so it's a smart strategy to include social media in your promotion. But what hashtags should you use?
The top Valentine's Day-related hashtags include:
#valentinesday
#valentine
#valentines
#happyvalentinesday
#bemine
#bemyvalentine
#candyhearts
#galentinesday
#hugsandkisses
#singlesday
Including these hashtags with your content is a no-brainer. Using the standard Valentine's hashtags everyone knows and loves (pun intended) is the best way to ensure your brand shows up for Valentine's-related searches.
However, these hashtags will be used by everyone and their mother. Unless you're working with celebrities or one of your posts happens to go viral, you're going to get lost in the crowd.
That's why many brands opt to create their own branded hashtags for Valentine's Day promotions. The benefits of this strategy are that you'll be able to stand out, and you'll also be able to easily track the reach and engagement of your Valentine's campaign.
What are the downsides? Well, since you're using a less well-known hashtag, you run the risk of some users forgetting to include it in their post. To avoid that, make your hashtag easy to remember, easy to spell, and obvious to see in your and your influencers' content.
For example, Rosefield Watches created the cheeky #whomakesyoublush hashtag for their 2018 Valentine's campaign. They partnered with influencers to spread the word. Many chose to take editorial shots with their watch, like macro-influencer @MadelynnFurlong and micro-influencer @Julia_Streetstyle_Blog:
The more successful posts leveraged the intrigue of the question, like this video by Melini Martin, which enjoyed over 61K views and was the most popular post for the hashtag:
In total, the hashtag racked up over 1,300 posts. Not bad for a branded campaign!
For help brainstorming a Valentine's themed hashtag for your brand, check out these lists of the top Valentine's hashtags from Twitter and Elite Daily.
Your Valentine's Day Promo Code Strategy
Just like you can with hashtags, you can make your promo code easy to remember by using the word "valentine." (Hint: the most popular Valentine's promo codes tend to look very similar to the Valentine's hashtags.) With a promo code like this, you'll be able to easily review the overall success of your campaign, when compared to other promotions you may be running.
If you're working with influencers, however, you may want to analyze your traffic sources a bit deeper. How can you track the ROI of each of your influencers, so you know which ones are worth partnering with in the future? One common approach is to make the influencer's handle the promo code. Many fans are familiar with this format, so it will be easy for them to remember, too.
For their campaign, HelloFresh gave influencer couple New Darlings the promo code: DARLINGS35. This is easy for fans to remember. Plus, it reminds them of the great discount they can receive just by using this promo code.
Traditionally, promo codes offer shoppers a percentage or dollar-off amount. However, since Valentine's Day is all about gifting, why not play into the theme and use your promo code to instead include a free gift with all orders? This way, you can create guardrails around the amount of money you'll need to budget for the campaign, while still enjoying full-price sales.
Pro tip: When deciding on a Valentine's promo code, whether you use a traditional one or make up your own, post your content with the matching hashtag, too. It couldn't be simpler for your fans to remember!
5 Sweet Ideas for Valentine's Day Influencer Promotions
Many Valentine's Day influencer campaigns focus on gift ideas and date night, but there are ways to put your own spin on it. Here are five brands who have done just that.
Help people get ready for date night
Not all brands make perfect Valentine's gifts. However, plenty of brands help their customers look good on the big day, from clothing to cosmetics.
If you're one of those brands, partner with your influencers to position your brand as essential to their Valentine's Day look. Nordstrom collaborated with fashion blogger Mary Orton to showcase ten of her favorite Valentine's Day dresses.
At first glance, this post appears to be standard influencer fare, but there's a twist. It's not just a photo of her wearing a beautiful lace dress. Actually, Mary is directing her fans to check out her blog post that includes ten Valentine's Day looks, complete with shoes and lipstick, all of which they can get from Nordstrom.
Show them how to get ready with a tutorial
Helping people shop the look is one thing, but showing them how to put it together is another thing entirely. That's where influencer tutorials come in.
Beauty influencer Allana Davison went all out in her Valentine's Date Night tutorial, which featured makeup, hair, and an outfit. During the video, she highlights each of the products she's using and tells fans where to get them. Conveniently, they're all available for purchase at the Chinook Centre Mall in Calgary.
It may surprise you to learn this video wasn't sponsored by any of the brands featured in the video, but instead by the Calgary Tourism Board. We love this example because it shows how brands who don't seem relevant for Valentine's Day can still benefit from this holiday. You just have to find the right spin!
Instead of going out, many people choose to stay in. Those folks often look for inspiration on what to cook for Valentine's Day dinner, making recipes another popular Valentine's topic. Whole Foods partnered with several influencers to share Valentine's recipes on their blog. The bloggers helped the post gain traction by cross-promoting on their own accounts as well.
Give away your own gifts
Instagram contests are always a fan favorite, and they're a fantastic way to boost brand visibility, followers, and engagement, too. Driven by FOMO and the desire for something free, fans are more than happy to follow you and tag all their friends to let them know about your giveaway.
Over 20% of people buy Valentine's gifts for their pets, so this is a prime holiday for any pet brand. Custom print brand Pop Your Pup made sure they didn't miss out by partnering with vegan micro-influencer Molly T. on a giveaway.
Pets represent such a high number of gifts on Valentine's Day, that you might be better working with pet influencers over people. Buster's Party Shop partnered with Insta-famous dogs Dave the Dachshund and Elizabeth the Corgi on a giveaway.
To boost the campaign, the dogs (or their human, presumably) also included Buster's Party Shop in their Valentine's Day Gift Guide on their blog.
Change things up with an influencer takeover
Your fans hear from your brand all the time. Switch things up by letting your influencers promote Valentine's Day for you with an influencer takeover. Variety is the spice of life, after all.
Victoria's Secret turned their brand account over to two of their Angels, Josephine Skriver and Romee Strijd. The models spent a day in LA bringing the brand's #VDayMeDay hashtag to life. They posted regular content and shared Instagram Stories, including a "Shop the Look" tutorial for the outfits they wore.
Influencer takeovers can do wonder for your brand engagement. Typically, Victoria's Secret's Instagram posts only receive between 50 to 100K likes. These Valentine's posts featuring their influencers received 3 to 6 times that amount!
Another factor behind this campaign's success was Victoria's Secret's decision to be inclusive. Their hashtag focused on the variety of ways people celebrate Valentine's Day, and positioned the day as a way to treat yourself and "do you." The hashtag has over 1,800 posts.
When you plan your Valentine's Day marketing campaigns, don't forget that couples aren't the only ones celebrating Valentine's Day. Girlfriends may celebrate Galentine's Day, many people would probably prefer to have their dog for a Valentine's date, and single people appreciate not being left out (if the #SinglesDay hashtag is any indication).
Spark romance with gift guides
You're probably already creating gift guides and Valentine's Day content on your own blog. Why not encourage your influencers to do the same?
Have your influencers put together a Valentine's gift guide featuring your products. These roundups are especially effective for converting customers. Since they typically feature more than one product, rather than a blatant sales pitch for just a single brand, the recommendations overall come across as more genuine to fans.
Blue Apron partnered with YouTube influencer and men's lifestyle guru Aaron Marino on a product review video disguised as a Valentine's Day gift guide. The grand finale was cooking a dinner at home. Throughout the video, Aaron unboxed Blue Apron, showing viewers exactly what they could expect (while slyly keeping the Blue Apron logo prominent). If they signed up using his affiliate link, they could get two meals free.
One of the things we love most about this kind of influencer content is that it stays evergreen. YouTube videos continue to bring in traffic and sales for brands, as long as they're SEO-optimized—and Marino's definitely is. He has a keyword-rich video title and includes a ton of keyword-rich content in the video description:
Share the Love with Influencers this Valentine's Day
Valentine's Day is a crowded space. Make sure your brand stands out by partnering with influencers, using the right hashtags, and making your promo codes easy to remember.
Get started building your Valentine's Day influencer campaign on Dealspotr now.
Get each week's best deals from Dealspotr in your inbox
This guide was published on January 30, 2019
, and last modified on January 30, 2019
.